Blinds & Shades Market Value to Exceed US$ 20 Bn by 2029
The blinds & shades market has been growing in line with increasing construction and renovation projects in residential and commercial sectors. In addition, cutting-edge solutions, including automated blinds & shades are creating newer prospects in the market. As expenditure on home décor items continues to rise, worldwide sales of blinds & shades will reach around US$ 20 Bn in the next decade. In its recent study, Future Market Insights (FMI) reveals that the overall growth of blinds & shades will remain modest throughout the forecast period (2019-2029).
Frequently Asked Questions About blinds & shades market
What are the blinds & shades revenue opportunities, and how will it develop over the next 10 years?
As of 2018, the global blinds & shades market revenue was valued at US$ 12 Bn. The market revenue is poised to grow at a CAGR of 4.4% over the forecast period 2019-2029.
What are the factors affecting the growth of the blinds & shades market?
Consumers inclining towards custom blinds & advanced window coverings for aesthetic appeal and continuous technological innovation to improve the product performance and functionality are the key factors impacting blinds & shades market growth. Further, the introduction of energy-efficient smart-glass based window shade as a replacement for electronic window shades are expected to drive the growth of the market.
How are smart windows accelerating sales of blinds & shades?
Smart windows are leaping the sales of blinds & shades due to growing innovations such as windows controlled by a click of a button using rechargeable batteries and voice-activated window coverings.
Which type of blinds and shades are expected to gain maximum traction?
Venetian blinds and shades will continue to remain as the most consumer-favorite and cost-effective product. Although Venetian shades generate maximum revenue, demand for roman blinds/shades are expected to pick a pace and register a CAGR of 4.3% over the forecast period.
Which region is expected to promise lucrative growth opportunities for manufacturers?
East Asia's market accounted for a revenue share of 27% in 2018 and will continue to showcase maximum growth opportunities for the manufacturers over the forecast period. This growth is attributed to the growing preference for premium products by customers, surging adoption of household appliances, and robust growth of the construction industry.
Which is the most prominent trend augmenting the blinds & shades market?
Emergence of perovskite-tinted windows is considered as a prominent trend that is expected to fuel up the demand for blinds & shades. These windows stay clear during cold days and turn dark during hot summer sun, and simultaneously generates electricity or harvest power like solar cells.
Roman Shades/Blinds Account for a Fourth of Total Sales
By 2019 end, sales of roman blinds/shades would value around US$ 3 Bn, which account for nearly 1/4th of total sales of blinds and shades. While significant sales of roman blinds/shades will be sustained in developing regional markets, venetial blinds, on the other hand, would see promising sales growth in the near future. Demand for venetial blinds will however remain prominent in developed regional markets. Mini blinds and micro blinds are also gathering traction.
Market in Asia to Witness Quantum Leap
Poised for a collective revenue generation of over US$ 10 Bn by the end of 2029, East and South Asia will be in the vanguard of the blinds & shades market. Their primacy in global market is attributed to the strong presence of local manufacturers and burgeoning online retail ecosystem. China and India are spearheading these regional markets, respectively, with the latter set to approach US$ 4 Bn over the next decade. Middle East & Africa (MEA) is emerging lucrative with multiple white spaces, whereas sales in developed regions would lag in terms of growth rate.
Automated Blinds & Shades Define the Future
As convenience and personalization remain of paramount importance, market players must realign their strategies in the form of product innovation. Leading players are accelerating their shift towards automated blinds & shades, for instance, IKEA has developed remote-controlled blinds equipped with voice recognition features and a smart lightning kit. These automated shades can also be controlled via smartphones for customized experience and are compatible with AI-enabled virtual assistant, including Alexa, and Google Assistant.
Surging demand for shades/blinds
Venetial blinds garnering traction
Synthetic remains highly preferred
Significant adoption in residential
Demand from commercial growing steadily
Maximum sales via offline
Sales through online to accelerate
How Growth will Unfold
Offline channels currently account for a major market share, where sales of blinds & shades will soon surpass the mark of US$ 10 Bn. Despite rapid E-commerce expansion influencing stakeholders to sell online, customers still prefer brick and mortar stores. Under offline sales channel, sales would be concentrated in hypermarkets and specialty stores. However, online sales channel will gather momentum during the latter half of projection period. Manufacturers are thus relying on E-commerce leaders as well as company-owned online stores for effective distribution and sales.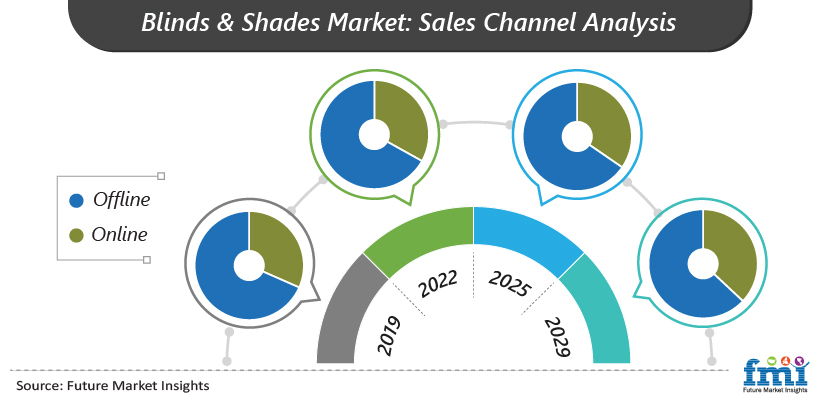 * This data is only a representation. Actual data may vary and will be available in report.
Click Here To Know How The Growth Will Unfold
Custom Market Research Services
FMI offers custom market research services that help clients to get information on their business scenario required where syndicated solutions are not enough.
Overview
Blinds & Shades Market Analysis 2019-2029
A recent market study published by FMI on "Blinds & Shades Market: Global Industry Analysis 2014-2018 and Opportunity Assessment 2019-2029" offers a comprehensive assessment of the most important market dynamics. After conducting thorough research on historic as well as current growth parameters, growth prospects of the market are obtained with maximum precision.
Blinds & Shades Market Taxonomy
The global Blinds & Shades market is segmented in detail to cover every aspects of the market and present a complete market intelligence approach to readers.
Product
Roller Shades
Vertical Shades/Blinds
Panel Blinds
Roman Shades/Blinds
Venetian Blinds
Venetian Blinds
Pleated Shades
Others (Mini Blinds, Micro Blinds, etc.)
Distribution Channel
Online (Company Owned Portal, Ecommerce Portal)
Offline (Hypermarket, Specialty Stores, Departmental Stores, Others)
Region
North America
Latin America
Europe
South Asia
East Asia
Oceania
Middle East & Africa
How the research was conducted?
Primary Research
Primary research interviews with key opinion leaders and other participants were conducted for data collection and validation of the below information:
Newt development in Blinds & Shades manufacturing
Leading players for each brand labels for Blinds & Shades
Key strategies followed by Blinds & Shades manufacturers
Average Selling Price (US$) and market growth for Blinds & Shades
Key developments in Blinds & Shades market
Key trends and opportunities
Region-wise dynamics
Market share information
Competition & key vendor strategies of Blinds & Shades
Secondary Research
Home furnishing Association HFA
Gift and Home Trade Association
Trade Map
American Home Furnishings Alliance: AHFA
International Casual Furnishings Association
Textile Machinery Manufacturers Association, TMMA
Others
Primary Interview Splits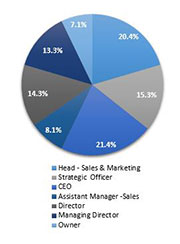 To Learn More About our Comprehensive Perspective on Blinds & Shades Market,
Get in touch
COVID -19 : Impact Analysis
Request the coronavirus impact analysis across industries and markets
Request Covid -19 Impact
CASE STUDIES
See how our work makes an impact.
At FMI, we design strategies that are adaptive, impactful, and implementable.