KEY HIGHLIGHTS
BREWERY EQUIPMENT MARKET - KEY RESEARCH FINDINGS
The brewery equipment market will surge at a CAGR of 4.8% between 2020 and 2030.
Growing popularity of beer crops is also expected to fuel global demand for brewery equipment over the forecast period.
The shift from traditional beer to craft beer has led to a rise in the number of micro-breweries and pubs globally, which in turn fuels the demand for brewery equipment.
Europe has seen an increasing shift towards low-alcohol or non-alcoholic beer due to health benefits. This will have impact on the brewery equipment market in the region
Rising demand for craft beer is a crucial driver for the global market growth.
Stiff competition from global producers and top-notch players providing cost-effective brewery equipment is a challenge for players operating in the global market.
FACTORS SHAPING THE BREWERY EQUIPMENT MARKET
Expansion of Beer Brewing Industry Will Invariably Bolster Demand

The demand for premium and flavourful beer produced in small batches has risen. Consumers are moving from conventional beer to craft beer. This has resulted in an increase in the number of micro-breweries and brewpubs worldwide. Demand for brewery equipment is growing due to the rise in the number of micro-breweries, which in turn drives the overall demand for equipment in craft breweries.
Amid the outbreak of COVID-19, numerous precautionary steps are being taken worldwide to encourage social distancing. The current situation has dramatically affected shoppers' overall consumption habits. Nowadays customers are more likely to live indoors. In addition, lock-downs enforced by various governments have shuttered restaurants and pubs. Extended period of lockdown is proving detrimental for these businesses. Even when the coronavirus passes, consumers are unlikely to publically gather in restaurants, pubs and malls anytime soon. With the hospitality sector losing out on business, the brewery equipment market may be at the cusp of embarking on a tough journey ahead. Nonetheless, once economies limp back to normalcy, the business in the brewery equipment market will pick up.

Compressors to Remain in High Demand among Equipment types

Compressors are used at different stages of brewing in craft breweries. They are used during fermentation to produce compressed air for aeration which is an essential stage of the brewing process. The air from the compressor is often used to supply power to beer clearing equipment and to extract solid particles. Additionally, the use of compressed air during beer bottling and carbonation. The other functions of compressed air are the creation of oxygen, the pushing out of the container of yeast and beer, and cleaning and sanitation. The market for the compressors remains strong due to its multifunctional attributes. Furthermore, due to increased usage, performance decreases, leading to an increase in replacement.

Manufacturers Adopting Innovative Strategies to Boost Growth

Increasing acquisition activities between craft breweries and large multinational breweries are enabling the market growth in European countries. Various manufacturers are now focussing on providing new flavour and taste in quality beverages. Their focus on value addition in its current product portfolio is a key factor driving the market.
BREWERY EQUIPMENT MARKET - STRUCTURE ANALYSIS
Several macro-brewing equipment manufacturers concentrate on providing enhanced beer quality. As a result they are looking for enhancing production efficiency through the implementation of advanced technologies. Market players see this as an opportunity to growth.
LEHUI offers fermentation tanks made using cutting-edge space technology. Similarly various other companies offer advanced technologies to stay ahead in the competition.
Report Scope
Base year considered - 2019
Actual estimates/Historical data - 2014 – 2018
Forecast period - 2019 - 2029
Market Value in 2019 - US$ 28.9 Bn
Segments covered - End-user, Material Type, Mode of Operation and Region
Regions covered - North America, Latin America, Europe, East Asia, South Asia, Oceania and MEA
Key Players - GEA Group AG, Deutsche Beverage Technology, Krones AG, Lehui Craft, Della Toffola Spa., Prospero Equipment Corporation, Brewbilt Manufacturing LLC, JV Northwest, Inc., Ximo Beer Brewing Equipment, Meura, Meto Brewery Equipment, Inc., Ziemann Holvrieka GmbH, Smart Machine Technologies, Inc, Caspary GmbH, Quality Tank Solutions, Craft Kettle Brewing Equipment, Blichmann Engineering, LLC, and Criveller Group
Growth Drivers

Growing number of microbreweries
Increasing consumer preferences for artisanal and craft beer
Shifting taste of the customers
Product portfolio expansion by large-scale brewing companies
Fermentation Equipment Segment to Account for the Largest Share
The segment of fermentation equipment is expected to account for the largest market share. It is due to the fermentation process, as the wort is kept in the tanks for a few weeks and acid is released as a by-product during this period, thus raising the chances of tank deterioration. Since the tanks are occupied during the cycle for a longer period of time, there could be a need for more tanks by macro-breweries to increase efficiency. The fermentation equipment is projected to account for a greater market share due to these factors.
In terms of size, the market can be classified into small-sized, mid-sized, and large-sized. Of these, small-sized equipment are likely to witness considerably high demand. Furthermore, the segment will grow at an impressive pace over the course of the report's forecast period.
Europe is Estimated to Dominate the Brewery Equipment Market
Due to various health benefits Europe is experiencing a growing trend of low or no alcohol beer. In addition, the region is witnessing the presence of leading beer producers including Anheuser-Busch InBev (Belgium), SABMiller (Belgium), Heineken N.V. (Dutch), and A / S Carlsberg (Denmark). Also contributing to the European brewery equipment market is the growing demand for premium and craft beer in the region, especially in the UK and Germany.
Increasing acquisition activities between craft breweries and multinational large breweries is a factor to propel growth of the target market in European countries. For instance; In January 2018, GEA Group Germany-based acquired Vipoll Slovenia-based, which is a beverage filling equipment and technology company.
This acquisition was done with intention to broaden and strengthen the GEA Group position among the global beverage industries. As well as this acquisition extended GEA Group's current product portfolio of beverage packaging equipment & technology.
Rising Demand for Beer Consumption Aiding in Growth
The global demand for brewery equipment is driven by increased beer consumption, increased plant capacity, increased investment by the brewery processing sector and expansion of the product line by major brewery companies. In addition, prominent players are focusing on expansion of business by installing new brewery plants across the globe which is expected to propel the market in the coming years.
Increasing preferences towards microbrewery or craft brewery owing to its unique taste among individuals is proliferating high demand for brewery equipment which in turn is a factor to support growth of the global market. Rapidly growing brewpubs will drive the demand for brewery equipment, as this equipment will provide brewed beer on the premises thus supporting the target market growth in the near future.
Nevertheless, the refurbishing of old equipment to upgrade, extend or renovate brewery facilities and operations is a major constraint on the global demand for brewery equipment. Nonetheless, developments in the design of brewery equipment and the penetration of e-commerce are expected to create major opportunities for the market in brewery equipment.
How Growth will Unfold
The massive increase in the microbreweries & brewpubs in both the developed as well as emerging economies is likely to drive the market surge. In addition to this, the growing consumer trend for craft beer and artisanal over a traditional beer or other alcoholic beverages is projected to positively leverage the expansion of the brewery equipment industry over the years to come.
Apart from this, the introduction of new products will further boost the industry size. Moreover, the escalating requirement of advanced and durable brewery device for beer manufacturers is likely to culminate in the huge market demand in the forthcoming years.
On the downside, huge capital investments, maintenance charges, and growing energy costs are likely to obstruct the progress of the brewery equipment industry over the upcoming years. Nonetheless, rising focus on digitization of the beer manufacturing processes by key business players will offer new growth avenues for the market.
This, in turn, will minimize the negative impacts of the hindrances on the market over the forthcoming years. Besides this, strategies adopted by the leading market players are likely to have a strong impact in the coming years.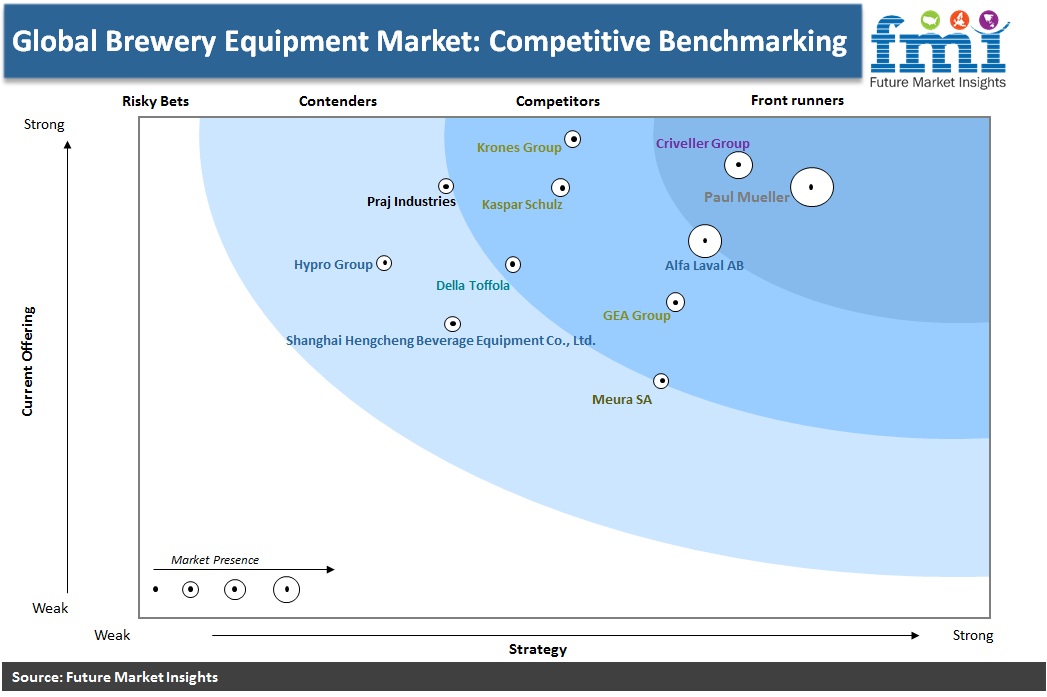 World's Most Profilic Intelligence Engine
Get Access To The World's Largest Market Research Database. Ngage with a revolutionary intelligence engine that scale and pricing that flexes as per your needs
Sign Up Now
BREWERY EQUIPMENT MARKET TAXONOMY
The global Brewery Equipment market is segmented in detail to cover every aspect of the market and present complete market intelligence to readers.
Product Type
Fermentation equipment
Brew house equipment
Carbonation
Control & Monitoring
Filling & Packaging
Mashing equipment
Milling equipment
Filtration system
Fittings & Valves system
Material Type
Brass
Copper
Aluminum
Stainless steel
Mild steel
Mode of Operation
Automatic
Manual
Semi automatic
Application
Macro brewery
Micro brewery
Brewpub
Farm brewery
Regional breweries
Region
North America
Latin America
Europe
Asia
Oceania
MEA
Need specific information?