Dry Calcium Propionate to be In High Demand
Food and beverages industry is expected to exhibit demand for calcium propionate. Based on application, in the food industry, calcium propionate is highly used in bakery and packaged food segments. Because of the high bread consumption per capita, the growth of the bread market, particularly in developing economies, fuels demand for calcium propionate.
The food category is further subdivided into bakery, meat, fish and seafood products, dairy & frozen desserts, and others. Because of the calcium propionate properties, the bakery products segment is expected to lead the market in inhibiting the chemical leavening agents in yeast and bacteria, the main component of bakery products, among all food applications.
Furthermore, in terms of form, the dry category is forecast to hold dominance. The trend is likely to remain constant through the course of the forecast period.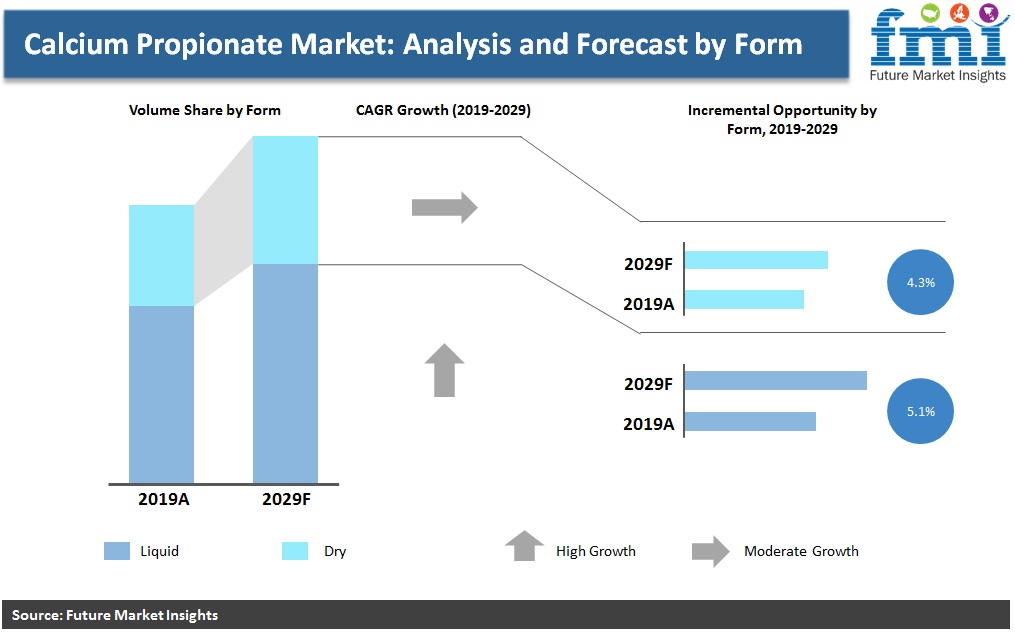 Economic Expansion to Offer Major Growth Opportunities in Developing Nations
North America and Europe are developed markets that have already hit saturation with regards to the demand for propionate calcium. Compared to Asia Pacific, Middle East & Africa and Central & South America, these markets are projected to expand at relatively lower growth rates, therefore. On the other hand, Asia Pacific is projected to see the highest growth because of the development of the food industry in China and India.
These countries have undergone rapid changes in consumer lifestyle affecting their food and consumption habits which, in effect, are expected to rise highly in the market. It is expected that Brazil, India, Russia and China will see strong growth and income over the forecast period.
Over the forecast era, Middle East & Africa is expected to show significant growth. The forecast period is expected to experience strong growth in Central & South America. The global demand for calcium propionate is fragmented with top five firms responsible for a significant market share.
Changing Lifestyle Aiding in Growth
A key factor driving growth of the global calcium propionate market is growing demand for calcium propionate from food industry. Furthermore, evolving lifestyle coupled with growing demand for packaged and ready-to-eat food items are other factors expected to significantly accelerate the growth of the global market over the forecast period.
The food industry has started using natural calcium propionate to make it as healthy as propionic acid organic calcium chloride, developed by fermentation with a selected propionibacterium strain, to eat. The food industry also makes use of advanced technologies such as bacteriophages, MAP and alternative preservation methods combined with preservatives to preserve food quality and health.
Strict laws and regulations on food safety and shelf-life, however, have ensured that manufacturing companies are keen to find the right terminology to provide customers with the best food product, and preservatives play a key role in this dimension. It is important to review local and national legislation for permissible applications and dosage rates. Strict quality and food safety regulations are expected to curb the development of the global calcium-propionate industry.
How Growth will Unfold
The calcium propionate market is the largest category of world preservatives. Despite of the high cost of raw materials this sector faces challenges. This aspect is dealt with strategically in the study, and greater focus is placed on its commercial applications and future business opportunities. Increasing R&D investment, especially in North America and Europe's developed economies, is expected to yield market participants growth opportunities.
Moreover, growth in processed food markets, especially in India and China's emerging economies, is also expected to provide immense opportunities for growth in the industry. Growing safety issues coupled with changing consumer habits have recently prompted the use of calcium propionate.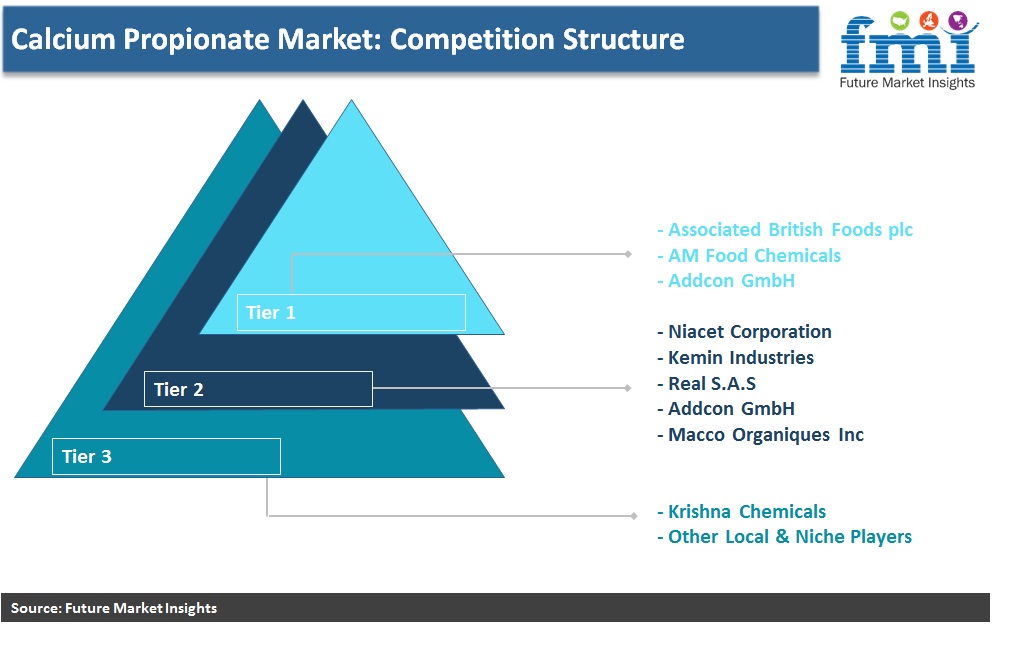 CALCIUM PROPIONATE MARKET TAXONOMY
The global Calcium Propionate market is segmented in detail to cover every aspect of the market and present complete market intelligence to readers.
By Form
By Application
Bakery
Dairy
Meat processing
Animal feed
Beverages
Packaged food products
Others
By Region
North America
Latin America
Europe
East Asia
South Asia
Oceania
MEA
Need specific information?
Talk Show:
The Rise of Intelligent Packaging
Personalized, Connected and Sustainable
November 18, 2021
11:00-11:45 AM PST (USA & Canada)
This is a LIVE session