Global Caramel Ingredients Market to Surpass US$ 5.3 Bn by 2029
The global caramel ingredients market is projected to reach US$ 5.3 Bn by the end of 2029. The market was valued at US$ 2.7 Bn in 2019. If these figures hold true, the market will exhibit a CAGR of 7.10% between 2019 and 2029. In the food & beverage industry, caramel ingredients are used in numerous applications: as a filling, topping, coloring & flavoring, including, coating and icing. We consider applications in the food & beverage industry in confectionery, desserts, baking products, carbonated drinks, and alcoholic beverages.
KEY RESEARCH FINDINGS
The global caramel ingredients market registered about US$ 3 Bn in 2019.
Market growth would be driven by increasing preference for convenience foods, and snacks.
Powdered/granulated form of caramel ingredients continue to define stakeholders' bottom lines.
Market players target bakery and confectionery products for substantial returns.
North America and Europe continue to represent hub of investment opportunities; Asia Pacific (APAC) to offer potential growth avenues.
KEY FACTORS SHAPING CARAMEL INGREDIENTS MARKET
High Consumption of Bakery Ingredients
Consumption of bakery ingredients and products is rising, owing to their ease of preparation and, smaller packaging requirement. Myriads of bakery items such as cakes, and cream-filled biscuits are available in aesthetic and strong packaging formats that improves shelf-life of products as well as compliment overall attractiveness of them. In addition, consumers' preference for non-GMO, additive-free, clean-label, and health-centric bakery products is propelling the market for caramel ingredients.
Opportunities Prevail in North America and Europe
North America and Europe continue to offer value-creation opportunities, owing to strong foothold of leading manufacturers and booming packaged and frozen food industries. Innovation and seasonal favorites are top priorities among market players in the developed regions. This study further states that, both North America and Europe capture over half of total caramel ingredients market revenue, collectively. Going forward, enhanced logistics and expanding food & beverage sector are responsible for rapid growth of caramel ingredients market in Asia Pacific (APAC).
COVID-19 Impact
Due to the coronavirus (COVID-19) pandemic, food & beverage industry executives are confronting confounding challenges of scarcity of labor and raw material required in the manufacturing process. Further, food retail and food service outlets are expected to witness rapid disruptions from the beginning per se. Caramel ingredients market is likely to witness slight decline as consumers are increasingly stockpiling on essential commodities. Nevertheless, increasing consumption of bakery and confectionery items would sustain revenue growth, provided, at a steady pace.
CARAMEL INGREDIENTS MARKET STRUCTURE ANALYSIS
Leading players in caramel ingredients market are emphasizing on strengthening their regional footprint, and production capacity to gain an edge over their peers.
In addition, market players are investing in marketing and promotional activities, attractive packaging solutions, and collaboration with product manufacturers in other application areas.
Report Metric

Details

Base year considered

2019

Actual estimates/Historical data

2014 - 2018

Forecast period

2019 - 2029

Market Value in 2019

US$ 2.7 Bn

Segments covered

Application, Type, Form.

Regions covered

North America, Latin America, Europe, Asia, Oceania, and MEA.

Key Players

Nestle, Mars Inc., Kerry Group, Bakels Worldwide, Cargill Incorporated, Goteborgs Food Budapest ZRT, Sensient Technologies Corporation, Ferrero, Martin Braun KG, Puratos Group, Haribo, Metarom, Sethness Caramel Color, Nigay, DDW The Color House, Goetze's Candy Company, Inc., Frito-Lay;Sethness-Roquette Caramel Color, Bakels Worldwide, and Alvin Caramel Colours.

Growth Drivers

High consumption of bakery and confectionery products.
Increasing scope of application in beverage industry.
Flourishing convenience food industry.

Report coverage

Revenue forecast, company share, competitive landscape, growth factors, and trends
Granulated Caramel Ingredients to Be in High Demand
Consumption of bakery ingredients is growing which is directly impacting sales of caramel ingredients. They are available in solid, liquid and granulated forms. Of these, currently, the demand for granulated caramel ingredients is considerably high. Studies however reveal, the demand in the solid segment is likely to scale at a higher pace in the coming years.
The bakery industry has reached maturity in the developed markets of Europe and North America. On the other hand, it is booming in Asia Pacific and South America's emerging markets. Countries like China and India are projected to be important pockets of revenue in the years ahead. In these countries customers opt for foreign food items in the midst of urbanization and informal logistics networks. Expansion of bakery industry will pave the way for the growth of caramel ingredients market in emerging nations
Asia-Pacific Emerges As the Fastest Growing Market
Asia-Pacific's emerging economies represent great untapped potential for bakery ingredient production, such as caramel, owing to rising disposable incomes, urbanization, and demand for Western-style diets. The Asia-Pacific population reflects diverse tastes and desires, thus giving manufacturers the ability to play with varieties. Hence, manufacturers are continually innovating and growing their product ranges to meet the diverse demands of consumers. Consumers are becoming increasingly interested in a range of foods with superior taste and healthy and nutritious. Rapid urbanization, increased customer disposable income, improved logistics and the development of the food and beverage industry in developing countries have attracted major global manufacturers to expand in the region and capitalize on the lucrative opportunities available here.
Increasing Snacking Habits Will Boost the Demand
Owing to the growing market indulgence in bakery and confectionery products, caramel ingredients have been gaining global acceptance. Also noted in the beverage section is the popular use of this ingredient in various types, such as syrups and powders in teas, lemonades, fruit drinks, colas, and beer, to name a few. Recognizing the ingredient's various uses, businesses, both large and small, were trying to make the most of emerging consumer and food developments to keep ahead of the competition. There is also a trend in food decoration, which the consumers are gradually adopting. Such factors affect the caramel ingredients market. The demand for frozen bakery products has also risen, as customers need to be prepared to manufacture goods because of their busy lifestyle and rising incomes.
Meanwhile, the industry has faced a challenge in recent years from the introduction of caramel alternatives. An increasing concern about the harmful effects of caramel ingredients as a coloring agent has been a major disadvantage faced by the market over the past decade.
Colors segment held the leading market share
Toppings segment forecast to higher rate of growth
Confectionary segment holds dominance
Beverages segment to rise at a higher CAGR
Liquid segment holds dominance
Solid segment to rise at a higher CAGR
How Growth will Unfold
The demand for confectionery products is rising subsequently, the use of caramel ingredients is increasing, which is giving impetus to the caramel ingredients market. Rise in disposable income and the adoption of urban lifestyles are some of the key factors considered to drive the global demand for caramel ingredients. In the beverage industry, which includes alcoholic and non-alcoholic products, significant growth is noted. Caramel additives such as liquid and powdered caramel colors and caramelized sugar syrups are used in the manufacture of non-alcoholic and alcoholic beverages, such as tea, lemonade, fruit drinks, powdered beverage mixes, beer, and others. 
Caramel ingredients market witnesses impressive growth potential the untapped markets or economically developing countries. While the overall demand for caramel ingredients is increasing considerably, constraints such as a rise in the price of raw materials leading to a corresponding increase in the price of caramel ingredients. Another restriction, switching customer eating habits by adopting healthier eating while minimizing the use of confectionery products can hamper market growth of caramel ingredients.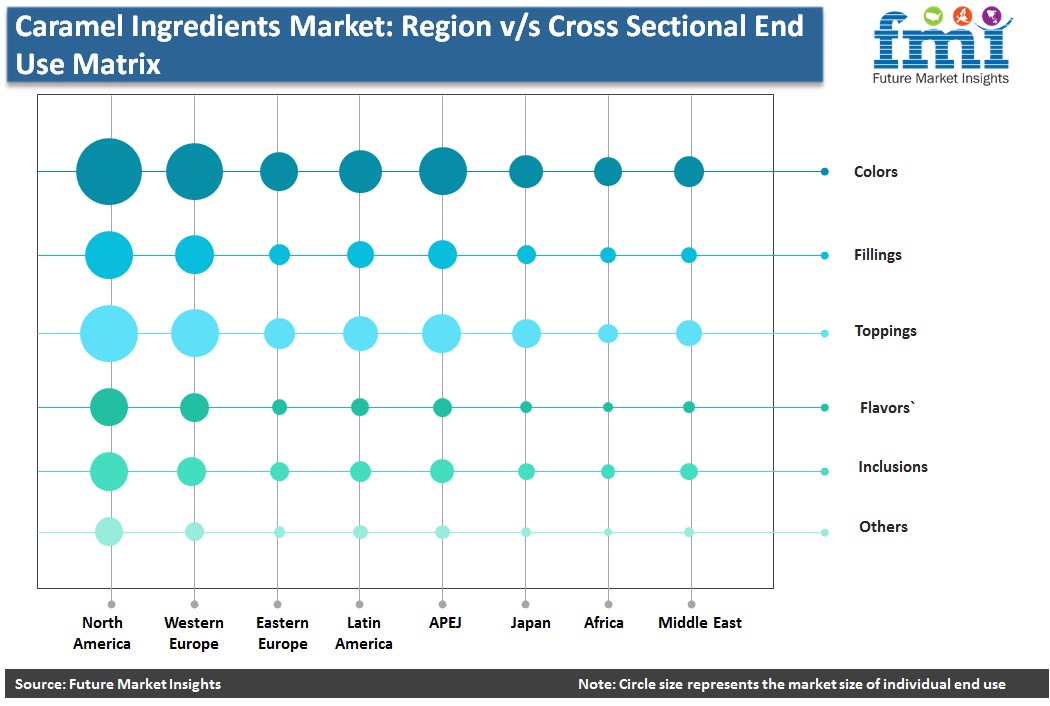 * This data is only a representation. Actual data may vary and will be available in report.
Click Here To Know How The Growth Will Unfold
Custom Market Research Services
FMI offers custom market research services that help clients to get information on their business scenario required where syndicated solutions are not enough.
Overview
Caramel Ingredients Market: Global Industry Analysis 2015-2019& Opportunity Assessment 2020-2030
A recent market study published by Future Market Insights on the Caramel Ingredients market offers global industry analysis for 2015-2019 & opportunity assessment for 2019-2029. The study offers a comprehensive assessment of the most important market dynamics. After conducting a thorough research on the historical, as well as current growth parameters of the Caramel Ingredients market, the growth prospects of the market are obtained with maximum precision.
Caramel Ingredients Market Taxonomy
The global Caramel Ingredients market is segmented in detail to cover every aspect of the market and present complete market intelligence to readers.
Application
Bakery Products
Confectionery products
Ice creams & desserts
Beverages
Type
Fillings
Toppings
Inclusions
Colors
Flavors
Form
Solid
Liquid
Powder/Granular
Region
North America
Latin America
Europe
Asia
Oceania
MEA
How the research was conducted?
Primary Research
C - Level Executives
Marketing Directors
Sales Heads
Production Managers
Distributors Heads
Sales Executives
Product Manufacturers
Distributors
Traders
Industry Experts
End Users
Current Market Dynamics and Challenges
Market Characteristics
Market Performance and Growth Quadrants
Competition Structure and Market Structure
Strategic Growth Initiatives
Near-term and Long-term Market Growth Prospects
Market Segment Splits and Authenticity
Opinions on Market Projections and Validity Of Assumptions
Secondary Research
Industry Publications

Industrial Week
Industrial Product Review
Industrial Magazine

Industry Associations

Dieticians Association
Food and Agriculture Organization

Company Press Releases
Annual Reports and Investor Presentations
Research Papers
Government Websites and Publications
Trade Websites
Primary Interview Splits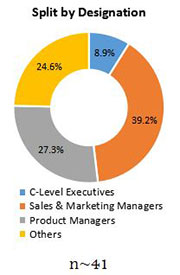 To Learn More About our Comprehensive Perspective on Caramel Ingredients Market,
Get in touch
COVID -19 : Impact Analysis
Request the coronavirus impact analysis across industries and markets
Request Covid -19 Impact
CASE STUDIES
See how our work makes an impact.
At FMI, we design strategies that are adaptive, impactful, and implementable.