Parmesean Cheese Is Projected To Be the Fastest-Growing Type In Terms Of Value
Consumers are constantly seeking fresh and organic flavours, natural ingredients, and prefer spending on high quality soups, sauces, and dressings for improved taste, texture, and appearance. Because of its authentic flavor, this has led to increased demand for parmesan cheese powder in soups, sauces and dressing industries. "Swissness" remains a crucial selling trend as customers demand good quality and authentic cheese products.
The concept is estimated to remain strong along with sustainability and provenance. Companies are focusing on various strategies owing to increasing demand along with rising competition for shelf space in retail and grocery stores.
As a result, manufacturers are anticipated to increase the emphasis on domestically produced brands over the forecast period. Manufacturers also focussed on providing customized flavors in the category of parmesan cheese powder, ranging from sweet and buttery to savory flours. Furthermore, novel ingredients are being explored by manufacturers to create new flavor profiles and product offerings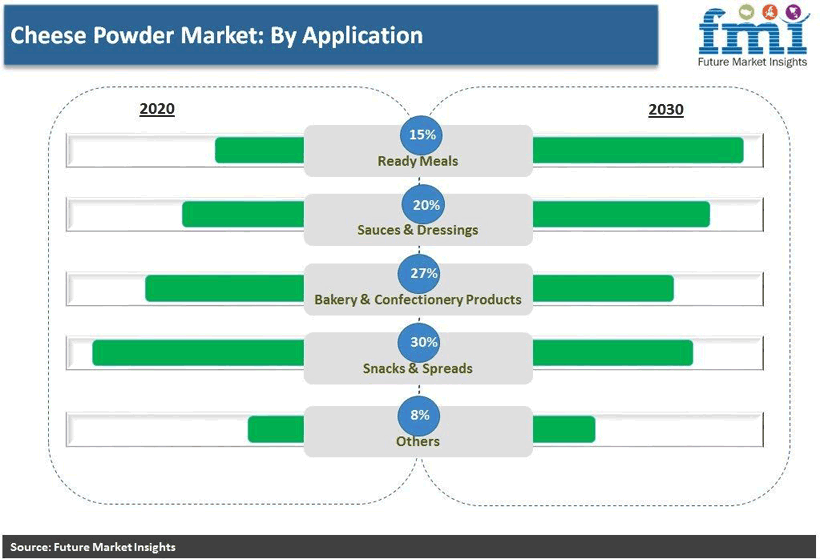 Asia Pacific Projected to be the Fastest-Growing Region in the Market
Asia-Pacific is projected to be the fastest-growing region in the global cheese powder market due to rapidly growing fast-food industry and changing dietary preferences of people in countries like China, India, and Australia that has led to an increased demand for cheese powder in the region. Rising demographics, busy lifestyles, and growing technology access are expected to increase the region's demand.
Due to its odour and high nutritional content, cheese powders have become an important ingredient in both the domestic and industrial sectors. Spiraling demand for the product is impelling manufacturers to acquire more shelf space, which has resulted in increased cost of the product and can be a threat in the coming years.
Increasing prices of raw materials required for the manufacturing these chemicals are hampering the growth of the market. Worsening situation in supply chain disruptions caused due to the recent COVID-19 impact.
New Product Launch is the Key strategy Adopted by Market Participants
The industry is, by its very definition extremely competitive. Owing to the continuous change in customer tastes and easy availability of raw materials it provides numerous opportunities for new entrants. In order to raise calcium levels in their offerings, Lactosan has introduced new products which have six times more nutrients compared to other brands. In this market, factors such as territorial market size, competition intensity, capacity and development of demand, labor availability, and local infrastructure are projected to influence distribution of final products.
Companies are directly involved in retailing their products through e-commerce, supermarket, and hypermarket. Consumer purchasing behavior has reshaped in recent years as product quality, increased choice, convenience in shopping, selection of preferred quantity & delivery time, and discount deals have driven customers to favor online retailing.
The demand for clean label and organic products also obliged manufacturers to innovate in new cheese powders. Some manufacturers have also launched sustainable and organic cheese powders in the market. For instance, in the year 2017, Land O'lakes, Inc, which is a manufacturer of dairy ingredients, launched a line of organic cheese powders. Basically, the organic certification will enable the company to command a higher price in the market as compared to its competitors.
How Growth will Unfold
Hectic life-schedules of the time-starved consumers have increased their snacking frequencies in a day. Urbanization has impacted the snacking habits to evolve drastically. Consumers now claim a better-for-you sticker on snacks. Cheese snacks suit this class because they have no added sugars and are an excellent protein source. The value-added advantages of cheese powder as an ingredient would accelerate market growth. Growing population and rising consumer purchasing power are significantly improving global demand growth for cheese powder. Increasing urbanization in developing countries such as India and China in this region is estimated to fuel the global cheese powder market during the forecast period.
The dynamics may change a little following the coronavirus outbreak. Changing economic situations have made consumers more cautious about spending. This can have a significant impact on the overall sales of the market. Furthermore, supply chain disruptions may negatively impact production process.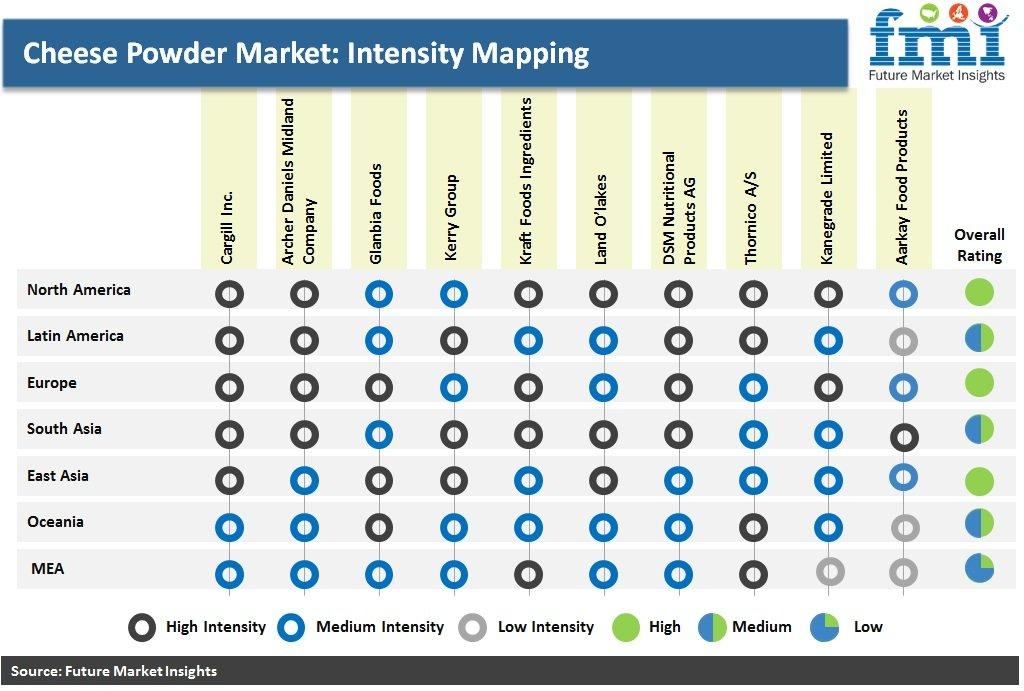 Key Segments
By Product Type
Cheddar
Parmesan
Blue Cheese
Romano
Swiss
By Application
Snacks
Bakery & Confectionery
Dips/Dressings/Dry Mix/Sauces
Flavours
Ready to Eat
By Region
North America
Latin America
Europe
East Asia
South Asia
Oceania
Middle East and Africa (MEA)
Need specific information?