About the Report
The food and beverage sector has witnessed a transition in consumer preferences towards clean label ingredients in recent years. This has resulted in a conducive environment for the production and distribution of citric acid. The material is finding growing roles in the pharmaceutical and animal feed sectors, with a focus on superior digestibility and balanced nutritional content.
Citric acid is also a low-cost ingredient with primary applications in the food and beverage industry. Potential applications as a cleaning agent are also expected to generate lucrative opportunities for market players, considering government policies and regulations in terms of toxicity and environment protection.
ESOMAR-certified market analysis and consulting company Future Market Insights (FMI) delivers insights into key factors providing impetus to the wearable medical devices market in its latest report. Furthermore, an evaluation of the effect of the COVID-19 pandemic on the wearable medical devices market, and an analysis of sales in 20+ high-growth markets and end-use applications has been provided in the report.
How Does Historical Performance of Citric Acid Market Compare to Future Outlook?
The wide-ranging applications of citric acid, which is not limited to only human consumption is generating worldwide demand including use as an ingredient in personal care and cosmetics products and as an additive in animal feed formulations are driving market growth. According to the analysis by Future Market Insights, sales of citric acid products will grow at more than 4% CAGR for the duration of 2016 to 2020.
The market is also expected to gain from the rising incorporation of the ingredient in health and diet supplements, with rising levels of disposable incomes, expanding scale of urbanization, and more. Further, the growing number of lifestyle-based ailments will generate lucrative opportunities for sales.
With increasing efforts from the food processing industry to maintain nutrition and product value, is also driving consumption of citric acid owing to longer shelf life and nutrition value. FMI expects volume of citric acid consumption to rise moderately at more than 3% CAGR through the end of 2031.
How Do Clean Label Trends Support Demand?
Citric acid is used extensively across the food & beverage industry, with natural sources being preferred as a viable alternative to traditional phosphate ingredients. Citric acid is used as a clean label solution as an alternative to titanium oxide, monoglycerides, diglycerides, edible gums, and hydrocolloids.
Manufacturers are pushing for research into the use of citric acid as stabilizing and binding agents in beverage end products in terms of managing flavored oils. This makes it a popular option as an emulsifier product in foods such as yogurts and other convenience foods.
Rising levels of consumer health awareness including essential nutrition and easier availability of clean label product offerings, will drive demand in the sector for the foreseeable future. These characteristics of citric acid will provide impetus to applications in the pharma, metal, and personal care & cosmetics industries.
What are the Leading Challenges Hurting Citric Acid Manufacturers?
Citric acid is continuing to gain attention from myriad end use industries, with research into potential new applications. However, the industry will face key challenges as manufacturers seek to expand operations. Problems associated to counterfeiting and contamination remains a concern, especially in terms of food and pharmaceutical grade offerings. Relaxed regulations associated with food and feed ingredients, especially in developing countries is likely to harm profits of manufacturers in various regional markets.
The citric acid market is also hurt by fluctuations in yield and costs which largely arise from unexpected environmental conditions. According to a USDA report, cultivation of citrus fruits has slumped across, North America, Latin America, and Europe owing to weather issues between 2019 and 2020. Unpredictable environmental factors are expected to hurt market prospects in the years to come.
Country-wise Analysis
How are Citric Acid Sales Faring in the United States?
North America is one of the leading markets for citric acid products, driven largely by the United States. Following the European Union, the market is expected to generate lucrative growth opportunities through the assessment period.
The United States is home to major citrus fruit production states including Texas, Florida, and California. However, weather and plant disease issues are likely to affect supplies. However, as per a USDA report, Arizona will reflect growth opportunities owing to higher levels of lemon production. Also, exporters in the United States are finding lucrative opportunities in the near term owing to higher demand in retail products such as supplements through the covid-19 pandemic.
While demand slumped from the food service sector, sustained demand from food processing players in the US with applications in convenience and ready-to-eat foods will continue to drive demand in the years ahead.
What are the Prospects of Citric Acid Production in Germany?
Germany is emerging as a lucrative regional market for citric acid products. With contributions from France and the United Kingdom, the European Union will account for approximately 30% of the global market share.
The German market is expected to gain from a strong supply chain to retail distribution which will help to sustain long-term growth prospects. According to a report by the European Commission, the production of citric fruits will remain lower than average in 2020-21 owing to poor environmental conditions, with a slump of more than 7%. This factor is likely to restrain market growth in the short-term.
On the other hand, the covid-19 pandemic has resulted in higher levels of consumption as consumers seek nutritionally balanced products during this period. As a result, exports from the Africa and Middle East Markets are likely to find new opportunities in the future within Germany.
How are GCC Countries Contributing to Market Growth?
The citric acid market in the GCC countries is relatively smaller and nascent is expected to reflect strong growth in the near future. Changes in terms of diet and lifestyles, driven by globalization and strong demand in Saudi Arabia has created a conducive environment for market growth.
Higher levels of disposable incomes and an upsurge in the food processing sector will contribute to long term growth. Improved access to production and packaging technologies will also prove beneficial to industry developments within the region.
Fruit exports sourced from Australia and India are finding traction in the industry with the timing of seasonal yields resulting in a slump in supplies from other regions around the world. This growth trend will continue through the remainder of the projection period.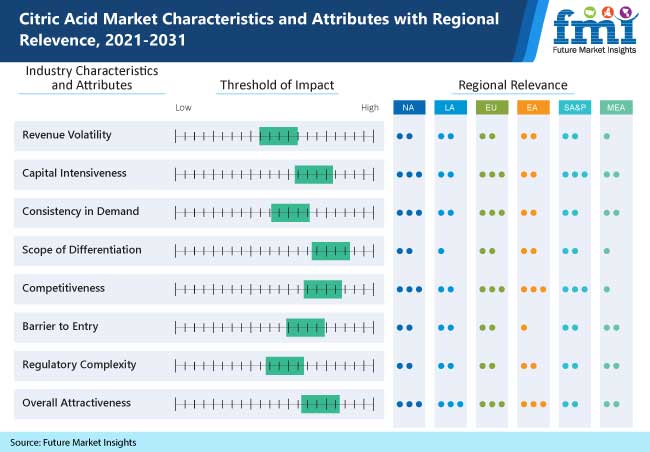 Category-wise Insights
Which is the Key Application of Citric Acid?
Citric acid finds use in numerous end use industries as acidulant additives, binding agents, cleaning agents, preservatives and more. As per, the FMI report, sales and revenues from acidulant applications in the food and beverage industry will account for a relatively larger market share, displaying a CAGR of over 4% through 2031.
On the other hand, cleaning agent applications are also gaining traction and is expected to find attention from the metal industry accounting for approximately a fourth of the overall market share by the end of the forecast period.
Why is Powder Form Citric Acid High In Demand?
Citric acid is available in both powder and liquid forms, with powdered variants accounting for a notably larger market share in terms of volume and value. Powdered citric acid will account for more than 60% of the market. This can be attributed to sales in the food and beverage sector.
Powdered citric acid is further classified into anhydrous and monohydrous forms. Anhydrous citric acid will account for a larger market share owing to superior characteristics in terms of stability and shelf life of the product.
What End Use is Finding Traction for Citric Acid Consumption?
The growth of the citric acid market is largely dependent on the wide range of end user industries including food & beverage, pharmaceuticals, animal feed, personal care, metal finishing & cleaning, and others. Food & beverage end use industry will continue to dominate the market in terms of value and volume through the assessment period.
Further, niche applications in the feed, pharmaceutical and metal industries albeit at a nascent stage will reflect a relatively higher rate of growth with CAGR of over 4.5% through 2031and the years beyond.
How will Food Grade Citric Acid Contribute to Sales?
In terms of grade or quality standards, citric acid can be classified into food grade, industrial grade and pharmaceutical grade variants. Food grade citric acid will continue to hold the lead throughout the forecast period accounting for more than 65% of the market share. Also, the increased consumption of convenience foods will contribute to growth.
Further, niche applications in pharmaceuticals and personal care products as an excipient will support growth in the long-term accounting for more than 4% CAGR through the end of 2031.
Competitive Landscape
The global citric acid market is moderately fragmented with a number of regional players active in the industry. Major players in the market are pushing for expanding the scope of applications for citric acid with research efforts. Furthermore, efforts towards optimizing production assets through acquisitions and divestments to maximize profits is likely to gain ground among market players.
Delek Group Ltd. announced it signing a non-binding MOU with Fortissimo Fund with the objective of 60% sales of the Delek Infrastructure subsidiary, which is contingent on a debt issue of approxiamtley US$ 100 million.
In April 2021, Tate & Lyle Plc announced a potential sale of the controlling interest in its Primary Products business including citric acid products among others. The company aims to separate its primary products segment from its food & beverages solutions segment.
Also, WaSeabi has unveiled a new stabilization technology to minimize the risk of rancidity of upcycled ingredients from side streams of herring fillets with a solution comprising rosemary extract and citric acid.
Future Market Insights has also analyzed the following players in the citric acid market in its detailed report*:
Shandong Juxian Hongde Citric Acid Co. Ltd.
Jungbunzlauer Suisse AG
Basel
Delek Group
Cargill, Incorporated
Weifang Ensign Industry Co. Ltd.
Tate & Lyle Plc.
COFCO Biochemical (AnHui) Co. Ltd.
RZBC GROUP
*This list is indicative - full details about the citric acid market players are available upon request.
Citric Acid Market - Report Scope
Attribute

Details

Forecast Period

2021-2031

Historical Data Available for

2016-2020

Market Analysis

USD Million for Value

Key Regions Covered

North America, Latin America, Western Europe, Eastern Europe, Japan, Asia Pacific Excluding Japan, and Middle East & Africa

Key Countries Covered

US, Canada, Brazil, Mexico, Argentina, Chile, Peru, Germany, U.K., France, Italy, Spain, BENELUX, Nordic, Russia, Poland, CIS Countries, China, Japan, South Korea, India, ASEAN, Australia, GCC Countries, Turkey, Israel, and South Africa

Key Segments Covered

Application, End Use, Form, Grade, and Region

Key Companies Profiled

Archer Daniels Midland Company
Shandong Juxian Hongde Citric Acid Co. Ltd.
Jungbunzlauer Suisse AG
Basel
Delek Group
Cargill
Incorporated
Weifang Ensign Industry Co., Ltd.
Tate & Lyle plc.
COFCO Biochemical (AnHui) Co. Ltd.
RZBC GROUP
Pfizer Inc. (indicative list)

Report Coverage

Market Overview, Key Market Trends, COVID-19's Impact, Demand Analysis, Market Background, Segmental Analysis, Regional Profiling, Market Structure Analysis and Competition Analysis

Customization & Pricing
Key questions answered in the report
How will the citric acid market expand through 2031?

According to Future Market Insights (FMI), the global citric acid market is projected to gain stimulus from applications in the food and pharmaceutical sectors, expanding steadily at a CAGR of over 4.5% through 2031.

Which is the dominant citric acid market?

Asia Pacific excluding japan is currently the leading regional market for citric acid, accounting for major market share through the end of the assessment period. Growth in this region is largely attributed to lower production costs and easier access to raw materials.

How is COVID-19 impacting the Citric acid growth projections?

The COVID-19 pandemic has had a notable impact on the prospects of citric acid applications in the short term. Investments into research on the covid-19 virus and the demand for immunity boosting products and supplements has boosted the potential use of citric acid in the biopharmaceutical sector. Moreover, the increased demand for convenience foods during the crisis has generated lucrative opportunities.

Which are the prominent Citric acid market players?

Prominent Citric acid market players include
Key Segments
Application
Acidulant
Cleaning agent
Binding Agent
Preservative
Others
Form
Grade
Food Grade
Industrial Grade
Pharmaceutical Grade
End Use
Food & Beverages

Bakery & Confectionary
Dairy
Convenience Food
Beverages
Jams & Preserves
Others

Pharmaceutical
Animal feed
Personal care
Metal finishing & cleaning
Others
Region
North America (U.S. & Canada)
Latin America (Mexico, Brazil, Argentina, Chile, Peru, & Rest of LATAM)
Western Europe (Germany, U.K., France, Italy, Spain, BENELUX, Nordic, & Rest of W. Europe)
Eastern Europe (Russia, Poland, CIS Countries and Rest of E. Europe)
Middle East and Africa (GCC Countries, Turkey, South Africa, Israel, & Rest of MEA)
Japan
Asia Pacific excluding Japan (China, India, ASEAN, South Korea, Australia, & Rest of APEJ)
Need specific information?
Talk Show:
The Rise of Intelligent Packaging
Personalized, Connected and Sustainable
November 18, 2021
11:00-11:45 AM PST (USA & Canada)
This is a LIVE session