Cold Plasma Market by Product Type (Low-pressure, Atmospheric Pressure), Application (Wound Healing, Cancer Treatment, Blood Coagulation, Packaging Decontamination, Food Surface Decontamination), Technology (Remote Treatment, Direct Treatment, Electrode Contact), End User & Region - Forecast to 2020 - 2030
Cold Plasma Market - Analysis, Outlook, Growth, Trends, Forecasts
August 2020

REP-GB-12401

300 pages
Global Cold Plasma Market Outlook & Key Findings
[300 Pages Report] Global Cold Plasma Market to surge at a noteworthy CAGR from 2020-2030
Application in treatment of chronic wounds will continue to be a lucrative revenue booster for Cold Plasma Market
Enhanced effectiveness in deactivating pathogens likely to accelerate adoption of atmospheric pressure cold plasma
Food processing & packaging industry extensively adopting cold plasma disinfection procedures
Asia-Pacific to generate fertile spaces for cold plasma market players, owing to extensive application in the textile and medical sectors
COVID-19 to accelerate adoption of medical-grade cold plasma for single-use protective equipment disinfection
Overview
Cold plasma, also referred to as non-thermal plasma, is considered a fourth state of matter. Over the years, its unique nature has intrigued scientists, who have discovered a wide array of applications across several end-use industries.
Cold plasma has been extensively used across the medicinal, bioengineering and food processing sectors.
Several applications across the life sciences domain have also been recorded. Healthcare practitioners are incorporating cold plasma for treating traumatic and surgical wounds.
These widespread applications are increasingly expanding the scope of the cold plasma market. It is anticipated to grow staggeringly throughout the 2020-2030 forecast period.
Need for In-Package Decontamination Upscales Cold Plasma Adoption in Food & Beverage Industry
Cold plasma has emerged as a novel non-thermal food processing technology utilizing reactive energetic gases to destroy pathogens on vegetables, poultry products, meat and fruits.
It employs electricity and a carrier gas, mostly helium, oxygen or nitrogen. A wide range of cold plasma systems operating at atmospheric pressures are under development.
Over the years, food contamination has become a major cause of concern. This ranges from the prevalence of harmful microbes to abnormally high concentration of inorganic chemicals during the processing, packaging, transportation and storage phases.
As a result, food items need to be thoroughly inspected and measured, requiring several testing approaches.
Amongst all food decontamination procedures, cold plasma promises to deliver the most favorable results. This approach is highly effective in eradicating bacteria such as salmonella, E.coli, listeria monocytogenes and staphylococcus aureus.
The testing duration ranges anywhere between 3 seconds to 120 seconds, making it the fastest testing method amongst all procedures.
Advancements in the plasma tube systems have opened up new frontiers for in-vivo reduction of food-borne pathogens. Such successes are motivating manufacturers to develop food-grade cold plasma testing kits, anticipated to generate credible market expansion opportunities during the upcoming decade.
Atmospheric Pressure Cold Plasma Applications Proliferate in Chronic Wounds Treatment
Several groundbreaking experiments conducted in the latter half of the 20th century and initial half-a-decade of the 21st century revealed significant applications of cold plasma across the biomedical sector. Initial experiments concentrated on inactivating surface-grade and liquid-grade bacteria. Eventually, experiments on cell detachment, fibroblast proliferation and wound disinfection followed.
Since 2005, applications in cancer treatment, dentistry and wound healing have been extensively explored across several laboratories, research centers, academic institutions and healthcare settings. These have largely translated into seminal publications, case-studies and educational programs on cold plasma applications.
Chronic wounds such as diabetic ulcers, either heal with great difficulty or not at all, rendering them susceptible to infections from external bacteria and other pathogens. In this regard, cold plasma has proven highly beneficial. It is capable of inactivating bacteria such as methicillin-resistant staphylococcus aureus (MRSA), the key infecting pathogens.
Significant work has been done by the German start-up company Terraplasma Medical in the field of biomedical-grade cold plasma. It markets the Plasma Care portable device which produces cold plasma to kill pathogens accumulated on chronic wounds. The company acquired a CE mark approval for this hand-held device in 2019.
In January 2014, Wacker Chemie collaborated with Coldplasmatech to discover new application areas for their SILPURAN silicone in their innovative plasma patch. This silicone is gelatinous and high-tack, ensuring that the plasma patch adheres well to the surrounding, intact skin. Such collaborations will greatly steer the cold plasma market forward.
Immense Breakthroughs in Cancer Diagnostics to Steer Market Growth
In recent years, cold plasma technology has proven immensely beneficial in eradicating microscopic cancer tumors lingering post-surgery. For solid tumor cancers such as breast and lung cancers, standard treatment procedures involve chemotherapy or radiation surgery. Often times, these tumors aren't fully removed, increasing chances of recurrence.
In the U.S., nearly 2/5th of women undergoing partial mastectomy return for another surgery due to the failure of eliminating micro-tumors. Concerned by this development, concerted efforts have been made to offset the risk of relapse. Various teams comprising of experts, academicians and surgeons have collaborated in this respect.
In 2019, a multi-institute team led by Purdue University aerospace engineer Alexey Shashurin developed a pen-shaped electrosurgical scalpel which sprays a blue jet of cold plasma on any leftover cancerous tissues or cells for nearly 2-7 minutes. The device is equipped to target only malignant tissues, leaving healthy ones intact.
The results were announced through a series of in vitro, in vivo and FDA-approved compassionate use cases initiated prior to the actual clinical trials. The clinical trials have been sponsored by the U.S Medical Innovations LLC and Jerome Canady Research Institute for Advanced Biological and Technological Sciences.
Asia Emerges as a Lucrative Market, US to Retain its Share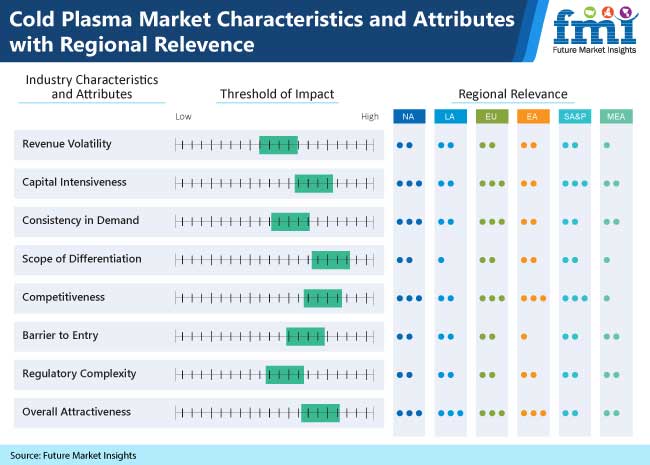 Asia is anticipated to register a prolific increase in the cold plasma market, attributed to a heightened demand for decontaminated frozen food, increased adoption for textile production, rising polymer production and heightened spending on healthcare infrastructure. A large population base in these countries entails heightened cases of several health ailments.
Consequently, hospital admissions have increased. This increase in hospital admissions has also elevated risk of contracting nosocomial infections, for which cold plasma disinfection shows tremendous scope. Majority of this demand is expected to be stimulated from emerging economies such as China and India. Vendors are therefore scrambling to acquire a foothold in these regions.
Heightened adoption in food safety determination and decontamination is primarily driving the North American cold plasma market. The region emerged as the market hegemon in 2019, and will continue demonstrating this trend throughout the 2020-2030 forecast period. Within North America, the United States will project the strongest trends, followed by Canada.
COVID-19 Opens Up Potential Green Spaces for Cold Plasma Applications
Experts have concluded that cold atmospheric plasma treatment will make significant inroads in the treatment of coronavirus positive patients in the forthcoming time period. Several anesthesiologists, microbiologists and virologists are exploring this possibility. Precedents have established that cold plasma disinfection can deactivate air-borne pathogens, including some potentially deadly viruses.
A study conducted by the University of Michigan discovered that employing a non-thermal plasma reactor could eradicate 99.9% of the virus in the airstream through inactivation. This example renders it prudent to suppose that the novel coronavirus strain may also be inactivated by cold plasma, thus eventually providing a potential cure.
Cold plasma disinfection is also acquiring momentum with respect to prolonging the lives of personal protective gear. Due to the shortage of protective and sterile clothing, healthcare providers are treating existing gear with cold plasma, effectively inactivating any pathogen which may be present on the surface.
However, growth prospects across other verticals have been significantly hindered, particularly in the textile, food processing, electronics manufacturing and polymer industries, attributed to decline in industrial production due to lockdowns imposed by governments to flatten the infection curve. This sluggishness is anticipated to remain prevalent until the latter half of 2021.
Product Launches and Collaborations Stimulate Market Shares of Prominent Vendors
Prominent players within the global cold plasma market include Nordson Corporation, Europlasma NV, Plasmatreat GmBh, Terraplasma Medical GmBh, Henniker Plasma, US Medical Innovations, Molecular Plasma Group, Nordson Corporation, Adtech Plasma Technology Co Ltd., Smith & Nephew plc and Thierry Corporation to name a few.
The aforementioned players capitalize on a host of organic and inorganic expansion strategies, including new product releases and collaborations with leading players and research institutes, thus acquiring a competitive edge.
In 2019, the Electronics & Photonic Innovation Center (EPIC) acquired a substantial number of UK-based Henniker Plasma's HPT-200 plasma treatment system, thereby expanding their own business capabilities and created awareness about technological advancements in the electronics & photonics industry.
Recently, in 2020, German company Plasmatreat has deployed a prototype cleaning station in conjunction with the Bavarian Red Cross for disinfecting single-use protective clothing for frontline COVID-19 healthcare workers. Another station is currently undergoing clinical testing in the University Hospital at the Technical University of Munich.
In February 2020, Adtech Plasma Technology initiated a new project in collaboration with Hull York Medical School for testing gas plasma on osteomyelitis bone infections. The project will assist in establishing a laboratory testing model for evaluating and optimizing plasma treatment for osteomyelitis biofilm infections.
In 2019, Europlasma NV launched PlasmaGuard, the first all halogen free plasma enhanced chemical vapor deposition (PECVD) conformal coating for printed circuit boards and wearable devices. Its sister company, CPI, develops a proprietary plasma technology which helps protect the environment by reducing CO2 output through reduced energy generation.
Thierry Corporation is yet another important player, which not only offers several plasma cleaning technologies, but also provides pre-sales, sales and after-sales services to its clients, allowing it to acquire a significant competitive edge over its rivals.
World's Most Profilic Intelligence Engine
Get Access To The World's Largest Market Research Database.
Sign Up Now
Cold plasma Market: Segmentation
Regime Type
Low-pressure
Atmospheric pressure
Application
Wound Healing
Cancer Treatment
Blood Coagulation
Dentistry
Packaging Decontamination
Food Surface Decontamination
Wastewater Treatment
Seed Germination
Technology
Remote Treatment
Direct Treatment
Electrode Contact
End-user
Medical Industry
Textile Industry
Electrical & Electronic Industry
Food & Agriculture Industry
Region
North America
Latin America
Europe
Middle East & Africa (MEA)
East Asia
South Asia
Oceania
Need specific information?
Our Clients