Conductive Fibers Market - Key Research Findings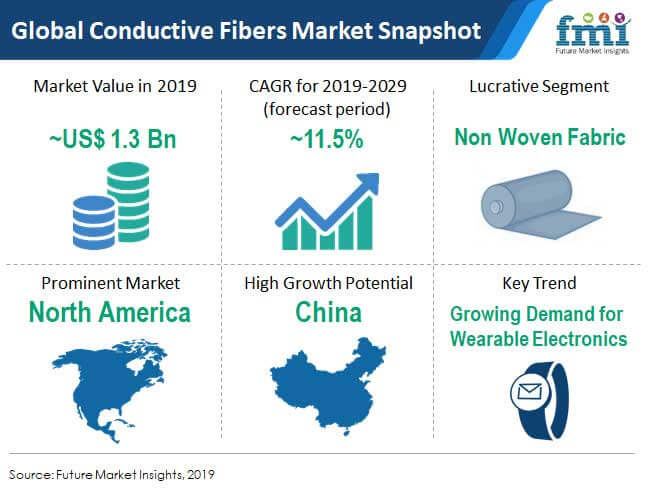 The global conductive fibers market size in 2018 was approximately US$ 1.2 Bn.
The conductive fibers market is projected to grow at a CAGR of approximately 11% between the forecast period of 2019 and 2029.
The growing adoption of wearable electronics across several industries such as sports and fitness, and consumer electronics, among others is projected to drive the global conductive fibers market during the forecast period.
Collectively, North America and Europe are estimated to account for nearly half of the revenue shares in the global conductive fibers market during the forecast period

North America, attributing to the robust presence of advanced and innovative technology in the textile industry, will continue to be a prominent regional market for conductive fibers manufacturers.

Military and defence, aerospace & aviation, and transportation segments are projected to remain prominent end-use industries to invest in, for conductive fibers market players.

The aerospace and aviation industry has witnessed significant growth over the recent past years.
Noteworthy application potential of conductive fibers has been identified in the industrial belts category.
Key Factors Shaping the Conductive fibers Market
Growing Demand for Wearable Electronics
Development of technology and evolution of new methods that enables the e-textile technology to be available to students, crafters, and hobbyists. It is also possible to develop photonic textile displays woven on jacquard loom and transmission line structure printed on screen printed fabrics. Wearable computers and wireless communication, coupled with clothing, forms a new approach to wearable computing.
In the global conductive fibers market, several types of yarn and fabric production techniques are developed as wearable electronics such as conductive textile and smart textile. Such factors are projected to significantly drive the conductive fibers market during the forecast period.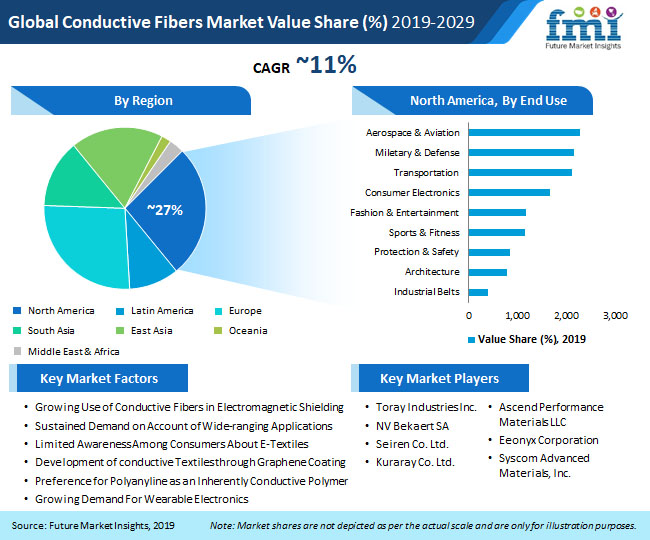 Rising Use of Conductive Fibers in Electromagnetic Shielding
Increase in electromagnetic pollution due to the increasing number of TVs, mobile phones, and other electronic devices has led to a high demand for electromagnetic shielding devices. The demand for conductive fibers have increased due to its high electromagnetic shielding effectiveness (EMSE). Electromagnetic shielding is not only beneficial for human health, but also protects sensitive electronic devices from damage.
On account of its effectiveness in reducing electromagnetic pollution, conductive textiles are projected to witness steady demand, and such factors are significantly increasing the demand for conductive fibers during the forecast period.
Sustained Demand on Account of Wide-ranging Applications in Aviation Industry
Conductive fibers have wide-ranging applications in varied end-use industries, including but not limited to military & defence, sports & fitness, consumer electronics, aviation, and automotive. In these end-use industries, conductive textiles are used as sensors, heating elements, data transfer systems, and electromagnetic shielding devices. Sustained demand for conductive textiles from these end-use industries are projected to drive the conductive fibers market during the forecast period.
Aviation & Satellite Missions

Conductive fibers and textiles are widely used in aviation and satellite missions where component light-weighting is the top-most priority. These textiles are lightweight, durable, and cost-effective. Due to these features, these textiles are replacing copper wiring as the material of choice in aviation and satellite missions. Such factors are expected to contribute to the growth of the conductive fibers market during the forecast period.
Development of Conductive Fibers through Graphene Coating
Concerns about the use of toxins and high cost of manufacturing remain long-standing challenges for conductive fibers manufacturers. In the backdrop of these challenges, the successful development of graphene-based cotton fibers is being touted as a breakthrough innovation. Current wearable technology involves the use of rigid and expensive materials to impart conductivity to fibers. In contrast, graphene is low-cost, environmentally-friendly, and compatible with a majority of textiles.
The development of conductive textiles with the help of graphene inks is expected to open up a plethora of commercial opportunities for the conductive fibers market in the forecast period.
Conductive Fibers Market Structure Analysis
The global conductive fibers market represents a moderately fragmented competition landscape, where a majority of key players maintain their strategic focus on the development of joint ventures, solid distribution partnerships, expanding their global footprints, and launching new products.
The conductive fibers market is relatively moderate in size, which remains a key factor for its dynamic competitive nature.
Prominent manufacturers of conductive fibers are currently launching new products and prioritizing R&D to boost the consumption of smart and e-textile in Europe, East Asia, and North America.
Portfolio expansion is also identified to remain as one of the key evolving strategies adopted by conductive fibers manufacturers.
For a strong traction in target markets, conductive fibers manufacturers will continue to focus on inorganic strategies, such as mergers and acquisitions.
Profound understanding of the market trends and preferential shifts of end-use segments across several regions are likely to create a bottleneck for prominent players, looking forward to untapped opportunities in the conductive fibers market.
Conductive Fibers: Graphene to set e-Textiles Right in the Environmental Bracket
With the usage of smartphones, tablets, and similar electronics devices nearing the stage of ubiquity, consumers are susceptible to hazards of electromagnetic radiation. This demands reliable protection, necessitating the development of conductive fibers with multidimensional applications.
Conductive fibers have been transmuting the textile landscape by unlocking a plethora of opportunities - apparent and underlying - in the military, aerospace, sports, and transportation landscapes to suffice their niche demands. Environmental regulations laid down by governments have further incited manufacturers to develop conductive fibers within the boundaries of regulatory norms, which has paved the way for the graphene-based conductive textiles.
These innovations will aid manufacturers to achieve low-cost and environmentally-benign conductive fibers, which is likely to hold the key to proliferated adoption in numerous industries.
Copper to Become the New Gold Standard for Base Material, Replacing Silver
Though the convergence of technology and textile - tech togs - turned out to be an attractive proposition, the fragmented conductive fiber landscape spectates the development of value-added conductive fibers and 'comfort' has been the new head-turning feature. Manufacturers have been experimenting with different combinations of reinforced and base material to develop breathable materials, which makes silver a gold standard for the development of lightweight conductive fibers and marks it ideal for aviation applications.
However, durability, lightweight, and high cost of silver are likely to uptick the integration of copper in electronic circuits for the development of conductive fibers. Nylon and polyester continue to garner popularity, in light of their durable properties and seamless supply, as compared to the natural base materials such as cotton and wool.
As the success of numerous industries relies on the transportation industry, owing to the increasing significance of e-Commerce channels, conductive fibers have been making inroads for the development of gaskets and seals for resisting varying parameters.
Plethora of Opportunities in Asia Pacific as Foreign Investment Sets in
Exponential improvements in the discretionary spending in the military & defence sector in North America has been reflecting on the sales of conductive fibers for the development of weather-proof, damage resistant, and comfortable textiles for military personnel. Development of e-textiles for keeping a check on sleep, calories consumed, heart rate, and blood pressure has been gaining significance in the healthcare industry, which has been influencing the size of the conductive fibers market in the region.
As high business opportunities in Asia Pacific region attracts foreign investment in numerous industries, manufacturers can capitalize on the high potential of the region.
How Growth Will Unfold
As concerns apropos of use of toxins and high manufacturing costs limit the healthy growth of the conductive fibers, development of graphene-based cotton textiles will offer plethora of commercial opportunities to conductive fiber manufacturers. Long-term contracts and partnerships with B2C textile companies will encourage the scramble of leading players towards a higher market share.
Since high production cost directly passes down to the finished fabric, which leads to consumer reluctance towards purchasing, selection of cost-effective materials like copper will remain crucial. With the growing demand for wearable electronics, nylon and polyester are likely to remain the preferred reinforced materials for the development of conductive fibers.
Since wearable tech products - smart watches, wrist gears, footwear, and headgear - gain consumers' proclivity at a nascent stage, e-textiles, in turn, hold enormous potential to penetrate deeper into the consumers' space at an accelerated pace.
Key Segment
By Reinforced Material
Copper
Carbon
Nickel
Lead
Silver
Others
By Application
By Base Material
Cotton
Nylon
Polyester
Wool
Polyamide
Others
By End Use
Military & Defense
Aerospace & Aviation
Sports & Fitness
Consumer Electronics
Protection & Safety

Gloves
Head & Face Protection
Full Body Protective Wear
Shoe Cover

Fashion & Entertainment
Transportation
Architecture
Industrial Belts
By Region
North America
Latin America
Europe
South Asia
East Asia
Oceania
MEA
Need specific information?
Talk Show:
The Rise of Intelligent Packaging
Personalized, Connected and Sustainable
November 18, 2021
11:00-11:45 AM PST (USA & Canada)
This is a LIVE session