Conversational Commerce Market Outlook (2022 to 2032)
The global conversational commerce market stood at US$ 5,345.5 million in 2021. The market is expected to reach US$ 26,301.8 million by 2032, growing at a CAGR of 15.6% from 2022 to 2032.
The major components that contribute to this massive revenue assortment are:
Companies are investing to start social media marketing campaigns.
With a multilingual voice assistant, it also simulates in-store help on numerous digital platforms.
Increasing demand for customer support services driven by artificial intelligence (AI).
Firms are putting more effort into responding to customer inquiries utilizing cutting-edge techniques like AI and NLP.
Automating frequent user inquiries to a sophisticated live agent system assists retail and e-commerce enterprises in reducing customer care expenses.
The use of machine-to-machine technology is growing.
As conversational systems enable contact centers to automate speech-enabled apps and messages for interactions between computers and humans, several contact centers are concentrating on implementing them.
A rise in the demand for time-critical processes to be computed in real-time
| | |
| --- | --- |
| Attributes | Key Statistics |
| Conversational Commerce Market Estimated Size (2022) | US$ 6,147.1 Million |
| Projected Market Valuation (2032) | US$ 26,301.8 Million |
| CAGR-based CAGR (2022 to 2032) | 15.6% |
| Collective Value Share: Top 5 Vendors | Around 35% |
Don't pay for what you don't need
Customize your report by selecting specific countries or regions and save 30%!
Presence of Leading Market Players Fuel the North American Market Expansion
The North American region dominated the conversational commerce market. The prevalence of technology companies in North America and the rising adoption of cutting-edge, technology-enabled bot solutions across key sectors are the main factors driving the region's growth. In North America, the USA has adopted conversational systems the most widely. To maintain its competitive edge in the market, the nation has integrated deep learning, machine learning, and AI technology into its present business operations. Additionally, the presence of major international suppliers like IBM Corporation, Google LLC, Microsoft Corporation, and Amazon Web Services, Inc. is crucial to the market's adoption of conversational systems platforms. To survive in the cutthroat conversational commerce market environment, these regional firms are concentrating on the creation of novel solutions.
The economic growth of the North American conversational commerce market is also being aided by the region's expanding research and development activity. For instance, the NLP Group at Microsoft Research has created the DialogGPT, a pre-trained deep-learning NLP model for generating conversation responses automatically. The recently created model produced cutting-edge outcomes on a number of benchmarks after being trained on more than 147 million conversations.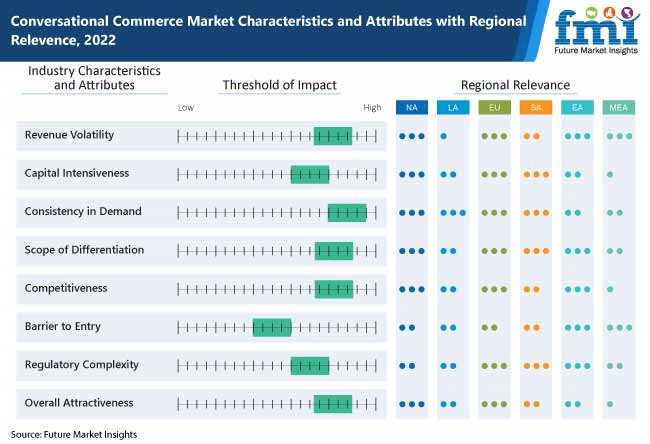 Market participants Take Advantage of the Opportunities by Introducing New Products and Modifying Existing Ones
Conversational commerce market players are concentrating on developing inventive products and services to attain a competitive edge. For instance, a chatbot with AI was released by Google Cloud, a division of Google LLC, in April 2020. The Rapid Response Virtual Agent software is the name of the chatbot. Customers of Google Cloud can use the chatbot program to obtain answers more quickly. The conversational system has also been developed for businesses that must be able to notify their customers, including public health organizations, BFSI, and the retail and government sectors.
In order to make their current conversational commerce solutions more enticing to clients, they are also concentrating on product innovation by introducing new features to them. Vendors are also working to increase their client base while forming strategic alliances and obtaining venture capital for company expansion. For instance, Vonage and Artificial Solutions, a major supplier of enterprise-strength conversational AI, partnered in January 2020. The recently established collaboration has unveiled a new connector that joins Teneo, a conversational AI analytics platform, with Vonage's API offerings.
To raise their brand recognition, several suppliers are putting a lot of effort into integrating various technologies, such as machine learning and natural language processing, into their conversational systems solutions. These solutions are frequently utilized by end-use industries in branding, advertising, and customer service applications. Leading players are concentrating on broadening the scope of their solution offerings. For instance, IBM Corporation unveiled Watson AIOps in May 2020, a solution that uses artificial intelligence, machine learning, and natural language understanding to automate IT processes. This product is being offered to strengthen corporate information architecture resilience and hasten problem response.
Conversational commerce is a branch of e-commerce or any company which has its presence on the Internet and social media. It deals with customer interaction by using messaging apps, social media, and any other internet platform like company websites.
This form of the conversation uses chatbots, messaging apps, and voice assistants. It allows companies to better understand the needs, demands, and queries of their customers and potential customers. Conversational commerce holds about 8% of the global e-commerce platform market.
Consumers can chat with company representatives, read reviews, get customer support, click to purchase all from within messaging apps, get personalized recommendations, and ask questions with the help of conversational commerce. They can also engage in interaction with chatbots, a human representative, or a mix of both with this type of commerce.
Companies can also use chatbots to automate customer service messages on the business side. They would be able to enable customers to purchase products from them without leaving the messaging app they are utilizing. They can further send order confirmations in Instagram Direct or Facebook Messenger, as well as delivery and shipping notifications.
2017 to 2021 Conversational Commerce Demand Outlook Compared to 2022 to 2032 Forecast
The conversational commerce market is expected to grow at 15.6% CAGR between 2022 to 2032, as compared to the CAGR of 14.9% exhibited between 2017 to 2021.
Many companies irrespective of their sizes are trying to build an online presence. Start-up firms are initially choosing to build their businesses by leveraging social media platforms, especially if the customer or client base they are trying to reach out to is based away from their geographic location. It also helps companies to find new customers on these platforms as the number of social media users has increased over the last few years.
Why is Conversational Commerce Used by Companies to Improve Their Customer Engagement?
Companies today use social media and messaging applications to interact with their customers, clients, and potential customers. This mode of conversation allows companies to schedule appointments, share important details, links & updates, implement AI to have conversations with customers or analyze the tone & words being used in the conversation by using natural language processing (NLP) to understand what the customers are feeling about the product, service, or company.
Customer engagement can also be boosted with the help of personalization and by identifying specific needs. Companies are also trying to understand the complaints that customers have with their services and address questions to consolidate the communication between companies and customers. This helps businesses better understand their target market and hence take the necessary steps to improve sales and customer engagement.
Get the data you need at a Fraction of the cost
Personalize your report by choosing insights you need
and save 40%!
Country-wise Insights
What is the USA Conversational Commerce Market Outlook?
Presence of Various Conversational Commerce Companies in the USA to Aid Growth
The USA is home to several large enterprises belonging to numerous domains like IT & telecom and manufacturing. Apart from social media, these companies also deal with customers on their websites and e-commerce platforms.
They are also providing home deliveries of products with rising penetration of the internet and the emergence of many e-commerce platforms in the country. These factors are projected to boost growth in the USA industry.
Why is the India Conversational Commerce Market Showcasing Lucrative Growth?
Conversational Commerce in Retail Sector to Gain Traction in India
Companies operating in India are set to gain new growth opportunities with the increasing adoption of smartphones in the country. It is compelling key players to invest more in social media marketing activities.
E-commerce companies are also striving to understand the importance of the multilingual character of the country. Thus, they are hiring people from various parts of India to interact with their clients. They are also deploying AI for smooth customer interaction.
How is the China Conversational Commerce Industry Progressing?
Enterprise Conversational Commerce Platforms to Gain Popularity in China
According to the International Trade Administration, China has the largest e-commerce market across the globe. The country also has the largest number of internet users and is home to e-commerce giants like Alibaba.
In February 2021, China's state council introduced Antitrust regulations to prevent any company from monopolizing the e-commerce market in the country. There is also a trend among e-commerce companies to practice cross-border e-commerce, where they do not build a presence in foreign countries, but reach out to customers beyond borders.
Category-wise Insights
Which is the Highly Preferred Conversational Commerce Component?
Conversational Shopping Solutions to Gain Immense Popularity Worldwide
Conversational commerce consists of responses, messages, sharing of information, understanding customer needs, and meeting the requirements of customers and clients. Owing to the aforementioned benefits, several solutions are being implemented by companies for varying requirements. As per FMI, the solutions segment held the highest market share of 64.4% in 2021.
Which is the Leading Type of Conversational Commerce Tool?
Key Players Are Looking for Conversational Commerce Chatbots
Based on type, the chatbots segment is anticipated to lead the global market with a share of nearly 59.5%. They can be easily implemented by various companies for their websites, messaging applications, and social media platforms. They also act as the closest means of interaction for customers when they are on social media or the company's website.
Which Deployment Mode is Gaining Traction in the Conversational Commerce Industry?
Conversational Commerce Companies Are Preferring Cloud Deployment
Cloud deployment allows companies to cut out on unnecessary expenses and make the availability of resources needed by companies for less cost and time. The ongoing development of several cloud solutions and the incorporation of AI would boost growth.
Besides, companies are consistently implementing voice assistants, chatbots, and other solutions to grow their businesses. Thus, cloud deployment is estimated to witness a high CAGR of 16.6% in the forecast period.
Which is the Dominant Enterprise Size?
SMEs to Deploy Conversational Commerce in Retail for Smooth Operations
An increasing number of small and medium enterprises (SMEs) across the globe is set to drive the market. These companies are leveraging social media for building a customer base. They are also relying on e-commerce platforms for boosting sales. Thus, the SME segment is expected to exhibit growth at a steady CAGR of 17.0% in the next decade.
Which is the Dominant Business Function in the Conversation Commerce Market?
Chat Commerce to Be Used for Increasing Sales among Companies
By business function, the sales segment is likely to be valued at US$ 1,538.9 Million in the forecast period, says FMI. The end goal and primary purpose of conversational commerce are to build conversations between customers and companies which will eventually lead to sales. Pre-installed questions in chatbots are often written with the purpose of providing product and service information to customers. It is also used for offering updates on new product launches or events.
Which Industry Mainly Uses Conversational Commerce Solutions?
The retail and E-commerce Industry is Using Enterprise Conversational Commerce
Companies can actively deal with customers online by using social media. While speaking with their customers, companies can also observe the opinions that they have regarding their products or services. New solutions help in interacting with clients or customers if the business is solely based on e-commerce. Thus, the retail and e-commerce segment is projected to exhibit a CAGR of 19.4% in the upcoming decade.
Competitive Landscape
Key vendors are focusing on product innovation by adding more features to their existing conversational commerce tools to make them appealing to customers. Moreover, vendors are engaging in strategic partnerships and raising venture funding for business growth, as well as striving to expand their customer base.
For instance
In July 2022, Charles, the first conversational operating system incorporating everything related to e-commerce into WhatsApp and other chat applications, won $20 Million in Series A funding to establish itself as the leading conversational commerce platform for brands and businesses in Europe. With the funding, Charles is extending its activities beyond Germany and into important European markets.
Glia launched Glia Virtual Assistants (GVAs) in July 2022 with the goal of helping organizations to cut costs, shorten resolution times, and provide seamless customer experiences by combining virtual and human support. GVAs have been built upon conversational AI solutions from the company's recent Finn AI purchase and come pre-trained to add value right out of the box. Glia offers an all-inclusive integration of GVAs into its market-leading platform, creating a single supplier solution for digital customer support.
Charles Gmbh, Octane AI, and WorkFusion Top 3 Giants Laying Foundation for Conversational Commerce Globally
Charles Gmbh is a Germany-based conversational commerce company. The company, founded in 2020, enables organizations to sell their products through WhatsApp. Charles connects chat app APIs with HubSpot, Shopify, and other CRM systems.
The company is focusing on raising funds through investors to ensure business continuity and longevity. For instance, in April 2021, it raised over US$ 8 Million to bring conversational commerce to WhatsApp. Further, in July 2022, the company announced that it bagged US$ 20 Million in Series A, led by Salesforce Ventures.
Octane AI is another prominent player in the conversational commerce space. To boost its position, it is mainly focusing on launching products specific to end-use industries. For instance, in August 2022, the company announced that it will be foraying into the healthcare sector, especially cardiovascular disease management.
Octane AI is widely regarded as one of the best apps by leading CRMs. For instance, Shopify declared Octane AI as the best storefront app in April 2021. Like Charles Gmbh, the company is focusing on raising investments through venture capital. For instance, in July 2021, Octane AI announced it has raised US$ 5 Million in funding. The funding round was led by Javelin Venture Partners, a firm that has funded renowned companies such as Masterclass and Thumbtack.
WorkFusion, on the other hand, is set to follow the footsteps of Charles Gmbh and Octane AI in the field of conversational commerce. It has been consistently named as one of the leading players by the PEAK Matrix assessment survey.
The company has partnered with Google Cloud Marketplace to strengthen its presence worldwide. Just like Charles Gmbh and Octane AI, raising funds is crucial to sustaining operations for WorkFusion. It raised US$ 220 Million in March 2021 in an investment round led by Georgian.
Scope of the Report
Attributes
Details
Estimated Market Size (2022)
US$ 6,147.1 Million
Projected Market Valuation (2032)
US$ 26,301.8 Million
Value-based CAGR (2022 to 2032)
15.6%
Forecast Period
2022 to 2032
Historical Data Available for
2017 to 2021
Market Analysis
Value (US$ Million)
Key Regions Covered
North America, Latin America, Europe, South Asia & Pacific, East Asia, and the Middle East & Africa
Key Countries Covered
USA, Canada, Germany, United Kingdom, France, Italy, Spain, Russia, China, Japan, South Korea, India, Australia & New Zealand, GCC Countries, Turkey, and South Africa
Key Segments Covered
Component, Type, Deployment Mode, Enterprise Size, Industry, Business Function, and Region
Key Companies Profiled

Charles GmbH
Octane AI
WorkFusion
Quiz
SleekFlow
Cognicor
Recart
Via
Glia
Online
Action.AI
Inbenta
Wizard Commerce
Webio Ltd
Take App
CM.com
Drift
Yalo
LivePerson

Report Coverage
Market Forecast, Company Share Analysis, Competition Intelligence, Drivers, Restraints, Opportunities and Threats Analysis, Market Dynamics and Challenges, and Strategic Growth Initiatives
Conversational Commerce Market Outlook by Category
By Component:
Solution
Services

Training and Consulting Services
System Integration and Implementation Services
Support and Maintenance Services
By Type:
Chatbots
Intelligent Virtual Assistants
By Deployment Mode:
By Enterprise Size:
Small and Mid-Sized Enterprises (SMEs)
Large Enterprises
By Business Function:
Sales
Finance
HR
Operations
IT Service Management
By Industry:
BFSI
Healthcare and Life Sciences
IT & Telecom
Retail and E-commerce
Travel and Hospitality
Media and Entertainment
Automotive
Others
By Region:
North America
Latin America
Europe
South Asia & Pacific
East Asia
Middle East & Africa
Frequently Asked Questions
Glia, Charles Gmbh, Octane AI, WorkFusion, and Quiq are some of the key vendors of conversational commerce.
South Asia and the Pacific region are expected to showcase the highest CAGR of 19% from 2022 to 2032.
The ability of conversational commerce solutions and services to help build customer relations via the internet by interacting with them is driving demand.
The IT & telecom industry held the largest share and was valued at US$ 1,416.0 Million in 2021 in the conversational commerce market.
An intelligent virtual assistant is set to exhibit high growth at a CAGR of 16.9% in the forecast period of 2022 to 2032.
The USA, Germany, India, China, and GCC countries are driving the conversational commerce market.
Cloud-based conversational commerce deployment mode has the higher CAGR of 16.6%.
The conversational commerce market grew at a CAGR of 14.9% from 2017 to 2021.
China held the largest market share in East Asia in 2021 and was valued at US$ 1,682.0 Million.