KEY FACTORS SHAPING COUNTERFEIT DRUG DETECTION DEVICE MARKET
Shifting Trend from Packaging Security to On-dosage Security
On-dose identification technology is promising since it is a highly effective method to scrutinize security in the pharmaceutical supply chain making it less vulnerable to counterfeit drug entry. This is because the medicine can be directly verified and not just rely on package identifiers. Furthermore, with on-dose trackers, manufacturers can have access to tools to identify packages that have been separated from its original source to assist product returns or recall, as well as for clinical trials administration and management.
Improvements in Supply Chain – Primary Focus of Manufacturers
Supply chain of healthcare products is very complex, allowing counterfeit drug traffickers easy access to intrude the market. Supply chain in developed countries is relatively more secure as compared to emerging countries making these regions more prone to counterfeit drug trafficking. This is primarily due to number of factors including long supply chains for imports, lack or absence of political control for health authorities, local police and customs.
Pharmaceutical supply chain in developing nations is highly fragmented as well as expensive and inefficient. Most regulatory bodies in these developing regions are focused towards the reduction of counterfeit drugs reaching the patients by increasing security in different elements of the supply chain. Thus, the adoption of counterfeit detection devices by key supply chain players such as manufacturers, wholesalers, distributors and pharmacies would increase with the increasing demand to identify counterfeit drugs within the supply chain itself.
Rising Awareness for Counterfeit Drugs to Limit Supply of Fake Drugs
"Fight the Fakes" is a global initiative playing a vital role in rising awareness for counterfeit drugs. Fight the Fakes started in Geneva, Switzerland approximately four years ago. This campaign partnered with a number of healthcare professionals, universities, NGOs and renowned industry representatives around the world. Such awareness campaigns will help government in developing nations to take measures for identification of counterfeit drugs, thereby supporting growth of the counterfeit drug detection devices market.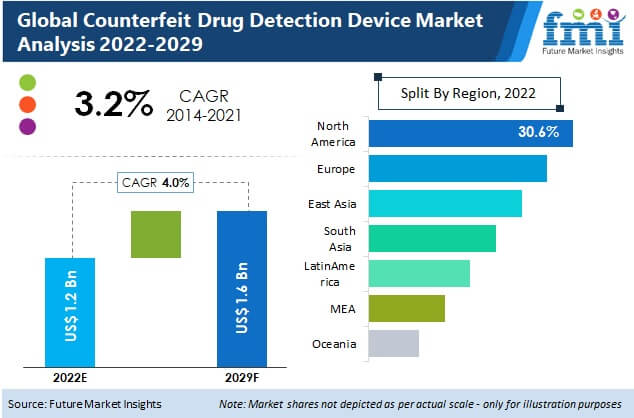 COUNTERFEIT DRUG DETECTION DEVICE MARKET STRUCTURE ANALYSIS
The global counterfeit drug detection device market is consolidated with over 60% market share occupied by top 4 players in the market.
Counterfeit drugs are major problem in emerging or developing nations. These countries are currently the focus for most organizations such as WHO to reduce counterfeit drug supply in these nations. Most manufacturers are focusing on expanding sales in these regions.
A number of small players are developing innovative detection devices that offer great potential for growth in the future. Acquisition of companies with such technologies or acquisition of innovative IP could potentially increase counterfeit drug detection device market share in the future.
Counterfeit Chemical Composition Detection Devices Leading the Way
Accounting for revenues worth of over US$ 600 Mn, counterfeit chemical composition detection devices continue to lead the global market. Under the category, infrared & near infrared molecular spectroscopy devices represent significant share, while demand for ultraviolet/vis devices is accelerating. On the other hand, counterfeit packaging & labelling detection devices are witnessing rapid adoption, especially in developing regions. RFID analyzers are leading the product category, while scanning & imaging systems are garnering noteworthy traction.
Market Growth Sustained in North America
Demand for counterfeit drug detection devices across the globe is currently drew on rising stringency of anti-counterfeiting norms in tandem with manufacturers' focus on identifying counterfeit raw materials. North America, representing nearly 30% of the total market value, continues to offer plethora of opportunities to market players.
The region is majorly represented by the U.S. Sales in Europe are expected to reach about US$ 400 Mn towards the end of projection period. Germany and the UK lead the regional market. Market players are also citing East Asia from target market perspective, where Japan and China collectively hold around 90% share.
Manufacturers Turning to Proprietary Technologies
Manufacturers are leveraging proprietary technologies for developing state-of-the-art counterfeit drug detection devices. For instance, TruTag Technologies, Inc. has designed drug detection device using microtags that act as edible bar codes. These microtags consist of a spectral code selected from a broad library of distinct codes and can be further added to the database. Furthermore, RxAll has developed a nanoscanner that utilizes artificial intelligence (AI) to check the authenticity of drugs on the basis of unique spectral fingerprint, which can be stored in the database for further purposes.
How Growth will Unfold
Pharmaceutical companies remain the key revenue generator for market players, where demand for counterfeit drug detection devices is growing steadily. In 2018, sales of counterfeit drug detection devices in pharmaceutical companies were around US$ 462 Mn. Demand for counterfeit drug detection devices in drug testing laboratories is speeding up and is expected to generate slightly over US$ 600 Mn by 2029 end.
World's Most Profilic Intelligence Engine
Get Access To The World's Largest Market Research Database. Ngage with a revolutionary intelligence engine that scale and pricing that flexes as per your needs
Sign Up Now
COUNTERFEIT DRUG DETECTION DEVICE MARKET TAXONOMY
The global counterfeit drug detection device market is segmented in detail to cover every aspect of the market and present a complete market intelligence approach to the reader.
Product
Counterfeit Chemical Composition Detection Devices

Ultraviolet/Vis Devices
Infrared and Near Infrared Spectroscopy Devices
Raman Spectrometers
XRD & XRF Spectroscopy Devices

Counterfeit Packaging & Labelling Detection Devices

RFID Analyzers
Scanning and Imaging Systems
Others
Modality
Portable Devices
Handheld Devices
Benchtop Devices
End User
Pharmaceutical Companies
Drug Testing Laboratories
Research Organizations
Regions
North America
Latin America
Europe
South Asia
East Asia
Oceania
Middle East and Africa (MEA)
Need specific information?