An Incisive, In-depth Analysis on the Disposable Negative Pressure Wound Therapy Devices Market
This study offers a comprehensive, 360 degree analysis on the Disposable Negative Pressure Wound Therapy Devices market, bringing to fore insights that can help stakeholders identify the opportunities as well as challenges. It tracks the global Disposable Negative Pressure Wound Therapy Devices market across key regions, and offers in-depth commentary and accurate quantitative insights. The study also includes incisive competitive landscape analysis, and provides key recommendations to market players on winning imperatives and successful strategies.
The growing healthcare expenditure and rising disposable income of people are expected to lead to an expansion in the applications of disposable negative pressure wound therapy (NPWT) devices across the globe. Developing countries are expected to provide substantial prospects for market players to venture into and different applications, mainly homecare settings and hospitals. Reduced hospital stay, encouraging the scope for home healthcare, is also expected to significantly support adoption of disposable NPWT devices in near future. On the global front, home care settings is expected to dominate followed closely by hospitals.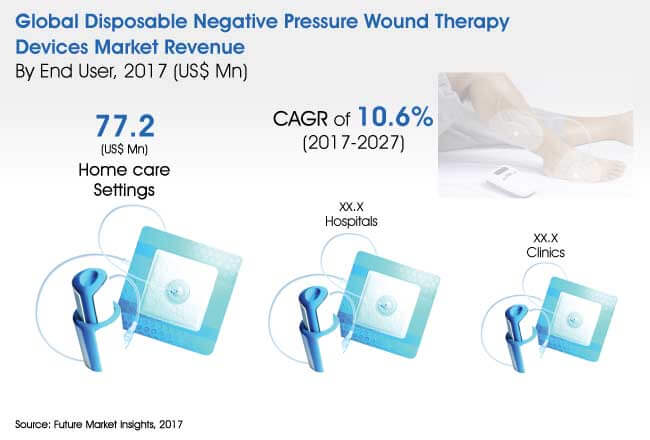 Home care setting to take lead in North America
Rising per capita income of people in North America is influencing individuals to spend more on health care. Apart from this, people are gaining more awareness pertaining to healthcare and healthcare services. Increasing disposable income in developing as well as developed economies is inciting individuals to opt for safer and advanced product types for diabetic foot ulcers. Initiatives, such as the Affordable Care Act in the U.S., aim to provide universal health coverage to all residents, thereby enabling better access to quality care.
The time that individuals spend in hospitals is also declining, mainly developed regions as awareness among people is growing and their disposable income is also increasing. Thus, as a result of this, the use of disposable Negative Pressure Wound Therapy (NPWT) devices is higher in North America in home care settings instead of hospitals or Outpatient clinics. However, issues related to product acceptance and reimbursement coverage might impact the growth trajectory of these devices, mainly in hospitals and home care settings.
On the other hand, in Western Europe, the improved reimbursement rates for disposable NPWT is expected to boost the implementation of these devices in hospitals, clinics, as well as home care settings. In European health-care systems, dedicated product reimbursement granted by publicly-funded healthcare systems or health funds is a key factor for the widespread adoption of the devices. In the Eastern European region, the proliferating demand for advanced wound management in home care settings is expected to augment the employment of the devices in this sector in the long run.
Growing awareness to increase adoption of disposable NPWT devices in home care settings across developing regions
As people are becoming aware about the available healthcare services and devices with each passing day, the implementation of certain services and devices is also increasing. Especially developing regions such as Latin America and Asia Pacific excluding Japan are catching up with the developed nations in terms of health care services owing to the growing disposable income of people in the regions. The manufacturers of disposable NPWT devices are also focusing on investing in these regions. Governments are taking initiatives to make users aware about advanced wound care treatments, which will help in attaining fast recovery of chronic wounds. In addition to this, public reimbursement for wound management and other chronic conditions have increased favorably, which is likely to have a positive impact on the market and the use of the device in hospitals, clinics, and home care settings. The growing population, mainly of the geriatrics in APEJ is leading to the adoption of disposable NPWT devices mainly in home care settings as the aged people are reluctant on long hospital stays. Thus, on a whole, the preference of disposable NPWT devices in home care settings is likely to stay high almost across all regions.
A new market research report on disposable negative pressure wound therapy (NPWT) devices has been published by Future Market Insights (FMI). The report provides incisive insights on the chronological growth trajectory of the market along with the present and future growth prospects present in the market. The report offers an exclusive analysis of the global market along with regional and segment based insights.
Disposable Negative Pressure Wound Therapy Devices Market: Overview
The report offers an entire summation of the market including an official abstract that draws out the centre examples progressing in the market. It furthermore discusses on a couple of facets, for example, drivers, obstacles, and prospects that have been found in the global market. It also acquaints readers with figures related to volume, value, and development rate of the market from a futuristic point of view. With respect to market segmentation, each segment is analysed and presented in the research report. It also gives an evaluation in light of the market circumstances, and moreover presents a value chain analysis of the products and applications associated with the subject. A year to year progression of the market has likewise been offered in the report for the reader to be particularly aware of the changing scenario of the market.
Disposable Negative Pressure Wound Therapy Devices Market: Taxonomy
Product Type

End User

Region

Disposable NPWT with Canister

Disposable NPWT without Canister

Hospitals

Clinics

Home Care Settings

North America

Latin America

APEJ

Western Europe

Eastern Europe

MEA

Japan
Disposable Negative Pressure Wound Therapy Devices Market: Research Methodology
The report is an end result of the cautious research work of the market analysts using reliable sources. The information introduced has been studied carefully by industry experts of FMI. The data that has been presented here has been assembled from various tried and tested sources. The figures have also been checked by the examiners and can be used to settle on key decisions and formulate strategies.
Disposable Negative Pressure Wound Therapy Devices Market: Competitive Landscape
The market study conveys an immense outlook on the competitive landscape of the overall disposable negative pressure wound therapy devices market. It features the competition prevalent among the present vendors in the market and also puts weight on the future circumstance of the market. The profile of the players is based on a thorough SWOT examination sought down by company angle, product portfolio, strategies, finance related information, and year-to-year projections. The organizations have been explored minutely covering their key developments, innovations as well as mergers and acquisitions and agreements with other prominent organizations.
Reasons why our report is credible
The reports made by our industry analysts are credible and have been researched and validated from several primary and secondary resources. What makes us unique is the fact that along with presenting an analysis of the market's historical and present scenario, we also present a forecast review of the market for the benefit of our reader. The presentation is unique in the form of various charts, tables, and diagrams. Every bit of information present in this market research report is unique. Expert opinions are also present in the report that can be directly used by the readers to make future decisions.
COVID -19 : Impact Analysis
Request the coronavirus impact analysis across industries and markets
Request Covid -19 Impact
CASE STUDIES
See how our work makes an impact.
At FMI, we design strategies that are adaptive, impactful, and implementable.