Endometriosis Treatment Market to Peg US$ 4 Bn in 2030
Tech-driven advancements in non-invasive treatment, and molecular diagnostics have been on-ramp to material shifts in the healthcare vertical over the past few decades. Moreover, they have been playing a tremendous role in effectively addressing all sorts of gynecological disorders. Endometriosis impacts around 200 million females across the world. The worldwide value pool of the endometriosis treatment market will cross US$ 4 Bn by 2030. Manufacturers of endometriosis drugs are focused on developing non-invasive diagnostic technologies in order to prevent late diagnosis and patient discomfort.
Frequently Asked Questions about Endometriosis Treatment Market
Will rise in the prevalence of endometriosis affect the growth of the endometriosis treatment market?
In the past few years, there has been a surge in the total number of endometriosis cases across the world. This unnoticed endometriosis is now coming under the lenses of healthcare communities and national authorities. This has resulted in increasing demand for novel therapeutics for endometriosis treatment.
How will advancements in non-invasive diagnostic technologies change the treatment adoption rate?
In developed economies such as the U.S. and Europe, are extensive research studies have been completed and a majority are ongoing for the early diagnosis of endometriosis. Body fluid bio-markers and genomics test kits will be expected to significantly accelerate the early diagnosis and subsequent treatment of endometriosis.
How will novel therapeutic development surge the growth of the endometriosis treatment market in the near future?
Big global pharmaceutical and biopharmaceutical giants are investing extensively in the research & development of new drug entities, new indications of existing drugs, and/or novel drug delivery for endometriosis. These focused scientific activities are expected to meet the unmet need of endometriosis treatment by increasing the availability of superior therapeutics for patients.
Which type of drug has better growth potential over the next decade?
Oral contraceptives are expected to witness relatively high demand, owing to advancements in the scientific efficacy and proven safety of this drug type. Also, Gonadotropin-releasing hormone (GnRH) analogues are widely accepted with new therapeutic launches in this segment.
Which region will offer the most lucrative opportunities for endometriosis treatment market players?
The market in Europe and North America is expected to witness significant growth over the forecast period, owing to rising awareness and early diagnosis in the U.S., Germany, and other European countries. In developing countries, India, China and Brazil remain the top three target geographies for leading manufacturers to expand their regional presence.
Oral Contraceptive Drugs Capture Around 50% Value Share
Oral contraceptives are highly preferable as a first-line treatment for patients without contraindications, on grounds of their efficacy in preventing recurrence of pelvic pain and endometriosis lesions. However, they are associated with possible side effects such as mood changes, nausea, and elevated blood pressure levels. Progestins, on the other hand, require to be consumed periodically, unlike oral contraceptives, which require regular consumption. By 2029, the drug category will represent a billion-dollar opportunity. Furthermore, market players are unlocking new revenue streams in gonadotropin-releasing hormone (GnRH) analogues for relevant value creation.
Opportunities Prevail in Developed Regions
Europe and North America will maintain their supremacy in the global endometriosis treatment market, with the latter expected to cross US$ 1 Bn in 2020. Incumbents are pairing with healthcare providers to raise awareness in the field of endometriosis at physician and patient levels. While these developed regional markets maintain a positive trend, stakeholders are eyeing Asia for further revenue lines. Governments in China and India are significantly increasing their healthcare budgets in order to reach the unmet sections of society.
Advanced Drug Delivery Technologies to Propel Market Growth
Oral contraceptives have been the conventional drug category for treating endometriosis. Yet, they carry the drawback of first-pass liver metabolism. Market players are rolling out novel transdermal drug delivery technologies such as topical applicators to enhance efficacy and overcome the disadvantages of oral contraceptives. Moreover, these advanced drug delivery technologies achieve steady serum hormone concentration, and thus, are expected to become commonplace in endometriosis treatment. For instance, Noven has developed CombiPatch®, a combination (two-drug) patch that can be effectively used in endometriosis treatment.
Oral contraceptives stay atop
Progestins on gradual rise
Hormonal therapy remains preferable treatment type
Pain management to gain momentum
Hospital pharmacies hold leading value proportion
Retail pharmacies to showcase higher CAGR
How Growth will Unfold
Market player continue to bank on hormonal therapy to stay ahead of their peers in the endometriosis treatment market. FMI finds that, around 9 out of 10 medical professionals prefer hormonal replacement therapy for treating endometriosis, attributable to its enhanced effectiveness with minimum risks of breast cancer. That being said, patients undergoing the treatment are subject to post-therapy complications such as bloating, indigestion, and leg cramps. As such, they are turning to other options, including pain management.
* This data is only a representation. Actual data may vary and will be available in report.
Click Here To Know How The Growth Will Unfold
Custom Market Research Services
FMI offers custom market research services that help clients to get information on their business scenario required where syndicated solutions are not enough.
Overview
A recent market study published by Future Market Insights (FMI) on the endometriosis treatment market includes global industry analysis of 2014-2018 and opportunity assessment for 2019-2030, and delivers a comprehensive assessment of the most important market dynamics. After conducting thorough research on the historical as well as current growth parameters of the endometriosis treatment market, the growth prospects of the market are obtained with maximum precision.
The report features unique and salient factors that may have a huge impact on the development of the endometriosis treatment market during the forecast period. It can help market players modify their manufacturing and marketing strategies to envisage maximum growth in landscape in the coming years. The report provides detailed information about the current and future growth prospects of the endometriosis treatment market in the most comprehensive way for the better understanding of readers.
Endometriosis Treatment Market Taxonomy
The global endometriosis treatment market is segmented in detail to cover every aspect of the market and present a complete market intelligence approach to the reader.
Drug
Oral Contraceptives
Progestins
NSAIDs
GnRH Analogues
LNR-IUDs
Others
Treatment Type
Hormonal Therapy
Pain Management
Distribution Channel
Hospital Pharmacies
Retail Pharmacies
Drugstores
e-Commerce
Region
North America
Latin America
Europe
South Asia
East Asia
Oceania
Middle East and Africa (MEA)
How the research was conducted?
Primary Research
C - Level Executives
Marketing Directors
Product Managers
Business Development Officers
Production Managers
Procurement Heads
Sales Executives
Distributors
Traders
Raw Material Suppliers
Industry Experts
End Users
Current Market Dynamics and Challenges
Yesteryear Trends
Market Characteristics
Market Performance and Growth Quadrants
Competition Structure and Market Structure
Strategic Growth Initiatives
Near-term and Long-term Market Growth Prospects
Market Segment Splits and Authenticity
Opinions on Market Projections and Validity of Assumptions
Secondary Research
Industry Publications

World Health Organizations (WHO)
National Institute of Health (NIH)

Factiva
Company Press Releases
Annual Reports and Investor Presentations
Research Papers
Government Websites and Publications
Trade Websites
Primary Interview Splits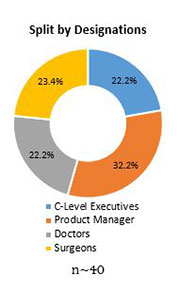 To Learn More About our Comprehensive Perspective on Endometriosis Treatment Market,
Get in touch
COVID -19 : Impact Analysis
Request the coronavirus impact analysis across industries and markets
Request Covid -19 Impact
CASE STUDIES
See how our work makes an impact.
At FMI, we design strategies that are adaptive, impactful, and implementable.