Endometriosis Treatment Market By Drug (Oral Contraceptives, Progestins, NSAIDs, GnRH Analogues, LNR-IUDs), Treatment Type (Hormonal Therapy, Pain Management), Distribution Channel (Hospital Pharmacies, Retail Pharmacies, Drugstores, e-Commerce) & Region - Forecast 2019 - 2030
Endometriosis Treatment Market - Analysis, Outlook, Growth, Trends, Forecasts
March 2020

REP-GB-3870

254 pages
Oral Contraceptive Drugs Capture Around 50% Value Share
Oral contraceptives are highly preferable as a first-line treatment for patients without contraindications, on grounds of their efficacy in preventing recurrence of pelvic pain and endometriosis lesions. However, they are associated with possible side effects such as mood changes, nausea, and elevated blood pressure levels. Progestins, on the other hand, require to be consumed periodically, unlike oral contraceptives, which require regular consumption.
By 2029, the drug category will represent a billion-dollar opportunity. Furthermore, market players are unlocking new revenue streams in gonadotropin-releasing hormone (GnRH) analogues for relevant value creation.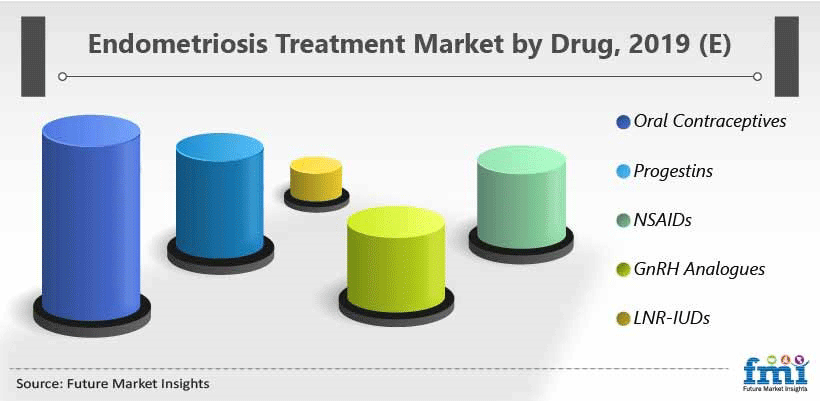 Opportunities Prevail in Developed Regions
Europe and North America will maintain their supremacy in the global endometriosis treatment market, with the latter expected to cross US$ 1 Bn in 2020. Incumbents are pairing with healthcare providers to raise awareness in the field of endometriosis at physician and patient levels. While these developed regional markets maintain a positive trend, stakeholders are eyeing Asia for further revenue lines. Governments in China and India are significantly increasing their healthcare budgets in order to reach the unmet sections of society.
Advanced Drug Delivery Technologies to Propel Market Growth
Oral contraceptives have been the conventional drug category for treating endometriosis. Yet, they carry the drawback of first-pass liver metabolism. Market players are rolling out novel transdermal drug delivery technologies such as topical applicators to enhance efficacy and overcome the disadvantages of oral contraceptives.
Moreover, these advanced drug delivery technologies achieve steady serum hormone concentration, and thus, are expected to become commonplace in endometriosis treatment. For instance, Noven has developed CombiPatch®, a combination (two-drug) patch that can be effectively used in endometriosis treatment.
How Growth will Unfold
Market player continue to bank on hormonal therapy to stay ahead of their peers in the endometriosis treatment market. FMI finds that, around 9 out of 10 medical professionals prefer hormonal replacement therapy for treating endometriosis, attributable to its enhanced effectiveness with minimum risks of breast cancer. That being said, patients undergoing the treatment are subject to post-therapy complications such as bloating, indigestion, and leg cramps. As such, they are turning to other options, including pain management.
World's Most Profilic Intelligence Engine
Get Access To The World's Largest Market Research Database.
Sign Up Now
Market segmentation
The global endometriosis treatment market is segmented in detail to cover every aspect of the market and present a complete market intelligence approach to the reader.
Drug
Oral Contraceptives
Progestins
NSAIDs
GnRH Analogues
LNR-IUDs
Others
Treatment Type
Hormonal Therapy
Pain Management
Distribution Channel
Hospital Pharmacies
Retail Pharmacies
Drugstores
e-Commerce
Region
North America
Latin America
Europe
South Asia
East Asia
Oceania
Middle East and Africa (MEA)
Need specific information?
Our Clients