Europe Trolley Bus Market By Bus (12 meters, 18 meters), Application (As Local commute transportation, Amusement parks, Auxiliary purpose), Technology (Pure electric, Dual-powered (electric + battery)) & Region - Forecast to 2019 - 2029
Europe Trolley Bus Market - Analysis, Outlook, Growth, Trends, Forecasts
September 2019

REP-GB-10456

140 pages
Europe Trolley Bus Market - Key Research Findings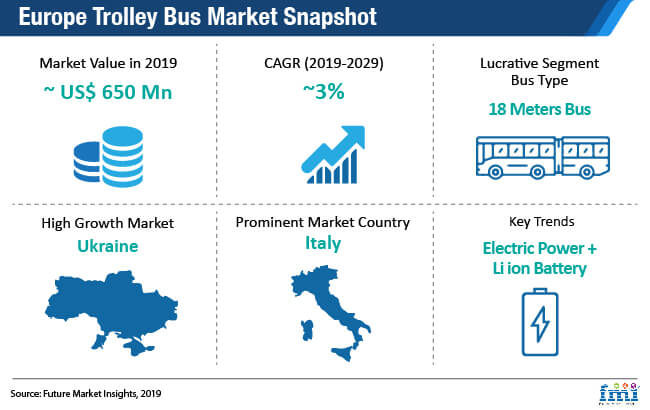 The Europe trolley bus market size in 2019 is estimated to reach ~US$ 650 Mn.
The Europe trolley bus market is estimated to grow at a CAGR of ~3% during the forecast period of 2019-2029.
Rising advancement of electrically operated buses coupled with amalgamation of new technologies with existing buses is a growth engine in the market.
Italy, France, Benelux and Ukraine are expected to account for the maximum share in the Europe trolley bus market during the forecast period.

In Italy, transformational ministry is making a trolley bus dedicated path alongside the footpath in order to allow safe passenger movement on the road.

Rising innovations and using smart equipment such as poles to perfectly make nexus of overhead wires is expected to fillip the demand of trolley buses in Europe.

For instance, manufacturers are developing smart infrastructure for trolley buses. Leading players are making smart poles which can easily set poles besides the road to the ground with less labor.
Key Factors Shaping the Europe Trolley Bus Market
Preference for Trolley Buses over Trams and Electric Trains is Expected to Drive the Sales of Trolley Buses
A trolleybus is a type of passenger transit bus that operates through electric power, which is continuously supplied via overhead cables. Trolley buses are preferred where there is a low passenger capacity, and regular passenger transportation is essential. Furthermore, trolley buses require relatively less amount of money for installation as compared to trams or electric buses.
In addition, in a trolleybus, relatively less number of components are used to operate the bus efficiently while in a conventional bus, several heavy components are used to efficiently operate the bus. Moreover, the chance of vibrations and noise pollution is relatively less because trolley buses are operated via electricity, which has fewer containments as compared to diesel fuelled buses. Thus, several advantages of trolley buses over conventional buses are anticipated to spur the sales of trolley buses over the upcoming years.
High Life Expectancy with Relatively Same Maintenance & Repairing Charges Are Projected to Mint the Sales in Future
The gradual surge in the diesel price is directly impacting the middle-class population. Diesel-operated vehicles create sound and air pollution in the environment. Trolley buses are operated via electricity, which is considered as a low emission fuel as compared to diesel and gasoline fueled buses. Due to these factors, regional governments are supporting electrically-operated vehicles to reduce pollution in the environment.
Diesel buses are equipped with components such as transmission systems, and engines, among others, which creates a vibrating sound and also requires more money within a definite time period. On the other hand, Trolley Buses have relatively fewer components as compared to diesel buses; thus, creating minimal noise and are expected to gain significant traction over the upcoming years.
Thus, trolley buses require less money or are at par with conventional buses which is projected to fillip the sales of trolley bus over the stipulated time period.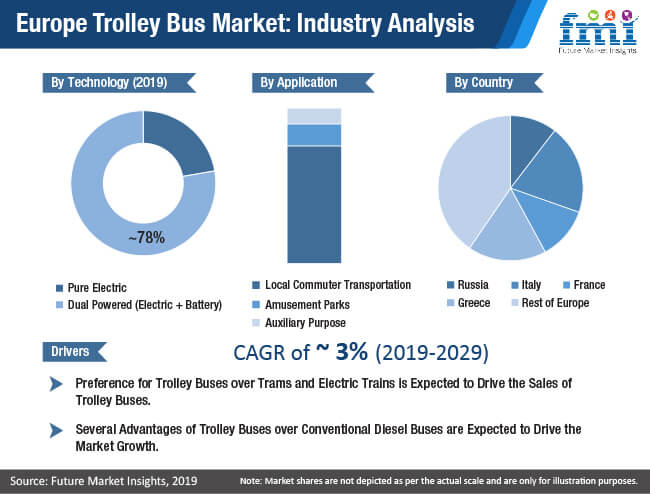 Europe Trolley Bus Market Structure Analysis
The Europe trolley bus market represents a consolidated competition landscape, where a majority of key players maintain their strategic focus on signing deals and product launches, and developing new technologies in the market.

In 2018, CAF, Construcciones y Auxiliar de Ferrocarriles, S.A. signed deals for the delivery of "Trollino" Trolley Buses in Belgium and Luxemburg and this has bestowed on them the position of a European leader of trolleybus production.
In 2019, Carrosserie Hess AG won the international tender and a framework contract for the renewal of trolleybus fleet in Lausanne (Switzerland).
In 2019, OJSC "Holding Managing Company "Belkommunmash", announced that Dushanbe's trolleybus got an order of total 150 vehicles for Dushanbe public transport sustainable development program.

For a strong traction in target markets, leading manufacturers are poised to make low cost type trolley bus which can be operate by dual fuels such as electric power and battery power.
Rising adoption of electric buses is a major headwind in the trolley bus market. However, electric bus's market is representing a healthy potential in developed countries of Europe such as Germany, Italy, among others. South Europe and Baltic countries of Europe are paving a lucrative path for trolley bus market owing to shifting consumer behaviour towards electric vehicles over the slated time period.
Reducing Overhead Wiring with 'Dual-Powered' and 'Battery-Driven' Trolley Buses
The need to minimize top head wiring in conventional trolley buses has led to increase in the adoption of dual-powered variants, especially in European economies with limited wiring capability. The dual-powered trolley buses derive electricity from overhead lines while covering city streets, as well as from rechargeable batteries for off-wire movement.
With rechargeable batteries making forays into automobile vertical at a sweeping rate, trolley buses are fitted with batteries – Lithium-ion – owing to high energy density, and prolonged shelf life. Inclusion of batteries allow trolley buses to bypass route obstruction, reducing the complexity of overhead wiring required at operating depots. Presence of supercapacitors in battery-driven trolley buses offer rapid charging, decreasing the time required to gear up to resume operation.
However, trolley buses fully equipped with batteries are operable for limited distances. In addition, high cost of lithium-ion batteries correspond to high initial costs of battery-driven trolley buses.
'Lithium-ion' Battery over Combustion Engines – The Shift is Underway
With escalating environmental concerns due to carbon footprint, manufacturers are banking on trolley buses driven by lithium-ion rechargeable batteries on the account of ongoing 'zero-emission' practices. Absence of internal combustion engines imply greater noise abatement. In addition, a speaker attached to the front of the vehicle can produce the noise to a desired level to notify pedestrians crossing the roads.
Exclusion of exhaust enables trolley buses to run underground, and in tunnels, dismissing the risk of suffocation due to diesel emissions. Furthermore, the battery-powered trolley buses harvest electricity from the kinetic energy during braking – regenerative braking.
Presence of electric motors in trolley buses offer higher static torque at start-up as compared to motorbuses, a benefit for climbing steep hills. In addition, the rubber tires of trolley buses possess better adhesion against steel wheels of trams, enabling enhanced braking capability. Low-floor in trolley buses allow entrance of specially-abled passengers with the help of 'kneeling front' air suspension feature on the front axle instead of springs.
Market Players Eye Lucrative Opportunities in Italy
The quest to achieve 100% zero-emission is intensifying in countries, including, Italy, France, and Greece, among others, garnering the attention of trolley bus manufacturers. Cagliari – a city in Italy – appears to be the first city to adopt fully-electric trolley buses in 2016. Municipal administration in Rome – capital city of Italy – decided to tackle vehicle traffic, and air pollution by strengthening urban public transport powered by electricity.
Regional authorities are aiming to reach 100% clean buses in the French capital of Paris by the next few years. France has been ranked first in tourist destination for international visitors, as such, the tourists rely on public transportation for outing.
Cutting-edge Solutions - Key Tenet to Define Stakeholders' Tactics
The Europe trolley bus market is witnessing cut-throat competition between market leaders and followers, including, Kiepe Electric GmbH, Carrosserie Hess AG, and others. Hydrogen fuel batteries offer trolley buses the benefit of range extension of over 100 kilometers without the need to be connected to traction wires, unlike their lithium-ion rivals – a factor encouraging Solaris to enter into agreement with Ballard Power Systems for trolley buses with hydrogen fuel cells.
The dual-mode trolley buses carries the issue of complex and grotesque top head wiring. As such, the Milan Transit Authority (ATM) ordered 30 Solaris IMC buses fitted with electric systems from Kiepe Electric – In-Motion Charging (IMC) in a bid to eliminate overhead lines around San Geminiano Cathedral in Italy.
Organized players are introducing low-floor trolley buses for easy entrance of specially-abled individuals, and greater accumulation of passengers during peak time by shifting the axle forward. Furthermore, market forces are channelizing their focus on the production of 18m trolley buses for increased passenger transportation.
How Growth Will Unfold
Stringent government regulations across European countries to shift away from fossil fuels and diesel for vehicle operation is set to drive the growth of the Europe trolley bus market over the forecast timeframe. WIT Press suggests that diesel-driven buses emit around 18.6 g NOx per kilometer while the value is significantly lower in case of trolley buses – 1.2 g NOx per kilometer – a paramount step towards emission less environment.
Europeans residing in urban areas, and suburbs - about 72% - rely on local transportation means for regular commute. As the production of electric and hybrid vehicles is expected to boost six-fold by 2025, stakeholders in Europe trolley bus market should be looking at a period of sustained demand.
World's Most Profilic Intelligence Engine
Get Access To The World's Largest Market Research Database.
Sign Up Now
Key Segment
By Bus
By Application
As Local commute transportation
Amusement parks
Auxiliary purpose
By Technology
Pure electric
Dual-powered (electric + battery).
By Country
Russia
Germany
U.K.
Italy
Spain
France
Greece
Nordic
BENELUX
Ukraine
Romania
Rest of Europe.
Need specific information?
Our Clients