Fish Feed Market Outlook & Key Findings
Future Market Insights (FMI) forecasts the fish feed market to witness an impressive surge in demand. Between 2020 and 2030, the market is likely to rise at above 11% CAGR
The demand for commercial fish feed manufacturers, water treatment products, feed additives, fertilizers, and vaccines will increase in the coming years, enabling growth in the market
Aquaculture touted as the fastest growing food producing sector in the world accounts for lion's share of fish feed consumption
Availability of cheap labor in Egypt, which is also the largest tilapia producing nation makes the Middle East and Africa a high potential market
Future growth of the fish feed market is restricted by stringent government regulations and limited access to small-farm holders
More Nutrition than Diet – Fish Feed Industry has Transformed Offering
Fish is considered to supply approximately 15% of per capita protein consumed by people around the world. Low carbon footprint, high per unit yield, and unique protein content have spurred consumption of fish, which is subsequently aiding the expansion of the aquaculture sector viz.a.viz. the demand for fish feed.
Aquaculture is a sector characterized with impressive growth for the overall feed industry, which also withhold remarkable supply capacity. The global fish feed market has witnessed its share of operational transition and transformation, but the concept of nutrition in fish feed is at its epitome and have rarely been reported in the past. Increasing knowledge sharing across various channels by government agencies and independent regulatory groups has resulted in the rapid adoption of aquaculture techniques, worldwide.
The number of fisheries and farmers have also doubled in the last few years, creating a fresh wave of demand for fish feed. FMI sees no slowing down of this trend and projects the aquaculture sector to report a high value CAGR of above 5% between 2020 and 2030.
According to the Food and Agriculture Organization (FAO), the global fish production is expected to have reached nearly 170 million in 2018. With world's appetite for fish and fish products showing no signs of contracting, the demand for fish feed is poised to surge exponentially in response to the expansion of aquaculture sector.
Focus on Sustainability Creates Higher Demand for Plant-based Fish Feed
The novel aquaculture system is exploiting plant-based sources to adopt a system that has the potential of reducing the cost of production as well ensure sustainability.
Plant based fish feed ingredients such as soybean, corn, sunflower, pea and others which are naturally rich in protein are in high demand in the feed industry. Soybeans are considered as best source of protein for fish feed.
Not only does soy feed replicate several nutritional requirement crustaceans and fish, it is easier to source and generally inexpensive. Soy is already successfully used in many aquaculture diets. In the coming years, the demand for other plant-based products is expected to rise as well.
Due to the easy availability of plant-based fish feed along with nutritional benefits they offer to the aqua species, the plant-based fish feed segment is anticipated to witness considerably high demand in the coming years.
Advances in protein content, omega-3 levels, and digestibility are spurring the demand for plant-based feed ingredients as a popular alternative to fishmeal. FMI projects the plant-based fish feed segment to account for nearly one-fifth of proceeds earned by the fish feed market in 2020.
Limited Availability of Traditionally Derived Fish Feed Creates Room for Disruption
The fish feed market share is gearing for a major industry disruption. There is limited supply of key aquafeed ingredients, especially those derived from wild-caught fish and their prices are highly volatile
As a result ingredients derived from wild fish will become more strategic ingredient in the future. Subsequently, the limited supply of traditional fish meal creates lucrative prospects for innovations to fill the gap.
Alternatives such as processed animal proteins and soy meal are not without shortcomings. This has created a high demand for something more reliable with a better optimized nutrient profile.
Production of sustainable and alternative fish feed such as algal, bacterial, and insect-based protein is therefore picking up pace, paving way for the entry of innovative fish feed producers. With these companies racing to reach their commercial targets, the market will witness the launch lower cost feed.
Weak Supply Chain Infrastructure: Key Challenges for Fish Feed Industry
Inadequate manufacturing, warehousing, and transport facilities are affecting the quality and timely supply of fish feed to consumers. Due to poor capability of supply chain, fish feed products cannot be stored, which is restraining the growth of the market.
Store owners cannot maintain a stockpile, keeping in mind the future demand and have to maintain low inventory due to the lack of storage facilities and inadequate transport channels. These bottlenecks may hamper the growth of the market to an extent.
Market Players Shift Focus towards Sustainable Alternatives to Stay Relevant
Some of the leading feed producers are focusing on sustainable methods of production to align themselves with UN SDGs (Sustainable Development Goals).
Judicious use of marine resources and favorable ecological footprint of farmed fish have encouraged the local players in the market to increase their production capacities.
There is an inclination towards the use of algal oil as an omega 3 source, innovative pea protein obtained from natural gas as a carbon source, and various other alternatives as fish meal replacements.
The manufacturers are expected to develop nutritious fish feed to attract consumers.
In June 2015, ADM released its new fish feed product derived of algae rich in DHA in collaboration with between Bunge Ltd. and terravia. Market players are looking at strategic collaborations to strengthen their position in the fish feed market
Besides this, manufacturers are focusing on acquisition, strategic alliances and mergers with local play. For instance, in October 2017, FF Skagen acquired Skagerak Pelagic from Skagerak Group. Through this acquisition it entered into the market of pelagic fish for human consumption.
Fish Feed: Region-wise Analysis
Asia Pacific has been a key hub of fish feed manufacturing from more than two decade now due the abundant availability of fresh water resources and rich aquaculture in this region.
China is the world largest producer and consumer of aquatic products, which makes Asia Pacific a lucrative market for fish feed. The demand for carotenoids as ingredient is growing at a significantly high rate due to the rising demand for ornamental fisheries especially in Japan.
Japan however relies heavily on Peruvian fishmeal import. Therefore, it is unlikely to stay immune to the heavy losses faced in the Peruvian market due to El Niño and depletion of anchovy.
Also, the recent depreciation of Yen has made fishmeal more expensive for Japanese fishmeal importers. Especially during the spring season, when the demand for fishmeal is remarkably high, it gets increasingly difficult for Japan to find cheaper priced fishmeal.
During this period, importing from regions such as Southeast Asia and Africa is regarded as an excellent opportunity for the country. Also, fishmeal imported from these regions is comparatively cheaper, which will support the Japanese economy.
Pricing is a key variable, impacting the demand for fish feed. A key point to note here is that pricing of fish feed per unit is rarely same between regions. Despite the difference in pricing, it is common to witness a similar pattern of price variation between regions.
The graph below depicts differences in prices of fish feed across key regions: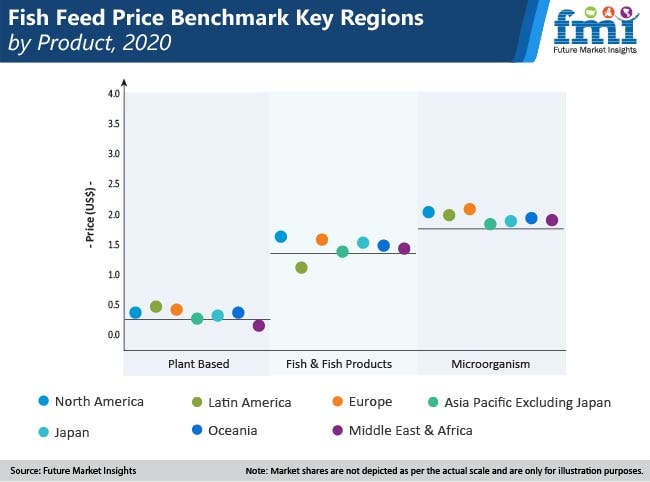 Leading suppliers in Fish Feed Market
Manufacturers are focusing on including natural ingredients without hampering the nutritional value of fish feed. Mentioned below are some of the key players in the fish feed market:
Americas
Cargill, Inc.
Zeigler Bros., Inc.
Archer Daniels Midland
Alltech Inc
Europe
Skretting AS
Aller Aqua A/S
Sonac B.V.
BioMar Group
Nutreco N.V.
Asia Pacific
Ridley Corp. Ltd.
Biomin Holding GmbH
BASF South East Asia Pte Ltd.
*The list is not exhaustive, and only for representational purposes. Full competitive intelligence with SWOT analysis available in the report
Fish Feed: The Way Forward
Fish feed producers are seeking out alternative sources of protein for a more sustainable growth in the future. They are rebooting their production strategies and business policies to cater to the rising demand for. For instance, there is ample focus on algae protein as a sustainable alternative.
Oil derived from microalgae, contains omega-3 fatty acids and high levels of protein necessary for most fish species. The superior protein content in algae indeed delivers improved yield and growth crate. The production process is more scalable, helping producers to minimize their land and water use.
Besides this, several companies in the agribusinesses are developing using a process to place bacteria in a fermentation tank and feed them methane to produce fish feed. The technology is particularly designed to ensure productive use of industrial byproducts such as w3aste carbon and ethanol.
Fast growing insects that feed on cereal by products and food waste are touted as another excellent and sustainable alternative source of fish feed. They already have been approved by the EU for use in aquafeed market.
The availability various alternatives is expected to give significant impetus to the fish feed market price in the coming years.
Market Segmentation
Product Type
Plant Based
Fish & Fish Products
Microorganism
Form
Pellet
Granules
Flakes
Sticks
Powder
End Use Application
Distribution Channel
B2B
B2C

Store based
Online retail
Region
North America
Latin America
Europe
APEJ
Japan
Oceania
MEA
Need specific information?
Talk Show:
The Rise of Intelligent Packaging
Personalized, Connected and Sustainable
November 18, 2021
11:00-11:45 AM PST (USA & Canada)
This is a LIVE session