Fish Protein Concentrate: This Nutrition Auxiliary to be the Next Big Thing
Transition toward functional ingredients is in its prime, thanks to the ever-evolving consumer preferences for products offering tangible benefits. Use of fish protein concentrate has been imparting new dimensions of value-addition across umpteen application verticals, in view of the fact that it improves nutritional quality of the target product without necessarily affecting other characteristics. As 'utility marketing' emerges as a key tactic among enterprises worldwide, businesses have started looking for new additions that would revitalize the degree of marketability of their products. This is where the use of fish protein concentrate comes into play, thereby unravelling new opportunities for the brands operating in the turbulent market space.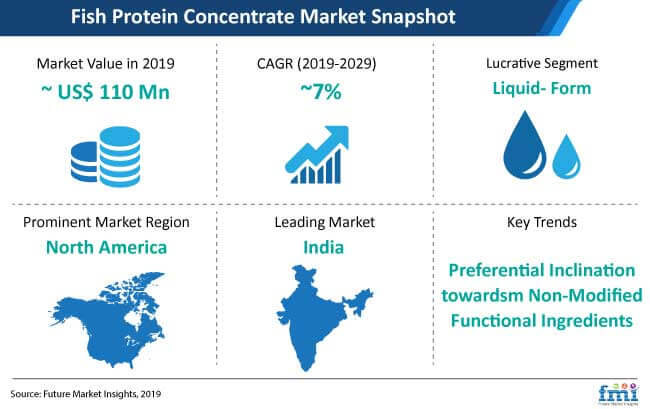 Fish Protein Concentrate Market - Key Research Findings
The global fish protein concentrate market size in 2018 was ~US$ 100 Mn.
The fish protein concentrate market is expected to grow at a CAGR of ~7% during the forecast period of 2019-2029.
Increasing demand for fish protein concentrate from cereal bar manufacurers has been recently driving the sales of fish protein concentrate.
Collectively, North America and Europe are likely to account for more than half of the revenue shares in the fish protein concentrate industry, by the end of 2029.

Increasing health consciousness amongst people and fitness trends in regions such as India and China, have created lucrative growth opportunities for fish protein concentrate market in these regions.

The food and beverage industry is expected to remain the prominent end-use industry to invest in, for fish protein concentrate market players.

The food and beverage industry has witnessed significant growth over the recent years.
Increasing consumption of dietary supplements and sports nutrition has created a significant demand for fish protein concentrate.
Key Factors Shaping the Fish Protein Concentrate Market
Increasing Demand for Fish Protein Concentrate from Cereal Bar Manufacturers
Over the years, food consumption trends have changed drastically. People are more concerned about their health and fitness, due to which, the demand for healthy food products has also increased. People are looking for handy multi-component products, which are readily available in the market and also help to compensate for the fast moving lifestyle of the consumers. Hence, cereal bar is considered as the perfect product, which is affordable and full of nutrients such as proteins, fatty acids, minerals, and different high-quality fibers, among others. With the growing demand for nutrient-rich cereal bars, the need for the development of cereal bars with healthier ingredients has also increased. Researchers have been seeking new food ingredients in order to improve the functionality and nutritional value of the product. Hence, manufacturers of cereal bar are looking towards the fish processing industry, which generates ample amount fish protein concentrate for human consumption from fish residue. This fish protein concentrate is an excellent source of protein and can be easily blended with a cereal bar in order to enhance its nutrient content. This surge in demand for fish protein concentrate from cereal bar manufacturers has bolstered the growth of the fish protein concentrate market and hence, it is expected to grow significantly over the forecast period.
Increasing Demand for Protein and Other Vital Nutrients will Propel the Market Growth
Robust growth of the food and dietary supplements industry is expected to lead to higher demand for fish protein concentrate over the forecast period, creating a lucrative opportunity for manufacturers of fish protein concentrate across the globe. The nutrient profile of fish protein concentrate is very compatible with the human digestion process. In the coming years, with increasing demand for protein and other vital nutrients from consumers, fish protein concentrate could be used as a preferred source of protein. Fish protein concentrate can be used extensively during a specific growth stage of infants, for people with diseased conditions, or for broad stock purposes. Moreover, fish protein concentrate is an important product for economically underdeveloped countries, which require an inexpensive source of animal protein for human consumption in order to tackle malnutrition. Fish protein concentrate produced from oily fish is also a good source of omega-3 fatty acids and other essential micronutrients. Fish protein concentrate already has an established market in North America, but manufacturers operating in the fish protein concentrate market could focus on enhancing their footprint in other regions as well.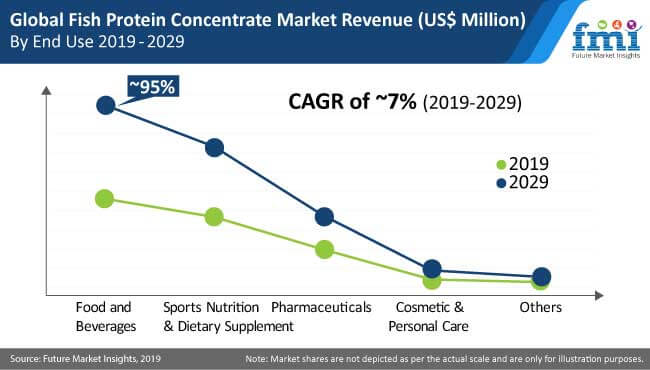 Adoption of Advanced Processing Technologies by Manufacturers
Keeping the quality of fish protein concentrate up to the mark is the key challenge faced by the manufacturers of fish protein concentrate. In order to prevent fish protein concentrate from becoming rancid, and to improve the shelf life of fish protein concentrate, manufacturers have included spray drying technique in the final stage of processing. But with time, manufacturers are also looking for updated technologies for product manufacturing. Hence, microencapsulation technology is now used to incorporate fish protein concentrate into food and stabilize fish protein concentrate-enriched food products. This technology not only improves the texture and stability of fish protein concentrate but also enhances the shelf life of the product. Microencapsulated fish protein concentrate with enhanced stability finds applications majorly in infant formula, dietary supplements, and food and beverages. Hence, major manufactures are inclining towards the adoption of advanced processing technologies.
Preferential Inclination towards Non-Modified Functional Ingredients
The increasing health-conscious population has significantly increased the demand for non- GMO food ingredients. In the global food and beverages market, the trend indicated the need for manufacturers who offer non-GMO certified products to their customers. Parents, these days, are very concerned about the ingredients used in the baby products available in the market, which is creating the need for non-GMO food ingredients, resulting in the preferential inclination towards non-modified functional ingredients.
Fish Protein Concentrate Market Structure Analysis
The global fish protein concentrate market represents a fairly consolidated competition landscape, where majority of the key players maintain their strategic focus on the development of solid distribution partnerships and joint ventures, targeting a firmer global footprint.
Leading manufacturers of fish protein concentrate are currently prioritizing R&D and new product launches to resonate with the booming consumption of sports nutrition and dietary supplements.
Portfolio extension is also identified to remain one of the key developmental strategies adopted by manufacturers of fish protein concentrate.
Deeper understanding of the market trends and preferential shifts of end-use segments across various regions are likely to create a bottleneck for prominent players, looking forward to untapped opportunities in the fish protein concentrate market.
Fish Protein Concentrate Market: Boundless Opportunities on the Horizon
Over the last decade, product consumption trends have reflected a topsy-turvy journey in almost every known market. While there was a time when consumers used to favor the apparent characteristics of a specific product, the modern times represent the monopoly of 'value-over-anything'. Food and beverage producers continue to count on fish protein concentrate for fortification, owing to the fact that consumer inclination toward preventive nutrition is treading on an ascending path. Addition of fish protein concentrate in cereal bars is the newest trend spreading its roots in the sports food and nutritional supplements landscape, as consumers are resorting to on-the-go snacking options as a replacement to full-fledged meal formats.
Use as a Flavor Enhancer in Pastas & Noodles: Bringing Wholesomeness to the Table
Use of fish protein concentrate in pastas and noodles is gaining traction as a trend, as food ventures are showing considerable interest to experiment with new ideas. As the demand for food items like pasta and noodles is taking off significantly, food producers are offering tastemakers and flavor enhancer that are fish protein concentrate-based to weave distinctive taste experiences. As the nutritional value of fish protein concentrate is exceptionally high, food producers focusing on convergence of taste and functionality attributes have started relying on fish protein concentrate as an effective ingredient.
The Broader Perspective
Cosmetic and personal care brands are catching up with the trend of organic ingredients by using fish processing waste as a potential source of protein over the conventional sources. As fish skin waste is a great source of collagen and gelatin, brands developing cosmetic and personal care products are investing in fish protein concentrates to nourish their product utility. Fish protein concentrate are highly cost-effective as compared to plant-based protein concentrates, which is another significant factor upholding the use of fish protein concentrate in cosmetic and personal care products.
Type C remains highly sought-after
Type A sees exponential growth
Powder remains the preferred form
Liquid form witnesses sluggish adoption
Food & beverages remains largest end user
Use in cosmetic & personal care sees an upswing
How Growth will Unfold
Brands in the fish protein concentrate market are entering into collaborations with renowned research centers. These collaborations are aimed at fine-tuning business strategies via up-to-date academic and scientific resources. Production of fish protein concentrate requires no dedicated facilities or special units, which is one of the key reasons placing manufacturers in this market in an advantageous position. Participation in trade fairs and conferences for persuasive marketing continues to be a centerpiece of the overall marketing strategies, for the fact that these platforms offer immense exposure to larger audience segments.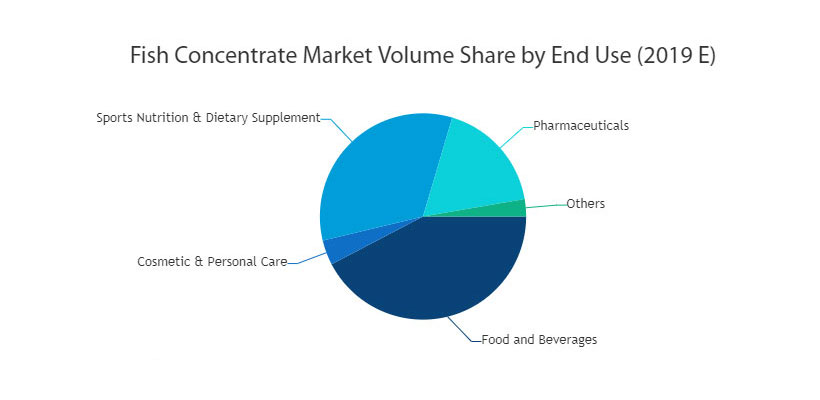 * This data is only a representation. Actual data may vary and will be available in report.
Click Here To Know How The Growth Will Unfold
Custom Market Research Services
FMI offers custom market research services that help clients to get information on their business scenario required where syndicated solutions are not enough.
Overview
Fish Protein Concentrate Market: Global Industry Analysis 2014 - 2018 and Opportunity Assessment; 2019 - 2029
A recent market study published by FMI on the fish protein concentrate market delivers a comprehensive assessment of the most important market dynamics. After conducting a thorough research on the historical as well as current growth parameters of the fish protein concentrate market, the growth prospects of the market are obtained with maximum precision.
Fish Protein Concentrate Market Taxonomy
The global fish protein concentrate market is segmented in detail to cover every aspect of the market and present complete market intelligence to the reader.
End Use
Food and Beverages
Cosmetics & Personal Care
Sports Nutrition & Dietary Supplement
Pharmaceuticals
Others
Region
North America
Latin America
Europe
South Asia
East Asia
Oceania
Middle East & Africa
China
India
Mexico
How the research was conducted?
Primary Research
C - Level Executives
Marketing Directors
Product Managers
Business Development Officers
Production Managers
Procurement Heads
Sales Executives
Distributors
Traders
Raw Material Suppliers
Industry Experts
End Users
Current market dynamics and challenges
Yesteryear trends
Market characteristics
Market performance and growth quadrants
Competition structure and market structure
Strategic growth initiatives
Near-term and long-term market growth prospects
Market segment splits and authenticity
Opinions on market projections and validity of assumptions
Secondary Research
Industry Journals & Magazines
Research Papers
Industry Associations

FAO (Food and Agriculture Organization)
IFFO (The Marine Ingredients Organization)

Factiva
Company Press Releases
Annual Reports and Investor Presentations
Research Papers
Government Websites and Publications
Trade Websites
Primary Interview Splits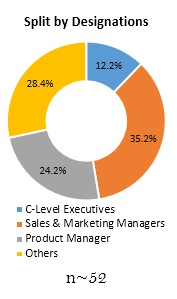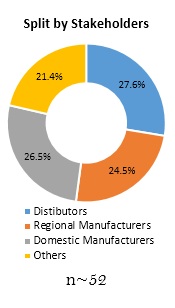 To Learn More About our Comprehensive Perspective on Fish Protein Concentrate Market,
Get in touch
COVID -19 : Impact Analysis
Request the coronavirus impact analysis across industries and markets
Request Covid -19 Impact
CASE STUDIES
See how our work makes an impact.
At FMI, we design strategies that are adaptive, impactful, and implementable.