About the Fish Protein Concentrate Report
Increasing health awareness and adoption of fitness goals has increased the consumption of protein among consumers of various age groups. This rise in the adoption of protein in the diets of people has led to a surge in the demand of fish protein concentrate. Such proteins are progressively sought after in the food business as ingredients that can supplant meat and water because of their fat-restricting properties.
There has also been a huge increase in the use of fish protein concentrate in personal care and beauty products, as it contains a large amount of collagen that helps to tighten the skin and mitigate the ageing process. The increasing use of fish protein concentrate in personal care and cosmetic products is a key factor, driving factor of the fish protein concentrate market during the forecast period 2021-2031.
In its new study, ESOMAR-certified market research and consulting firm Future Market Insights (FMI) offers insights about key factors driving demand for taurine. The report tracks the global sales of taurine in 20+ high-growth markets, along with analyzing the impact COVID-19 has had on the food and beverage industry in general, and taurine in particular.
What is the Future Outlook for Fish Protein Concentrate Market in Comparison to Historical Pattern?
Over the past few years, companies have been focusing on developing a strong brand image. As a result they are motivated to create products with long-term prospects. The reason behind this is consumers of today care not only about the quality of the products but also about where they come from and the ethics and business practices behind producing such products.
For instance, a leading manufacturer of fish protein concentrate in 2019, called Incontech ltd, launched a new product called as a tri-peptide collagen supplement and came up with new packaging form of jelly packs in Singapore to offer convenient and efficient products to the consumers. It will also aid in increasing the company's consumer base across Asia Pacific.
According to FMI's analysis, the fish protein concentrate market sales have grown at 5.4% CAGR between 2016 and 2020
The inability of companies to continue regular operations during pandemic has affected the fish protein concentrate market for a small period of 6 to 7 months. The reason for the sluggish growth is the pandemic fear, while compelled people across the globe prefer plant-based protein options. But now as the unlocking process has started, demand is expected to recover.
Also, 'On the go snacking', is a trend that's catching up among consumers and attracting manufacturers attention. Coupled with growing health awareness among consumers, their preference for healthy snacking items that are low in fat content and high in protein is expected to encourage companies to introduce new snacking products derived from fish protein concentrate.
As a result of this, an increasing number of companies are likely to offer adequate protein without compromising on the taste of their products. Besides this, they are adopting new marketing strategies to increase their revenue share in the market. Factors such as rapid urbanization, changing lifestyle, and eating habits among the global population are expected to fuel demand for convenience and processed foods shortly.
Consumption of supplements that contain fish protein concentrate is becoming quite popular in the West and is significantly high among consumers in developed countries such as the U.S. and Canada. Thus, manufacturers are now focusing to offer fish protein concentrate based supplements that are available in various flavors such as chocolate, vanilla and strawberry.
Fish protein concentrate forms are acknowledged for their fat binding and anti-inflammatory properties by European Food Safety Authorities (EFSA). Because of such acknowledgements from international authorities, the market is expected to register a CAGR of 6.5% over the forecast period.
How is Increasing Use of Fish Protein Concentrate in Skincare and Cosmetic Industry Influence Growth?
The cosmetic and personal care segment is anticipated to showcase extensive use of fish protein concentrate in cosmetics products, as it contains a significant amount of collagen which helps in skin tightening and reduces the ageing process. Collagen improves the cell renewal process and skin quality as well as it significantly increases bone density and provides stronger bone capacity.
Fish protein concentrate collagen is over 97% protein with no fat, sugars or starches, making it a standout amongst other common proteins accessible because of the unmistakable amino corrosive arrangements and high groupings of glycine, hydroxyproline and proline. Given the prevalent bioavailability of Type I collagens, they enter the body's circulatory system up to 1.5 occasions all the more productively because of their more modest molecule sizes contrasted with other creature collagens.
Therefore with all these benefits, the demand of fish protein concentrate is increasing in the skincare and cosmetics industry.
How is Rising Use Fish Protein Concentrate in Cereal Bars Enabling Growth?
Through past several years, food utilization patterns have changed significantly. Individuals are more worried about their health and wellness, because of which, the interest in healthy food items has expanded. Consumers are looking for convenient multi-segment items, which are easily accessible. They are on the lookout for convenient food options that will help them save time as well as fulfil nutrition quotient.
Hence, cereal bar is considered as the ideal item, which contains proteins, unsaturated fats, minerals, and diverse excellent filaments. With the developing interest for supplement rich oat bars, the requirement for better fixings has likewise increased. Scientists have been looking for new food fixings to improve the usefulness and health benefit of the product.
Therefore, cereal bar manufacturers are looking for supplies of high-quality fish protein concentrate. A superb wellspring of protein, fish protein concentrate can be effectively combined with a cereal bar to upgrade its supplement content. Considering this, the demand for fish protein concentrates is expected to increase, especially among cereal bar producers.
Country-wise Insights
How large is the Opportunity for Fish Protein Concentrate Market in the U.S.?
FMI has projected the US to remain one of the most lucrative markets throughout the forecast period. One of the crucial factors supporting growth in the U.S. is the country's high spending power.
Favorable government rules and regulation coupled with the geographical presence of top players as, Omega Proteins Corporation a top player in United States is backing up growth of the market. Besides this, frequent launches of new products and development plans undertaken by the leading market players will aid the overall growth in the country.
Moreover, the U.S. is one of the prime markets in the world, which always makes it a lucrative pocket for fish protein concentrate producers. According to FMI U.S. holds more than 60% of share in North America in the year 2021.
Why is India's Fish Protein Concentrate Exhibiting Accelerated Growth?
The business environment in India remains positive. India being an emerging nation with high fish-eating population, key players are shifting focus to the country. From a carbohydrate-based diet, the market is shifting towards a protein-based diet which is the key reason behind expansion showcased in the country.
The population factor in India also is supporting the growth, as youth have learned the importance of protein in the diet, which has resulted in the increase in the consumption of fish protein concentrate. According to FMI, India will remain one of the key markets for fish protein sales in South Asia. As a matter of fact, the India market is forecast to exhibit 7.4% Y-o-Y growth in 2021.
How is U.K. Responding to Increasing Demand for Fish Protein Concentrate?
The cosmetics and skin care industry is growing at a steady rate in the U.K. as various high-end range cosmetic and skin care products come from the country. The dynamic preference of consumers has resulted in high demand for skin care products with properties to tackle with depigmentation, elasticity in skin tissues, anti-aging. Fish protein concentrate has therefore emerged as one of the key ingredients used by several skin care brands within the U.K.
Ingredients such as hydrolyzed fish collagen are considered very beneficial for the skin and are in high demand in the U.K thus creating opportunities for the expansion of the fish protein concentrate market. For instance there is a brand called as Biologique Recherché which is an luxury skin care brand used by many celebrities have product ranges derived from fish protein concentrate.
Why is Fish Protein Concentrate Market Gaining Traction in China?
China is offers highly lucrative growth opportunities for the fish protein concentrate market. The preference for intake of high-protein diet from health conscious consumers is aiding growth in the country. Health problems such as heart attack is very common in Chinese population, thus to prevent it consumers are including omega fatty acids supplements in the form of capsules in their diet, which are derived from fish protein concentrate.
According to the World Health Organization (WHO), in China cardiovascular diseases account for nearly half of deaths. Rising health awareness will therefore remain a key factor enabling growth in fish protein concentrate market in China.
Why is Germany's Fish Protein Concentrate Expanding?
The German market for fish protein concentrate is expanding at a fast pace. Germany is known for technological advancement and thus manufacturers of fish protein concentrate within the country are aiming to develop innovative technologies in which there is minimal amount of wastage with the aim that all the functional properties are derived.
Fish protein concentrate is especially used for animal feeds, agriculture, and aquaculture. Thus the increasing demand for animal feeds is going to directly cause a positive impact on the market in Germany.
Category Wise
Which Type of Fish Protein Concentrate is in High Demand?
Type C is estimated to hold the largest market share of more than 80% in terms of value for the year 2021. The demand is expected to rise as fish protein concentrate is a legitimate fish readiness fit for human eating. As indicated by Food and Agriculture Organization of United States, fish protein concentrate is of three kinds including Type A, B, and C.
Type A fish protein concentrate is scentless and has mild powder, Type B is an off-putting flavor powder with extreme fat substance of 3 per cent and Type C is a typical fish dinner delivered under agreeably clean conditions.
The piqued interest for regular food items, for example, pasta and noodles is driving business sector development. The expanding focal point of food makers towards particular taste insight for their customers is again quickening the market interest.
Why is Fish Protein Concentrate Gaining Traction in Pharmaceuticals?
The fish based proteins have wide applications in pharmaceuticals and nutraceutical industry. The anxiety in daily life, frequency of cardiovascular issues and carcinogenesis are pressing health concerns complained by a large section of metropolitan population. These issues can be combated with proper consumption of supplements like omega 3 fatty acids which are derived from fish protein concentrate.
Fish oil is considered good for heart health, which is one of the key factors why fish protein concentrate often appears as a key ingredient in pharmaceutical and nutraceutical products.
For Instance: Companies such as Herbalife and Amway in 2017 have launched fish protein concentrate supplements called as Omega 3 fatty acid DHA & EPA which are demonstrated to be amazingly valuable for heart wellbeing, mind work, joint pain, and irritation in the pharmaceutical business.
Polyunsaturated fats from fish oil are known for being rich sources of long-chain polyunsaturated unsaturated fats (PUFA) which give uncommon properties to fish oils. They get effortlessly oxidized and is therefore considered healthy.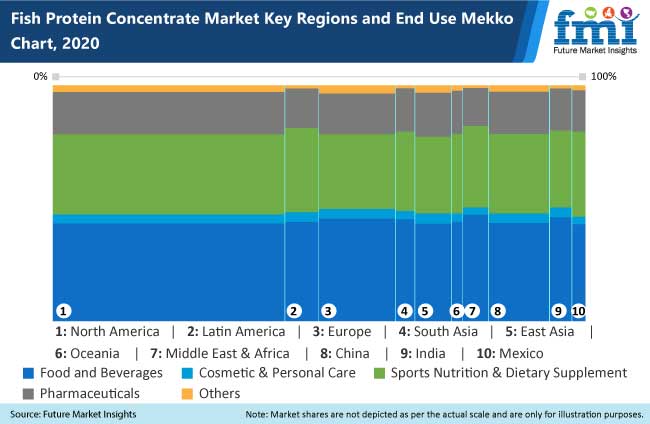 Why is Fish Protein Concentrate More Preferred in Powder Form?
The application of fish protein concentrate is expected to be the highest in powder form. According to FMI, accounting for over 96% of food protein concentrate sold in terms of volume, the powder form segment is expected to remain dominant through the course of the report's forecast period.
Competitive Landscape
Companies operating in the fish protein concentrate market are focusing on merger and acquisition to expand their product portfolio and regional presence. Besides this, there is significant focus on highlighting certifications received. For instance, Janatha Fish Meal & Oil Products has received certifications such as ISO 22000:2005, Ecocert (NPOP, NOP, EC), Halal, and approval from European Union.
Meanwhile, New Alliance Dye Chem Pvt. Ltd. has been focusing on research and development to expand their product portfolio.
Some of the leading companies operating in the Fish Protein concentrate market are:
Omega Proteins
Bevenovo Co. Ltd.
Bio-Oregon Protein
Colpex International Inc.
Janatha Fish Meal & Oil Products
Mukka Seafood Industries Limited
New Alliance Dye Chem Pvt. Ltd.
Scan Marine Group AS
Shenzhen Taier Biotechnology Co. Ltd.
Peterlabs Holdings
Siam Industries International
Apelsa Guadalajara
Scope of the Report
Attribute

Details

Forecast Period

2021-2030

Historical Data Available for

2016-2020

Fish protein concentrate Market Analysis

USDMillion for value and '000 MT for Volume

Key Regions Covered

North America, Latin America, Europe, East Asia, South Asia, Oceania Middle East & Africa

Key Countries Covered

US, Canada, Mexico, Brazil, Peru, Chile, Rest of Latin America, Poland, Germany, Italy, Spain, France, U.K., BENELUX, Nordic, Russia, Rest of Europe, China, Japan, South Korea, Indonesia, Malaysia, Singapore, India, Taiwan, Thailand, Rest of South Asia, Australia, New Zealand, GCC Countries, Turkey, South Africa, Rest Of MEA,

Key Segments Covered

Form, Type, Application, End-User, Region

Key Companies Profiled

Bevenovo Co. Ltd.
Omega Protein corporation
Bio-Oregon Protein
Colpex International Inc.
Janatha Fish Meal & Oil Products
Mukka Seafood Industries Limited
New Alliance Dye Chem Pvt. Ltd.
Scan Marine Group AS
Shenzhen Taier Biotechnology Co. Ltd.
Peterlabs Holdings
Siam Industries International
Apelsa Guadalajara

Report Coverage

Fish Protein Concentrate Market Forecast, brand share analysis, competition intelligence, DROT analysis, Fish Protein concentrate Market Dynamics and Challenges, Strategic Growth Initiatives

Customization & Pricing
Key Questions Answered in the Fish Protein Concentrate Market Report
Q1. Which is the most lucrative market for Fish Protein Concentrate?
The U.S. currently leads the global market for fish protein concentrate market. Sales in the U.S. will be over 40% of total market share throughout the forecast period in North America.
Q2. Which type of fish protein concentrate is in high demand?
Type A has been witnessing higher demand than other types of fish protein concentrate. This is because Type A concentrates have the highest protein content that is up to 80% per cent compared to Type B which has 65%. Type A is a virtually odorless and tasteless powder having a maximum total fat content of 0·75 per cent.
Q3. Which technology is fish protein concentrate manufacturers using?
The technology used to today by manufacturers of fish protein concentrates is primarily based on the use of chemical solvents to extract fat, water and fish tasting components, from fish meal or raw fish. Alcohols are the solvents that are most successfully used to make FPC type A.
Q4. Which are some of the leading companies offering fish protein concentrate?
Some of the leading companies offering fish protein concentrate are Omega Protein, Colpex International Inc., Bio-Oregon Protein, Bevenovo Co. Ltd, Janatha Fish New Alliance Dye Chem Pvt. Ltd., Mukka Seafood Industries Limited, Meal & Oil Products, Shenzhen Taier Biotechnology Co. Ltd., Scanbio Marine Group, Peterlabs Holdings, Siam Industries International, Apelsa Guadalajara, and others.
Q5. Which end user is driving sales of fish protein concentrates?
Fish protein concentrate application is increasing in the pharmaceutical industry. However, the food and beverages industry will continue accounting for maximum sales of fish protein concentrates.
Enquiry before Buying
Is this research conducted by Future Market Insights?
Yes, the research has been conducted by expert analysts of Future Market Insights through a combination of primary research and secondary research. To know more about how the research was conducted, you can speak to research analyst
What research methodology is followed by FMI?
FMI follows a methodology that encompasses a demand-side assessment of the market and triangulates the same through supply-side analysis. This methodology is based on the use of standard market structure, methods and definitions. Request detailed methodology
Who are the respondents for primary research?
FMI speaks to stakeholders across the spectrum, including C-level executives, distributors, product manufacturers, industry experts. For a full list of primary respondents, please reach out to us.
What are the sources of secondary research?
FMI conducts extensive secondary research through proprietary databases, paid databases, and information available in the public domain. We refer to industry associations, company press releases, annual reports, investor presentations, and research papers. More information about desk research is available upon request.
Is a sample of this report available for evaluation?
Yes, you can request a sample and it will be sent to you through an email.
How can I buy this report?
FMI provides a secure online payment system to buy report seamlessly. You can buy the report securely and safely.
Fish protein concentrate market by category
By Type
By Form
By End-Use
Food & Beverages
Sports Nutrition & Dietary Supplement
Cosmetic & Personal Care
Pharmaceuticals
Others
Region
North America
Latin America
Europe
East Asia
South Asia
The Middle East and Africa (MEA)
Oceania
Need specific information?
Talk Show:
The Rise of Intelligent Packaging
Personalized, Connected and Sustainable
November 18, 2021
11:00-11:45 AM PST (USA & Canada)
This is a LIVE session