Fishmeal Market Snapshot
As per a Future Market Insights (FMI) survey, the global fishmeal market will hit US$ 7225.2 Mn in 2021. Being an excellent source of fatty acids with high protein content, fishmeal is emerging as an essential component in aquaculture and fertilizers.
Increasing demand for fishmeal by end-use industries, coupled with inadequacy in global fishmeal production amid pandemic has created a demand and supply gap. Nonetheless, recovery of operations is on cards, enabling year on year growth at 5.1% in the market in 2021.
Key Points Covered in Fishmeal Market Survey
Market estimates and forecast 2021-2031
Key drivers and restraints impacting market growth
Segment-wise, Country-wise, and Region-wise Analysis
Competition Mapping and Benchmarking
Brand share and Market Share Analysis
Key Product Innovations and Regulatory Climate
COVID-19 Impact on Fishmeal and how to Navigate
Recommendation on Key Winning Strategies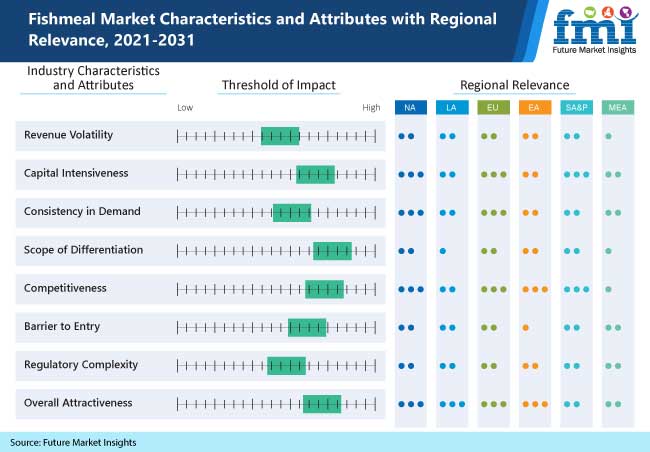 Fishmeal Market Historic Sales Compared to 2021-2031 Forecast Outlook
Historically, fish meal commanded superior price among other animal-derived protein sources, exhibiting growth at 3.7% CAGR between 2016 and 2020. With expansion in the agriculture and livestock industry, the market expanded at a steady pace.
Protein derived from fish meal is highly sought-after in the feed and ingredient industry. Fishmeal's amino acid composition and palatability enhancing properties are driving its adoption in feline feed.
Sales of fishmeal however slumped during the first quarter of FY'2020 as the COVID-19 pandemic took the world by surprise. However, with recovery in industrial operations in the latter half of the year, the fishmeal market picked up its pace, presenting year-over-year growth by 5.1% from 2020 to 2021.
Properties of fishmeal vary with respect to the aquatic species and the ingredients incorporated to produce fish meal for various purposes. Amid concerns regarding depletion of sea population, higher proportion of seafood and shellfish is being derived from aquaculture as opposed to commercial fishing.
As per FMI's analysis, these trends will continue augmenting market growth through 2031.
How will Application of Fishmeal in Animal Feed Drive Market Growth?
Fishmeal is a great source of calcium, phosphorous, protein, and other minerals. Backed by these factors, fishmeal is gaining popularity in aquaculture and animal feed.
Fishmeal is produced by cooking, drying, pressing, and milling raw fish and fish trimming. Species including menhaden, anchovy, herrings, and pilchard are the main sources of fishmeal and its complementing agent fish oil.
Processed fishmeal contains high amounts of vitamin b12, omega-3 fatty acids, and 50% of protein content. As proteins are building blocks of animal tissue, fishmeal as an animal feed additive is attracting sales among producers and farmers.
In terms of animal diet, proteins are the most expensive, irreplaceable, and hard to derive elements. This factor has pinpointed the need for proteins in animal feed, which is a chief factor driving sales of fishmeal.
Besides this, fishmeal is rich in omega-3 polyunsaturated fatty acids, which are essential for the development and maintenance of brain tissue. In addition, omega-3 fatty acids play a critical role in preventing various pathologies in animals, including cardiovascular diseases and psychiatric disorders.
To maintain the health of cattle and prevent contamination in livestock, poultry, and swine farms, producers and farmers are actively investing in fishmeal-based animal feed. This, coupled with leading players launching vitamin-rich fishmeal products will continue driving sales in the market.
How Will the Market Gain From Fishmeal-Based Fertilizers?
The agriculture industry is known to support the economies of several developed and developing countries. Growing concerns regarding harmful effects of chemical-based fertilizers in cultivation of crops and vegetables are encouraging farmers to adopt sustainable solutions.
Synthetic fertilizers quickly release nutrients and provide immediate aid to crops and plants. Whereas all-natural fishmeal-based fertilizers are processed differently, with abundance of nutrients, minerals, and protein.
Fishmeal fertilizers provide nutrition indirectly, seeping into the soil first where bacteria, fungi, and earthworms digest the nutrients. Later, the end product converts into compost which is available for plant roots to use. This microbial activity provides vigor to plants by enhancing the organic matter in the soil.
Fish fertilizers effectively improve soil health and increase soil fertility, providing burn-free nitrogen and primary nutrients such as phosphorous and potassium to the crops. Such ingredients facilitate plant growth and enable them to withstand disease and pest issues. Owing to these factors, sales of fishmeal to be incorporated in fertilizers will gain momentum in the coming years.
Stringent Regulations To Protect Marine Life Will Facilitate Market Growth
With the United Nations Food and Agriculture Organisation (FAO) reporting 1/3rd of all fish stock as 'overfished', overfishing can be termed as one of the major threats for marine biodiversity. As per the reports by the UN, over 33% of marine mammals, sharks, and other aquatic animals are under the threat of extinction.
Several counties across the world have imposed stringent fishing laws to protect the marine population from depletion. Increasing demand for seafood has resulted in illegal fishing and poaching to retail fish in local, unauthorized markets.
These illegal activities hamper the share of fisheries and aquatic farms, thereby resulting in reduced production of fish-derived products.
Fishery biologists actively study the marine environment to keep a track of fish numbers had the health of fish population. Laws to protect fish spawning potentially reduce excessive fishing, thereby keeping the marine population healthy.
Heavily fished waters degrade the marine environment, which negatively impacts fish reproduction, resulting in overall damage to the ecosystem. Common fishing regulations include restrictions around the type of fishing license, start and end date of the fishing season, and the fishing methods used for particular species of fish.
As these regulations have set limits on overfishing and encroachments in sea-level boundaries, fish farmers can ensure the protection of fisheries and the species being bred in them, which in turn will facilitate adequate supply for fish-derived products in the market.
Country-wise Insights
How Will the Fishmeal Market Expand in the U.S.?
Rising demand for fishmeal from end-use industries such as livestock, agriculture, poultry, and swine will continue boosting sales in the U.S. The U.S. is among the top 5 producers of fishmeal in the world, emerging as a leader in the North America fishmeal market. FMI's regional analysis projects the North America fishmeal market to grow at a 4.1% CAGR.
The presence of private research industries, universities, and federal agencies will provide opportunities for research based on seafood processing, further augmenting the market growth.
Intensive research and development are anticipated to boost the commercialization of fishmeal obtained from different seafood trimmings as an alternative in the market. Besides this, increasing applications of fish meal in animal feed and pet food, particularly feline food will continue creating growth prospects in the market.
Why China Will Witness High Demand for Fishmeal?
FMI's regional analysis projects China to dominate the global fishmeal market throughout the assessment period. China is one of the largest producers of animal-derived products, and expansions in the country's aquaculture are anticipated to spur demand for fishmeal in the upcoming years.
With increasing demand for seafood and marine by-products in the country, players operating in the China fishmeal market are focusing on better quality, productivity, and sustainable methods of production.
Expansions in the shrimp farming industries are further spurring demand for fishmeal in the market as farmers want to reserve high-protein fishmeal in their aquaculture operations. Apart from this, limited availability and stringent fishing laws are creating opportunities for regional players to devise safer and more productive ways for obtaining and retailing fishmeal, boosting the overall market growth.
How Will Sales of Fishmeal Fare in the U.K.?
Growing consumption of seafood in the U.K. is projected to shape the fishmeal market demand outlook positively. With favourable growth outlook, the European market is set to expand at a healthy 5.40% CAGR.
Prevalence of vast food industry and authentic restaurant chains will continue boosting demand for high-quality seafood, thus propelling sales of fishmeal in the market.
Rising consumer demand for tuna, salmon, and cod are encouraging regional and global fisheries to maintain quality and nutrient content in seafood, which is bolstering demand for fishmeal in the market.
Apart from this, increasing per capita expenditure on seafood and growing awareness regarding health benefits derived from seafood will continue providing tailwinds to fishmeal sales in the U.K. through 2031.
Category-wise Insights
Rising Applications of Fishmeal in Animal Feed To Gain Revenue
Based on application type, animal feed is expected to account for maximum market share. Addition of fishmeal in animal feed fulfills the need for essential proteins and vitamin b12 in livestock, poultry, and swine, thereby promoting growth of the animals.
Additionally, fishmeal is a great source of omega-3 fatty acids that facilitate brain development in ruminants, swine, poultry, and pets. These factors are spurring demand for fishmeal in animal feed and the trend is likely to prevail through 2031.
Aquaculture Segment To Witness High Growth, Followed by Swine Subsegment
Increasing demand for high-quality seafood across the globe is anticipated to boost sales of fishmeal in aquaculture. Besides this, sales of other fish-derived products such as fish oil will further generate demand for high-quality fishmeal in the upcoming years.
As per FMI's market survey, the swine segment is projected to be the second most lucrative segment in the fishmeal market. Growing demand for processed food products such as salami, ham, and sausages will lead to increased production in swine farms, resulting in high demand for fishmeal-based animal feed.
Competitive Landscape
Top 5 players in the fishmeal market comprise Oceana Group Limited S.A., Empresas Copec S.A., Sardina D.O.O., Omega Protein Corporation, and Triplenine Group A/S, accounting for around 20-25% of the total market share.
Leading producers operating in the fishmeal market are emphasizing on research and development to improve the overall quality of fishmeal in the market. Besides this, production facility expansions, mergers, acquisitions, and collaborations will remain prominent strategies to improve sales during the forecast period. For instance:
In May 2021, global fish oil producer Biomega AS expanded its operations by investing in a biorefinery in Denmark. The facility expansion is aimed at driving salmon-derived product development which will aid the company to establish a firm foothold in the fishmeal market.
In July 2021, Aker BioMarine Antarctic AS announced the construction of the world's first pilot plant for hydrolyzing krill protein. The plant is anticipated to open in 2022, with high-level operations to develop functional food, aquaculture, and animal feed.
Scope of Report
Attribute

Details

Forecast Period

2021-2031

Historical Data Available for

2016-2020

Market Analysis

USD Million for Value

Key Regions Covered

North America, Latin America, Europe, East Asia, South Asia, Oceania, and the Middle East & Africa

Key Countries Covered

US, Canada, Germany, U.K., France, Italy, Spain, Russia, China, Japan, South Korea, India, Thailand, Malaysia, Indonesia, Australia, New Zealand, GCC Countries, Turkey, Northern Africa, and South Africa

Key Segments Covered

Application Type, End-Use Type, and Regions

Key Companies Profiled

Triplenine Group A/S
Empresas Copec S.A.
Pesquera Diamante S.A.
Pesquera Hayduk S.A.
Ff Skagen A/S
Austevoll Seafood ASA
Biomega AS
Sardina D.O.O.
Pioneer Fishing Pt Ltd.
Aker BioMarine Antarctic AS
TASA
Omega Protein Corporation
The Scoular Company
Calysta, Inc.
Unibio A/S
Novus International Inc.
Animalfeeds International Corporation
Alpha Atlantique

Report Coverage

Market Forecast, Company Share Analysis, Competition Intelligence, DROT Analysis, Market Dynamics and Challenges, and Strategic Growth Initiatives

Customization & Pricing

Available upon Request
Key Questions Answered in the Report
What is the current fishmeal market value?

The global fishmeal market is reached US$ 7225.2 Mn in 2021.

At what rate did the fishmeal market grow between 2016 and 2020?

The fishmeal market exhibited steady growth patterns, expanding at a CAGR of 3.7% between 2016-2020.

What are the key trends driving fishmeal sales?

Increasing applications of fishmeal in animal feed and growing consumption of seafood across the globe are key trends driving fishmeal market sales.

Who are the leading players in the fishmeal market?

Top 5 players in the fishmeal market are Oceana Group Limited S.A., Empresas Copec S.A., Sardina D.O.O., Omega Protein Corporation, and Triplenine Group A/S.

What will be the demand outlook for North America fishmeal market?

North America will exhibit high demand in the fishmeal market, with the market growing at a 4.1% CAGR.

What will be the fishmeal market share in Europe?

Europe will emerge as a lucrative market during the assessment period, expanding at a 5.40% CAGR.

What is the market share of leading players in fishmeal market?

The top 5 players in the fishmeal market collectively account for approximately 20-25% of the global market share in 2021.

Which are the top countries driving the fishmeal market sales?

Top countries in driving fishmeal market sales are the U.S., China, Germany, Russia and France.

What is the current market share of Japan and South Korea in the global fishmeal market?

Japan and South Korea will account for 9.1% and 5.4% of the total market share respectively.
Market segmentation
By Application
By End Use
Aquaculture

Crustaceans
Salmon & Trout
Marine Fish
Cyprinids
Others

Poultry
Swine
Others
By Region
North America
Latin America
Western Europe
Eastern Europe
MEA
APEJ
Japan
Need specific information?
Talk Show:
The Rise of Intelligent Packaging
Personalized, Connected and Sustainable
November 18, 2021
11:00-11:45 AM PST (USA & Canada)
This is a LIVE session