About the Report
Flooring and carpet manufacturers are focusing on leveraging opportunities in the automotive, industrial, aviation, marine and sports sectors, after lackluster sales in 2020. Increasing government investments in construction sector and renovation of airports, government buildings as well as hospitals are likely to create lucrative opportunity in upcoming years for flooring and carpets manufacturers especially in emerging economies like India, China, Brazil, UAE, Russia, Australia. The sales of flooring and carpets in these high-growth markets is likely to complement demand in US and Europe.
In its new study, ESOMAR-certified market research and consulting firm Future Market Insights (FMI) offers insights about key factors driving demand for flooring and carpet. The report tracks the global demand for flooring and carpet in 20+ high-growth markets, along with analyzing the impact COVID-19 has had on global sales.
Historic and Future Outlook on Flooring and Carpet Sales
With the evolution of various carpet forms and other flooring material types, the industry continues to develop eco-efficient solutions such as cost-effective manufacturing techniques, use of biodegradable materials such as poly lactic acid (PLA) fibre type etc.
Further, utilization of chemical additives to obtain anti-microbial, anti-fungal, flame and noise-proofing characteristics are providing opportunities to chemicals manufacturers and suppliers to cater to these demands.
Moreover, consumer demand for customised flooring products, new and innovative printing such as 3D flooring, customized carpet tiles, recyclable products etc. are creating opportunities for manufacturers. According to FMI's analysis, flooring and carpet sales are set to grow at a 5.1% CAGR between 2021 and 2031.
How Big will be the Demand for Flooring and Carpet from Construction Sector?
Increasing investments in construction sector has served to drive the growth of flooring and carpet demand. The construction industry is experiencing strong year-on-year growth as a result of substantial government investments and a major upcoming events in various countries such as the Qatar FIFA World Cup 2022, ICC World Cup of Cricket 2023, and among others.
In addition, growing demand form hospitality and tourism needs along with various developments in commercial, residential, industrial and retail infrastructure are expected to continue to drive market growth to a significant extent over the forecast period.
Are Customized Flooring and Carpets Gaining Traction?
Flooring and carpet market is highly competitive in which customers are expecting superior product performance at low cost. Further, companies are offering customization according to customer specific requirements apart from offering standard sized products – e.g., manufacturers are offering customized carpet tiles, customized colored and print rugs etc.
Moreover, manufacturers have started offering customized 3D floors including images of customers favorite location, ocean motif etc. Companies are also offering financing options as well as loyalty programs to end users by providing discounts on installation, cleaning and maintenance costs which would increase the demand for flooring and carpets in the foreseeable future.
How Flooring and Carpet Manufacturers are Increasing their Reach?
Flooring and carpets are preferred over wood and ceramics, particularly in the residential sector, due to their established presence and desirable characteristics at affordable price.
Finesse with regard to fibre and production technology, strict quality control and customer-and fashion-oriented marketing approach are factors contributing to the current boom in the flooring and carpet market in the region. Also, competitive price-performance ratio in comparison with other materials are other factors contributing to flooring and carpet demand.
Product innovation and development has allowed retailers and manufactures to increase their reach, through the use of new technologies and advanced marketing approaches. Moreover, advancements in printing technologies are enabling design and launch of attractive new organic-type visuals to these products. For example, some vinyl products can now simulate tumbled edges, grout lines and other details that mimic natural stone.
How Flooring and Carpet Manufacturers are Complying with Environmental Guidelines?
Various companies collect damaged and scrapped carpets for burial at landfills or incineration as waste disposal processes for the same. Following the Leadership in Energy and Environmental Design (LEED) program by earning LEED rankings being practiced by companies to be recognized for eco-friendly measures taken for production of carpets and rugs.
Zero discharge of hazardous chemicals during manufacturing process and reduced volatile organic content (VOC) levels from the end product being followed by companies which would help the companies to gain customer attention and increase their sales in terms of volume.
How Boom in Residential and Commercial Sector Creates Demand for Flooring and Carpet?
Large populace of purchasers are looking for high-quality products. In addition, developing interest for extravagance floor covering alternatives due to booming residential and commercial sectors are central point expected to drive to growth of global flooring and carpet demand.
Utilization of rugs and floor covering tiles for hospitality, hospitals, and educational organizations has seen reliable development over recent years, this is driven by variables such as accelerating investments on infrastructure, rising hospitality business due to emerging employment as well as business opportunities in various countries such as the India, US, China, France, and UAE. These factors are expected to drive global flooring and carpet demand over the forecast period.
How Flooring and Carpet Industry has been Impacted by COVID-19 Pandemic?
The flooring and carpet industry is very sensitive to changes in general conditions, such as interest rate levels, availability of credit, consumer confidence, and demand for housing, and other factors. Further, prolonged declines in the global economies due to Covid-19 had adversely effected the global flooring and carpet business.
In addition, because of this season of monetary vulnerabilities, purchasers will in general save on rebuilding their homes. Likewise, new home development and the corresponding need for new flooring materials witnessed a slowdown in 2020.
There might be downturns in the foreseeable future that could cause the flooring and carpet industry to deteriorate globally. A prolonged decline in residential or commercial redesigning or new construction activity could have an unfavourable impact on the global flooring and carpet business and results of operations.
Persisting Waste Disposal and Material Recycling Concerns
Product supply and usage is affected due to waste generation and low conversion rate into recycled flooring and carpets. This is posing challenges for companies in terms of waste disposal, logistics and recycling costs as per the mandatory Waste and Resources Action Programme (WRAP) between governments and manufacturing companies.
Furthermore, landfill site shortages is another factor impacting waste disposal initiatives, with applicable rates and taxes expected to increase with inflation, which is expected to affect related logistics costs as well. This has prompted manufacturers to explore other effective means of disposal, and also to redesign carpet tiles in terms of size and texture.
The aforementioned factors are expected to hamper consumption of textile floorings during the forecast period.
Impact of Low-cost Alternative on Flooring and Carpet Sales
Developing regions like Oceania, South East, Middle East and Africa are currently witnessing a moderate growth rate in the construction industry on residential and commercial fronts, which is affecting demand for flooring and carpets.
Increasing use and demand for machine-made flooring and carpets are acting as a restraint for sale of handmade carpets and rugs. This is attributed to these products being comparatively lower priced substitutes in the market.
Country-wise Insights
US Flooring and Carpet Market
The US flooring and carpet production has accounted for nearly 50% of all global production, however, in recent years, sales have remained flat. Considering the trade equation with China, and the impact of COVID-19, purchasers are looking at 'Made in US' flooring solutions with a renewed interest. Considering the unprecedented circumstances in 2020, many retailers started taking proactive approach to reduce their dependence on foreign imports. However, the caveat being that domestic products are expensive, and the cost is eventually passed on to the purchaser. As per FMI's analysis, carpet will continue to be the flooring of choice in the US, with demand being met mostly by domestic producers.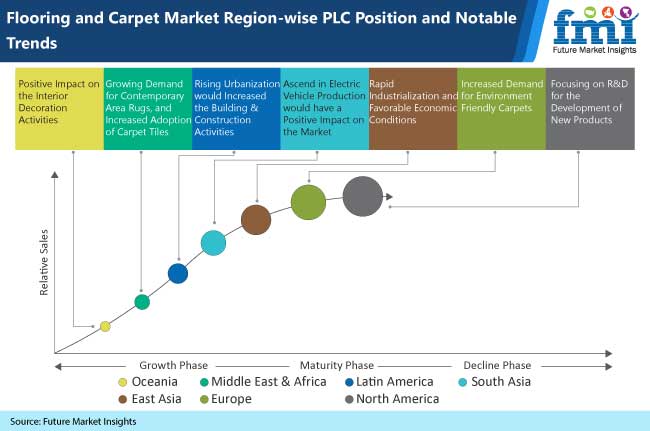 How will UK Flooring and Carpet Sales Grow?
The COVID-19 induced sluggishness is palpable in the UK flooring and carpet market, with demand for low-cost options growing modestly, while premium flooring investment being postponed. The pandemic also influenced consumer behavior in terms of social distancing, as most homeowners wood and laminate floorings, which can be taken up as DIY, gained traction. Overall, the UK flooring and carpet sales are poised to recover, however, reaching pre-COVID levels will depend on a host of macro factors, most notably, consumer confidence and unemployment decrease.
Germany Flooring and Carpet Production and Consumption
As is the case in many European countries, environmental regulations heavily influence the manufacturing process of floorings in Germany. The permission for eco-labelling of flooring products is one of the most stringent in Germany. Further, the German flooring and carpet market continues to be fiercely competitive. Considering the nature of the product, the quality differentiation is low, and consumers in Germany continue to shift from one brand to another. Most of the flooring production in Germany is concentrated among small and medium enterprises, and only a handful of players operate on a global scale.
What are the Opportunities for Flooring and Carpet Manufacturers in Saudi Arabia?
Among countries in the Middle East, Saudi Arabia is estimated to account for majority in terms of revenue share at 33.7% in 2020, followed by Egypt and Turkey. Qatar and Kuwait markets are expected to expand at a CAGR of 9.4% and 8.7% respectively, and expected to register higher growth in terms of value over the forecast period.
Category-Wise Insights
Carpet Tiles Remain Top-selling Category
Revenue from the carpet tile segment is anticipated to lead with a CAGR of 7.0% during 2021-2031. This segment is expected to show continuous growth and anticipated to account for 25.7% value share over the forecast period. The carpet segment is estimated to account for major value share, owing to continuous development in construction sector and launch of innovative designing floor technologies, which is expected to fuel growth of this segment over the forecast period.
Nylon a Preferred Material in Manufacture of Flooring and Carpets
The nylon segment is expected to contribute comparatively high revenue over the forecast period, and is estimated to account for around 42.9% value share of the overall global market by 2021 end. The advent of new synthetic and natural fibers such as, olefins, acrylic, sisal fiber, and sea grass are expected to drive growth of other material type segment over the forecast period.
Demand for Flooring and Carpets Higher in Residential vis-à-vis Commercial
Amongst application type segments, residential segment is expected to be lucrative, and is expected to be valued at over US$ 95 Bn in 2021. Further, hospitality and automotive application segments are expected to register comparatively higher growth rate than other application segments over the forecast period.
Competitive Landscape
The global flooring and carpet market remains quite fragmented, with a large number of players holding miniscule shares. Companies are focusing on tying up with online retailers, as due to COVID-19, many consumers are preferring this sales channel. Further, companies like Mohawk Industries Inc., Interface Inc., Tarkett S.A., have also invested in internet-based advertising websites that educate customers about the products which would help the customers to make decisions before buying the product.
Moreover, companies are promoting their products through marketing campaigns by participating in regional, national, and international trade shows which would help the players to extend their reach in the global markets.
Some of the leading companies operating in the market are:
Mohawk Industries Inc.
Interface Inc.
Beaulieu International Group N.V.
Tarkett S.A.
Balta Group
Shaw Industries Group, Inc.
ALSORAYAI Group
Forbo Holding AG
*The list is not exhaustive, and only for representational purposes. Full competitive intelligence with SWOT analysis available in the report.
Scope of the Report
Attribute

Details

Forecast Period

2021-2031

Historical Data Available for

2016-2020

Market Analysis

USD Million for value

Key Regions Covered

North America, Latin America, Europe, East Asia, South Asia, Oceania Middle East & Africa

Key Countries Covered

US, Canada, Germany, U.K., France, Italy, Spain, Poland, Russia, China, Japan, South Korea, India, Thailand, Malaysia, Vietnam, Indonesia, Australia, New Zealand, Saudi Arabia, UAE, Egypt, Turkey, Iran, Qatar, Oman, Kuwait, Bahrain, and Jordan.

Key Segments Covered

Flooring Type, Material Type, Application, and Region

Key Companies Profiled

Mohawk Industries Inc.
Interface Inc.
Beaulieu International Group N.V.
Tarkett S.A.
Balta Group
Shaw Industries Group, Inc.
ALSORAYAI Group
Forbo Holding AG
Armstrong World Industries LLC
Gerflor Group
Oriental Weavers Group
Al Abdullatif Industrial Investment Company (AIIC)
Polyflor Ltd.
Brintons Carpets Limited
Milliken & Company Inc.
Betap Tufting B.V.

Report Coverage

Market Forecast, brand share analysis, competition intelligence, DROT analysis, Market Dynamics and Challenges, Strategic Growth Initiatives

Customization & Pricing
Key Questions Answered in the Report
What is the flooring and carpet market size?

The global flooring and carpet market is expected to witness a CAGR of 5.1% during the forecast period 2021-2031. As per FMI, the global flooring and carpet market valuation is around US$ 271 billion in 2021

Which is the most lucrative market for flooring and carpet?

US currently leads the global market for flooring and carpet. Sales in US account for nearly one-fourth of global sales

Which are some of the leading companies in the flooring and carpet market?

Some of the leading companies in Flooring and Carpet market are Mohawk Industries Inc., Interface Inc., Beaulieu International Group N.V., Tarkett S.A., Balta Group, Shaw Industries Group, Inc., ALSORAYAI Group, Forbo Holding AG, Armstrong World Industries LLC, Gerflor Group, Oriental Weavers Group, Al Abdullatif Industrial Investment Company (AIIC), and among others
Key Segments
Flooring Type
Carpets
Rugs

Accent Rugs
Area Rugs
Other Rugs

Artificial Grass
Carpet Tiles
Vinyl Flooring
Laminate Parquet Flooring
Material Type
Polypropylene
Nylon
Polyester
Others
Application
Residential
Commercial Offices
Retail
Hospitality
Healthcare and Hospitals
Educational Institutes
Automotive
Industrial
Others
Region
North America
Latin America
Europe
East Asia
South Asia
Middle East and Africa (MEA)
Oceania
Need specific information?
Talk Show:
The Rise of Intelligent Packaging
Personalized, Connected and Sustainable
November 18, 2021
11:00-11:45 AM PST (USA & Canada)
This is a LIVE session