Manufacturers Target Paints & Coatings Industry
Notable upswing in construction spending and automotive production, worldwide, is translating into increasing demand for paints & coatings that offer better durability, easier applicability, and higher cost-efficiency. Hexylene glycol, given its low volatility and high viscosity, is finding immense utilization in paints and coatings.
The compound is also becoming commonplace in drugs as a formulating agent and pharmaceutical excipient. Further, market players are focusing on unlocking value in the chemical and oil & gas sectors to substantially increase revenue and margins.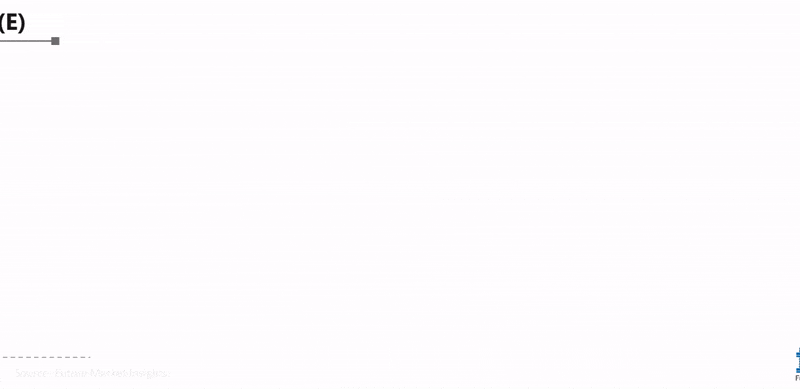 Rampant Chemical Production Underpins Asian Market
Asia, contributing around half of hexylene glycol market revenue, continues to offer investment prospects to manufacturers. Demand upheaval for paints & coatings from certain end-use sectors such as construction and automotive is expected to drive the consumption of hexylene glycol in the region.
Further, widespread availability of production technology and abundance of raw materials and capital finances are influencing market players to shift their manufacturing facilities to Asia. Going forward, while China appears to showcase the fastest-growing leading chemical market, the industry in India is well-placed to capitalize on near-term opportunities.
Cosmetics & Personal Care Industry - A Potential Commercial Lever
Hexylene glycol is generally used in the cosmetics & personal care industry for eye makeup products - eye creams, anti-wrinkle products, skin care eye blossoms, and concealers - owing to its functionality as a surfactant, emulsifier, and viscosity reducing agent. The organic compound attracts oil, dirt, and other impurities accumulated on the skin (surfactant), helps droplets disperse and form a stable emulsion (emulsifier), and aids the formulation to spread easily throughout the skin (viscosity reducing agent). Manufacturers must thus tap this value-creating potential to shape overall market performance.
How Growth will Unfold
Capturing over half of overall demand, the usage of hexylene glycol as a solvent across various sectors - oil & gas, pharmaceuticals, and textiles - would remain prominent. This swelling adoption is characterized by its excellent miscibility and low evaporation rate attributes. On the other hand, top-line growth of the global chemical sector is fueling the consumption of hexylene glycol as a chemical intermediate to produce finished products for various end-use industries. Increasing scope of application in antifreeze purposes is further offering white spaces to manufacturers.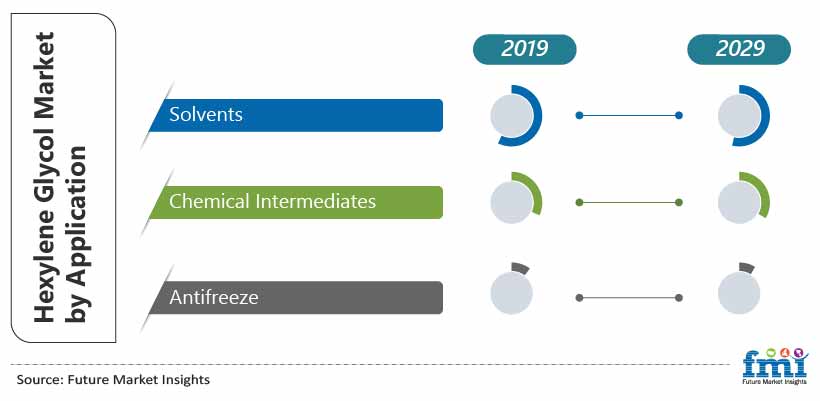 FREQUENTLY ASKED QUESTIONS ABOUT HEXYLENE GLYCOL MARKET
Which application area holds potential growth opportunities for hexylene glycol market players?
Solvent application is considered to be a dominant segment in the market. Hexylene glycol is a clear, colorless liquid, and is miscible in nature. Owing to these characteristics, it is considered as a direct solvent. Growing application in pharmaceuticals and household & personal care products is likely to surge the demand for hexylene glycol in the future.
Which region is expected to lead the global sales of hexylene glycol?
North America remains in the vanguard of the global hexylene glycol market. China and India are emerging regions in the global hexylene glycol market. Manufacturers in China are continuously working to attain self-sufficiency of hexylene glycol to reduce imports from overseas markets.
Which market dynamics will affect the global hexylene glycol market?
Hexylene glycol is used as a solvent in the paints & coatings industry. Due to rise in construction activities across the globe, the consumption of hexylene glycol will surge over the forecast period. However, increasing demand for bio-based products can be a barrier to the growth of the global hexylene glycol market.
How will the hexylene glycol market fare in the future?
There has been a rise in the demand for viscosity reducing agents, emulsifiers, and surfactants in personal care, grooming, and cosmetic products. Hexylene glycol reduces the viscosity of creams, lotions, emollients, and moisturizing products so that they can be easily applied on the skin. Increasing sales and related production of end-use personal care products, in turn, is expected to boost the demand for hexylene glycol over the forecast period.
What is the degree of competition in hexylene glycol market?
The global hexylene glycol market is consolidated in nature, with a limited number of regional and local players operating in the market. Some key players such as BASF SE, Arkema Group, Lonza Group, and Dow DuPont are estimated to account for a prominent share of the global market.
World's Most Profilic Intelligence Engine
Get Access To The World's Largest Market Research Database. Ngage with a revolutionary intelligence engine that scale and pricing that flexes as per your needs
Sign Up Now
HEXYLENE GLYCOL MARKET TAXONOMY
The global hexylene glycol market is segmented in detail to cover every aspect of the market and present complete market intelligence to the reader.
Grade
Pharmaceutical
Industrial
Application
Solvents
Chemical Intermediates
Antifreeze
Others
End Use
Construction

Adhesives
Concrete Additives

Drugs

Pharma Equipment
Formulating Agents

Paints & Coatings
Chemicals
Oil & Gas
Leather & Textiles
Others
Region
North America
Latin America
Europe
East Asia
South Asia
Oceania
Middle East & Africa
Need specific information?