Horse Riding Equipment Market Outlook & Key Findings
Global horse riding equipment market to register a CAGR of 4% during the forecast period of 2020 and 2030
Increasing participation in horse riding as a result of social media influencers to strengthen revenue streams
Training and practice for Olympics 2021 to ensure consistent demand for horse riding equipment
South Asia and Pacific to remain manufacturing hub for horse riding equipment as labor remains an affordable resource
Luxury helmets and other gear to still remain an attractive segment as the notion of elitist sport continues
Fashion Trends Define Design and Production of Horse Riding Equipment
Fashion has been at the focal point of booming horse riding equipment market just as much as performance in the actual sport has been. For decades, brands such as U.S Polo have led the fashion dynamic in the horse riding sphere.
From t-shirts, team jerseys, boots, and other products, the company has made itself synonymous with the sport.
Future Market Insights predicts that global dynamics in the horse riding equipment will be significantly driven by fashion trends, often characterized as sophisticated and minimalist.
Entry of new players in the market such as Decathlon, which offers equipment at far lesser price, uncompromised quality, and in tandem with latest fashion trends, it has lured in wider number of consumers, creating a stiff competition.
Equestrian fashion is adapting to technological advancements with fabrics that are resistant to dirt and water and offer better gripping. Better cuts for improved mobility and increased safety function of helmets along with utmost comfort have helped the vendors in the market to make their mark.
Vendors are also catering to the uber luxury side of this market to retain the "elite" status and to continue the legacy of it primarily being a royal sport. For instance, dressage, is expected to see introduction of exquisite new designs exhibiting individual style and national colours.
To this end, Charles Owen, a holder of a Royal Warrant and supplier to the Royal Mews at Buckingham Palace retail helmets with carefully inlaid crystals to removable sun visors, which showcases the legacy of this riding sport.
Thus, an appeal to both the consumers from both ends of the spectrum to the ones the middle is expected to boost the demand for horse riding equipment in the coming ten years.
Social Media Makes it Mark in Horse Riding Equipment Market
The role of social media in influencing youngsters to take up riding lessons cannot be denied. The fad of projecting an image has actually worked in favour of the global horse riding equipment market as more and more young people are taking to riding.
The popularity of the sport has been largely driven by the explosion of social media and growing number of celebrities influencing the riding for leisure or sport. While motivation to pursue horse riding might be high on vanity metric, analysts predict that is could lead to authentic engagement in the years to come.
This shift in perception is projected to play a critical role in fuelling the sale of horse riding equipment between 2020 and 2030.
In the coming years, manufacturers of horse riding equipment, especially apparel, will witness a strengthening trend of choices dictated by influencers and celebrities.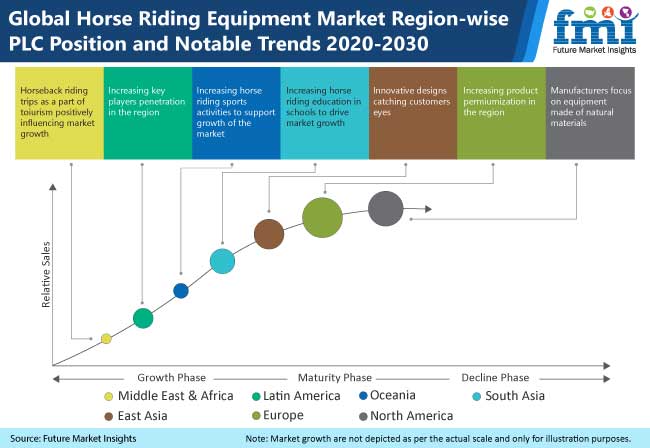 Future Market Insights predicts that the global horse riding equipment market's progress will be closely linked to product premiumization in Europe. Meanwhile, manufacturers will focus on developing equipment made out of natural materials across North America.
The trends in the Middle East and Africa indicate that horseback riding will be closely linked to tourism. The patterns in Oceania and South Asia show that increasing riding activities and introduction of horseback riding in schools to boost demand for horse riding equipment.
Continued Presence in Olympics to Increase Popularity of Horse Riding
Equestrian sports have been a part of the elite sporting activities for many years. The tremendous investment required from a sportsperson has made it a possible only for a select few.
However, in the past decade or so, the demand for horse riding equipment has moved up as per capita incomes improved on account of multiple reasons. A sport that remained available to only a select few became a point of interest for many, attracting increasing revenue towards equipment required for the same.
The continued presence of horse riding in Olympics has also brought the global horse riding equipment market its steady revenue over the years.
Whether a game for the upper echelon or a sport for the grassroots riders, the attraction toward the sport is trumping the divide. Analysts predict, that the global horse riding equipment market is expected to be worth US$ 2 Bn by the end of 2020.
This alone is expected to lift the demand for horse riding equipment as horse riding for leisure and for competitive sporting demands safety first.
Economic Manufacturing Leads to Higher Affordability Generating an Upward Trend in the Market
In line with the same sentiment, the biggest challenge for horse equipment market for many years was affordability. However, as production of apparel and gear moved to eastern markets, it allowed vendors to create a higher affordability. Mass production at faster rates has allowed brands to have a far reaching impact.
Through the years, it has enabled vendors to create a newer consumer base, luring in consumers solely on the basis of affordable price point. In a world gripped by technology, the horse riding equipment manufacturers are staying focussed on incorporating capabilities that allow better learning and in effect, better performance for the jock and the horse.
In the same vein, manufacturers of sportswear for equine sports will capitalize on sensor technology through wearable devices to gain a unique insight into finer nuances of the game. A great demand to reduce the risk of injury to the rider and to monitor the animal's performance to improve the teamwork has been the sole motive of every advancement in this unique field.
For instance, Equestic SaddleClip is an electronic sensor that helps the sportsperson measure and analyse their training. It collects the data during the training period, which can be used to decide the best training possibilities.
It notes details down to specification such as time spent on each rein, number of jumps, tempo, gait, gallops, canter, elevation, and most importantly, intensity per training.
South Asia and Pacific to Emerge as Manufacturing Hub for Horse Riding Equipment
Europe dominates the global horse riding equipment market as the countries such as the UK have been pioneers of this sport with years of experience in breeding, training, and competing.
With strong presence of clubs and enthusiasts, the market flourished in this region. With Olympics a year away in 2021, the market is expected to exceptionally well as jockeys will get an additional year of training, translating into demand for more equipment.
Historically speaking, the colonial influence has also given countries such as India an edge over others in the sport. Played by royals, the market is a booming one in India with growing number of youngsters seeking to indulge for recreation and at competitive levels.
Introduction of horse riding in schools as a sport has also upped the demand for its equipment over the years.
North America too has significant number of clubs, which has increased participation in the sport through the years. Investments in ranches and stables have also improved the scope of sales for the manufacturers in the market. Shift towards suburban and rural living is also projected to increase enrolment in horse riding clubs, thereby boosting the demand for riding equipment.
The demand for horse riding equipment will be led by western countries as it continues to be a sport that demand years of dedication and sophisticated technology to turn a hobby into a sport. The lack of prowess in developing economies is projected to make them growth in this market a slower one in terms of consumption.
However, Future Market Insights predicts that the shift of production of horse riding equipment in countries such as Bangladesh, China, and Vietnam will boost the economies by creating jobs. This South Asia is expected to lead the market from a manufacturing point of view.
Global Horse Riding Equipment: Competitive Analysis
The global horse riding equipment market has moderate competition. With a large number of local players, it is difficult to ascertain the quality of product against its price and brand value, which is also offered by a lesser priced product.
However, players are expected to focus on developing luxury and non-luxury vegan products as the awareness about usage of unethically sourced leather gains momentum.
Animal-free and synthetic products for riders that are also eco-friendly as these do not have to under tanning processes, which often leads to soil and water contamination.
The leading players in the global horse riding equipment market are:
Colonial Saddlery
Dainese
Georg Kieffer Sattlerwarenfabrik GmbH
Decathlon
Cavallo GmbH
Antares Sellier
Fabtron Inc.
Mountain Horse
HKM Sports Equipment.
Charlie1Horse
Resistol
Justin Boots
Cashel Company
Professional's Choice
Others (As per the request)
Global Horse Riding Equipment Market to Gallop as Events and Participation Increase
The future of horse riding equipment is expected to gallop ahead as big sporting events such as Olympics 2021will demand rigorous training. As safety is top priority in all trainings, analysts' project that sale of helmets will soar in the coming years.
Demand for comfortable saddles and production of vegan ones is also expected to give brands a new scope for planning their advertising strategies.
The growing interest in horse riding as a recreation sport is also expected to bring in excellent revenue to horse riding equipment market. Investments in scientifically designed clothing for better mobility, incorporation of wearable technology, and affordability are cumulatively expected to push the market to explore newer horizons during the forecast period.
World's Most Profilic Intelligence Engine
Get Access To The World's Largest Market Research Database. Ngage with a revolutionary intelligence engine that scale and pricing that flexes as per your needs
Sign Up Now
Key Segments
By Product
Helmets
Vests
Stirrups
Saddle
Halters
Bridles
Accessories
Others
By Price Range
By Material Type
Wooden
Metal
Plastic
Leather
Others
By Equipment Type
Equine Equipment
Rider Equipment
By Consumer Orientation
By End-user
By Sales Channel
Hypermarket/Supermarket
Independent Sports Outlet
Sports Retail Chain
Franchised Sports Outlet
Direct-to-Customer Online Channel
Direct-to-Customer Institutional Channel
Modern Trade Channels
Third Party Online Channels
By Region
North America
Europe
Middle East and Africa (MEA)
East Asia
South Asia
Oceania
Latin America
Need specific information?