About the Report
Parathyroid hormone (PTH) plays a pivotal role in maintaining the optimum level of calcium, phosphate and calcitriol (active Vitamin D) in the blood and bones. Hypoparathyroidism, is an uncommon endocrine disorder that develops due to low production or absence of parathyroid hormone.
Globally, hypoparathyroidism affects approximately 200, 000 people, out which most cases are associated with accidental damage or removal of the parathyroid gland during thyroid surgery. Other cases are associated to autoimmune, hereditary, and idiopathic issues. The current standard treatment involves use of calcium and vitamin D analogues (Vitamin D2 & Vitamin D3).
On the other hand, hormonal therapy is also gaining attention, where the primary treatment has found success in cases of severe hypoparathyroidism. The side effects include potential risks associated with developing osteosarcoma has limited adoption rates. However, manufacturers in the market are focusing on investing significantly in the development of safe, and effective hormonal therapies in long-term strategies.
In its new study, ESOMAR certified research firm, Future Market Insights offers details about key driving factors in the market. The report also tracks the global sales of the hypoparathyroidism drugs in more than 10+ high growth markets, along with an analysis of the impact of the COVID-19 pandemic in terms of orphan drugs and rare disease treatments.
How Does the Future Outlook for Hypoparathyroidism Treatment Market Compare to Historical Data?
Between 2016 and 2020, the demand for calcium supplements for treating hypoparathyroidism, dominated the global market mainly owing to cost and efficacy benefits over hormonal therapies and other drugs. Subsequently, rising research and development activities supported market growth.
NATPARA (Takeda), and Rocaltrol (Roche) are some of the commonly prescribed drugs to treat moderate to severe hypoparathyroidism. However, issues of product recall and the resultant mismanagement in treatments has led to hospitalizations in severe cases. Manufacturers such as Ascendis Pharma A/S, EnteraBio Ltd, ProLynx, Inc. and Extend Biosciences, Inc. have hormonal therapies in pipeline which have delivered superior patient outcomes.
The COVID-19 has impacted the healthcare sector severely. While, clinical trials for the rare diseases are halted/postponed through 2020 due to priority given to the development of lifesaving drugs, the market for hypoparathyroidism is expected to witness a short-term slump even through 2021.
However, government support in the form of funding and grants to support the development of new hormonal therapy, the relaxation of lockdown regulations is expected to provide numerous opportunities for market growth. As a result, the market is expected to grow at a steady pace during the forecast period.
Additionally, the market is expected to witness an increase in patient screening for a number of thyroid conditions owing to growing patient awareness. Moreover, the approval and designation of hypothyroidism drugs as orphan products by U.S. FDA and the European Commission (EC), coupled with the untapped patient population is expected to have a positive impetus on market growth.
Emergence of personalized medicines, the rapid rise in demand for biologics for hypothyroidism, and consolidation activities by market players will create significant opportunities for the expansion of hypothyroidism treatment market size over the forecast period, which is projected to expand at a CAGR close to 8% through 2031.
How are Changes in Reimbursement Policies Fueling Market Growth?
Government support in terms of receiving an orphan drug designation from regulatory bodies such as the U.S. FDA and European Commission (EC) and financial and tax incentive factors are expected to result in high return on investment for companies developing novel drugs for treating hypoparathyroidism.
The U.S. FDA's orphan drug status is given to biologics affecting fewer than 200,000 people in the U.S. alone with benefits of various incentives including tax incentives for qualified clinical trials and market exclusiveness on receiving regulatory approval.
For hypoparathyroidism, NATPARA is the only drug issued with a black box warning, which was notified by U.S. FDA, in January 2015, which is currently has exclusivity until 2022. Also, the treatment is covered by a number of insurance companies and co-pay policies. Such initiatives are expected to boost the production of novel drugs, which is expected to positively influence growth of the market in near future.
Why are Labelling Restrictions on NATPARA Limiting Market Growth?
Currently, NATPARA is only available drug to treat hypoparathyroidism. Because of its side effects including a potential risk of osteosarcoma, high blood calcium levels, and reduced sense of touch or pain sensation in joints, which could result in hospitalization. The drug is only made available through NAPTARA Risk Evaluation and Mitigation Strategy (REMS) Programs.
Hence, in most of the cases oral medications are considered as standard treatment for hypoparathyroidism. This limits the adoption of available hormonal therapy. Further, long-term beneficial drug usage symptoms have still not been demonstrated across clinical trials, which might limit the adoption of therapy in patients given the high price of the injection. Drug literature review 2018 states that therapy with rhPTH (1-84) is a long-term management option, where more long-term efficacy and safety data are needed in humans.
Also, EMA's Committee for Medicinal Products for Human Use (CHMP) has recommended conditional approval for NATPARA in lieu of these side effects. Thus, labelling restrictions are expected to hold back the penetration of NATPARA in the major global markets, thereby hampering the overall growth of the market.
How are Small Molecule Biologics Creating Growth Opportunities?
The hypoparathyroidism treatment market is shifting towards the demand for biologics over conventional drug alternatives. The efficacy of biologics and their ability to mimic natural body hormones is greater as compared to small molecule options in conventional therapy. This benefit is an essential influencing factor driving the demand for biologics.
Furthermore, biologics promote conversion of vitamin D into active forms, which increases the absorption of oral calcium supplements, resulting into synergies with conventional calcium in supplement therapy. Considering the aforementioned factors, the emergence of biologics is expected to offer lucrative opportunities for the growth of hypothyroidism treatment market.
Country-wise Insights
What are the Prospects of Adoption for Hypoparathyroidism Treatments in the U.S.?
NATPARA (parathyroid hormone), is a recombinant hormonal therapy approved in the United States for the treatment of hypoparathyroidism. It is prescribed to the patients who do not show positive results from standard therapies including calcium supplements and vitamin D.
In September 2019, Takeda Pharmaceutical Company Limited, announced the recall for all its doses of NATPARA injections in the U.S. This recall was attributed to presence of small rubber particles in solution samples, which originated from the rubber septum of the NATPARA cartridge.
This recall of injectable PTH in the U.S. has created distress among the patients and had a significant impact on treatment cycles. Around 2,700 patients have been affected by shortage. Patients who are currently being treated with the therapy, have been pushed back to oral medications including calcium supplements and activated vitamins D to control their symptoms.
This transition has created a negative impact on the disease management, with leading some patients to hospitalization because of the severe hypocalcemia. Further, manufacturers anticipates that the PTH injectable will require another year to return back to the market.
Why is Germany a leading the Europe Hypoparathyroidism Treatment Market?
Factors such as rising occurrences of parathyroid diseases, rising government initiatives, increasing medical care expenditure, better regulatory scenario, and rising reimbursement policies and funding are persistently aiding the expansion of the hypoparathyroidism treatment market in Germany. As indicated by the information proposed by Eurostat, it is seen that among the EU Member States, the largest share of medical care expenditure was recorded in Germany in 2019.
Further, growing approvals and orphan drug designation from European commission (EC), increasing candidates in clinical trials for development of hormonal therapy, presence of pharmaceutical players, which leads to better availability or products across the continent, are some of the factors that are responsible for making Germany, one of the largest market for hypoparathyroidism in Europe.
How Are Government Initiatives Boosting Hypoparathyroidism Treatment market in India?
Implementation of government programs aimed at offering affordable and quality healthcare is expected to complement growth of India's biopharma industry, in turn creating opportunities for hypoparathyroidism treatment market. Increasing adoption of technologically advanced treatment and rising awareness among people in India is fuelling the demand for hypoparathyroidism treatment.
Moreover, India is also considered as one of the top destinations of thyroid related disorders in the world, increasing the need for Hypoparathyroidism Treatment market in the region. Increasing patient pool due to rise in population, emergence of new diseases, and lifestyle changes are also boosting demand for biopharmaceuticals, which is expected to provide high opportunity for providers of hypoparathyroidism treatment.
Category-wise Insights
How are Calcium Supplements Contributing to Market Revenue?
Hypoparathyroidism is characterised by low parathyroid hormone secretions which results in low calcium levels in the body. Calcium supplements are preferred as the first line of treatment by doctors in order to normalise the deficiency.
Also, these supplements show a reduced risk of side effects as compared to hormonal therapy. Moreover, the recent U.S. recall of the NATPARA had compelled patients to opt for oral medication such as calcium supplements to treat the symptoms. These factors will drive demand for calcium supplements, accounting for the largest share in the global market.
Which is the Preferred Route of Administration for Hypoparathyroidism Treatment ?
The oral segment by route of administration, held the highest market share due to rising product launches and the presence of a solid pipeline. Various factors like a rapid delivery of drugs, high efficacy, and a higher rate of bioavailability are projected to impel the oral segment development. For drugs having medium to high oral availability, the oral route of administration is effective.
Oral treatments limit the utilization of central lines for intravenous drug administration and accordingly decrease the danger of complications related with it and also a hospital stay. The advancement of promising new medications and potential clinical pipeline applicants are a portion of the major factors expected to boost segment development.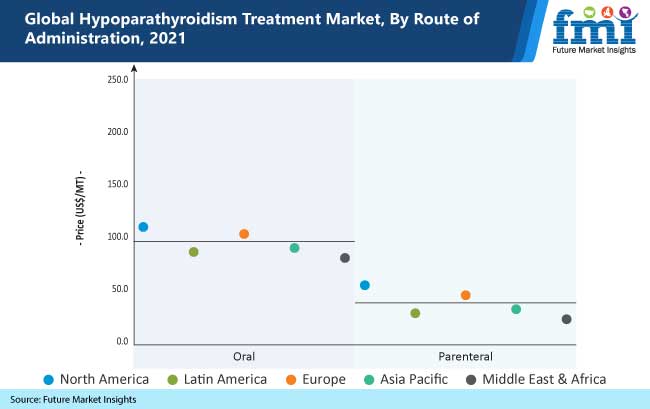 What is the share of hospital & retail sales in global Hypoparathyroidism Market?
The hospital and retail sales is expected to show maximum share in the market among all distribution channels due to increasing number of facilities and easy accessibility to patients. Also, the quick delivery of medicines is one of the major factors driving the market growth during the forecast period. As there are rising number of cases of hypoparathyroidism, there is increasing demand for faster accessibility and availability of medicine to treat the disorders as rapid as possible. Thus, hospitals and retail providers are able to provide medicines to the patients at faster rate and in turn increases the hypoparathyroidism treatment market.
Competitive Landscape
The global hypoparathyroidism treatment market is dominated by top manufacturers -Takeda Pharmaceutical Company Limited., Entera Bio Ltd., F. Hoffmann-La Roche Ltd, Amgen Inc., and Ascendis Pharma A/S Manufacturers are focusing on enhancing their global and regional presence through acquisitions and collaboration strategies.
For instance, in January 2019, Takeda Pharmaceutical Company acquired Shire plc. With this Acquisition, Takeda strengthened its geographic presence in the U.S., which is one of the key markets for biopharmaceuticals. Also, the acquisition of Shire has strengthened Takeda's product portfolio and provides it a leading position in GI, neuroscience, rare diseases, oncology and PDT.
Ascendis Pharma established VISEN Pharmaceuticals, in November 2018, collaborated to develop, manufacture, and commercialize company's TransCon Endocrinology Rare disease therapies in Greater China. This includes, mainland China, Hong Kong, Macau, and Taiwan. Such collaborations are anticipated to expand TransCon PTH's reach in Asian economies.
In March 2021, BridgeBio Pharma announced positive outcomes from its 2nd stage trial of its new drug encaleret. As a part of hypoparathyroidism treatments, the drug has show effectiveness among patients with autosomal dominant hypocalcemia type 1.
Some of the leading companies operating in the market are:
Takeda Pharmaceutical Company Limited.
Entera Bio Ltd.
Amgen Inc.
Ascendis Pharma A/S
F. Hoffmann-La Roche Ltd
ProLynx, Inc.
Extend Biosciences, Inc.
BionPharma Inc.
* The list is not exhaustive, and only for representational purposes. Full competitive intelligence with SWOT analysis available in the report.
Scope of Report
Attribute

Details

Forecast Period

2021-2031

Historical Data Available for

2016-2020

Market Analysis

USD Million for Value

Key Regions Covered

North America, Latin America, Europe, Asia Pacific and the Middle East & Africa

Key Countries Covered

U.S., Canada, Brazil, Mexico, Germany, U.K., France, Italy, Spain, China, India, Japan, Australia &, New Zealand, South Africa, and GCC Countries

Key Segments Covered

Product Type, Route of Administration Distribution Channel, and Region

Key Companies Profiled

Takeda Pharmaceutical Company Limited.
Entera Bio Ltd.
Amgen Inc.
Ascendis Pharma A/S
F. Hoffmann-La Roche Ltd
ProLynx, Inc.
Extend Biosciences, Inc.
BionPharma Inc.

Report Coverage

Market Forecast, Company Share Analysis, Competition Intelligence, DROT Analysis, Market Dynamics and Challenges, and Strategic Growth Initiatives

Customization & Pricing
Key Questions Answered in Report
Which is the most lucrative market for hypoparathyroidism treatment?

The U.S. currently leads the global market for hypoparathyroidism treatment, and demand will be significant throughout the forecast period. Growing number thoracic surgeries, and high prevalence of hypoparathyroidism are some of the key factors contributing to the higher demand.

Which is the Key Hypoparathyroidism Treatment Product Type?

Vitamin D analogue for vitamin D analogue (vitamin D2&D3) hold significant share in the hypoparathyroidism treatment market. The demand is expected to remain high in the near future, especially due to preference among physician as a first line of treatment owing to its convenience of oral administration.

Which are the Leading Companies Operating in the Hypoparathyroidism Treatment Market?

Some of the prominent players offering drugs for hypoparathyroidism include Takeda Pharmaceutical Company Limited, F. Hoffmann-La Roche Ltd, ProLynx Inc, Amgen, Inc. EnteraBio Ltd, and Ascendis Pharma A/S

What are the key factors that hindering the growth of the hypoparathyroidism treatment market?

Limited availability of hormonal therapy (NATPARA) due to adverse side effects is the key restraint for market growth. Apart from this high treatment cost and product recalls are some the factors having negative impact on the market growth.

What is impact of the COVID-19 outbreak on the hypoparathyroidism treatment market?

The COVID-19 pandemic resulted in a significant drop in the demand for hypoparathyroidism care. Furthermore, clinical studies have been put on hold temporarily in order to focus on developing a potential drug to tackle the coronavirus. However, with the availability of the COVID-19 vaccines, the clinical trials are resuming for development of drug candidates, the market is expected to recover in the long-term.
Hypoparathyroidism Treatment Market
By Product Type
Parathyroid Hormone
Vitamin D Analogue
Calcium Supplements
By Route of Administration
Distribution Channel
Hospital Pharmacies
Retail Pharmacies
Online Sales
Region
North America
Latin America
Europe
Asia Pacific MEA
Need specific information?
Talk Show:
The Rise of Intelligent Packaging
Personalized, Connected and Sustainable
November 18, 2021
11:00-11:45 AM PST (USA & Canada)
This is a LIVE session