Insect Protein Market by Insect Type (Beetles, Caterpillars, Bees, Wasps and Ants, Grasshoppers, Locusts, Crickets and Others), Form (Whole Insect, Powder), Application (Food & Beverages, Animal Nutrition, Aquafeed, Pet Food, Poultry Feed, Pharmaceuticals & Cosmetics), & Region - Forecast to 2022 – 2032
Insect Protein Market - Analysis, Outlook, Growth, Trends, Forecasts
January 2022

REP-GB-11050

350 pages
Insect Protein Market Snapshot
[350 Pages Report] Newly released data on the global insect protein market by FMI Estimated that the insect protein market enjoyed year-on-year (YoY) growth of 8.2% in 2022 and is accounted for USD 349.2 Mn and is expected to witness a prominent CAGR of 9.2% to reach the value of USD 838.5 Mn in 2032. Revenue for the insect-based pet food segment grew by 18% during the period 2017-2021 while the Demand for beetle protein increased by 11% between 2020 and 2021.
| | |
| --- | --- |
| Attribute | Details |
| Market Size Value in 2022 | USD 349.2 Mn |
| Market Forecast Value in 2032 | USD 838.5 Mn |
| Global Growth Rate | 9.2% |
| Forecast Period | 2022-2032 |
According to FMI analysis Aspire Food Group, EntomoFarms, Swarm Nutrition, Chapul Cricket Protein, GmbH, InnovaFeed SAS, AgriProtien Holdings Ltd., EnviroFlight LLC, Protix, SAS Ynsect, and Hexafly Company are identified as key insect protein brands.
Insect protein usage has been increasing in the food & beverage market, owing to a growing need for protein alternatives among food & beverage makers to meet rising consumer demand. Furthermore, the consumption of animal products such as meat, eggs, and milk continues to climb as a result of high population growth, making environmental sustainability a concern. Due to its high protein content, beneficial fats, minerals, and vitamins, around 2,000 bug species are already consumed as part of a regular diet by humans and domestic animals all over the world.
Food makers have taken advantage of this opportunity to enter the market and develop a variety of goods, including protein bars, snacks, whey protein, mealworm cookies, cricket pasta, honey caterpillar croquettes, mixed insect nibbles, and chocolates based on insects.
The Incredible Growth of the Insect Protein Market
The insect protein market is estimated to be USD 349.2 Mn in 2022, because of the extraordinary bioavailability of protein and minerals in edible insects such as beetles and caterpillars. Insect protein makers are benefiting from rising health and environmental concern and about the consumption of traditional animal protein sources.
From 2022 to 2032, the worldwide insect protein market is predicted to increase at a staggering 9.2% CAGR. This expansion might be ascribed to the rapid acceptance of the technology by both manufacturers and consumers. The key drivers of growth in the edible insect protein industry are cost benefits, production efficiency, and nutritional value supplied by insects.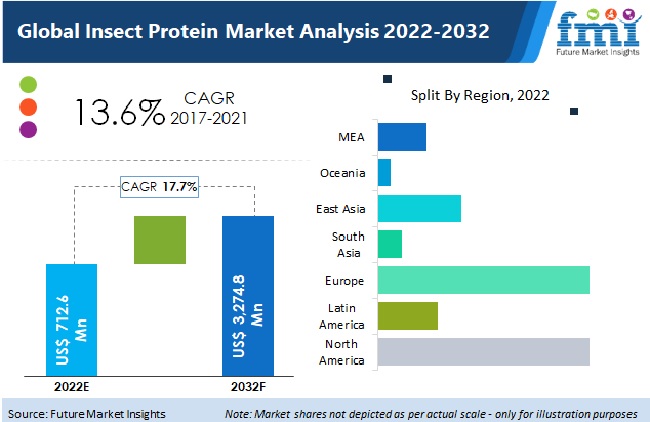 Preferred Insect Protein Source: Beetles
Beetles account for more than a quarter of the market, followed by Caterpillars, which have a remarkable double-digit growth rate of more than 10.2%. The nutritional benefits and high availability of these edible insects are driving growth in these categories.
Grasshoppers, crickets, and locusts all have high double-digit CAGRs, making them the most profitable bug varieties. Researchers are using locusts and grasshoppers to create infant food and animal feed for fish and chicken. This section will assist manufacturers in expanding their product portfolio and gaining a competitive advantage as early adopters.
Europe and North America are Paving the Way for Widespread Adoption
Europe and North America account for more than three-fifths of the global insect protein market. Insect protein products developed by budding start-ups companies such as Eat Grub and Aspire Group are finding popularity with consumers. This growth can be due to growing consumer knowledge of the negative environmental effects of animal agriculture. In these industrialised regions, insect protein presents a viable alternative to the information-savvy consumer sector.
The food and agriculture organization (FAO) has begun to promote edible insects as acceptable dietary options for humans, which has sparked a surge in interest in edible insects. With government funding and successful research endeavours, the Korean edible-insect market (particularly for human consumption) has made significant growth. Moreover, an increase in accessibility to edible insects is to develop insect-based ingredients instead of final food products showing their original appearance.
Latin America and the Middle East and Africa (MEA), despite their low market share, are predicted to increase at double-digit rates during the forecast period. Manufacturers are developing new ways to use insect protein to help those who are malnourished. To compensate for the dearth of nutritional resources in MEA nations such as Kenya, researchers are developing food items based on insect protein powder.
Medical Benefits Aid Growth Opportunities in the Insect Protein Market
Beef contains only 29% protein, whereas crickets contain 69% of protein. A prominent trend driving this industry is the nutritional value difference between insect protein and traditional protein powder. Insect farming for protein extraction uses 8 to 10 times less land, up to 5 times less water, and generates 6 to 12 times fewer greenhouse gases in terms of production.
Furthermore, increased worldwide awareness of animal farming and its negative consequences is prompting businesses to seek alternatives. Many necessary amino acids, fatty acids, minerals, and vitamins can be found in insects. The widespread acceptance of insect protein among manufacturers and customers is due to its medical and production benefits.
The Market for Insect Protein in Animal Nutrition to Remain in High Demand
Insect protein has a wide range of applications in animal nutrition, which is driving demand. Aquatic species, pets, and poultry animals consume it as a food source. The fast adoption of insect protein in other industries, including food and beverage, is fueled by its global acceptance of insect protein.
Amid growing global concerns about the environmental impact of traditional animal production, food and beverage producers are seeking alternatives to environmentally sustainable sources of protein. To take advantage of this potential, manufacturers must act quickly and build thorough strategies.
The Market Trend Followed by Companies:
For the companies, rising prices and accessibility of insect protein-based products have been major issues. Many start-ups have primarily sold insect-based protein products through online channels.
Many companies have begun partnering with major retailers and other convenience stores to raise knowledge of the benefits of insect protein and to boost the exposure of insect protein-based goods for instance:
Eat Grub collaboration with SOK: UK based company named Eat Grub being a large manufacturer of insect protein is collaborating with SOK which is a Finland based largest Supermarket chain.
AgriProtein acquired Millibeter N.V: In the year 2018, Millibeter N.V was acquired by AgriProtein. This acquisition will help AgriProtein in setting up its first factory in Belgium. The acquisition is expected to expand the market for the company in Europe.
EnviroFlight LLC: The Company opened its 1st manufacturing facility in the US and is expected to increase the production facility of the company in the insect protein extraction from Black soldier flies.
Scope Of Report
Attribute

Details

Market Size Value in 2022

USD 349.2 Mn

Market Forecast Value in 2032

USD 838.5 Mn

Global Growth Rate

9.2%

Forecast Period

2022-2032

Historical Data Available for

2017-2021

Market Analysis

MT for Volume and USD Mn for Value

Key Regions Covered

North America, Latin America, Europe, East Asia, South Asia, Oceania and Middle East & Africa

Key Countries Covered

United States, Canada, Brazil, Mexico, Chile, Peru, Argentina, Rest of LATAM, EU-4, UK, BENELUX, Nordic, Russia, Poland, Rest of Europe, China, Japan, South Korea, India, Thailand, Indonesia, Singapore, Rest of South Asia.

Key Market Segments Covered

Insect Type, Form, Application, Region

Key Companies Profiled

EntomoFarms
Aspire Food Group
Chapul Cricket Protein
Swarm Nutrition
GmbH
AgriProtien Holdings Ltd.
InnovaFeed SAS
SAS Ynsect

Pricing

Available upon Request
World's Most Profilic Intelligence Engine
Get Access To The World's Largest Market Research Database.
Sign Up Now
Market Segments Covered in Insect Protein Market Analysis
Insect Type:
Beetles
Caterpillars
Bees, Wasps and Ants
Grasshoppers, Locusts and Crickets
Others
Form:
Application:
Food & Beverages

Animal Nutrition
Aquafeed
Pet Food
Poultry Feed

Pharmaceuticals & Cosmetics
Region:
North America
Latin America
Europe
East Asia
South Asia
Oceania
Middle East & Africa
Key Questions Answered in the Report
How much is the current worth of the insect protein market?
Currently insect protein market is worth more than USD 349.2 Mn.
At what CAGR is the market expected to grow?
Insect protein market consumption is expected to grow at a CAGR of around 9.2% during the period 2022-2032.
How was the performance in the last five years?
In terms of revenue, the insect protein market grew at a CAGR of around 5.6% during 2017-2021
What is the demand outlook forecast for the insect protein market?
The global insect protein market is forecasted to surpass USD 838.5 Mn by the end of 2032.
Who are the top 5 players operating in the market?
EntomoFarms, Aspire Food Group, Chapul Cricket Protein, Swarm Nutrition, GmbH, AgriProtien Holdings Ltd., InnovaFeed SAS, Protix, SAS Ynsect, EnviroFlight LLC, and Hexafly Company are expected to be the top players driving the market growth.
How are market players reacting to the new developments in the market?
Market players are focusing on new product launches, insect protein distribution channels, merger and acquisition strategies to remain a prominent player in the global market.
Which are the major countries driving demand for insect protein?
The Asia Pacific, the U.S., and Europe are the major countries driving demand for Insect Protein.
What outlook does Europe provide?
Europe holds around 27.4% of the total insect protein revenue share in 2022.
At what rate will the U.S. insect protein market grow?
The U.S. Insect Protein market is projected to grow at a CAGR of around 7.3% over the next ten years.
Need specific information?
Our Clients