Insect Protein Market's Astounding Growth at 28%
High bioavailability of minerals and protein in insects such as caterpillars, beetles is giving birth to a US$ 322 million industry in the form Insect Proteins Market. Rising environmental and health concerns over the consumption of traditional animal protein sources contribute to driving growth for insect protein manufacturers.
The global insect protein market is expected to grow at an astounding CAGR of 28% from 2019 to 2029. This growth can be attributed to rapid adoption from manufacturers and consumers alike. Cost benefits, production efficiency, and nutritional value offered by insects are main drivers of growth in insect protein market.
Beetles - Preferred Insect Protein Source
Beetles hold more than 1/4th market share followed by Caterpillars that register a staggering double digit growth rate of more than 33%. Growth in these segments is due to the nutritional value and high-availability of these insects.
Grasshopper, Cricket, & Locust offer lucrative growth opportunities with the highest double digit CAGR among all insect types. Researchers are developing baby food and animal feed for fish & chicken from locusts and grasshoppers. This segment will help manufacturers enhance their product portfolio and gain early-adopter's advantage.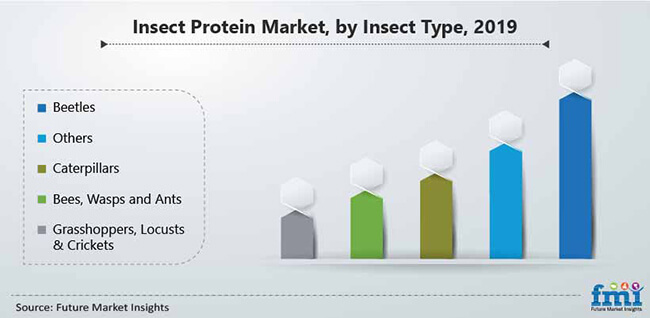 Europe & North America Pave the Way for Mass-adoption
Europe and North America collectively account for more than 3/5th of market share. Budding start-ups such as Eat Grub (UK) and Aspire Food Group (US) are developing insect protein products that are gaining consumer traction. This traction can be attributed to rising consumer awareness about adverse effects of animal farming on the environment. Insect protein presents a viable alternative to the information savvy consumer segment in these developed regions.
Although minor market-share holders, Latin America and Middle East & Africa (MEA) are expected to register double digit growth rate through the forecast period. Manufacturers are innovating increasing application of insect protein in aiding nutrition-deficit demographic. In MEA countries such as Kenya, researchers are developing food products from insect protein to accommodate for the lack of nutritional resources.
Medical Benefits Aid Growth Opportunities
Crickets contain 69% protein, whereas beef contains only 29%. The difference in nutritional value between insect protein and traditional sources of protein is a major trend driving this market. In terms of manufacturing, insect farming for protein extraction requires 8 to 10 times less land, up to 5 times less water, and emits 6 to 12 times less greenhouse gases.
Further, global attention to animal farming and its side-effects are forcing manufacturers to look for alternatives. Insects are a source of many essential amino acids, fatty acids, minerals, and vitamins. Popularity of these medical and manufacturing benefits is driving rapid adoption of insect protein among both, manufacturers and consumers.
Animal Nutrition to Continue High Demand
Animal nutrition garners increasing demand amidst versatility of use-cases for insect protein. It is used as feed for aquatic animals, pets, and poultry animals. The worldwide acceptance of insect protein for animal nutrition is fueling rapid adoption in other industries such as Food & Beverages.
F&B manufacturers are looking for alternatives to eco-friendly sources of proteins amidst rising global concerns over environmental effect of traditional animal farming. Manufacturers must move aggressively and develop comprehensive strategies to capitalize on this opportunity.
Major players in the market include EntomoFarms, Aspire Food Group, Chapul Cricket Protein, Swarm Nutrition, GmbH, AgriProtien Holdings Ltd., InnovaFeed SAS, Protix, SAS Ynsect, EnviroFlight LLC, and Hexafly.
Market Segmentation
Insect Type
Beetles
Caterpillars
Bees, Wasps and Ants
Grasshoppers, Locusts and Crickets
Others
Form
Application
Food & Beverages

Animal Nutrition
Aquafeed
Pet Food
Poultry Feed

Pharmaceuticals & Cosmetics
Region
North America
Latin America
Europe
APEJ
Japan
Middle East & Africa
Need specific information?