Key Factors Shaping Mass Finishing Consumables Market
High Demand for Surface Finishing Technologies
The demand for surface finishing technologies and equipment and materials is growing significantly as a result of increasing industrialization. Surface finishing is used in almost every end-use industry using metals. This includes automotive, aerospace, construction, medical, jewellery, metal foundries, metal forming, and more.
Various metal parts utilized in automotive and aerospace industries require finishing along with periodic cleaning and refurbishment for efficient operation. Moreover, in the industrial sector, machine operators are focused on increasing reliability of parts and equipment, for which they use surface finishing technologies on a large scale.
E-commerce Expansion Creating Lucrative Sales Opportunity
Numerous manufacturers of mass finishing consumables are listing their products on online sales channel such as Amazon, IndiaMART, and Alibaba, among others. This allows them to increase their customer base and to sell more of their offerings. With the availability of a wide variety of mass finishing consumables to choose from, buyers require certain information about mass finishing consumables before purchasing, such as material, shape, and more.
Manufacturers are uploading such pertinent information on online platforms such as websites, enabling customers to check necessary information such as wet consumables, features and place orders with ease.
Diverse Applications and Time Efficiency
In the current era of competition and rising digitalization, several industries aim to improve productivity and reduce time and capital expenditure. For instance, manufacturing industries are inclined towards using more compatible materials and advanced technologies. Such trends are also witnessed in the surface finishing and mass finishing industry. Manufacturers strive to offer reliable and quality services in optimum time.
Innumerable advantageous and applications of mass finishing consumables help end users meet quality standards, making them a lucrative product in the surface finishing industry. Mass finishing consumables have applications in numerous processes such as deburring, polishing, grinding, surface finish, and refinement and help reduce man power and manual processing time.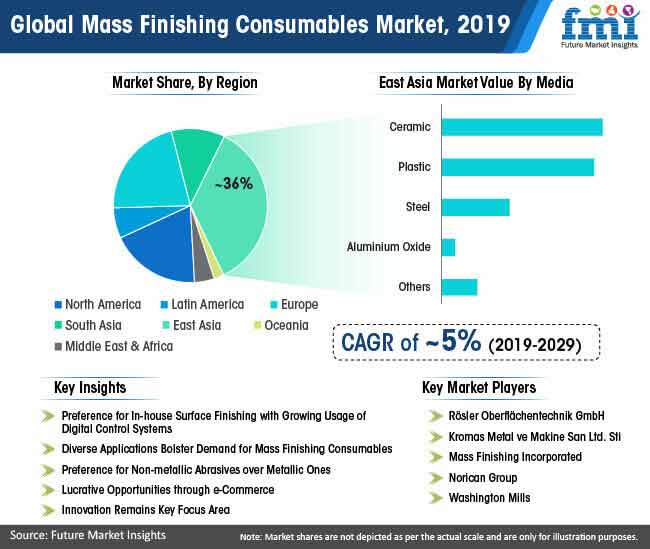 Mass Finishing Consumables Market Structure Analysis
The global mass finishing consumables market represents a fairly consolidated competition landscape, where majority of the key players maintain their strategic focus on solid distribution partnerships, joint ventures, and expanding their global presence.
The mass finishing consumables market has been moderate in size, which remains as key factor for its dynamic competitive nature.
Leading manufacturers of mass finishing consumables are currently focussing on product innovation and are prioritizing R&D.
Capacity expansion is anticipated to remain one of the key evolving strategies adopted by mass finishing consumables manufacturers.
For high traction in target markets, mass finishing consumables manufacturers may continue to focus on organic strategies, such as capacity expansion, inaugurating new production facilities, and more.
Manufacturers to Enhance Production Capacity and Footprint Expansion
In October 2017, Rösler improved its plastic mass finishing consumables production capacity with a new manufacturing facility establishment in Germany.
Rösler will also expand its production capacity for ceramic mass finishing media through a new facility, which is scheduled to go into operation in the fourth quarter of 2019.
In 2019, Sintokogio, Ltd. acquired FROHN North America, Inc., a service-orientated manufacturer of blasting media, steel shots, and shot peening accessories.
Mass Finishing Consumables Market Sees Promising Growth despite Challenges
The global mass finishing consumables market has been growing at a steady pace. Although the booming manufacturing and industrial sectors are prime drivers, the market continues to face the challenges posed by trade conflicts and raw material pricing volatility. Projected for a promising CAGR over the course of forecast period (2019 - 2029), mass finishing consumables market revenues will reach the value of ~US$ 300 Mn towards 2029 end.
Ceramic to Observe Noteworthy Traction
Non-metallic abrasives such as ceramic and plastic will maintain their supremacy through 2029 owing to their adoption for both wet and dry applications. These abrasives have been generating significant revenues in East Asian market. However, as ceramics is relatively inexpensive than plastic, ceramic will continue to hold a greater market share.
On the other hand, plastic is certain to face a declining market scenario in the near future due to sustainability concerns. Steel, despite having a significantly high recyclability quotient, will account for moderate adoption due to its higher price point.
East Asia Predominant, North America and Europe in Neck-and-Neck
East Asian market for mass finishing consumables is set to exceed the revenues worth ~US$ 100 Mn over the next decade. While China and Japan will continue to lead the market in East Asia owing to the flourishing aircraft and automotive production and automotive aftermarket scenario, the U.S. and Germany will continue to lead their way in North American and European markets that collectively account for over a third of market value. In terms of revenue generation, North America will soon catch up Europe.
Market Witnessing a Shift Towards In-house Surface Finishing
Conventional methods of hiring service providers for surface finishing applications is a time- and cost-prohibitive process. Manufacturers are thus offering machinery equipped with digital control systems to allow users to efficiently perform finishing process for small as well as large components. In addition, the digitally-enabled machinery deliver optimum as a result of which, customers are increasingly shifting towards in-house surface finishing.
How Growth Will Unfold
Automotive industry will remain a prominent consumer of mass finishing consumables owing to the increasing production of passenger vehicles, and commercial vehicles. Adoption of mass finishing consumables in automotive industry will generate spectacular returns in the next two years.
Further, sales of mass finishing consumables within the machine tooling industry will increase moderately on the back of its modest growth. On the other hand, there are strong possibilities that rising infrastructure projects in developing regions will accent significant demand for mass finishing consumables from construction and general manufacturing industries.
Key Segment
By Media
Ceramic
Plastic
Steel
Aluminium Oxide
Others (Wood, AgroBased, Special Plastic, and Porcelain)
By Application
Deburring
Pressure Deburring
Grinding
Polishing
Cleaning and Degreasing
Descaling, Corrosion, and Rust Removal
Ball Furnishing
Surface Finish and Refinement
By End-use Industry
Automotive
Aerospace
Construction
Machine Tooling
General Manufacturing
Jewellery and Accessories
Healthcare
By Region
North America
Latin America
Europe
South Asia
East Asia
Oceania
Middle East & Africa
Need specific information?
Talk Show:
The Rise of Intelligent Packaging
Personalized, Connected and Sustainable
November 18, 2021
11:00-11:45 AM PST (USA & Canada)
This is a LIVE session