Emergency Notification Platform to Surpass Hardware Demand by 2021
Mass notification hardware such as speakers, siren, & strobe lights, which currently account for 1/5th of total sales, continue to influence market growth strategies. However, emergence notification platform is witnessing a quantum leap in demand, which is expected to take over sales of hardware components by 2021.
Such change in demand patterns of end users can be a result of strong focus on leveraging advanced technologies for improved emergency communication. A number of market players are also focusing on providing customized services, as demand from wide range of industry verticals continues to differ.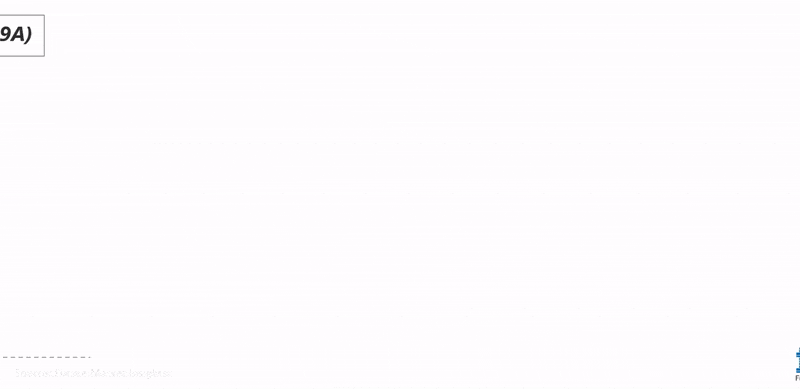 APEJ's Market to Record 29% CAGR During 2019-2029
North America remains at the forefront of the global mass notification systems market, accounting for half of the total adoption. The region offers greater opportunities due to strong presence of key technology pioneers and wide propagation of mobile technology. However, market consolidation in Asia Pacific excluding Japan (APEJ) remains a key focus area of market players, due to rapid proliferation of smartphones and growing intertwined relationships of telecommunication, information technology and other emerging technologies. Continued industrialization in the region and emergence of mass notification system as the indispensable communication platform for businesses to build relationships with customers are grabbing market players' attention.
Disruptive Technologies to Shape the Future Landscape
Demand for mass notification system is gaining a boost from addressing major concerns of organizations, such as safety and security, medical emergencies, and daily operations. Numerous disruptive technologies are making headway into the mass notification system market, as key players are keen to set their offerings apart from the competition. Cloud-based software enables efficient storage of data and algorithms at one place, while Internet of Things (IoT) allows appliances and components of equipment to self-monitor and communicate their data through the cloud. Advancements in Artificial Intelligence (AI) and geographic information system (GIS) - enabling automatic translation, voice recognition, and systematic analysis, and offering the ability to pinpoint the location - are expected to take mass notification system to new heights.
How Growth will Unfold
Adoption of mass notification systems by the commercial sectors all over the world account for 23% revenue share, while growing application in industrial space and critical infrastructures is expected to open a wide window of opportunities for market players. Moreover, the demand from critical infrastructures is likely to exceed that from industrial sector by 2028.
Furthermore, the government and public sector, especially in developing countries, and shifting their traditional mindsets and investing in new technologies at scale. This, in turn, will play an instrumental role in the growth of the mass notification systems market.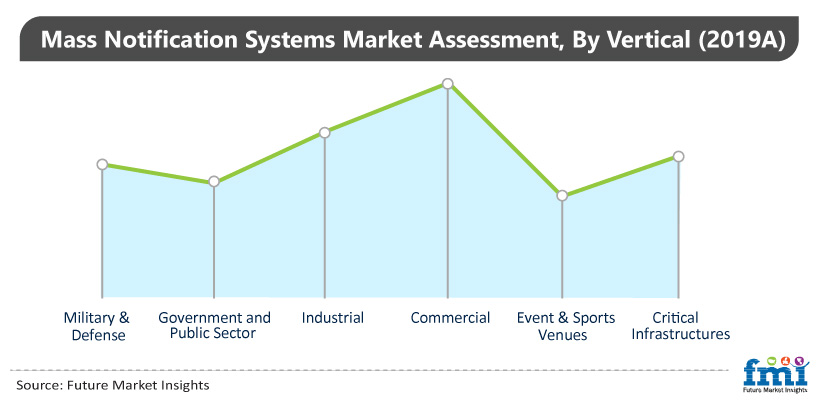 FREQUENTLY ASKED QUESTIONS ABOUT MASS NOTIFICATION SYSTEMS MARKET
What are future projections of mass notification systems market?
The mass notification systems market shows significant growth opportunities in the coming years. The market is most likely to surpass revenues worth US$ 30 Bn by 2029, exhibiting a solid double-digit CAGR during the forecast period.
What are the rising trends in the mass notification systems market?
The use of social media and advanced IP & broadband communication technologies, along with the emergence of connected safety solutions are some major coming trends in the mass notification systems market.
Which region is expected to show high growth potential in the mass notification systems market?
Asia Pacific excluding Japan is expected to show high growth opportunities, owing to growing industrialization and increasing frequency and intensity of natural disasters in China, Japan, and other countries.
Which mass notification systems solution is expected to hold largest market share?
In-building mass notification solution is expected to hold largest market share, as these systems are used in various organizations, commercial and residential building, and educational institutions.
Who are the major players in the mass notification systems market?
The mass notification systems market comprises of large as well as mid-sized vendors including Eaton Corporation Inc, Honeywell International, Tyco Integrated Security, Bosch Security Systems, Inc., Siemens, Everbridge, Motorola Solutions, BlackBerry, AFA Protective Systems, and Alertus Technologies.
Which industries are expected to offer lucrative growth opportunities in the coming years?
The commercial industry is expected to hold the significant market share during the forecast period. Whereas, critical infrastructure is expected to witness higher sales in the coming years, owing to increasing demand for mass notification solutions in manufacturing and energy sectors to ensure high level security for people and data.
MASS NOTIFICATION SYSTEMS MARKET TAXONOMY
The global mass notification systems market is segmented in detail to cover every aspect of the market and present a complete market intelligence approach to the reader.
Product
Hardware

LED Display & System
PA Systems
Speakers, Siren & Strobe Lights
Others

Emergency Notification Platform
Services

Installation & Integration Service
Maintenance Service
Consulting Service
Solution
In-Building Solution
Wide-Area Solution
Distributed Recipient Solution
Application
Interoperable Emergency Communication
Integrated Public Alert & Warning
Business Continuity & Disaster Recovery
Business Operation
Vertical
Military & Defense
Government and Public Sector
Industrial
Commercial
Event & Sports Venues
Critical Infrastructures
Others
Region
North America
Latin America
Western Europe
Eastern Europe
Asia Pacific excluding Japan
Japan
Middle East & Africa
Need specific information?