Global Meat Stabilizers Blends Market to Reach US$ 6241.8 Mn by 2030
The global meat stabilizers blends market is projected to reach US$ 6241.8 Mn by the end of 2030. The market was valued at US$ US$ 2956.1 Mn in 2020. If these figures hold true, the market will exhibit a CAGR of 7.8% between 2020 and 2030. Regionally, Asia Pacific is expected to witness the fastest CAGR. North America held the leading market share of more than 30% in terms of revenue. The expansion of meat industry is expected to further drive the demand for stabilizer blends in near future.
KEY RESEARCH FINDINGS
The global meat stabilizers blends market will register revenues worth US$ 6.2 Bn in 2030.
Market growth will be driven by increasing consumers' preference for convenience and organic meat products.
Manufacturers continue to invest in plant- and animal-based sources in meat stabilizers blends market.
Meat stabilizers blends are expected to find immense use in texturizing application.
North America continues to maintain its supremacy; Asia Pacific (APAC) to offer lucrative growth opportunities.  
KEY FACTORS MOLDING MEAT STABILIZERS BLENDS MARKET
Rising Preference for Convenience Foods
Driven by evolving lifestyle, consumers are increasingly turning to convenience food products such as snacks, beverages, and baked goods, as they require lesser time for preparation and can be handled easily. As such, these convenience food products are becoming a part of busy schedule of consumers. Meat stabilizer blends make up a meagre portion of the finished product, yet have measurable effect on final packaged items. For instance, processed meat products require wide spectrum of functional ingredients to offer optimization with regards to shelf-life, stability, viscosity, and water absorption.
COVID-19 Pandemic to Hinder Market Growth
The coronavirus (COVID-19) pandemic has been putting squeezing pressure on global economic order and, in turn, on meat stabilizers blends market. Travel restrictions, quarantines, and social distancing regulations on large-scale are resulting in notable decline in business and consumer spending until the end of Q2 of 2020. Moreover, the market is encountering backlash worldwide, driven by perception among consumers that meat products are responsible for coronavirus spread. North America and Europe, topping the list in epidemiological numbers, are observing changes in consumer patterns.
MEAT STABILIZERS BLENDS MARKET STRUCTURE ANALYSIS
The global meat stabilizer blends market is a fragmented and competitive market with the presence of various major and small players.
Manufacturers are focusing on R&D activities to bounce back following the impact of coronavirus.
Report Metric

Details

Base year considered

2019

Actual estimates/Historical data

2015 - 2019

Forecast period

2020 - 2030

Market Value in 2020

US$ 2.9 Bn

Segments covered

Source, Type, Function.  

Regions covered

North America, Latin America, Europe, East Asia, South Asia, Oceania and Middle East & Africa.

Key Players

Meat Cracks Technologie GmbH, Cargill Inc., Pacific Blends Ltd., International Food Products Corporation, GC Ingredients Inc., Hydrosol GmbH & Co. KG, Firmas FPS Food Processing System, Tate & Lyle PLC, Van Hees GmbH, Caragum International, REGIS Sp. z o.o., Caldic B.V.

Growth Drivers

Increasing consumption of convenience foods.
Expansion of meat industry.
Multifunctionality of food stabilizers in various food & beverage products.

Report coverage

Revenue forecast, company share, competitive landscape, growth factors, and trends
Multifunctionality of food stabilizers in various food & beverage products is driving market growth
Feed stabilizers are derived from a wide variety of natural raw materials including micro-organisms, plants of land and sea, and connective tissues of animals. They control the moisture and provide qualities in food products such as structure, flow, stability and mouthfeel. Food & beverage producers are gaining economic benefits by using mixtures and systems of food stabilizers which have increased demand for them. For example, xanthan is commonly used in bakery products to help maintain water in baking food and thus improve the food's shelf-life.
The market however may enter into a tough period as the world grapples under the spread of coronavirus or COVID-19. Overall meat consumption is likely to reduce due to rumours linking it to the spread of coronavirus. The market might have to a take a blow due to these unforeseen events.
Food Stabilizers Used in Food & Beverage Industry for Innovative Application Is a Major Area of Opportunity
The increasing population and economic growth drive the demand for food items. The ever growing global population is placing pressure on finite resource supply. High energy prices and rising cost of raw materials are influencing food prices, affecting consumers with low incomes. The growing demand for food products like bakery, meat products, snacks, snack foods, and snacks is expected to give potential growth opportunities for the industry of stabilizer blends and systems. Consumers in emerging economies are characterized by changing habits and higher disposable income, driving the processed food products market. Food additives and ingredients are important for the development of manufactured foods, which drives the markets for food additives and food ingredients
Economic Expansion to Offer Major Growth Opportunities in Developing
North America continues to dominate the global market and is expected to account for the majority revenue share over the coming years. Meat stabilisers are used widely in this region's beef and poultry industries. The increased consumption of meat products and the increasing popularity of hot dogs, bacon, and ham across several countries are contributing to increased demand for meat stabilizer blends in this area.
The US market is projected to account for the largest share of sales in this area. America is an important global source of meat from poultry and beef. The European market is predicted to see fast growth in sales over the next 10 years. There is considerably high demand for processed meat in this region, which is another factor that supports market revenue growth in this sector. The scenario however might take an unfavourable turn due to the spread of coronavirus. The U.S. is one of the worst hit countries. As the nation fights against pandemic, the market should gear up for significant changes in consumer behaviour. A similar pattern may be observed in the U.K.
The Asia Pacific market is projected to index a high CAGR over the forecast period. China is a major revenue contributor to the region's market, on account of its large-scale production of meat products such as beef, pork, and poultry. Moreover, booming food processing industries in countries such as India, Vietnam and Pakistan are projected to exponentially surge market growth in this region. On the downside, the market may witness negative impact of the pandemic caused by COVID-19.
The animal and synthetic source segment held the leading market share
Fruit and vegetable ingredients segment forecast to higher rate of growth
Colour stabilizer segment held lion's share in the market
Flavour enhancer segment to remain the second-lead
Food stabilizers segment holds dominance
Dairy products segment to rise at a higher CAGR
How Growth will Unfold
The food stabilizer market is driven by rising demand for convenience foods and the rising impact of westernized food consumption trends coupled with growing preference for advanced and personalized food and beverage processing mixes, which has propelled the market application of food stabilizers. There has been a rising increase in market demand for prepared and convenient food items such as baked goods, cookies, cereal, ice-cream, drinks and other ready-made meals. This is due to the benefits of convenience food such as less preparation time and easy handling which gives consumers an advantage in their busy lifestyle schedule. Food stabilizers make up a very small part of the final product, but they have a significant impact on the final packaged product.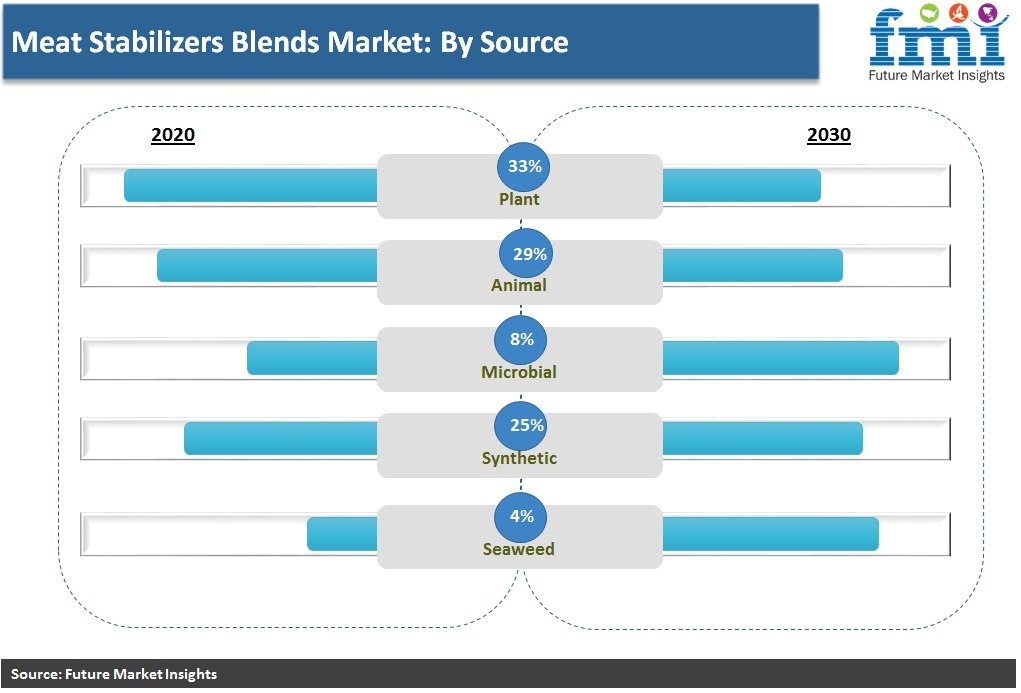 * This data is only a representation. Actual data may vary and will be available in report.
Click Here To Know How The Growth Will Unfold
Custom Market Research Services
FMI offers custom market research services that help clients to get information on their business scenario required where syndicated solutions are not enough.
Overview
Meat Stabilizers Blends Market: Global Industry Analysis 2015-2019 & Opportunity Assessment 2020-2030
A recent market study published by Future Market Insights on the Meat Stabilizers Blends Market offers global industry analysis for 2015-2019 & opportunity assessment for 2020-2030. The study offers a comprehensive assessment of the most important market dynamics. After conducting a thorough research on the historical, as well as current growth parameters of the Meat Stabilizers Blends Market, the growth prospects of the market are obtained with maximum precision.
Meat Stabilizers Blends Market Taxonomy
The global Meat Stabilizers Blends market is segmented in detail to cover every aspect of the market and present complete market intelligence to readers.
Source
Plant-based
Seaweed
Yeast
Animal-based
Type
Gum
Pectin
Carrageenan
Gelatin
Function
Color Stabilizer
Flavor Enhancer
pH Stabilizer
Emulsifier
Moisture Retention
Thickening Agent
End use
Meat Processing
Food Premixes
Foodservice
Pet Food
Region
North America
Latin America
Europe
East Asia
South Asia
Oceania
MEA
How the research was conducted?
Primary Research
C - Level Executives
Marketing Directors
Sales Heads
Production Managers
Distributors Heads
Sales Executives
Product Manufacturers
Distributors
Traders
Industry Experts
End Users
Current Market Dynamics and Challenges
Market Characteristics
Market Performance and Growth Quadrants
Competition Structure and Market Structure
Strategic Growth Initiatives
Near-term and Long-term Market Growth Prospects
Market Segment Splits and Authenticity
Opinions on Market Projections and Validity Of Assumptions
Secondary Research
Industry Publications

Industrial Week
Industrial Product Review
Industrial Magazine

Industry Associations

Dieticians Association
Food and Agriculture Organization

Company Press Releases
Annual Reports and Investor Presentations
Research Papers
Government Websites and Publications
Trade Websites
Primary Interview Splits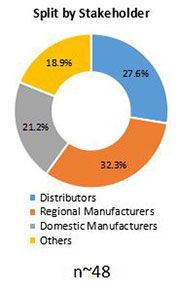 To Learn More About our Comprehensive Perspective on Meat Stabilizers Blends Market,
Get in touch
COVID -19 : Impact Analysis
Request the coronavirus impact analysis across industries and markets
Request Covid -19 Impact
CASE STUDIES
See how our work makes an impact.
At FMI, we design strategies that are adaptive, impactful, and implementable.