Medical Hyperspectral Imaging Market By Product Type (Hyperspectral Imaging Systems, Accessories), Application (Medical Diagnosis, Tissue and Cell Biology, Drug Discovery), Technology (Visible Hyperspectral Imaging, Near-Infrared Hyperspectral Imaging) & Region - Forecast to 2020-2030
Medical Hyperspectral Imaging Market - Analysis, Outlook, Growth, Trends, Forecasts
August 2020

REP-GB-12369

290 pages
Medical Hyperspectral Imaging (MHSI) Market Outlook & Key Findings
The global medical hyperspectral imaging market is expected to witness a CAGR of over 6.2% between 2020 and 2030
The North America medical hyperspectral imaging market remains the most lucrative
Europe MHSI market is second-largest; collectively, North America and Europe hold 40% market share
R&D investment and regulatory approval key focus area for market players
The Market at a Glance
Hyperspectral imaging is widely used in medical applications like disease diagnosis and image guided surgery.
Light scattering, coupled with reflection, form the basis of hyperspectral imaging, which helps in visualization of properties of internal structure through generation of 3D image. This technology is looked upon as a promising advancement with regards to methodical surgical procedure.
Hyperspectral imaging helps in differentiating spectrally distinct materials along with extracting details that are otherwise difficult with the other kinds of remote sensing techniques. This kind of imaging comprises numerous narrow wavebands.
The demand for precision in surgical procedures is one of the key growth drivers. Functional magnetic resonance and imaging mass spectrometry have a broad range of applications in medicine. Optical imaging has especially witnessed a noteworthy change.
At the same time, insufficient medical infrastructure for supporting medical hyperspectral imaging followed by high installation cost continue to be key deterrents.
Market Players Focus on Innovations
The key players as well as research institutes are into the innovation mode to gain a competitive edge.
For instance –
In May 2020, US FDA gave 510(k) clearance to Optina Diagnostics for permitting retina's hyperspectral imaging in the form of MHRC-C1
In Feb 2020, USC scientists came up with a novel tool called "SEER". It claims to work 67 times quicker and is capable of becoming a smartphone app to be used in remote medicine as well
In Feb 2020, researchers at the University of California (USC) claimed making use of fHSI (fluorescence hyperspectral imaging) to distinguish between colors across spectrum, tag the molecules to be followed, and give out distinctly colored images of inside of organism
In Jan 2020, perClass BV announced a partnership with Pleora Technologies. Pleora will demonstrate its novel AI Gateway and also the hyperspectral imaging plug—in developed with the former one at ATX West and SPPIE Photonics West
In Nov 2019, researchers at the University of Minnesota inferred that the way retina scatters light could help in Alzheimer's early diagnosis
In Oct 2019, Toshiba's Imaging Systems division's acquisition was completed by Canon Medical. Since then, Toshiba Imaging Systems formally became the "Video Sensing Division" of Canon Medical.
The purpose of forming this division is to complement Canon's well-regarded and long history in the form of video camera technology leader by having focused on catering to healthtech market in clinical microscopy and imaging robotics.
In Oct 2019, researchers at the University of Texas used a hyperspectral imaging technique (with AI embedded) for predicting presence of cancer cells in the tissue samples. Based on orbiting telescopes and satellite imagery, cancer cells could also be quickly identified in operating room
In Mar 2019, Quest Medical Imaging tabled a vision system on the basis of programmable FPGA and multispectral camera, which helps surgeons for better distinguishing between tumor and the tissue surrounding it at the time of surgeries
In Aug 2018, Germany-based engineers developed compact hyperspectral imaging that does capture 5D images. Miniaturization could result in operating from smartphones as well.
Covid-19 Impact
The outbreak of Covid-19 has resulted in majority of healthcare industry shifting their focus towards curative measures relating to the same.
Along these lines, HinaLea Imaging, a company dealing with hyperspectral imaging, in Mar 2020, started using the same imaging for discovering skin manifestations in the patients who tested positive for Covid-19. The "Covid toes"/"pernio" are also studied. The technology has also thrown light on water blisters, hives, rashes, and livedo reticularis.
Region-wise Analysis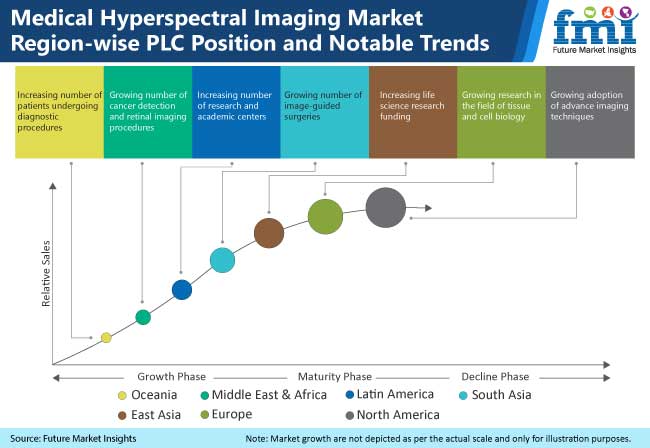 North America leads the medical hyperspectral imaging market. This could be attributed to the fact that the hyperspectral imaging technology was first widely used in the US.
Also, influx of investments in the healthcare sector is fuelling the growth of the market in the US. After the US, Europe is the second largest market for medical hyperspectral imaging globally.
Asia-Pacific, Latin America, and MEA are also likely to pick up pace with healthcare infrastructure improving in these geographies. Also, the success rates regarding medical hyperspectral imaging in the developed economies would drive growth in APAC.
Key Players
The key market players are focusing on new product launches out of strategic partnerships to have a competitive edge over one another.
For instance –
In Jun 2020, Headwall Photonics entered into partnership with perClass for advancing embedded vision solutions having intuitive spectral imaging
Surface Optics has its SOC710 Series that delivers higher spectral resolution with a portable, compact, user-friendly design
In 2017, SPECIM inked an agreement with Blue Line Associates, DATVISION, and Tech Imaging Services for being able to reach out to the other geographies as well
The other players in the medical hyperspectral imaging market include:
IMEC
Norsk Elektro Optikk
Galileo
Gilden Photonics
Resonon
XIMEA
Gooch & Housego
Chemlmage
Applied Spectral Imaging
Cubert
EVK DI Kerschhaggl
FluxData
The Way Forward
The global medical hyperspectral imaging market is expected to grow at 6.2% CAGR between 2020 and 2030. The outbreak of Covid-19 has resulted in market players emphasizing on preventive/curative measures in this regard.
The players, apart from innovations, need to look out for varied partnerships to make their presence felt across wider geographies. Customization, as per the incidences of ailments in that particular region, will also help the players in standing in a good stead.
World's Most Profilic Intelligence Engine
Get Access To The World's Largest Market Research Database.
Sign Up Now
Key Segment
Product Type
Hyperspectral Imaging Systems
Accessories
Application
Medical Diagnosis
Tissue and Cell Biology
Drug Discovery
Others
Technology
Visible Hyperspectral Imaging
Near-Infrared Hyperspectral Imaging
Ultraviolet Hyperspectral Imaging
Short-Wave Infrared Imaging
Mid-Wave Infrared Hyperspectral Imaging
End-User
diagnostic centres
hospitals
research & academic centres
pharmaceutical & biotechnology companies
Geography
North America
Latin America
Europe
East Asia
South Asia
Oceania
Middle East and Africa
Need specific information?
Our Clients