Men's Intimate Care Products Market By Product (Washes, Wipes, Antiperspirants, Creams/Moisturizers, Shaving Care), Nature (Organic, Conventional), Packaging (Aerosol, stick, Roll-ons, Bottles, Tubes), Sales Channel (Specialty Stores, Independent Small Stores, Departmental Stores, Online Retailers) & Region - Forecast 2020 - 2030
Mens Intimate Care Products Market - Analysis, Outlook, Growth, Trends, Forecasts
May 2020

REP-GB-11621

300 pages
Men's Intimate Care Products Market Outlook & Key Findings
Men's intimate care products market likely to grow at over 10% during the forecast period 2020 - 2030, as millennial increasingly demand for paraben and sulfate free personal hygiene products.
The companies operating in the market are adopting consumer-driven marketing strategies to target a specific audience. Use of new ingredients and offering cost effective products can help companies to witness significant growth across the world.
Changing mode of advertisement, collaboration with celebrities to endorse brand and increasing sales through e-Commerce channel are helping prominent players to strengthen their foothold in the global men's intimate care products market over the next decade.
Moving forward, countries in South Asia and Oceania regions are expected to emerge as one of the most profitable markets for men's intimate care products market. Increase in millennial population who are keener towards adopting personal hygiene products impacting the men's intimate care products market.
Men's Intimate Care Products Market Analysis: High Demand of Hygiene Products among Young Adults
Intimate hygiene today is no longer exclusive to women's but have become a topic of concern for men as well. The increasing awareness about the importance of maintaining intimate care irrespective of their gender has resulted in the growth in intimate care products market.
Additionally, over the last past years the changing roles and views of men over health related concerns are further driving the intimate care products market. As millennial are forging a distinctive path into adulthood and transforming the economy, they have increased monthly spending on personal grooming and hygiene products. This will facilitate growth witnessed in the market.
However, disruptions in manufacturing on account of the spread of COVID-19 may create hindrances for the market. The US has recorded the highest cases of Covid-19 positive cases. As, US holds significant share in the global men's intimate care products market is considerably large, the outbreak of coronavirus will have significant impact on the men's intimate care products market in North America.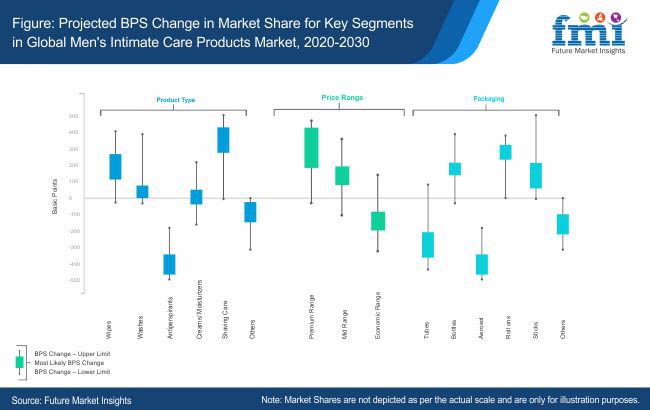 Growing Trend of Male Celebs Endorsing Products is boosting the Sales of the Market
Nowadays, men's buying behavior is changing. The growing interest of male consumers towards intimate hygiene products is encouraging companies to launch new products, increase the product retail space, and adopt innovative marketing strategies to increase penetrate in the market.
Thus, companies are considerably investing in celebrity endorsement strategy due to their larger appeal and wider reach coupled with spending on product advisement to promote sales of the men's intimate care products. This is one of the key factors driving the men's intimate care products market across the globe.
The success of any men's intimate care products brand depends largely on the product marketing, celebrity endorsement and increasing company's penetration in the developing region through online sales channel. Strength of its supply chain, and its ability to sell at local and regional level fortify market growth. Their growth strategies also have considerable influence the market's growth trajectory.
Campaigns and Strategies Focusing More Millennial Shoppers to Drive Market
Companies operating in the men's intimate care products market are adopting innovative marketing strategies to woo consumers. These strategies includes redesigning advertisements and other promotional activities which relate to them to consumers' personalities and attitudes. Furthermore, high penetration through online stores to facilitate easy product access to millennial will enable the market gain pace in the coming years. These are some of the factors which is expected to fuel the market growth in the near future.
Increasing Retail Space of Men's Intimate Care Products in Physical Stores
Prominent players in the market are launching premium products to appeal to the consumers. Millennial men today are more concerned about grooming and hygiene than ever before. They are actively seeking for the men's intimate care products in various retail outlets. Thus, various retailers are increasing focus to have maximum products availability in their stores to cater the customer demand.
Emergence of Grooming Clubs for Men to Offer Lucrative Opportunities
The emergence of grooming clubs is an opportunity for the players in the market. The barbershops are now slowly being replaced by grooming clubs for men which provide membership to its customers for a certain duration. These grooming clubs are now offering extensive services than the traditional barbershops. This is likely to increase the demand for intimate care products for men in the market.
Brand Launching and Acquisition are Key Strategies Adopted by Companies
Key players in the market are significantly focusing on introducing new products and closing brand acquisitions to increase penetration in the men's intimate care products market. For instance, in 2018, Procter and Gamble launched Gillette Labs to give men's shaving a new approach. This is an addition to its razor segment. In 2019, The Procter and Gamble Company completed acquired Merck KGaA, a consumer health business, to strengthen its international presence and to expand its product portfolio.
Cultural Differences Impacting Male Buying Perceptions: Key Challenges for Men's Intimate Care Products Market
The cultural values, norms and beliefs often impact the perception of individuals in their day to day lives. These differences also impact the choice of products and their purchase intentions. People coming from different backgrounds have may have different perceptions regarding purchasing and use of toiletries. Differences in perceptions affect brands and product related strategy of any company. Unilever for example has launched antiperspirants in different brand names in different regions to overcome this challenge.
On the other hand, low production is challenging the market growth. Product adoption is lower for men's intimate hygiene products. The ratio of men out of every 10 people opting for hygiene products is comparatively lower than that of women. In certain Asian countries men do prefer buying antiperspirants but only few prefer to buy other hygiene products specifically intimate washes and wipes for men. This is channeling the growth of various companies in the global men's intimate hygiene market.
Men's Intimate Care Products: Region-wise Analysis
East Asia men's intimate care product market is expected to remain dominant due to the rising number of men seeking self-care products. Moreover, presence of established personal care industry in this region supports the dominance of this region in the global market.
In addition to this, Australia, Mexico and India represent offer considerable growth opportunities for men's intimate care products market players. Although the average men's intimate care products consumption in Mexico and India is significantly lower than developed countries, the opportunities for companies to cater to growing demand from young adults in these countries is going to skyrocket in the coming years.
Leading players in Men's Intimate Care Products Market
The men's intimate care products market place is witnessing the entry of new players, albeit at a domestic level. With companies focus on launching new products they are witnessing a significant growth across the globe. Some of the leading companies in the men's intimate care products market are as follows
Americas
The Procter and Gamble Company
Colgate Palmolive
Church & Dwight
Coty Inc.
Europe
Unilever PLC
L'Oreal S.A.
Reckitt and Benckiser
Beiersdorf A.G
*The list is not exhaustive, and only for representational purposes. Full competitive intelligence with SWOT analysis available in the report
Men's Intimate Care Products: The Way Forward
The long-term outlook on men's intimate care products market remains bullish, with FMI's analysis estimating revenues to grow at over 10% consistently. The wipes, washes and shaving care segments are estimated to expand at a significant CAGR in the global men's intimate care products market.
This is attributable to the fact that around 30% of men in the world follow a proper skincare routine. This ratio is further likely to increase due to increasing awareness regarding hygiene regimens and changing men's stereotypes across the world.
Men's intimate care products brands will need to move beyond their core demographic of millennial to target a wider consumer base. Manufacturers can also promote the health benefits of men's intimate care products to target geriatric population. To increase sales in cost-sensitive, yet lucrative markets, launching an affordable range of products is needed for introducing a new set of consumers to this category
World's Most Profilic Intelligence Engine
Get Access To The World's Largest Market Research Database.
Sign Up Now
Market Segmentation
The global men's intimate care products market is segmented in detail to cover every aspect of the market and present complete market intelligence to readers.
Product
Washes
Wipes
Antiperspirants
Creams/Moisturizers
Shaving Care
Others
Nature
Sales Channel
Hypermarkets/Supermarkets
Specialty Stores
Independent Small Stores
Departmental Stores
Online Retailers
Other Sales Channel
Packaging
Aerosol
stick
Roll-ons
Bottles
Tubes
Others
Price Range
Premium
Mid-Range
Economic
Region
North America
Latin America
Europe
East Asia
South Asia & Pacific
MEA
Need specific information?
Our Clients