Methicillin-Resistant Staphylococcus Aureus (MRSA) Treatment Market Outlook & Key Findings
Methicillin-Resistant Staphylococcus Aureus (MRSA) Treatment market to reach USD 3.66 Bn in 2020 (up by 2.37% over 2019)
Pharma industry moving toward a combination of genomic surveillance and laboratory testing to find new treatment options
Bearish financial outlook for companies engaged in antibiotic research driving away investors
Use of machine learning and AI to develop superior antibiotics likely to gain ground during 2020-2030
Who is at Risk of MRSA Infection?
MRSA infection is highly contagious and can spread through person-to-person contact or a surface or object touched by MRSA-infected person.
If MRSA is contracted in nursing homes or hospitals, it is through contaminated hands, direct contact with the undressed wound, poorly sanitized surgical instruments, or contaminated linens. This hospital-acquired MRSA (HA-MRSA) could further cause pneumonia and blood infections. Outside of healthcare settings, the infection is known as community-acquired MRSA (CA-MRSA).
Those who undergo hemodialysis on regular basis are at the highest risk of contracting HA-MRSA. Further, those staying in nursing homes and the ones who had been hospitalized are also at risk.
On the other hand, CA-MRSA prevalence is higher among individuals involved in contact sports, the ones living in unhygienic conditions, and those working in day care centers.
Oral Antibiotics Remain the First Treatment Option for MRSA Infection Treatment
Oral antibiotics are administered to MRSA-infected patients as the first course of action. Vancomycin is one such antibiotic recommended by IDSA (Infectious Disease Society of America).
With increasing incidences of MRSA across the globe (with the U.S., Canada, Japan, and Indonesia having the highest rates as per the WHO), the demand for the above-mentioned oral antibiotic is likely to increase manifold, thereby boosting the MRSA treatment market.
Covid-19 Crisis Impact - Significant Rise in Secondary MRSA Infections to Catalyze the Market
The outbreak of Covid-19 has increased the risk of secondary infections. Covid-19 positive individuals are reported to be more vulnerable to MRSA infections.
According to Centers for Disease Control (CDC) 1 in 7 Covid-19 hospitalized patients have contracted secondary bacterial infections, and the infection has proven to be fatal in 50% of these patients.
These factors are likely to raise short-term demand for first-line antibiotic treatment against secondary MRSA infections in Covid-19 patients.
MRSA Treatment Market Moderately Consolidated with a Few Specialized Industry Players
The key players are on the "innovation" spree to consolidate their market share. Everyone – right from top tier innovator companies to small size developer companies are looking out for differentiators in this regard. The top-notch players are going for production of new antibiotics, acquisition, and exclusive product licensing to mitigate the entry of small and new companies. The other strategies followed are "exclusive distribution" and "development collaborations".
Although advanced MRSA treatments have sprung up all over the globe, most of the leading manufacturers are U.S.-based.
Pfizer Inc. alone owns a significant share of the U.S. market, but the marketplace is rapidly becoming competitive owing to gains made by players such as Melinta Therapeutics, Inc. The company received FDA approval for Baxdela (delafloxacin) for extended indication in the treatment of acute bacterial skin and skin structure infections (ABSSSI) caused by susceptible bacteria).
In January 2018, Cutis Pharma Inc., a US based specialty pharmaceutical company, obtained approval for its Firvanq (vancomycin hydrochloride) oral solution for gastrointestinal infection of MRSA.
Extensive Research to Combat MRSA Infection
Scientists at Boston University's College of Engineering (Massachusetts) have found that a blue light LASER is capable of killing MRSA without causing any harm to healthy cells. This accidently discovered phenomenon is likely to encourage the government of the U.S. to pump in more funds for MRSA treatment from "non-biomedical" perspective. This would ask for more scientists to be on this task, thereby bolstering the market on the whole.
As per Emory School of Medicine's Department of Dermatology and Emory University's Center for the Study of Human Health, the triterpenoid acids present in the Brazilian peppertree's (Schinus terebinthifolia's) red berries help in destruction of MRSA.
As per a study performed by researchers from "Madda Walabu University (Ethiopia), honey's acidic nature (pH between 3.2 and 4.5) acts as a bactericide. In other words, honey combined with isolates of MRSA results in release of H2O2 (Hydrogen Peroxide). The compound is highly effective against staphylococcus bacteria. This successful experiment is likely to open doors for alternative medicines, and provide an impetus to the growth of the market.
Scientists at Marshall University School of Pharmacy have received a grant for 3 years from NIH (National Institutes of Health) for studying usage of disulfiram in treating MRSA infections.
Misdiagnosis and Poor Access to MRSA Treatment: Key Industry Challenges for MRSA Treatment Market
In many countries of South Asia, Latin America, and Middle East and Africa, basic healthcare system is poorly established and weak to provide advanced treatments such as MRSA treatment. Incorrect diagnosis is rampant in many developing countries, which creates the potential for serious consequences.
There is every likelihood of MRSA-causing infections striking a similarity with the ones caused by the other non-resistant bacteria. This could also result in misdiagnosis and the patients many end up being administered an antibiotic not meant for treating MRSA.
It's critical to get precise diagnosis as appropriate treatment does lower risk of infection becoming invasive. Some of the commonly used antibiotics for MRSA include trimethoprim-sulfamethoxazole (Bactrim), doxycycline (Doryx), and clindamycin (Cleocin).
AI and Machine Learning to Table Superior Antibiotics
Researchers at MIT, of late, did discover a novel antibiotic using ML (Machine Learning) algorithms known as "Halicin". It is reported to have successfully eliminate several bacterial strains; inclusive of the ones on WHO's hitlist. Though this was the first of its kind; efforts are being made to devise more such antibiotics.
MRSA Treatment: Region-wise Analysis
North America continues to be the most lucrative market for MRSA treatment. The US MRSA treatment market has grown steadily over the last five years, and is set to grow at over 3.8% in 2020.
University of Melbourne's researchers state that "Teixobactin" responds positively against MRSA. This will surge the MRSA treatment market all over Australia and the other countries in Asia-Pacific.
Besides, Asia-Pacific is amongst the regions having the highest number of MRSA-infected population. Multilocus Sequence type (ST) 239 and ST5 – two pandemic HA-MRSA clones have spread across the region.
CA-MRSA's molecular epidemiology gets identified by "clonal heterogeneity"; analogous to Europe. Another area to look into is "MRSA strains in livestock" in both these regions. Studies are being conducted to mitigate infections from livestock.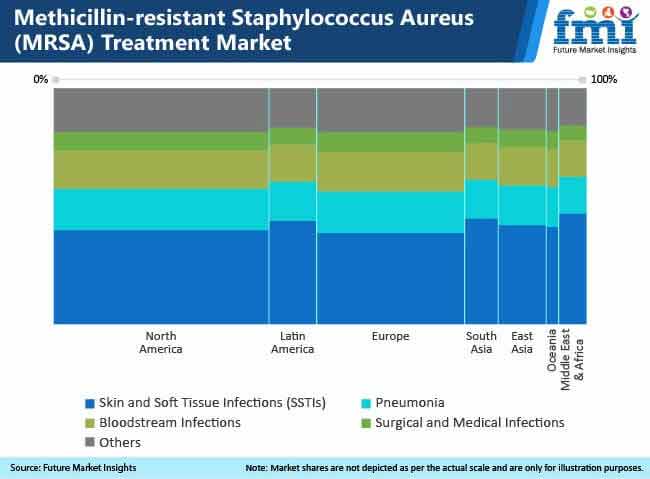 In North America, Europe, South Asia, and East Asia, share of SSTIs (Skin and Soft Tissue Infections) is the highest. Pneumonia and bloodstream infections follow suit. Surgical and medical infections are the other widely prevalent infections.
MRSA Treatment Market: Competitive Landscape
The MRSA treatment market is witnessing the entry of new players, albeit at a local or regional level. With an estimated 20+ MRSA treatment players, clinical developments, new product launches, have become key avenues for being a class apart.
As of now, the players are concentrating on dosage in topical form. As such, clinical trials are being conducted to devise unique drug molecules. Besides, "research and development" is of prime focus over here. Just like the Brazilian peppertree; research is "ON" regarding positive outcomes from the other plants.
Some of the key players in the MRSA treatment market are:
Americas
Pfizer, Inc.
Allergan Plc.
Johnsons & Johnson
Merck & Co., Inc.
Baxter Healthcare Corporation
Bausch Health Companies Inc.
Cumberland Pharmaceuticals Inc.
Mylan N.V.
Melinta Therapeutics, Inc.
Akron Pharma Inc.
Amneal Pharmaceuticals, Inc.
Herbal Intervention, LLC
Bio-Germ Protection LLC
Europe
Novartis AG
Debiopharm International SA
Fresenius Kabi LLC
Asia Pacific
Teva Pharmaceutical Industries Ltd.
Sun Pharmaceutical Industries Ltd.
Dr. Reddy's Laboratories Ltd.
Mayne Pharma Group Limited.
*The list is not exhaustive, and only for representational purposes. Full competitive intelligence with SWOT analysis available in the report
MRSA Treatment: The Way Forward
The long-term outlook on MRSA treatment market remains upbeat, with FMI's analysis estimating revenue to grow at over 4% consistently. Global outbreak of Covid-19 has created a short-term demand of the MRSA treatment therapeutics in the pneumonia indication segment across the global market. However, skin and soft tissue infections (SSTIs) is also expected to gain traction in the long-term market opportunities.
MRSA treatment market players will need to move beyond their conventional approaches of MRSA antibiotic development to target wider unmet needs of patients such as non-invasive and invasive MRSA infections. Portfolio strengthening and wider indications of MRSA treatment therapeutics are needed to be focused by the leading industry players.
To increase sales in cost-sensitive, yet lucrative markets, collaborative approach with local government and healthcare authorities are needed for introducing a new set of patients; and, not to forget, keeping pace with technology – say Machine Learning and Artificial Intelligence.
MRSA Treatment Market: Segmentation
The global MRSA treatment market is segmented in detail to cover every aspect of the market and present a complete market intelligence approach to the reader.
Drug Class
Glycopeptides
Lipopeptides
Oxazolidinones
Glycylcycline
Streptogramins

Quinupristin
Dalfopristin

Lincomycin
Tetracycline
Lipoglycopeptides

Dalbavancin
Telavancin
Oritavancin

Antiseptics

Chlorhexidine
Cetylpyridinium Chloride
Hydrogen Peroxide
Phenols

Naturals/Herbals
Others
Route of Administration
Intravenous
Oral
Topical
Nasal
Cutaneous
Intramuscular
Distribution Channel
Hospital Pharmacies
Retail Pharmacies
Drugstores
Online Pharmacies
Indication
Skin and Soft Tissue Infections (SSTIs)
Pneumonia
Bloodstream Infections
Surgical and Medical Infections
Others
Types of MRSA
Healthcare Acquired MRSA
Community Acquired MRSA
Hospital Acquired MRSA
Region
North America
Latin America
Europe
South Asia
East Asia
Oceania
Middle East & Africa (MEA)
Need specific information?