Agrochemical Industry to Remain Growth Engine of Nitric Acid Market
The nitric acid market value exceeded a staggering US$ 17.4 Bn in 2018 on the back of strong demand from agrochemical industry. The market is set to expand at a CAGR of 3% through the course of forecast period (2019-2029). Continued utilization of ammonium nitrate fertilizer is projected to remain prominent, especially in developing countries.
However, the demand for nitric acid in fertilizer industry will fluctuate in the light of escalating environmental and regulatory concerns worldwide. Moreover, nitric acid is a chief ingredient in many inorganic and organic chemical compounds. Hence, nitric acid market is receiving tailwinds from the chemical industry as well. Further, governments are keen on accelerating food production to meet the nutritional requirements of the rising global population.
Adipic Acid to Gain Prominence in Automotive Industry Through 2029
Nitric acid is predominantly used in the production of adipic acid. Nylon 6,6 is a synthetic polyamide formulated from adipic acid. Nylon 6,6 has gained paramount importance in variegated end-use industries such as tire, textiles and automotive. It is increasingly being favoured by manufacturers as a metal-alternative for designing lighter yet sturdy exterior and interior automotive parts.
Additionally, toluene diisocyanate, a chief constituent of polyurethane foams, is manufactured from nitric acid. Polyurethane foams have vast and diverse applications in furniture, carpet, and automotive industries. Therefore, heightened uptake of composites by key players in automotive industry to make more fuel-efficient, safer and lighter vehicles is burgeoning the demand for nitric acid.
Europe Continues to Hold Leading Position in Global Nitric Acid Market
Presence of established industrial and agricultural market leaders is attributed for a whopping 52% revenue share of Europe in nitric acid market. For instance, leading manufacturers such as Henkel and Bayer are headquartered in Germany. They specialize in producing industry-specific polymers sourced from nitric acid.
Moreover, North America, particularly the United States, occupies significant portion of overall market stack. The domestic nitric acid market is propelled by robust infrastructure of automotive, electronics and chemical industries. Surge of demand for nitric acid primarily stems from automotive industry of the United States.
Emerging countries in Asia Pacific will supplement the growth of nitric acid market on account of continued usage of ammonium nitrate fertilizer. Asia Pacific is projected to become a manufacturing hub of ammonium nitrate fertilizer in view of stringent regulations in Europe and North America. India, China, Taiwan and Japan are amongst major countries which generate profuse demand for nitric acid.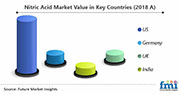 Network Optimization: Blueprint for Success
The competitive landscape of nitric acid market is fragmented in nature. Leading players in this industry include, The Chemours Company, Dyno Nobel, National Chemical Group, Koch Fertilizers, OCI Nitrogen, Potash Corp, Eurochem Group, CF Industries, LSB Industries, and Agrium Inc. Industry leaders are directing their resources towards redesigning their distribution and manufacturing networks.
Network optimization will not only enhance flexibility but also reduce operating expenditure of prominent players in global nitric acid market. Moreover, market leaders must expand their operational footprint to high-growth regions for creating competitive edge. Lucrative end-use industries in these regions offer remunerative growth opportunities for key manufacturers of nitric acid. Growth-oriented expansion activities will boost the production capacity thereby bolstering the market presence.
Nitric Acid Market: Segmentation
The global nitric acid market is segmented in detail to cover every aspect of the market and present a complete market intelligence approach to readers.
End Use
Fertilizers
Nitrobenzene
Toluene Diisocyanate
Adipic Acid
Metal Processing
Application
Metallurgical Industry
Chemicals and allied industries
Region
North America
Latin America
Europe
MEA
Asia Pacific
Need specific information?