About the Report
Growing popularity of veganism across the globe owing to changing preference of consumer towards healthy and natural food products has resulted in surging the consumption of oat drinks. Oat drinks manufacturers are primarily working on product launches to gain traction. The rising demand for plant-based foods and drinks will continue aiding expansion of the market.
In its new study, ESOMAR-certified market research and consulting firm Future Market Insights (FMI) offers insights about key factors driving demand for oat drinks. The report tracks the global sales of oat drinks in 20+ high-growth markets, along with analyzing the impact COVID-19 has had on the food and beverage industry in general, and oat drinks in particular.
What is the Future Outlook for Oat Drinks Market in Comparison to Historic Projection?
With the rising preference for dairy-free diets and increasing consumption of vegan diets, the oat drinks market is set to expand. Oat drinks have gone mainstream in recent years which has been enabling accelerated sales across the globe. While it might represents a tiny share of the overall plant-based dairy industry, but oat drinks market penetration has been encouraged by creative marketing tactics pursued by companies.
For instance, Oatly AB, is directly targeting cafés as part of their product launch strategy in the U.S. In 2019 Earth's Own, a plant-based beverage company in partnership with baristas introduced Oat Barista made for coffee drinkers. Oat Barista is a very nutritious and delicious oat drink. Further the company introduced Oat-Milk Creamer which was a dairy free alternative opted by the consumers in their daily drinks.
According to FMI's analysis, oat drinks sales have grown at above 7% CAGR between 2016 and 2020.
Oat drinks market is expected to gain from launch of new oat drinks and flavors. Leading players in the industry are competing every day to deliver fresh and innovative varieties of these products. Due to its lactose-free consistency and every-day use, the oat drinks market is expected to grow significantly in the coming years.
Convenience of use (easy to store and shelf life) is the most important attribute from end consumers' point of view. Oat drinks are available for food services such as, cafes, quick-service restaurants & full-service restaurants. FMI expects global oat drink market to grow at nearly 8% CAGR through 2031.
How Are Oat Drinks Brand Capitalizing on Healthy Drinks Trend?
Healthy eating and convenience offered by oat drinks are key factors fuelling their demand. An increasing number of consumers are seeking healthy food items containing lower levels of fat, supplemented by additional vitamins and nutrients. Despite their busy schedules, they are looking to maintain a balanced lifestyle. Their changing tastes and food choices therefore have a beneficial impact on oat drinks sales. In addition to this, new manufacturers entering the market for oats drinks are introducing creative product solutions to meet customer demand. This will enable growth in the market.
How are Innovations in Oat Drinks Affecting Growth?
Rise in consumer appeal for flavor is driving the oat drinks market. As a result there is increasing focus on producing fresh and tasty oat drinks items. This will also help in expansion of the market and achieve the customer loyalty. These efforts also have led to the launch of diverse options in oat drinks. For instance, The Barista version of oat drinks is gaining popularity for its froth-forming properties in the coffee industry. Manufacturers also have sweetened or unsweetened oat drinks to cater for customers with / without a sweet tooth. Often, companies launch oat drinks in various flavors such as vanilla, blueberry and chocolate. This is expected to aid sales growth.
What are Various Applications of Oat Drinks?
Sales of oat drinks show a clear association with number of applications. Oat drinks have a wide variety of uses in the food and drink industries. For instance, oat drink-lattes are becoming popular among coffee lovers. Apart from coffee, oat beverages are used as the base for smoothies, fluffy soups, and baked goods. Essentially it can be used as an alternative to dairy milk in any food or beverage. Thus, a wide range of oat drinks applications, from coffee houses to bakery products or dairy-free foods and beverages, increases its demand among the food and industry sectors, which drives the oat drinks market to grow.
Will is Focus on Clean Labels Impacting Oat Drinks Sales?
Awareness regarding various health complications associated with dairy-is on the rise among millennial. This could be attributable to the increasing incidence of gluten intolerance. Therefore, consumers are now demanding natural and healthy beverages that come with clean label claims.Some strict guidelines which food and beverages company have to follow have been aiding this trend. Several countries have implemented stringent regulations on food and beverages production. For instance, the Brazilian Association of Dairy Products requires that all the plant – based products should be "Clean Label" taking consumer health in concern. Guideline says if the raw material is not mineral they are declared as natural.
How Is Demand for Gluten-Free Drinks Impacting Oat Drinks Sales?
The growing prevalence of conditions associated with current lifestyles such as diabetes and obesity is the reason behind consumers' willingness to follow healthy diets to control their fitness rates. A strong demand for gluten-free products has also been created by the rising incidence of celiac diseases and elevated gluten-sensitivity among consumers. Oats drinks are a very good choice for people wishing to reduce gluten content while consuming less calories at the same time.
How is Expansion of Ecommerce Enabling Oat Drinks Market Growth?
Consumers' busy and hectic lifestyles, especially in developed countries, leave them with little time to visit supermarkets or stores to purchase their regular items required. But online shopping provides them with a really nice option to purchase anything from an online shopping platform without needing to leave home or wherever they are. This phenomenon also shifts the dynamics of the demand for oat drinks, as this is now available at big online shopping sites.
What are Competitive Advantages of Oat Drinks?
If a company delivers the same value at a lower price, it enjoys a competitive advantage over others. This can be due to various factors, including the cost structure. Lower priced goods are more attractive for customers, and hence the company produces revenue at superior margins relative to its competitors in the industry. To gain traction within the plant-based beverage industry, oat drinks has to compete with established products such as nut-based milk. Yet oat drinks has a competitive advantage over these beverages, owing to their lower production costs. For example, almonds are much more expensive than oats, which are the raw material for almond milk. This can be credited as an effective driver for growing the production of oat beverages, which can therefore contribute to market growth.
Country-wise Insights
How big is the opportunity in U.S. for oat drinks market?
FMI has projected North America to remain one of the most profitable market throughout the course of the forecast period with the market share of 21.8%% in 2030. U.S. holds 84.6% in 2030 of the North American oat drinks market. The rising incidence of obesity has been pushing consumers towards healthy food and drinks choices in the U.S. According to the Centers for Disease Control and Prevention, prevalence of obesity in America stood at above 42% between 2017 and 2018. With the incidence of obesity and diabetes forecast to surge, more consumers are expected to adopt healthy lifestyle, creating opportunities for oat drinks manufacturers.
How big is the opportunity in UK for oat drinks market?
FMI has projected U.K. to remain dominant in the Europe oat drinks market throughout the course of the forecast period. It holds13.3% market share in the European oat drinks market in 2030. With the increasing concerns about health and wellness, millennials today are seeking low fat products in their food and beverage products.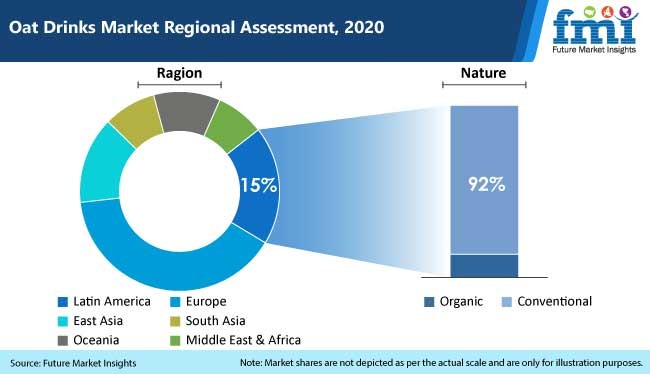 How big is the opportunity in Germany oat drinks market?
Germany remains one of the most lucrative markets in the European oat drinks market with a market share of 15.0% in 2030. Presence of some of the key players such as Lima Food SRL, Kaslink Foods Oy, Valsoia S.p.A. and many more is affecting growth in Germany.
How big is the opportunity in China for oat drinks market?
FMI has projected China to remain dominant in the East Asia oat drinks Market throughout the course of the forecast period. It holds 50.4% market share in the East Asia oat drinks market in 2030. They are focusing on products which are ready to drink for instance Sugar free oat milk and are working out with cafes and small shops to provide oat drinks to consumers.
Category Wise
What's The Expected Market Share Of Regular/Full Fat Oat Drinks Globally?
The regular/full fat oat drinks as a product type is expected to have 80.9% of global oat drinks market through the forecast period in 2030. Due to rising demand for healthy beverages are rising, demand for oat drinks are also growing in the market.
Which Flavor Of Oat Drinks Is More Preferred?
Natural or unflavored oat drinks are expected to hold the maximum share of 59.9% in 2030 globally. Buyers are preferring more of natural oat drinks over flavored drinks as it is less in cholesterol.
Which End User Holds The Maximum Market Share Of Oat Drinks Market?
Retail services hold the maximum share of 81.4% in 2030 globally, which includes, hypermarkets/supermarkets, convenience store, mass grocery retailers, food & drinks specialty stores and online retailing. Consumers are preferring online shopping due as it is an easy way to get the oat drinks at home.
What Nature Of Oat Drinks Holds Maximum Market Share?
Conventional is expected to have 92.1% of market share in 2030 globally. Conventional oat drinks are sourced from oats which might have been produced using synthetic chemicals and fertilizers for maximizing the overall yield of oats.
Opportunities Abound In Oat Drinks Market
Manufacturers find it difficult to satisfy the market demand for oat drinks. Ongoing demand for oat drinks has been encouraging market players to invest in research and development to help increase the production of oat drinks.
For instance, there are government agencies dedicated exclusively to the research and development of grain oats. One such organization in Canada, Prairie Oat Growers Association (POGA), is one of the largest producers of oats. It has numerous ongoing projects aimed at promoting Canadian oats. One of them is the integrated weed control strategies designed to increase oat production.
Asia comprises 80-90 % of the world's lactose-intolerant consumers (people who simply cannot break down the milk enzyme lactose). It thus provides a great opportunity to expand in the area on the markets for lactose-free and vegan milks. Oat drinks key players in the industry compete every day to deliver fresh and innovative varieties of these products. Due to its lactose-free consistency and every-day use, the oat drink market also finds a great opportunity to develop and grow in this region of the world.
Competitive Landscape
Global oat drinks market is gaining from increasing demand for plant-based products. Organic oat drinks is expected to witness high growth during the forecast period, considering increasing trend of health and wellness. Oat drinks players role including multinational, regional, and local players are highly concentrated in Europe and North America as compared to other regions with an approximate share of 45-55%.
Market players are increasing their product portfolio by expanding their global operations to other regions and by strengthening their distribution channels. Furthermore, some of the companies are focusing on expansion of their manufacturing facilities and acquiring local players that would complement their product offerings.
For Instance: Pacific Foods of Oregon, Inc offers varieties that includes organic oat original, organic oat vanilla, and organic oat original single serve. Other plantbased beverages that the company offers include beverages based on almonds, hemp, soy, hazelnuts, rice, coconuts, and cashews inoriginal, vanilla, and chocolate flavours. In September 2020, it launched itshemp non-dairy milkinto the market.
In 2020, Elmhurst Milked Direct LLC has launched new lines in latte drinks and smoothies mixes. This line includes oat latte with two new flavors- cacao oat milk and flash brew oat milkplus two tea flavors- matcha oat milkand goldenoat milk.
Some of the leading companies operating in the market are:
Cereal Base Ceba AB (Oatly)
Pacific Foods of Oregon, Inc.
Elmhurst Milked Direct LLC
Alpro
Lima Food SRL
Oatworks
Oishi
Amandin Organic Products
Valsoia S.p.A.
Kaslink Foods Oy Ltd
Rude Health Foods Ltd.
Quaker Oats
Provitamil
Pureharvest
Juustoportti Food Oy
Isola bio s.r.l.
Natumi AG
Earth's Own Food Company, Inc.
*The list is not exhaustive, and only for representational purposes. Full competitive intelligence with SWOT analysis available in the report.
Scope of the Report
Attribute

Details

Forecast Period

2021-2031

Historical Data Available for

2016-2020

Market Analysis

USD Million for value and thousand liters for Volume

Key Regions Covered

North America, Latin America, Europe, East Asia, South Asia, Oceania Middle East & Africa

Key Countries Covered

US, Canada, Germany, U.K., France, Italy, Spain, Poland, Russia, China, Japan, South Korea, India, Thailand, Malaysia, Vietnam, Indonesia, Australia, New Zealand, GCC Countries, Turkey, Northern Africa, South Africa

Key Segments Covered

Product Type, Form, End Users, Distribution Channel, Regions

Key Companies Profiled

Cereal Base Ceba AB (Oatly)
Pacific Foods of Oregon, Inc.
Elmhurst Milked Direct LLC
Alpro
Lima Food SRL
Oatworks
Oishi
Amandin Organic Products
Valsoia S.p.A.
Kaslink Foods Oy Ltd
Rude Health Foods Ltd.
Quaker Oats
Provitamil
Pureharvest
Juustoportti Food Oy
Isola bio s.r.l.
Natumi AG
Earth's Own Food Company, Inc.

Report Coverage

Market Forecast, brand share analysis, competition intelligence, DROT analysis, Market Dynamics and Challenges, Strategic Growth Initiatives

Customization & Pricing
Key Questions Answered in the Report
Q1. Which is the most lucrative market for oat drinks globally?
Europe currently leads the global market for oat drinks. Market share of European oat drinks market is 31.4% in 2020. Within Europe, the demand from the U.K. is expected to increase at an accelerated pace in the coming years.
Q2. Which is the top-selling type of oat drinks?
Regular/Full Fat oat drinks are dominating the market and is expected to account for 80% of the market in 2021. Full fat oat drinks have many health benefits such as great for bone health, may lower blood cholesterol and many others, which have been enabling their sales.
Q3. Which end use application account for maximum oat drinks sales?
Retail sales held the maximum market share of 82.7% in 2020. Buyers have several options to make purchase from under retail sales. These include hypermarkets/supermarkets, convenience stores, mass grocery stores, and others.
Q5. Which are some of the leading companies offering oat drinks?
Some of the leading companies offering oat drinks are Cereal Base Ceba AB (Oatly), Pacific Foods of Oregon, Inc., Elmhurst Milked Direct LLC, Alpro, Lima Food SRL, Oatworks, Oishi, Amandin Organic Products, Valsoia S.p.A., Kaslink Foods Oy Ltd, Rude Health Foods Ltd., Quaker Oats, Provitamil, Pureharvest, Juustoportti Food Oy, Isola bio s.r.l., Natumi AG, Earth's Own Food Company, Inc.
Key Segments
Product Type
Regular/Full Fat
Reduced Fat
Flavour
Natural/Unflavoured
Flavoured

Vanilla
Chocolate
Coffee
Mocha
Mint
Fruit-flavoured
Other Flavours
End Use Application
Food Services

Cafes
Quick-service Restaurants
Full-service Restaurants

Retail Services

Hypermarkets/Supermarkets
Convenience Store
Mass Grocery Retailers
Food & Drink Specialty Store
Online Retailing
Nature
Format
Shelf-Stable
Refrigerated
Region
North America
Latin America
Europe
East Asia
South Asia
Middle East and Africa (MEA)
Oceania
Need specific information?
Talk Show:
The Rise of Intelligent Packaging
Personalized, Connected and Sustainable
November 18, 2021
11:00-11:45 AM PST (USA & Canada)
This is a LIVE session