Orthopaedic Prosthetics Market Outlook & Key Findings 2022 to 2032
[250 Pages Report] The global Orthopaedic Prosthetics market will witness a CAGR of over 4.5% through 2032
Lower extremity prosthetics remain the largest category, accounting for nearly two-thirds market share
3D printed prosthetics will remain a key growth driver during the forecast period
Asia Pacific will witness the highest growth rate during the assessment period
North America and Europe will remain two big markets, accounting for over 50% of market share
Don't pay for what you don't need
Customize your report by selecting specific countries or regions and save 30%!
Connected Future in Store for Orthopaedic Prosthetics Market
The present scenario is such that prostheses go way beyond replication of general contours of a missing body part. The influx of state-of-the-art technologies has catalyzed the market. The field is slated to evolve significantly with connectivity on the anvil.
For instance –
In Jun 2020, REJOINT announced introduction of therapy personalization and mass customization by combining artificial intelligence with additive manufacturing technology through application of Electron Beam Melting (EBM) technology from GE Additive Arcam and post-operative and intraoperative data collection's computerized analysis.
These IoT-connected sensorized wearables will, in turn, help REJOINT to fabricate personalized medical devices in form of "knee implants".
In Jan 2020, Essentium, Inc. and Vorum inked an agreement to come up with a 3D printing solution (Essentium + Vorum solution) combining the former's HSE (High-Speed Extrusion) 3D printing and the latter's SurePath methodology and CAD/CAM solutions to provide customized prosthetic devices at scale and speed.
In Nov 2019, researchers at the University of Utah tabled a prototype leg prosthesis that could be anticipatory of as well as responsive to its users' actions, thereby paving the way for natural walking gait and enhancing overall balance. The device comes with torque sensors and bespoke force apart from accelerometers and gyroscopes to make known what the leg does all the times.
Demand for Lower Extremity Prosthetics Growing
Lower Extremity Prosthetics accounts for more than 60% of the revenue. This could be attributed to increasing incidences of medical ailments like diabetes that result in the lower part of the body being symptomatic. Also, numerous ankle- and feet-related disorders need surgical interventions. Upper extremity prosthetics follow suit with sports injuries being the leading cause.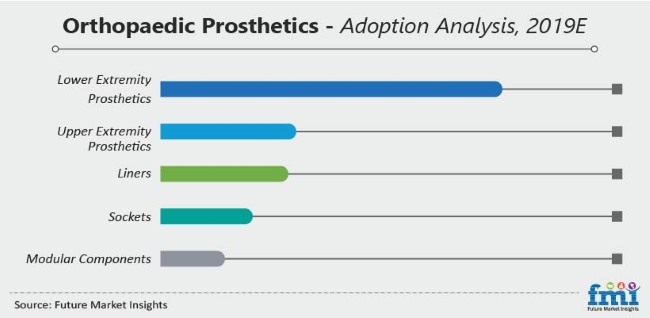 Blatchford is known for providing exclusive clinical services to the military and NHS (National Health Service). "Endolite" is amongst its sophisticated orthopaedic prosthetics devices.
Blatchford also provides advanced microprocessor-based artificial limbs. Also, in July 2018, the company launched a novel sandal toe footshell for its products like Echelon VAC, Elan, and Linx.
Ohio Willow Wood designs, manufactures, and distributes prosthetics devices and solutions regarding amputation surgeries. Its line of expertise includes OMEGA CAD system, the Fusion foot, and the Alpha family of liners.
This Germany-based prosthetics company has its presence in over 50 countries through its distribution and sales channels. In Sep 2017, it launched 3R67 prosthesis having hydraulic swing phase control especially for children.
Ossur is into manufacturing, development, and sales of non-invasive orthopaedic equipment including compression therapy, support products, and braces – apart from prosthetics. The exclusive product line includes Unloader one, Rebound Hip, Unloader Hip, and RHEO KNEE. In May 2018, OTWorld witnessed the introduction of Ossur Formfit Pro Line of the 3D knitted supports to gain further penetration.
Fillauer designs, produces, and customizes orthotics and prosthetics devices at the local as well as international level. As far as adults and paediatrics are concerned, the market has over 3200 prosthetics and orthotics products from Fillauer. Both – lower and upper extremity prosthetic products are offered by Fillauer.
In Sep 2019, PSYONIC, the company that is known for producing advanced prosthetic devices, tabled its first commercially available, USB-C rechargeable, waterproof, lightweight bionic hand with multitouch feedback.
The other players are contributing towards inorganic growth of the market by entering into strategic partnerships, acquisitions, and so on.
For instance –
In Oct 2019, Precision Valve & Automation acquired Create Orthotics & Prosthetics, a 3D printing start-up, for making prosthetics more comfortable and less expensive for the differently abled people
In Feb 2018, Johnson & Johnson went ahead with the acquisition of Orthotaxy for developing next-generation robotic-assisted surgery platform in orthopaedics
Curbell Plastics, Inc., in Mar 2018, acquired Guard Industries Inc.'s orthotic and prosthetics business to expand OP-TEK Flex family.
In Mar 2018, Victory Orthotics & Prosthetics was acquired by BCP Group to expand the latter's product portfolio across Southeastern region.
The orthopaedic prosthetics market is going "digital", but with new product launches. These digitally innovative products are expected to catalyze the revenue generation as extra care has been taken by the market players regarding patients' comfort and convenience.
For instance –
In Jun 2020, MT Ortho tabled its custom 3D printed prosthetics to cater to oncological orthopaedics and cranioplasty. The company is also into development of kyphoplasty implant to treat vertebral collapse.
As such, the overall objective is to have an osteoinductive material in place of existing bone fillers (like bio-cement or simply cement), so as to reduce side-effects aand complications.
In Dec 2019, Reykjavik agreed upon partnering with AMF (Alfred Mann Foundation) to let the former develop as well as license the latter's IMES (implanted myoelectric sensor) for exploring mind-controlled prosthetic technologies' potential.
Mecuris, a Germany-based start-up, is known for providing an online platform for 3D-printed and customizable prosthetics and orthotics. Also, it aims at co-creating patient-centric prostheses and orthoses with the orthopaedic technicians. 3D customized digital foot is one of these kinds.
In Nov 2019, this start-up headquartered at Munich stood first in "Digital Wellbeing" category at "EIT Digital Challenge" organized by "EIT Digital" for identifying innovative "deep tech" scaleups of the Europe.
LegWorks, Inc., in Oct 2019, released "ATK HydraPro", a highly functional, waterproof hydraulic prosthetic that facilitates stability on any terrain. The company's patented AutoLock Technology was utilized in the manufacture of this 5th prosthetic.
Key Market Trends
Extensive research is being conducted across the globe regarding orthopaedic prosthetics. This initiative is bound to raise the level of competition amongst the market players in the forecast period.
For instance –
Recently, researchers at the University of Manchester developed 3D-printed bone bricks as a frugal way of mending shattered limbs that are a consequence of explosions.
In Sep 2019, 3 OrthoCarolina hand surgeons, with the help of Ability Clinic, inferred that babies born without a hand could function with the help of a myoelectric prosthetic hand with no surgery needed. These findings were presented at 2019 American Society for Surgery of the Hand annual meeting. This validation is likely to open doors for non-surgical orthopaedic prostheses in the upcoming period.
Covid-19 Short-Term Impact
The outbreak of Covid-19 has put almost the entire world in the state of stagnation. The pandemic has restricted patients' visits to hospitals to get treated for orthopaedic prosthetics and this scenario is expected to continue in the upcoming two quarters as well.
However, thereafter, the market is likely to bounce back with the "new" normal of being extra careful (sanitizing the hands, using masks) while visiting the hospitals.
Regional Analysis
North America orthopaedic prosthetics market is the largest, followed by Europe orthopaedic prosthetics market. It could be attributed to these regions being inclined towards advanced healthcare settings and increase in healthcare expenditure on the count of Affordable Care Act. The orthopaedic prosthetics market in North America is expected to cross $1 Bn by 2026.
Asia Pacific is expected to witness the highest growth rate due to increase in the number of amputations related to diabetes and government initiatives.
For instance – In Nov 2018, The Asian Prosthetic and Orthotics Meeting was held in Thailand with the objective of fostering co-operation amongst Asian countries and discussing emerging as well as ongoing issues pertaining to orthotics and prosthetics.
Asia accounts for 60% of the global diabetic population as per the Asian Diabetes Prevention Initiative. It also states that by 2030, China and India together will house almost half a million diabetic people. These figures are expected to boost the market in the years to come.
The other factors holding the hopes high for Asia Pacific include ambitious plan unveiled by the government of Saudi Arabia. 'Vision 2030' aims at increased expenditure on healthcare from 25% to 35%.
Get the data you need at a Fraction of the cost
Personalize your report by choosing insights you need
and save 40%!
How Growth will Unfold
Demand for orthopaedic prosthetics is currently based on increasing incidence of accidental injuries and amputations in line with introduction of customized implant products. Electric powered prosthetics continue to witness innovations and investments as compared to their conventional and hybrid counterparts.
Orthopaedic prosthetics worth of around US$ 855 Mn implanted on patients across the globe in 2018 were electrically powered, and the number is set to increase over the next decade. While better functional outcome continues to influence the demand for hybrid orthopaedic prosthetics, conventional variants will lose their revenue share in the near future.
Key Players in Orthopaedic Prosthetics Market
The global orthopaedic prosthetics market is pretty competitive. The four players contributing to more than 50% of market share include Ossur, Johnson & Johnson, B. Braun Melsungen AG, Smith & Nephew plc. As such, they are termed as "Tier I" players.
The players, in all, are focusing on digital expansion to have an edge over the competitors. For instance – Zdravprint (Russia) is into development of prosthetics for shoulder, elbow, and hand by making use of 3D printing technology
Zimmer Holdings Inc., Hanger Inc. fall in the category of "Tier II" companies. Tier III companies are inclusive of Fillauer LLC, Blatchford Ltd., The Ohio Willow Wood Co., and Otto Bock Healthcare GmBH
At the same time, the US FDA has stringent guidelines related to these devices based on risks associated. Such devices are categorized as "Class III" ones, as it's mandatory for them to undergo a PMA (premarket approval application) before they hit the market. ON these grounds, hip prosthetic device from DePuy was denied FDA's approval after being rendered unsafe.
The other orthopaedic prosthetics market players include:
Exatech Inc.
Howard Orthopaedics Inc.
Hanger Inc.
Wishbone Medical
Pega Medical
OrthoPediatrics
Arthrex
Touch Bionics Inc.
Advanced Arm Dynamics
Medtronic Spinal
Integra Lifesciences
Globus Medical
DJO Global
The Way Forward
The global orthopaedic prosthetics market scenario is expected to witness linear progression between 2022 and 2032. FMI's analysis says that the market will witness a CAGR of over 4.5% in this period.
Though the ongoing pandemic has stalled the market for the time being (close to two quarters going forward), the concept of digitization will upscale the market in the forecast period.
With the market being swept by digital wave, the players need to focus on the affordability of orthopaedic prosthetics devices. As such, digital innovation should come with a wider reach and cost-effectiveness. The players need to enter into joint ventures amongst diverse geographies to have a wider range of recipients to their orthopaedic prosthetic devices.
ORTHOPAEDIC PROSTHETICS MARKETS TAXONOMY
The global orthopaedic prosthetics market is segmented in detail to cover every aspect of the market and present a complete market intelligence approach to the reader.
Product
Upper Extremity Prosthetics

Hand Prosthetics
Elbow Prosthetics
Shoulder Prosthetics

Lower Extremity Prosthetics

Foot & Ankle Prosthetics
Knee Prosthetics
Hip Prosthetics

Liners
Sockets
Modular Components
Technology
Conventional
Electric Powered
Hybrid Orthopaedic Prosthetics
End User
Hospitals
Prosthetic Clinics
Rehabilitation Center
Others
Region
North America
Latin America
Western Europe
Eastern Europe
APEJ
Japan
Middle East and Africa
Frequently Asked Questions
The orthopaedic prosthetics market is predicted to grow at 4.5% CAGR through 2032.
North America orthopaedic prosthetics market holds the highest revenue potential.
The orthopaedic prosthetics market is expected to surpass US$ 3.62 Bn by 2032.
The orthopaedic prosthetics market size is anticipated to be over US$ 2.33 Bn in 2022.