Passion Fruit Extract Market By Species (Passiflora Edulis, Passiflora Flavicarpa), Source (Peel, Pulp), Application (Skin Care, Hair Care), Form (Powder, Oil), Extraction Method (Spray Drying Method, DISTILLATION METHOD) & Region Forecast to 2019 - 2029
Passion Fruit Extract Market - Analysis, Outlook, Growth, Trends, Forecasts
September 2019

REP-GB-10461

250 pages
Passion Fruit Extract Market Overview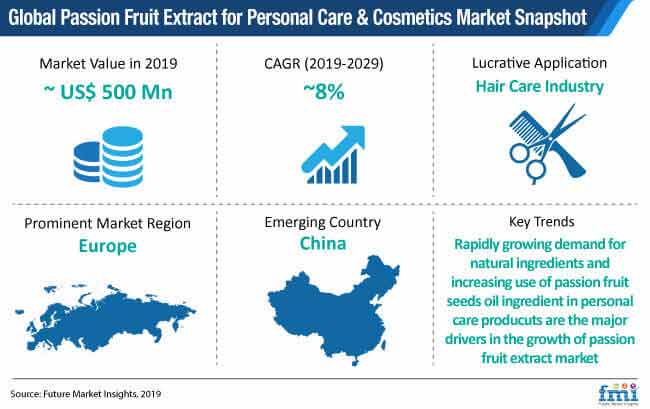 [250 Pages Report] The passion fruit extract market is valued at US$ 554 Million in 2021. The market is likely to grow at a CAGR of 8% through 2029, reaching US$ 1 Billion.
| | |
| --- | --- |
| Attribute | Details |
| Estimated Market Size of passion fruit extract market in 2021 | US$ 554 Mn |
| Projected Market Size of passion fruit extract market in 2029 | US$ 1 Bn |
| CAGR during 2021-2029 | 8% |
North America and Europe collectively account for 50% of the market revenue through 2029.
Europe and East Asia is a lucrative market, whereas China is likely to the grow at a steady pace.
Brazil is expected to account for 70% of global passion fruit output
North America, attributing to high consumption of personal care products as well as high research & development activities and product launches in the region, will continue to be a prominent regional market for passion fruit extract manufacturers.
The hair care industry is expected to remain a prominent application area to invest in, for passion fruit extract market players.

Moisturizers, creams, and body lotion have witnessed significant demand over the recent past, due to rise in personal grooming trend, while growing demand for natural ingredients has led to increased use of passion fruit extract in these skincare products.
Noteworthy application potential of passion fruit extract has been identified in the hair care category.

Organic agriculture is growing worldwide and it is now a multi-billion-dollar industry. Consumers' growing awareness about organic ingredients or product consumption benefits have created opportunities for organic farmers or growers. Increasing demand for organic products have led the manufacturers in producing organic fruit extraction such as passion fruit extraction. Passion fruit extracts are also considered as fruit extract ingredients, which has several uses in the cosmetic industry.
Key Factors Shaping the Passion Fruit Extract Market
Colour Cosmetics Market to Propel the Demand for Passion Fruit Extract
Demand for cosmetics is not new in the market. It attracts all ages across the geographies. Recently, the colour cosmetics has been booming and it is widespread and very popular among youth. It gives appealing looks that attracts the youth, especially women.
Passion fruit seed extracts are used in manufacturing of colour cosmetics. The passion fruit extract (seed) has features such as skin whitening, antioxidant, and sun protection. Thus, passion fruit extracts attracts a lot consumers who are more inclined towards natural or colour cosmetics with added benefits.
Fruit Seed Oil Drives the Passion Fruit Extract Market Growth
In recent years, growing demand for natural ingredients has been recorded in Europe, which creates opportunity in the fruit and seed extract market. Health conscious European consumers mostly prefer such cosmetic products that have natural extracts or ingredients as a compound or material mix. Thus, cosmetic & fragrance manufacturer's concentration is mostly seen in Europe.
The increasing use of fruit seed oil such as passion fruit extract (seed oil) in the cosmetics industry has been raising due to its beneficial properties. The passion fruit extract can also be used for various skincare products such as creams, lotions, etc.
East Asia to Provide New Growth Opportunities
East Asia is expected to contribute the highest growth in the global passion fruit extract market in 2019. China, Japan, and South Korea present potential growth opportunities, as companies in the region are focusing on improving the quality of cosmetics and shifting towards natural ingredients.
Among these countries, China is likely to present sustained opportunities for the growth of stakeholders in the passion fruit extract for personal care and cosmetics market. Due to this, East Asia is likely to emerge as a lucrative market during the forecast period.
Passion Fruit Extract Market Structure Analysis
The global passion fruit extract for personal care & cosmetics market represents a fairly consolidated competition landscape, where a majority of key players maintain their strategic focus on the development of solid distribution partnerships and joint ventures, targeting a firmer global footprint.
The passion fruit extract market has been relatively moderate in size, which remains as key factor for its dynamic competitive nature.
Leading manufacturers of passion fruit extract are currently prioritizing R&D and new product launches to resonate with the booming consumption of natural ingredients in North America, Europe, and China.
M&A activity is also identified to remain as one of the key developmental strategies adopted by manufacturers of passion fruit extract.
For a stronger foothold in target markets, passion fruit extract manufacturers will continue to expand their distribution channel through inorganic strategy.
Deeper understanding of the market trends and preferential shifts of end-use segments across various regions are likely to create a bottleneck for prominent players, looking forward to untapped opportunities in the passion fruit extract for personal care and cosmetics
Passion Fruit Extract - A One-Size-Fits-All Health Remedy
Scientific studies continue to show that rich content of potassium and low content of sodium in passion fruit extract aid in controlling blood pressure. The potassium content pacifies the tension in the blood vessels and improves the blood flow, resulting in decreased strain on the heart. In addition, passion fruit extract, on regular consumption, supports maintenance of fluid balance in the body cells.
Passion fruit extract fulfils 1% of the body's daily magnesium requirement, which assists in reversing stress levels, and anxiety issues due to the alkaloids. Furthermore, routine intake of passion fruit extract imparts relaxing and soothing effect on nerves and mind.
Antioxidants, including vitamin A, and vitamin C ingredients, abundantly present in passion fruit extract are anti-carcinogenic – inhibiting the development of cancer. The antioxidants assure neutralization of the free radicals – damaged cells - in the body and their excretion from the system. Passion fruit extract are abundant in inflammable compounds for efficient abatement of carcinogenic activity in the body.
Passion fruit extract complements the digestion process owing to the presence of dietary fiber - ~2g. The extract contains very low amount of calorie – 17 calories per fruit – thereby beneficial for weight loss, and heart disease. Presence of vitamin B2 and B6 backs the mucous membranes in the digestive tracts. Further, passion fruit extract counters blood sugar increase following low glycemic index (GI), making it suitable for consumers suffering from diabetes.
Affluent nutritional content in passion fruit extract aids in the growth and development of fetus. The high fiber lowers digestive issues, and avoids constipation – pain points during pregnancy. In addition, ample iron and copper content enhances blood circulation by pushing the production of red blood cells (RBC).
Passion fruit extract is loaded with minerals such as, iron, copper, magnesium, and phosphorus, which helps in improving bone density and bone strength. Further, the beta carotene in the passion fruit extract boosts bone development, and rebuilding of body tissues.
Rejuvenating Skin & Hair Despite Rare Shortcomings
Consumers are displaying staunch propensity for passion fruit extract for personal grooming, on grounds of significant nutritional content. Affluence of vitamin A, especially beta carotene, enhances generation and development of skin cells. The antioxidant aspect of vitamin C in passion fruit extract shields the body from free radical damage, avoiding pre-mature ageing.
The passion fruit extract inhibits oxidation and over-synthesis of melanin, eliminating wrinkles and dark spots on the face, enhancing the sales for anti-wrinkle products. Presence of omega-6 essential fatty acids in passion fruit extract eradicates skin irritation and dryness by providing natural hydration to the skin.
Consuming passion fruit extract in the form of juice weeds off hair-related problems, owing to profusion of minerals, vitamin B2, and vitamin B6. In addition, the passion fruit extract is a vital ingredient in maracuja oil following the existence of collagen in the seeds of the passion fruit, helping in hair nourishment, and breakage prevention.
On the contrary, passion fruit extract is unsuitable for consumers with latex allergy due to structural similarity with latex proteins, triggering allergic reactions in certain consumers. The skin of the passion fruit contains chemicals, including cyanogenic glycosides, which upon combination with enzymes release cyanide. Despite the drawbacks of the passion fruit extract, prescribed consumption complements the benefits and outweighs the downsides.
Increasing Propensity for Natural Ingredients to Bolster the European Market
The quest for products containing natural ingredients is amplifying – a driver influencing market players to eye the European region, with East Asia exhibiting accelerating progress. This is attributed to the fact that six of the top 10 healthiest countries are based in Europe, whilst Japan securing the fourth spot as per the Bloomberg Healthiest Country Index of 2019.
The Japanese populace is representing notable shift towards health and wellness products. The demand for anti-ageing cosmetics is surging among the post-90 female cohort in China owing to nocturnal habit, while about 86% of Chinese consumers consider food safety while purchasing consumables – factors encouraging market players to channelize their investment in the East Asia region.
Penetrating into Diverse Cosmetic Products – A Key Growth Influencer
The global passion fruit extract market shows a fair level of consolidation, with key market participants, including Making Cosmetics Inc., Passi AG (Concentra Holding AG), Caribbean Natural Products, Inc., and Dennick Fruitsource, thriving to gain the leading edge.
Market forces are tapping white spaces in the application of passion fruit extract in cosmetic products, including hand washes, where its antioxidant aspect aids in enhanced skin hydration. In addition, organized players are leveraging passion fruit extract as a natural ingredient in men's intimate cleansing for prolonged dryness and freshness.
Majority of the global demographic tend to defy ageing, as such, producers are infusing passion fruit extract in retinol cream to shield from senility and UV rays. The escalating demand for high protein and fiber consumables is influencing manufacturers to produce passion fruit snack bars coated in yoghurt. Furthermore, market players are brewing passion fruit extract in mineral, and coconut water following low sugar and calories content.
How Growth Will Unfold
The escalating demand for natural consumables to achieve sustainable health & hygiene is set to fuel the global passion fruit extract market healthily over the foreseeable timeframe. Cosmetics firms are expected to make forays into Latin America, witnessing voluminous yield of passion fruit in countries, including Brazil, which is estimated to hold lion's share of the global production of passion fruits.
Male cohort across the globe are displaying high interest in grooming and personal care, while their counterparts are increasingly depending on natural and organic products highlighting 'anti-ageing' feature. Furthermore, citing umpteen health and skin benefits of passion fruit extract, the healthcare and cosmetics brackets are envisioned to exhibit significant traction for consumables infused with passion fruit extract.
World's Most Profilic Intelligence Engine
Get Access To The World's Largest Market Research Database.
Sign Up Now
Key Segment
By Species Type
Passiflora Edulis
Passiflora Flavicarpa
Passiflora Ligularis
Passiflora Caerulea
Others
By Source
By Application
Skin Care

Sunscreens
Moisturizers, Creams and body Lotion
Eye Revilitizers
Face Cleansers and body wash

Hair Care

Shampoo
Conditioners
Oil and Serums

Cosmetics
Others
By Form
By Extraction Method
Cold Process/Cold Pressed
Spray Drying Method
DISTILLATION METHOD
Ultrasound-Assisted Leaching Extraction (UE)
Supercritical Fluid Extraction
Others
By Nature
By Region
North America
Latin America
Europe
South Asia
East Asia
Oceania
Middle East and Africa
Key Questions Answered in the Report
What is the outlook of the passion fruit extract market?
The passion fruit extract market is valued at US$ 554 Million in 2021. The market is likely to grow at a CAGR of 8% through 2029, reaching US$ 1 Billion.
Which are the leading companies in passion fruit extract market?
Making Cosmetics Inc., Passi AG (Concentra Holding AG), Caribbean Natural Products, Inc., and Dennick Fruitsource are some of the leading companies.
Need specific information?
Our Clients