Introduction
The patchouli oil market, globally, is expected to grow at a CAGR of 2.8% in terms of revenue during the forecast years. Revenue obtained from the global patchouli oil market is projected to reach US$ 86.6 Mn by 2028.
Patchouli oil is extracted from the leaves of the patchouli plant. This extraction is carried out either by steam distillation or hydro distillation. There are two types of patchouli oil depending on the type of equipment used for the extraction procedure - light patchouli oil and dark patchouli oil.
On the basis of the grades of patchouli oil produced, the end use in which it is utilized is identified. The main use of patchouli oil is in perfumery and pharmaceuticals. It is also used in home care products and for aromatherapy. The latest trend of the use of cosmeceuticals and aromatherapy has increased the demand for pure patchouli oil.
Perfumery companies are offering sustainable growth prospects of the patchouli plant in Indonesia, and various benefits to the farmers growing it. This is due to the price volatility of patchouli oil, forcing farmers to shift to growing other crops.
Growing Demand for Clean Label in Consumer Products Has Led to Manufacturers Using Patchouli Oil in F&B Products and Consumer Goods
The awareness about clean label products among the millennial population has steadily increased over the past several years. Consumers want to buy goods that they trust. This is the reason that the manufacturers of food and beverages as well as consumer products are shifting towards more organic and natural ingredients in the goods that they produce. The use of natural ingredients such as patchouli oil in products has increased the demand for essential oils in the global market.
These natural oils also have medicinal properties, which could be a benefit for manufacturers, as these properties could be included on the labels to increase the overall value of the product that they are manufacturing. This could allow manufacturers to experiment with the average pricing of the goods that include patchouli oil.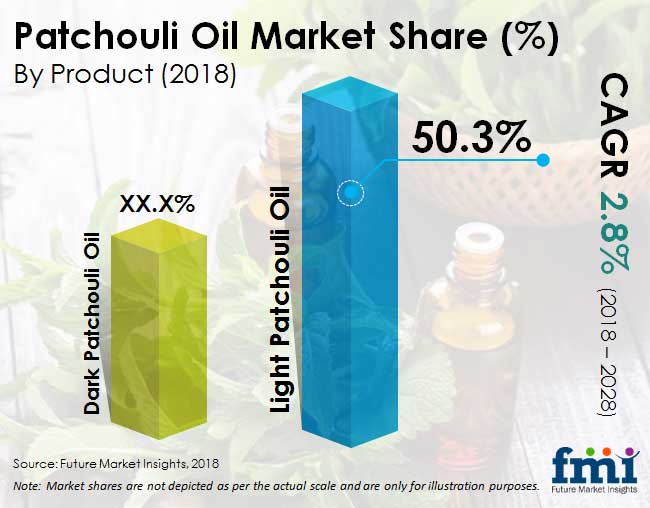 Eco-perfumes – A Trend That Has Become Mainstream
Natural ingredients are gently capturing the zeitgeist and gaining traction over synthetic molecules that have dominated for decades. The market has evolved into a greener age, where sustainable resources are vital ingredients, and is the new trend. Evolving into eco-perfumes, it is estimated that, the business has doubled in the last five years (2013 to 2018). A long time back, synthetic ingredients were added in perfumes to replace animal notes that were banished on grounds of cruelty or cost.
But the decrease in the use of synthetic perfumes and the use of natural ingredients in perfumes are back in trend. This has now become an increasingly global niche movement by the manufacturers themselves. This has led to the manufacturers using essential oils such as patchouli oil in perfumes that could increase the eco-perfume value. Also, patchouli oil is extracted from plants and not animals, and thus, there is no cruelty involved.
Limited Global Scale Players in the Competition in the Patchouli Oil Market
Patchouli oil is produced locally in regions such as Indonesia, India, China, Taiwan, Malaysia, etc., and there are very few global scale players in this market. The companies that produce patchouli oil are mostly present in the regions where it is cultivated, and are not present at a global level. They export the oil to the required companies via agents. This has led a few companies having a higher global share and very good profit margins by directly going into partnerships with these local companies that produce patchouli oil.
There are only selective companies such as Givaudan, Takasago International Corporation, and Ultra International B.V. that are present in this market with a joint partnership and a significant global presence. The opportunities for new players in the patchouli oil market is high, due to the increasing demand for essential oils from various industries.
Market participants in the global patchouli oil market include Berjé Inc., Eastern Agencies Aromatics Pvt. Ltd., Givaudan SA, Firmenich S.A., Nusaroma PT, Pt Indesso Aroma, Takasago International Corporation, PT Mitra Ayu Adi Pratama, PT Aroma Essence Prima, and Ultra International B.V., among other patchouli oil manufacturers.
Summary: Demand in the global patchouli oil market to surge in the coming years owing to growing awareness of clean label products. Manufacturers of F&B products fast shifting towards patchouli oil as a key ingredient in their formulations.
Global Patchouli Oil Market: Segmentation
Analysis by Product Type
Light Patchouli Oil
Dark Patchouli Oil
Analysis by Nature
Analysis by Extraction Process
Steam Distillation
Hydro Distillation
Analysis by End Use
Cosmetics and Personal Care

Hair Care
Skin Care
Perfumes and Fragrances

Aromatherapy
Food and Beverages
Pharmaceuticals
Others (Detergents, Household Cleaning, Insect Repellents)
Analysis by Function
Anti-inflammatory
Antidepressant
Flavoring Agent
Mood Harmonizer
Deodorizer
Others
Analysis by Distribution Channel
Direct Sales
Indirect Sales

Specialty Stores
Drug Stores
e-Retail
Analysis by Region
North America
Latin America
Western Europe
Eastern Europe
Asia Pacific
India
Middle East and Africa
Need specific information?