Pharmaceutical Plastic Bottles Market Analysis: Packer Bottles to Dominate the Market in Terms of Value during the Forecast Period
The global market for pharmaceutical plastic bottles is expected to be valued more than US$ 24.7 Bn by 2018. Market is projected to expand at a CAGR of 5.7% during the forecast period, 2018-2027.
Pharmaceutical plastic bottles are rigid packaging solutions specifically used for packaging of solid as well as liquid pharmaceutical products. The use of well-characterized materials for pharmaceutical plastic bottles manufacture is the primary means of ensuring that the packaging solution is suited for its intended use.
As in pharmaceutical packaging plastic bottels, the characteristics of materials have to be matched to the performance requirement of the packaged drug. Plastics used for manufacturing pharmaceutical plastic bottles include polyethylene terephthalate (PET), high-density polyethylene (HDPE), low-density polyethylene (LDPE), polyvinyl chloride (PVC), and polypropylene (PP).
The global pharmaceutical plastic bottles market has been segmented on the basis of bottle type, closure type, material type, and capacity. Various pharmaceutical plastic bottles are available to cater to multiple applications of the pharmaceutical packaging industry. Packer bottles hold the maximum market share in the global pharmaceutical plastic bottles market, which can be attributed to their usage in the packaging of solid as well as liquid drugs.
Pharmaceutical plastic bottles can be designed for various capacities depending upon their application. Solid doses such as capsules and tablets require larger-sized pharmaceutical plastic bottles while injectable liquids use smaller pharmaceutical plastic bottles.
Emergence of Pharmaceutical Plastic Bottles as an Alternative to Glass Bottles
Conventionally, glass bottles have been used for packaging pharmaceuticals. Manufacturers are substituting glass bottles with pharmaceutical plastic bottles as the latter provides the same benefits as glass bottles and are not prone to breakage. Pharmaceutical plastic bottles are an economical alternative. Hence, they are easier to procure. Also, pharmaceutical plastic bottles are light in weight and less bulky. This makes shipping and transit of pharmaceutical plastic bottles hassle free.
Attributes such as Convenience, Safety, and Security Resulting in Rising Demand for Pharmaceutical Plastic Bottles
The rise in the usage of plastic bottles in pharmaceutical and healthcare industries can be majorly attributed to the convenience they offer in the delivery of liquid medicines, ease of use, and safety. Moreover, pharmaceutical plastic bottles when compared to metals are light in weight and less vulnerable to breakage. Most sensitive drugs are packaged with PET (Polyethylene terephthalate) pharmaceutical plastic bottles, which offer high strength, impact resistance, and barrier resistance against oxygen as well as moisture.
Key Developments in the Global Pharmaceutical Plastic Bottles Market
U.S. Alcan Packaging, Inc. has developed a range of pharmaceutical plastic bottles, which consist of an implantable electronic identification code (RFID code). The code on the pharmaceutical plastic bottles help in obtaining product information such as manufacturer, production date, batch number, and more with a single swipe.
In 2016, Gerresheimer AG launched BioPack brand of pharmaceutical packaging products including pharmaceutical plastic bottles that are made of ethanol from sugarcane being converted into green polyethylene and has all the properties of conventional PE and PET. Gerresheimer's Biopack can be used for packaging liquid and solid pharmaceuticals. Made from sugarcane, pharmaceutical plastic bottles are a sustainable alternative to conventional PE and PET pharmaceutical plastic bottles.
DS Smith Plastics, the plastic division of DS Smith Group launched a new product line of extruded polypropylene (PP) packaging solutions dedicated to pharmaceutical applications. The company claims it consists of hygienic, fiber-free, and moisture-resistant packaging solutions such as pharmaceutical plastic bottles.
U.S. SABIC Innovative Plastics, Inc. developed a range of multi-extruded pharmaceutical plastic bottles, which consists of three layers of plastic materials of different composition. The outer layer consists of nylon material, which offers good impact resistance. The middle layer of these pharmaceutical plastic bottles consists of polyetherimide materials, while the innermost layer consists of polycarbonate (PC) material.
Ohio Weatherchem, a U.S.-based manufacturer that provides plastic packaging, has developed new plastic closures, which control the dispensing amount of liquids out of pharmaceutical plastic bottles.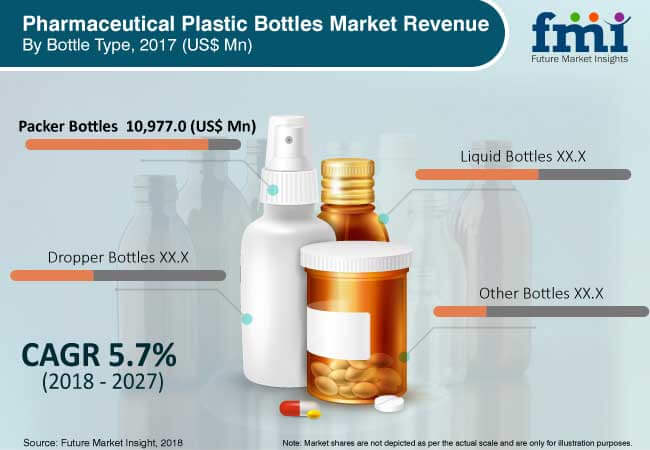 By material type, HDPE bottles segment of pharmaceutical plastic bottles market was valued at more than US$ 8.6 Bn in the year 2017. The packer bottles segment is anticipated to be the most lucrative segment in the global pharmaceutical plastic bottles market and is projected to expand at a CAGR of 5.2% during the forecast period.
Competitive Landscape
Detailed profiles of companies are also included in the pharmaceutical plastic bottles marketreport to evaluate their strategies, key product offerings, and SWOT analysis along with the recent developments. The key players in the global pharmaceutical plastic bottles market are Gerresheimer AG, Amcor Limited, Berry Global Group, Inc,AptarGroup, Inc., ALPLA Werke Alwin Lehner GmbH & Co KG, Alpha Packaging, Inc., RPC M&H Plastics Ltd., Graham Packaging Company Inc., Resilux NV, Drug Plastics & Glass Co., Inc., Pretium Packaging, LLC, Silgan Holdings Inc., O. Berk Company, LLC, Bormioli Pharma S.p.a., C.L.Smith Company, PACCOR International GmbH, Pro-Pac Packaging Group Pty Ltd, Comar LLC, and Weener Plastics Group BV.
Key Segments
By Bottle Type
Packer Bottles
Dropper Bottles
Liquid Bottles
Other Bottles
By Closure Type
Screw Cap
Crown Cap
Friction Fit
Other Closures
By Material Type
High-density polyethylene (HDPE)
Low-density polyethylene (LDPE)
Polyethylene terephthalate (PET)
Polypropylene (PP)
Polyvinyl chloride (PVC)
By Capacity
Less than 10 ml
10 – 30 ml
31 – 50 ml
51 – 100 ml
100 ml & Above
By Region
North America
Latin America

Brazil
Mexico
Rest of Latin America

Europe

Germany
France
U.K.
Spain
Italy
Rest of Europe

APEJ

China
India
Australia & New Zealand
ASEAN
Rest of APAC

Japan
MEA

GCC Countries
Turkey
South Africa
North Africa
Rest of MEA
Need specific information?