Power Transformer Market By Product Type (Core, Shell), Insulation (Dry, Wet), End Use (Residential & Commercial, Utilities, Industrial) & Region - Forecast to 2021 - 2031
Power Transformer Market - Analysis, Outlook, Growth, Trends, Forecasts
August 2021

REP-GB-10800

300 pages
Power Transformer Market Snapshot
The power transformer market is poised to grow at 4.6% CAGR from 2021 to 2031, with overall valuation expected to reach US$ 21.9 billion in 2021. Future Market Insights (FMI) forecasts total sales to surpass 2000 units by the end of 2031.
Some of the leading market players are ABB, General Electric, Siemens AG, Toshiba Corporation, and Schneider Electric. Among these companies, ABB holds around 12% of the market, while General Electric accounts for 8% of the overall share.
Key Points Covered in Power Transformer Market Study
Market estimates and forecast 2021 – 2031
Key drivers and restrains impacting market growth
Segment-wise, Country-wise, and Region-wise Analysis
Competitive Mapping and Benchmarking
Brand share and Market Share Analysis
Key Product Innovations and Regulatory Climate
COVID-19 Impact On Power Transformer Market
Recommendation on Key Winning Strategies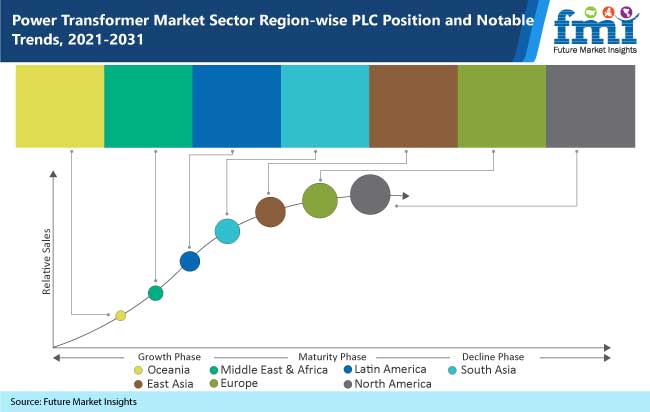 Power Transformer Sales Registered in 2016-2020 in Comparison to 2021 – 2031 Demand Outlook
Power transformers are integral components within power grids as they assist in power transmission between networks without change in frequency and minimum loss. Increasing investments towards expansion of power grid networks and distribution channels to enable electricity access in remote areas will fuel the demand for power transformers in the forthcoming years.
Driven by this, the market will grow at 4.6% CAGR from 2021 to 2031, says FMI in its recent report. Power transformers steps up voltage to reduce the line current leading to efficient power transmission.
Increasing research in transmission network and rapid utilization of non-conventional and renewable sources of energy for generating electricity in remote areas will drive the power transformer market in the assessment period.
Smart grids allow remote access and monitoring of grid and respond to fluctuating power demand instantly. They also ensure efficient cooling and optimum power supply thus reducing carbon emission.
Stringent government regulations aimed at reducing greenhouse gas emission, utilization of high voltage transmission technologies and development of green transformers will complement the global power transformer market growth during the forecast period.
What is Driving Demand for Wet Insulated Power Transformer?
Increasing utilization of transformers for residential and commercial applications along with their low cost are fuelling the demand for wet insulated power transformer. Research and development initiatives undertaken to incorporate wet insulated power transformer with smart energy grids and installation of renewable energy grids with eco-friendly coolants will create lucrative opportunities for market growth.
These transformers offer high efficiency and are used in places where high voltage and minimal losses are critical parameters. They also offer improved insulation and cooling capabilities in comparison to dry power transformers, thus boosting market growth.
Electricity consumption has skyrocketed in past few years due to increasing digitization and rise in population. Rise in average electricity consumption is anticipated to account for steady growth for power transformer market.
COVID-19 pandemic induced strict lockdown led to people stay and work at home, leading to even higher consumption of electricity, hence driving sales of power transformers in residential segment.
What Are the Factors Restraining Power Transformer Market Growth?
Copper, aluminum, and steel are the key materials used in the manufacturing of power transformers. Rise in prices of these raw materials will increase the overall price of power transformers, thus limiting the sales in low and middle income countries.
Fluctuation in supply of raw materials and disruption of distribution and supply channels due to pandemic are making power transformers more expensive than conventional power distribution system.
Variation in raw material pricing and high installation and maintenance cost of power transformers than existing power distribution systems will further hinder the market growth.
Lack of availability of high quality electrical steel, long manufacturing and installation time of power transformers along with huge capital investments required for construction of supporting infrastructure for smooth and stable transformer operation will negatively influence the market growth over the forecast period.
Leading market players are working towards reducing manufacturing cost of the transformers. Their key developmental strategies include reducing cost by using better supervision techniques and alternative materials.
Country-wise Analysis
Why is Demand for Power Transformer increasing in the U.S.?
The U.S. is forecast to offer lucrative growth opportunities in power transformer market owing to increasing concerns regarding greenhouse gas emission rate and its hazards to the environment. Rise in infrastructure and construction activities along with industrialization has lead to increase in demand of power transformers in the country.
Increasing consumption of electricity and growing emphasis on renewable electric power generation are the key factors driving the market growth in the country. Furthermore, the U.S. remains one of the world's largest electricity producers, making it a lucrative market for power transformer manufacturers.
In addition, installation of smart grids and transformers, modification of existing aged power transformers, and increase in renewable power generation projects will drive the market growth in upcoming years.
National Grid began the construction of West Ashville?substation project in New York in 2019, to address the low voltage issues on the existing transmission grid. Construction of a new substation in the Town of Harmony was approved by National Grid to decrease the load on the existing system. Such investments in new power grid projects will further accelerate the demand for power transformers in U.S.
How big is the Power Transformer Market in Germany?
Germany has 100% access to electricity and is now working towards modifying and expanding current transmission and distribution system. With rising energy demand and presence of leading manufacturing companies in the country, the demand for power transformer is expected to increase in Germany.
The country is focusing towards sharing generated power with other countries to help them fill energy supply and demand gaps. With world switching attention towards renewable energy to produce electricity, the demand for power transformer is expected to rise in upcoming years in Germany.
Government in Germany has been encouraging the use of electric vehicles to reduce greenhouse gas emissions. With rise in sales of electric cars, the demand for charging infrastructure is on the rise, thus fueling the demand for power transformer in Germany.
In next three decades, Germany is planning to generate around 90% of its total electricity from renewable energy sources. This requires up-gradation of outdated traditional transmission systems, which is anticipated to drive the power transformer market in Germany.
Based on above factors, Germany is forecast to emerge as the fastest growing power transformer market in Europe over the assessment period.
What is Driving Power Transformer Market Growth in China?
China is investing towards expanding its exiting electricity transmission and distribution system to cater the rising electricity demand due to rapid urbanization and industrialization in the country. Rise in installation of new transmission line and new substations to reduce the energy demand and supply gap will drive the power transformer market in China.
The country also is focusing on the expansion of its renewable energy capacity to limit the greenhouse gas emission and cater rising energy demands. Surge in installation activities in renewable energy sector will lead to increase in demand of power transformer to transfer electricity from generation site to consumers.
Leading market players are investing towards establishing developmental facilities in China owing to abundance of raw material and man power.
For instance in April 2021, Hitachi ABB Power Grids announced to establish a global transformer design and manufacturing centre in Chongqing, China with an initial investment of US $230 million. Phase I of the project will lead to construction of world's advanced transformer manufacturing base and global transformer design center and insulation parts processing center in Chongqing.
These factors along with banning of coal fired power plants and replacing it with renewable installation in China will further boost the power transformer market growth in the country.
How are Government Initiatives Boosting Power Transformer Demand in India?
India is the third largest producer and consumer of electricity in the world. Rising industrialization and government initiatives to electrify the rural areas of the country will drive the market growth in upcoming years. Ministry of Power reported that the total installed capacity of the country is 384.116 GW as of March 2021.
The steep demand for electricity and its power sector in India is encouraging government investment towards electricity generation, while persuading consumers to reduce electricity consumption and save energy. These initiatives are likely to drive the power transformer market in India.
Implementation of government schemes like "Deendayal Upadhyaya Gram Jyoti Yojana (DDUGJY)" for modernizing and improving sub transmission and distribution infrastructure in rural areas and "Integrated Power Development Scheme (IPDS)" for catering the rising demand of electricity in urban areas will increase the demand for power transformer in the country.
Ministry of New and Renewable Energy (MNRE) launched the Pradhan Mantri Kisan Urja Suraksha evem Utthan Mahabhiyan (PM KUSUM) scheme in 2019, to prompt farmers towards installing solar pumps and grid connected solar power plants. The scheme also aims at increasing electric access in rural areas and is expected to expand transmission system, which will drive the country's power transformer market.
Up-gradation of existing electricity infrastructure with smart grid to reduce carbon emission will create novel opportunities for India power transformer market growth in upcoming years.
Category-wise Insights
Why Are Core Type Power Transformer High in Demand?
Low operational cost and easy maintenance of core transformer have made them quite popular in wide range of low-voltage applications. Despite having lower mechanical strengthen and less power output than shell power transformer, 6 out of 10 transformers sold were core power transformer in 2019.
Market players are focusing on digitizing core type power transformer and incorporate them in high power applications with a restricted range of industrial applications. This is expected to offer lucrative opportunities for sales of core power transformer in industrial applications during the forecast period.
Why Are Dry Insulation Type Power Transformer Gaining Popularity?
Dry type transformer is a type of magnetic core transformer that uses natural or forced air cooling instead of wet cooling. They use eco-friendly high temperature insulation system and they don't require oil or liquid for cooling.
Since they are free from moving components; they need minimum maintenance and offer higher reliability and long run cycle. They are finding their use in hospitals, residential and commercials and industrial plants owing to it's completely hazard free nature.
However, sales of wet type power transformer are expected to surpass US$ 19 billion by the end of 2031. Sales uptick can be attributed to higher efficiency of wet type over dry type and high durability features.
Which End Use Industry Is Exhibiting High Demand for Power Transformers?
By end use type, residential and commercial sector is predicted to account for more than 38% of total revenue. The rise in demand from these sectors can be attributed to rapid industrialization in emerging economies of South Asia and Africa. Increase in consumption of electricity and rise in integration of broad ranging frequency distribution links in the residential and commercial applications are the key growth drivers in this segment.
Growing investment from government in electrification programs to boost their ability to service urban and rural electricity loads. Rising need for establishing electrical grids in rural residential and commercial loads will drive the sales of power transformer in the future.
Why Single Phase Power Transformer Accounts for Higher Sales?
Surge in demand for electricity across the globe and increasing use of single phase transformer in distribution of electricity are the key growth drivers for power transformer market. Government focusing on expanding electricity transmission network and rapid modernization in rural areas will fuel the growth of single phase power transformer market.
Single phase transformer are extensively used in specific voltage requirement applications like mining, marine, and oil and gas industries due to their safety advantages over liquid filled transformers. This is expected to bode well with power transformer market growth.
Will The 200 kV-400 kV Segment Continue Dominating Power Transformer Market?
Thriving industrial sectors has accelerated the demand for electricity, thus escalating the sales of 200 kV-400 kV segment power transformer. Booming real estate industry and increasing demand of transformer in processing industries and infrastructure development will support the increased demand.
Increasing investments to modernize conventional grid infrastructure and incorporation of smart transmission technologies will boost the market growth in this segment.
Competitive Landscape
Future Market Insights (FMI) states that ABB, General Electric, Siemens AG, Toshiba Corporation, and Schneider Electric are the top five market players operating in power transformer market. They collectively account for more than 35% of global market share in 2021.
In an attempt to create clean energy and gain obtain significant competitive advantage, market players are focusing on designing and developing green transformers. For instance, in December 2020, Efacec launched new modularity system concept for core power transformer which will lead to higher performance, optimization and efficiency.
This novel concept is expected to be applied to transformers from 10MVA to 170MVA and up to 400kV and also incorporates new functions like mechanical protection, noise, ultraviolet and ballistics.
Similarly in November 2018, ABB introduced "ABB Ability™ TXpert™ Dry", world's first oil free digital transformer to promote digitalization of grids and provide increased security, efficiency, and reliability.
Power transformer Market – Report Scope
| | |
| --- | --- |
| Attribute | Details |
| Forecast Period | 2021 – 2031 |
| Historical Data Available for | 2019 – 2029 |
| Market Analysis | US$ Mn for Value & Units for Volume |
| Key Regions Covered | North America, Latin America, Europe, East Asia, South Asia, Oceania, and Middle East & Africa |
| Key Countries Covered | U.S., Canada, Brazil, Mexico, Argentina, Rest of Latin America, Germany, U.K., France Italy, China, India, Japan, GCC Countries, South Africa, Israel, Turkey, Iran, Rest of Middle East & Africa, Australia, New Zealand, South Korea, the Philippines, Malaysia, and Thailand |
| Key Segments Covered | By Product Type, By Insulation Type, By Phase Type, By End Use Type, By Voltage Type, By Application Type, And By Region |
| Key Companies Profiled | ABB, General Electric, Schneider Electric, Siemens AG, Eaton, and Kirloskar Electric |
| Report Coverage | Market Overview, Market Background, Market Forecast, Segmental Analysis, Regional Profiling and Competition Analysis |
| Customization & Pricing | Available upon Request |
World's Most Profilic Intelligence Engine
Get Access To The World's Largest Market Research Database.
Sign Up Now
Key Segments Covered In Power Transformer Market Study:
By Product Type:
By Insulation Type:
By Phase Type:
By End Use:
Residential & Commercial
Utilities
Industrial
By Voltage Type:
100-200kV
200-400 kV
Above 400 kV
By Application Type:
Generation Step-up
Transmission
By Region:
North America
Latin America
Europe
East Asia
South Asia
Oceania
Middle East and Africa
Key Questions Answered in the Report
What is power transformer market size?
Driven by increasing awareness regarding carbon-dioxide emission and development of high efficiency grids, the power transformer market size is forecast to reach US$ 21.9 Billion in 2021 with a CAGR of 4.6%.
At what rate did the power transformer market expand in the last five years?
Between 2016 and 2020, the Power transformer sales grew at 3.1% CAGR.
What are the key trends shaping the power transformer market?
Development of "green transformers" and increasing establishment of production and supply operations specific to overseas territories by OEMs are few of the key trends shaping the Power transformer market.
Who are the key exporters operating in power transformer market?
Germany, Japan, and China are the leading exporters of power transformer in the world.
What is the North America power transformer market outlook?
Demand registered in North America will continue rising, backed by rapid modernization of existing grid infrastructure and increasing consumption of electricity in U.S. and Canada, the North America market is anticipated to expand at 3% CAGR during the forecast period.
Who are the leading companies in power transformer market?
ABB, General Electric, Siemens AG, Toshiba Corporation, and Schneider Electric are the top companies operating in the market.
What is the share of top companies in power transformer market?
As of 2021, ABB hold around 12% of global market share, General Electric hold 8% of global market share, Siemens AG hold 7%, Toshiba Corporation hold 5%, and Schneider Electric hold 3.5% of global market share.
At what rate will power transformer sales increase in Europe?
Power transformer sales will increase at 3.2% CAGR in Europe, backed by thriving real estate sector and increase in construction activities in the U.K., Germany and other countries.
Which are the top countries driving power transformer market demand?
Leading countries driving demand in the Power transformer market are Germany, China, U.S., and Japan.
What are the key statistics for power transformer market in Japan and South Korea?
Currently in 2021, Japan and South Korea collectively hold around 7% of global power transformer market share.
Need specific information?
Our Clients