9 out of 10 Manufacturers Invest in Twin Pre-insulated Pipes
Twin pipes will continue to capture significant stakeholders' investments in the pre-insulated pipes market throughout the forecast period. Developed particularly for heat pump applications, these twin pre-insulated pipes incorporate all connections in a single pipe – heating pipes, power, and sensor cables.
Market players would reap over US$ 7 Bn from twin pipes in 2020. While twin pre-insulated pipes account for a leading revenue share, the single pipe variant would witness subsequent decline in its adoption.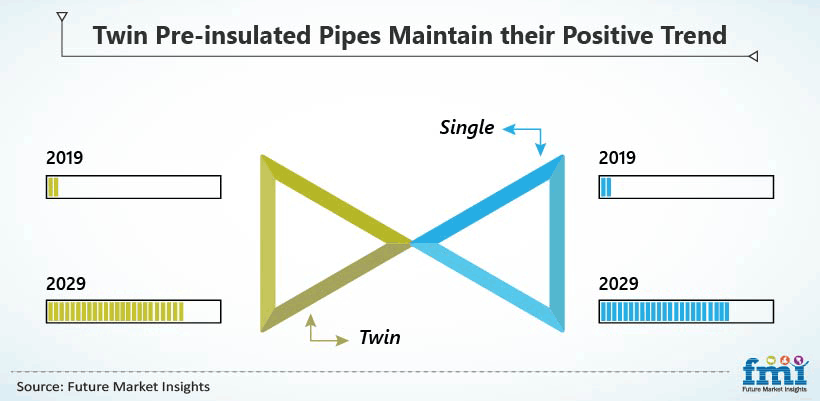 North America Takes Lead; APAC Market to Firm its Grip
Market players are staying focused on North America for value-capture opportunities, owing to the rising adoption of DHC systems across downtown districts of the U.S. and Canada, and growth in domestic chemical processing and construction industries. The pre-insulated pipes market in this developed region would reach around US$ 5 Bn by 2027.
Rapid development of Building Internet of Things (BIoT) coupled with supportive government policies to initiate smart city projects in China and India are driving the pre-insulated pipes market in Asia Pacific (APAC). The region will witness a double-digit growth curve in the years ahead.
Material Innovation – Key Winning Tactic
Pipe material plays a key role in the transmission of fluid in pristine quality, resisting external factors such as UV rays and corrosion. Market players are increasingly leveraging polyurethane (PU) composites to manufacture pre-insulated pipes for various end users such as chemical fluid suppliers and drinking water suppliers.
The PU coating reduces around 40% heat loss as compared to conventional pipes, as well as enhances the service life of the pre-insulated pipes. Moreover, manufacturers are turning to polyolefin for applications such as below-the-ground and above-the-ground piping.
How Growth will Unfold
Amidst ongoing smart city projects across the world, governments are showing preference for DHC systems as an energy-efficient alternative in commercial buildings as well as residential units, rather than conventional electric-driven HVAC insulation units. Pre-insulated pipes are an integral component in the transmission of steam and gases in such systems.
In a similar fashion, they are witnessing demand upsurge in food & beverage processing, owing to their durability and non-corrosive attributes. However, high initial costs associated with pre-insulated pipes are limiting their application to large-scale enterprises. Further, as these pipes offer higher service life, market players are likely to see sluggishness in product movement over the next decade.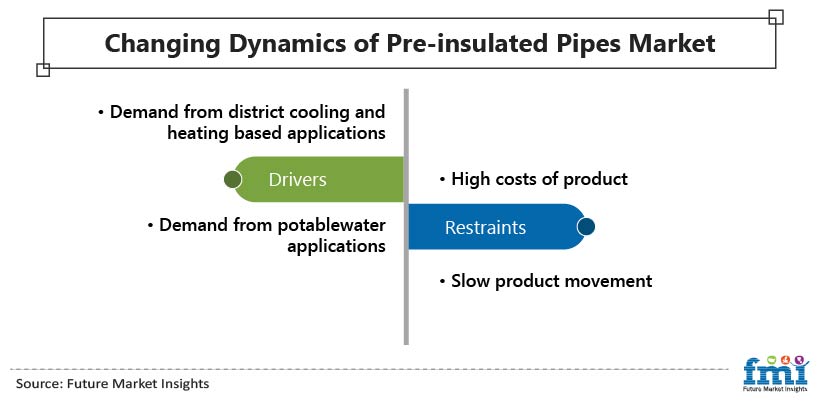 PRE-INSULATED PIPES MARKET TAXONOMY
The global pre-insulated pipes market is segmented in detail to cover every aspect of the market and present complete market intelligence to the reader.
Pipe Configuration
Region
North America
Latin America
Europe
Asia Pacific
Middle East & Africa
Need specific information?