Polyurethane insulation's superior performance to create a significant opportunity for companies
The global industrial pipe insulation material market comprises materials like glass wool, mineral wool, cellular glass, polystyrene and many more. The market is highly dominated by polyurethane and polystyrene materials. Both in terms of market share and growth rate polyurethane and polystyrene is expected to continue leading in the years coming ahead.
According to the market forecast, polyurethane is projected to lead with a market value of over US$ 680 Mn by the end of 2028, whereas polystyrene is expected to stay in close competition with polyurethane. Polystyrene is extremely suitable for cryogenic, cold/chilled as well as hot applications.
Its spray insulation also produces seamless insulation, reducing energy loss, air leakage, and provides acoustic insulation. Along with this, polyurethane insulation also provides several other benefits such as fire resistivity, improved process efficiency and cost competitiveness which will further improve its acceptance in the global market.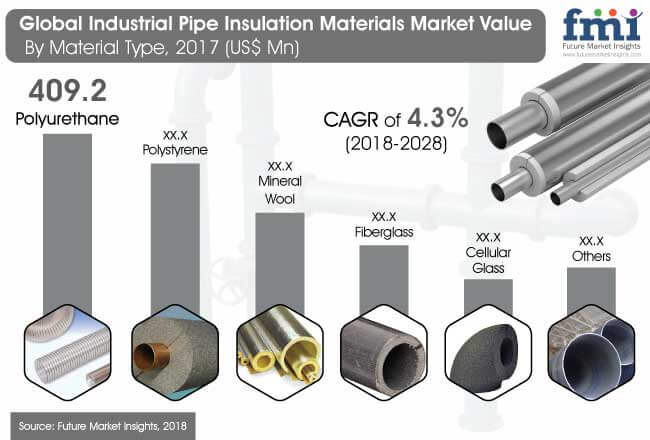 Mineral wool and fiberglass to witness rise in adoption
Fiberglass insulation has been the primary choice of end users since decades. As a result, it is marked as one highly prevalent material type in the global market. Alongside, mineral wool is also gaining popularity in the global market.
The mineral wool products are anticipated to hold high market share as it gains popularity especially in North America, China, India and Other parts of APAC. This is due to the fire safety concerns, which keeps rising with the rapid industrialization.
The research also suggests that mineral wool is considered to as an eco-friendly product, and so it is expected to be one highly lucrative market as the environmental concerns rises.
One of the factors that has helped the growth in demand for various insulation materials is the replacement of existing HVAC equipment in the many countries. In developing countries, growing urbanization is driving the demand for HVAC insulation. The growth of the HVAC market, coupled with increasing awareness regarding energy.
Hazardous waste production to restrict market growth
Some of the insulation material waste is considered toxic, as it contains CFCs and formaldehyde. The two most common insulation materials containing CFCs are PUR (polyurethane) and XPS (extruded polystyrene), which are highly prevalent in the market.
Polymeric insulation materials, such as polyurethanes and Polystyrene, are non-bio-degradable and may cause serious environmental problems, including air pollution and water pollution. Even the transport and destruction of CFC containing insulation components involves expenses, which is why the process does not takes place many times.
Some of the materials are not even recyclable, such as fiberglass. It requires special handling before disposal as most types of fiber insulation contains formaldehyde, an extremely toxic chemical, which may lead to environmental pollution.
Moreover, the handling of fiberglass requires extra care as the tiny glass particles can cause health problems. These factors have come up as the major hurdles in the growth of industrial pipe insulation material market.
Market Segmentation
This comprehensive research report has cohesively segmented the global industrial pipe insulation materials market into segments on the basis of material type, product type, end-use and region. On the basis of material type, the global industrial pipe insulation materials market is segmented by fiberglass, mineral wool, cellular glass, polyurethane, polyester and others.
On the basis of product type, the global industrial pipe insulation material market is segmented into prefabricated, rolls & butts, spray. On the basis of end use, industrial pipe insulation materials market is segmented into chemicals, food and beverages, oil & gas, power, metal manufacturing and other industrial. Key regions covered in the report include North America, Latin America, Western Europe, Eastern Europe, India, China, Japan, SEAPAC and Middle East & Africa.
Material Type
Fiberglass
Mineral Wool
Cellular Glass
Polyurethane
Polystyrene
Others
By Product Type
Prefabricated
Rolls & Batts Spray
By End Use
Chemical
Food & Beverages
Oil & Gas
Power
Metal Manufacturing
Other Industrial
By Region
North America
Latin America
Western Europe
Eastern Europe
SEAPAC
MEA
China
Japan
Need specific information?