Industrial Condensing Units Market - Key Research Findings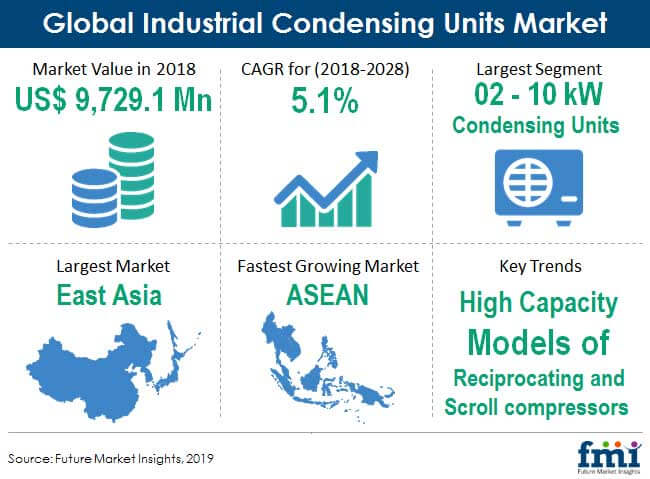 Global industrial condensing units market size in 2018 – Nearly US$ 9.5 Bn
The industrial condensing units market revenue is expected to grow at nearly 5.1% CAGR over 2018-2028.
South Asia and East Asia are poised to have substantial growth potential in the industrial condensing units market.

Population growth, market development, and a strong trend towards healthy food are the cited factors influencing the demand for industrial condensing units in these regions.
The retail markets in most emerging economies such as Indonesia and Malaysia are developing at a rapid pace of around 10%–15% annually. This trend is anticipated to boost the demand for industrial condensing units over the forecast period.

Government Regulatory Scenario -

Inefficient and inadequate supply chains are the reason for around 94% of all wasted food in the Middle East & Africa. Food franchisees have been increasingly focusing on long-term expansion goals and investments for the same in the Middle East.
For improved cold chain development to meet the demand for fresh food, in 2014, the government of Brazil laid down dietary guidelines for the use of fresh food over processed food.

Europe and North America are expected to remain prolific regional markets for industrial condensing units.

North America is considered as one of the most developed markets in the global industrial condensing units market.

In new industrial condensing units, the most preferred type of compressors are scroll compressors.

Scroll compressors boast of excellent individual part-load and full-load efficiency, fewer moving parts, very low vibration, and a continuous compression process with almost no vibration/pulsation. These aspects make this a lucrative segment in the industrial condensing units market.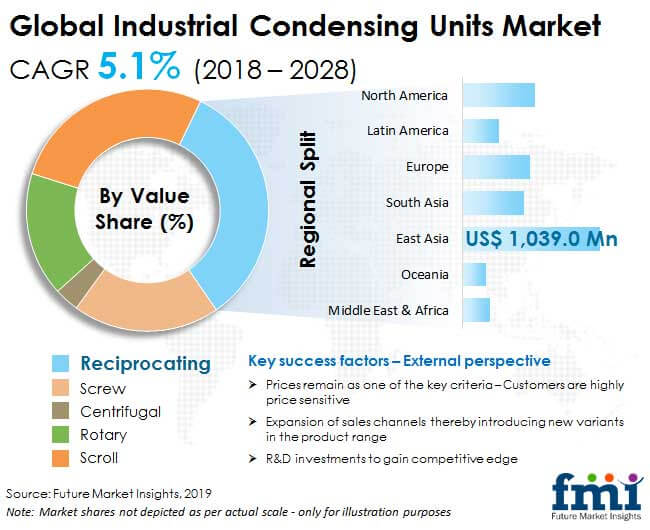 Top 3 Factors Affecting the Industrial Condensing Units Market
Price Competitiveness and Product Innovation Set to Play a Pivotal Role

Energy efficiency and compliance with new regulations are important factors to be considered while manufacturing industrial condensing units. Besides, to offer low-priced, supreme industrial condensing units, market stakeholders must invest significantly in their R&D and develop new cost-effective products. High reliability, energy-saving technology, and unique design are the factors that manufacturers need to focus on.

Danfoss has equipped Intermediate Discharge Valves (IDVs) in compressors, which avoid over-compression caused by the motor during part-load operations, thus reducing their energy consumption.

Low-cost Manufacturing Capabilities and Strong Suppliers' Network to Enhance Market Share in the Industrial Condensing Units Market

Many companies have set up their production plants in India. From India, these companies are exporting industrial condensing units to the rest of the world, including Latin America, Southeast Asia, and countries/regions such as Australia, New Zealand, and Africa.

Distributors and suppliers possess important competitive advantages in the industrial condensing units market. Subsequently, the ability to offer cutting-edge technical assistance related to industrial condensing units will act as an important competitive advantage for manufacturers and distributors to increase the number of buyers for their products.

High Demand for Commercial Construction to Propel Market Pace

When the construction industry is down, companies emphasize on the retrofit market to boost the sales of industrial condensing units. Moreover, the increased bargaining power of consumers has certainly pushed the demand for superior quality, fresh food products.

The transportation of food products to the processing units with minimal loss in freshness is thus the need of the hour. Subsequently, these factors are boosting the demand for industrial condensing units.
Industrial Condensing Units Market Structure Analysis
The global industrial condensing units market is a fragmented landscape, with the tier 1 players holding almost 45% revenue share.
Leading players in the industrial condensing units market are primarily concentrating on the ASEAN and India markets, where cost competitiveness will remain a strong differentiation strategy.
While most of the key participants in the market are maintaining strategic focus on China, North America, and Europe, this report states that environment-friendly products and new technology assessment will be relatively important developmental strategies for companies.
Industrial Condensing Units – A Staple for Successful Industrial-duty Applications
End users primarily seek technologically advanced industrial condensing units, on account of multiple operational advantages such as improved performance, durability, and prolonged shelf life. Rapid industrialization is likely to pave the way forward for growth of industrial condensing units landscape, both in developing and developed economies. Increase in number of well-established warehouse and logistics/cold supply chains would provide a fillip to sales of industrial condensing units.
Product Differentiation and Price Competitiveness – Key Elements Powering Future Adoption
In the industrial condensing units landscape, product differentiation and price competitiveness would be crucial in moulding growth of the market players. While product differentiation revolves around introduction of new product innovations and reformations best-suited to dynamic end user needs, price competitiveness continues to be a key aspect of an effective marketing strategy.
Demand from Commercial Refrigeration Soars to a New High
Use of efficient and easy-to-install industrial condensing units in commercial refrigeration equipment space is on an upswing. One of the key USPs pushing installation of industrial condensing units is the performance benefits achieved, which makes them a viable investment for commercial refrigeration applications. In line with the ever-evolving end user demands, manufacturers are integrating latest technologies to stay at the forefront of product innovation.
Breakdown of Regional Growth Prospects
South Asia is likely to emerge as a high growth market for industrial condensing units during the assessment period. This can be attributed to the fact that South Asian countries are providing huge growth grounds for the market players, owing to ever-increasing application of refrigeration systems across end-use industries such as food & beverage processing, plastics, chemicals & petrochemicals, and others.
Key Segment
Capacity
Up to 1 kW
2 - 10 kW
11 - 40 kW
Above 40 kW
Installation
New Installation
Retrofit
Technology
Application
Indoor-based Refrigeration
Outdoor-based Refrigeration
End Use
Domestic Appliances
Indoor Based Air Conditioners
Commercial Refrigeration

Retail Stores
HORECA
Cold Storage and Warehouse
Office & Other Commercial Buildings
IT & Data Centers

Industrial Refrigeration
Compressor Type
Reciprocating
Screw
Centrifugal
Rotary
Scroll
Region
North America
Latin America
Europe
South Asia
East Asia
India
MEA
Need specific information?
Talk Show:
The Rise of Intelligent Packaging
Personalized, Connected and Sustainable
November 18, 2021
11:00-11:45 AM PST (USA & Canada)
This is a LIVE session