Introduction
Refrigeration oil market is majorly driven by growing demand in food and pharmaceutical industries, consumer appliances, low GWP refrigerants, etc. As the refrigeration oils have excellent tolerance towards high temperature, and therefore its increasing demand is enjoyed by the manufacturers. Although, the pandemic has resulted in decline of the market, developments going on and in 2020 have helped the market to remain moderate. Some latest developments by the manufacturers are presented below.
BITZER, refrigeration and air conditioning technology specialist at Chillventa eSpecial 2020 presented its Ammonia Compressor Packs for industrial refrigeration. The exceptional energy of ammonia and its excellent thermodynamic characteristics makes it capable for refrigeration in industries. With ammonia, there is no concern of environmental side effects such as global warming, air pollution or ozone depletion, etc. The company provides its customers with fully assembled and ready to use compressor units to make it easy for installation at the site.
An article published in 2020 at IOP Conference Series states, CuO-nano based Biodegradation oil can be utilised for energy conservation. The results demonstrate that addition of 0.3% of CuO can impact more than that of refrigeration oil blend samples. At 100 degree Celsius, the viscosity increased 18% and 22% for a CuO nanoparticle concentration in PE50 of 0.1% and 0.2% respectively. Less power consumption experienced due to CuO-nano based biodegradation oil helps in improving the compressor efficiency which leads to COP enhancement. The article reposts that power consumption of 0.3% CuO-nano biodegradable refrigeration oil is lower than that of all refrigeration oils.
Blue Star is setting up a new plant to strengthen its commercial refrigeration footprint as per the announcement in February 2021. The company is investing 1.3 billion rupees or 130 crore in Maharashtra, India to expand the facility in manufacturing of its deep freezers and storage water coolers. The new plant will help in meeting the rising demands for commercial refrigeration products. Blue Star is aiming to double its production capacity for deep freezers. The new palnt is being constructed on an area of around 19,300 sq. m and will be able t produce around 200,000 deep freezers and 100,000 storage water coolers per annum.
Refrigeration oil is a lubricant derived from either mineral oil or synthetic oil. It is a special high-temperature formulation of oil to provide lubrication to compressors. Global consumption of refrigeration oil was pegged at 300,420.6 tonnes in 2015. Sales revenue of refrigeration oil is expected to increase at a CAGR of 5.3% over the forecast period (2016–2026).
Cold chain logistics have sparked an interest in refrigeration equipment and in turn refrigeration oil
Changing food habits coupled with spending capacity have resulted in a number of licenced and franchised stores of limited service restaurants such as McDonald's and Subway, KFC and local services and is driving demand for frozen and chilled food products. Moreover, storage of medical products (such as vaccines, other medical products, etc.) is expected to increase demand for refrigeration systems. Hence, it is expected to increase installation of refrigeration equipment in warehouses as well as in vehicles for distribution.
Synthetic oil segment is expected to gain traction over the forecast period
On the basis of product type, the global refrigeration oil market is segmented into mineral oil and synthetic oil. Synthetic oil segment holds major share in global refrigeration oil market and is anticipated to remain dominant throughout the forecast period. This segment is expected to expand at a value CAGR of 5.8% over the forecast period. This is mainly attributed to compatibility of synthetic oils with refrigerant used in refrigeration systems.
On the basis of refrigerant type, the global refrigeration oil is segmented into CFC, HCFC, HFC, Ammonia and others. HFC segment in the global refrigeration oil market is estimated to be valued at US$ 285.7 Mn by 2016 end and is projected to expand at a CAGR of 5.2% over the forecast period to reach US$ 476.4 Mn by 2026 end.
However, global warming potential of HFC is expected to drive the demand for natural refrigerants. Thus, others segment is estimated to dominate the market by the end of forecast period.
On the basis of application, the global refrigeration oil market is segmented into air conditioners, coolers, chillers, refrigerators/ freezers, condensers and others. Air conditioners segment occupied a major share in 2015 and is expected to remain dominant throughout the forecast period. Moreover, this segment is anticipated to expand at relatively high CAGR over the forecast period. The installation of air conditioners in vehicles, residences, centralised systems in offices and in industries is one of the reasons for the growth of the segment during the forecast period.
On the basis of the end user, the global refrigeration oil market is segmented into industrial, commercial and residential. Use of chillers, refrigerators, and air conditioners in pharmaceutical research laboratories, research & development department of food & beverage, fine chemical industries are expected to witness a significant growth of industrial segment over the forecast period.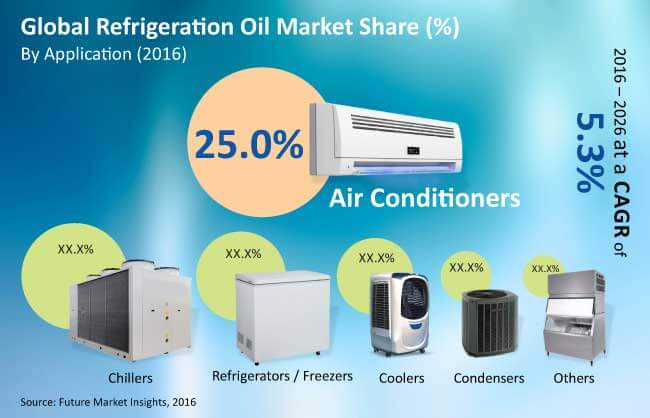 Revenue generated from sales of refrigeration oil in APEJ is set to register a CAGR of 5.7% during 2016–2026
Development of supermarkets, shopping complexes, research and development in food & beverage, automotive, pharmaceutical industries is expected to increase the demand for air conditioners, chillers, and refrigerators in APEJ region. This, in turn, is expected to increase the demand for refrigeration oil in the APEJ region. The refrigeration oil market in North America and Western Europe is expected to be relatively mature than the APEJ market over the forecast period.
Strengthening the sales channel of refrigeration oil is the main strategy adopted by key players across the globe
The major players operating the global refrigeration oil market are ExxonMobil Corporation, Idemitsu Kosan Co. Ltd, Royal Dutch Shell plc, MEIWA CORPORATION, BASF SE, Chevron Phillips Chemical Company, FUCHS Lubricants and The Lubrizol Corporation. These key players are focusing on strengthening their sales channels to cater to the rising demand for refrigeration oil across the globe.
Global refrigeration oil market segmentation
By Product Type
Mineral Oil
Synthetic Oil

Polyol Ester
Poly Alpha Olefin
Alkyl Benzene
Polyalkylene Glycol
Polyvinyl eather
Others (Phenol Propoxylate oil)
By Refrigerant Type
Chlorofluorocarbon (CFC)
Hydro-chlorofluorocarbon (HCFC)
Hydro-fluorocarbon(HFC)
Ammonia
Others
By Application
Air Conditioners
Coolers
Chillers
Refrigerators/Freezers
Condensers
Others (Ice Machines etc).
By Region
North America
Latin America
Western Europe
Eastern Europe
Asia Pacific excluding Japan
Middle East and Africa
Japan
By End User
Industrial
Commercial
Residential
Need specific information?
Talk Show:
The Rise of Intelligent Packaging
Personalized, Connected and Sustainable
November 18, 2021
11:00-11:45 AM PST (USA & Canada)
This is a LIVE session