Solid Board Boxes Remain Top-selling Category
Highly influenced by the versatility quotient, solid board boxes continue to account for a major share of manufacturers' bottom lines. Aversion of consumers towards plastic-based products along with strong global focus on combating environmental issues are playing an instrumental role in the increasing demand for solid board boxes over polymer-based alternatives.
In addition to offering high moisture resistance, maximum stiffness, and ideal protection for valuable products, manufacturers are capitalizing on other packaging applications of solid boards such as trays and edge protectors. Moreover, manufacturers who are prioritizing customized solutions are likely to be rewarded in the long run.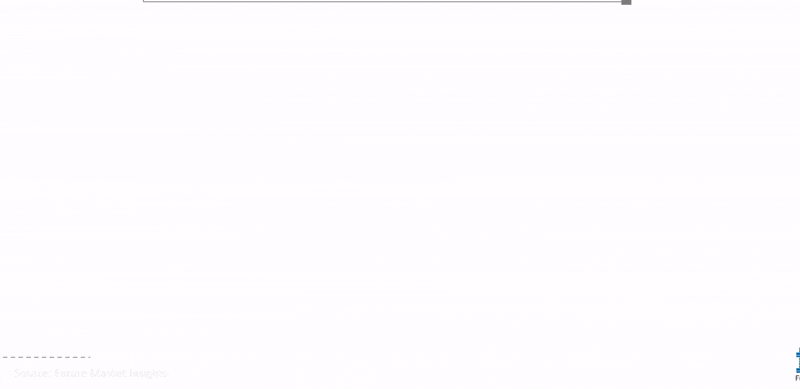 Europe at Forefront, Opportunities Abound in Asia Pacific
Europe continues to offer greater opportunities in the solid board market, due to the strong presence of key players capitalizing on the move away from single-use plastics. Significant growth in the use of both, recycled and virgin paper for packaging purposes, partially due to their perceived environmental performance and increasing demand related to e-Commerce and delivery services, is expected to weigh on the same scale as the increasing demand for solid boards in Europe.
Further, as low-cost remains an influencing factor, manufacturers are eyeing opportunities in mid- and low-income countries in Asia Pacific where labor and operation costs are relatively low.
Rightsizing and Rightweighting - Key Growth Catalyzers
Lightweighting of solid boards has long been affecting the packaging industry, offering numerous logistical advantages and saving volume by more than 50% as compared to corrugated boards. In addition, rightsizing and rightweighting are set to play important roles in the solid board market, not only in response to increasing demand for efficient packaging but also in response to the adoption of dimensional weight (DIM) pricing in logistics chains.
These factors further help reduce the environmental impact, thereby aligning with the global sustainability drive and ensuring efficient use of energy and packaging resources.
How Growth will Unfold
Solid boards remain ideal for food & beverage packaging, manufactured in compliance with food safety and hygiene rules and regulations. Rapid expansion of the processed food industry and increasing demand for frozen food products continue to influence growth strategies.
The design flexibility, printability, and easy recyclability of solid boards are also making them the preferred material for various packaging applications. Growing application in the building & construction sector, especially in developing regions amid continued urbanization, is expected to result in increased market share in the future.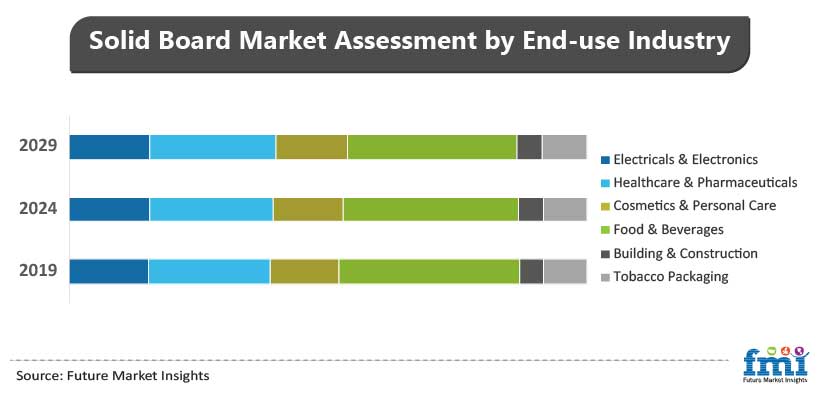 FREQUENTLY ASKED QUESTIONS ABOUT GLOBAL SOLID BOARD MARKET
What are the future predictions for the solid board market?
The global solid board market is projected to witness remarkable growth in the next ten years, with market value increasing from US$ 8.7 Bn in 2019 to US$ 13.3 Bn in 2029.
How are solid boards catering to the solution for sustainable packaging?
Prominent packaging manufacturers are adopting recyclable raw material for the production of solid boards, and this is a solution that is giving competitive advantages as well as new business opportunities in the coming years, as these help in the reduction of industrial waste and carbon footprint.
Which end-use industries hold potential growth opportunities for manufacturers?
Demand for solid boards is thoroughly dominated by food & beverage and healthcare & pharmaceutical industries. Consistent demand for solid boards from these industries is seen for enhancement of product packaging. The demand for packaged food, especially in bio-degradable packaging solutions, would give a push to the solid board market in the years ahead.
How do solid boards help in packaging solutions?
Solid board application is covered by almost 1/4 of layer pads by its application in packaging. Layer pads are used inside the packaging to distribute layers of weighted items. This helps stabilize and disperse weight equally to ensure the goods remain damage-free during transportation.
What is the degree of competition in the solid board market?
The global solid board market is fragmented. Leading players such as International Paper, Smurfit Kappa Group, VPK Packaging Group NV, Mugler Masterpack Crimmitschau GmbH, and Sappi Ltd collectively hold 1/5 of the total revenue share.
Which region is estimated to lead the global sales of solid boards?
In terms of sales and market growth, South & East Asia markets, along with European regions, are projected to remain at the forefront throughout the forecast period. The solid board markets in these regions are projected to register steady CAGRs over the forecast period.
SOLID BOARD MARKET TAXONOMY
The global solid board market is segmented in detail to cover every aspect of the market and present a complete market intelligence approach to readers.
Material Type
Recycled Paper
Virgin Paper
Weight
Upto 200 GSM
201-300 GSM
301-500 GSM
Above 500 GSM
Application
Boxes
POP Displays
Edge Protectors
Trays
Layer Pads
End-use Industry
Electrical & Electronics
Healthcare & Pharmaceuticals
Cosmetics & Personal Care
Food & Beverages

Confectionery
Fresh Produce
Milk & Dairy
Frozen Food
Meat & Poultry

Other Industrial Packaging
Building & Construction
Tobacco Packaging
Region
North America
Latin America
Europe
South Asia
East Asia
Middle East & Africa
Oceania
Need specific information?