Vaginitis Treatment Drugs Market Outlook & Key Findings
Global vaginitis treatment drugs market expected to grow at over 5% during the forecast period
Metronidazole, clindamycin, fluconazole, and clotrimazole continue to be the most commonly prescribed drugs for vaginitis treatment
Holistic emphasis on increasing the cure rates driving R&D efforts for innovative medicines
Growing recurrence of bacterial vaginosis and complicated vulvovaginal candidiasis (VVC) is a key growth driver
Bacterial vaginitis recurrence remains a key concern for drug manufacturers
Vaginitis: An Ailment of Complexities
Overgrowth of bacteria (lactobacillus) that reside in vagina disturbs natural balance. Around 33% of women across the US get affected by this extra growth, which further leads to "Vaginititis".
Vaginitis causes health risks like miscarriages, pre-term births and, above all, 2 to 4 times high risk of getting HIV if left untreated. Chlamydia, gonorrhea, papillomavirus are the other sexually transmitted diseases associated with vaginitis. At times, infertility also sets in.
The above-mentioned factors press the need for treatment of vaginitis. The Vaginitis Treatment Drugs Market encloses OTC medications herein. However, "vaginal bacteria transplants" are the new method of treating vaginitis. As such, the vaginitis treatment drugs market is expected to witness an innovative upswing in the upcoming period.
Nitroimidazole Fostering Extended Inorganic Growth
Nitroimidazole drugs account for over 50% of global vaginitis treatment drugs market. This could be attributed to their availability in an aplomb and they being the widely accepted form of medication for vaginitis.
Tinidazole and Metronidazole are the usually prescribed antibiotic compounds with regards to treatment of vaginitis. Besides, manufacturers have been focusing on introduction of new drugs and collaborations with respect to the same.
For instance - In December 2017, Pfizer Inc. and Basilea Pharmaceutica Ltd. entered into an agreement to develop and commercialize cresemba® (isavuconazole) in China and Asia Pacific region.
On the other hand, recently, Lupin Pharmaceuticals announced an agreement with PlushCare to facilitate bacterial vaginosis (BV) treatment through PlushCare virtual platform.
The basic functionality of PlushCare is enabling patients to book virtual appointment with doctor, discuss the symptoms, and get prescribed for lab testing. These factors are likely to catalyze the vaginitis treatment drugs market as going for medications is turning out to be a step simpler with the above-mentioned measures as well as Rx to OTC conversions.
For instance - in February 2019, Bayer's Canesten switched from Rx-To-OTC status for vaginal yeast infection treatment in Poland. The other drugs that have switched to OTC mode include clotrimazole, miconazole, and tioconazole. They are used to treat vulvovaginal candidiasis.
Online Pharmacies to take over Conventional Pharmacies During the Forecast Period
Retail pharmacies account for a significant pie of the overall vaginitis treatment drugs sales, with hospital pharmacies, drug stores and mail-order pharmacies contributing towards it.
The Covid-19 crisis has increased drugs sales by mail-order pharmacies and the trend is expected to continue at a significant growth rate in the next few months.
More patients are adopting mail and several online channels to get their prescription drugs. In India alone, 50+ start-ups are operational in the online pharmaceutical landscape.
High Number of Asymptomatic Infections: Key Challenges to Vaginitis Treatment Industry
At least half of the women with bacterial vaginosis (BV) are asymptomatic. Bacterial vaginosis, even when asymptomatic, is related to high incidence of pelvic inflammatory disease and endometritis.
The population with vaginosis is unable to gauge the infection and take early precautions to avoid infection transmission as the asymptomatic nature of vaginosis prevents them. The high number of cases of asymptomatic vaginitis are expected to hamper the demand for antibiotics and antifungal drugs.
In developed countries, awareness campaigns on this count are being conducted which are expected to upscale the market in terms of demand for vaginitis tests and ultimately for vaginitis treatment drugs.
Extensive Research to Drive the Vaginitis Treatment Drugs Market
As per researchers at University of Cape Town, a vaginal health probiotic inclusive of vaginal lactobacillus strains could prove to be a better treatment option for vaginitis.
They further state that risk of sexually transmitted infections and adverse pregnancy outcomes could be lowered by this probiotic.
Research on these grounds is likely to call for more investment in the Vaginitis Treatment Drugs Market in the forecast period.
Vaginitis Treatment Drugs Market: Region-wise Analysis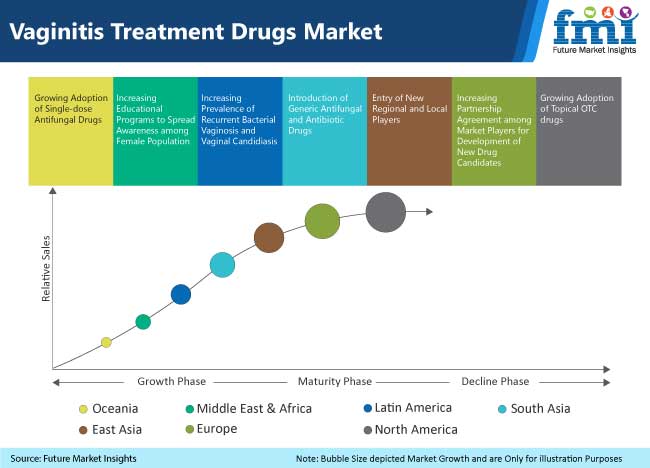 North America continues to be the most lucrative market for vaginitis treatment drugs. The U. S. holds the largest share of the global vaginitis treatment drugs market due to growing treatment-seeking rate and higher demand for OTC drugs.
Europe's vaginitis treatment drugs market, which accounts for more than one-fourth of global vaginitis treatment revenues, is also set to witness lucrative growth opportunities in the future as manufacturers are coming up with novel vaginal tablets.
For instance – Gedea has come up with pHyph, a tablet that restores vaginal acidity in the first place.
Outside of these two productive markets, Brazil and South Africa represent significant opportunities for vaginitis treatment drugs market players. TCM (Traditional Chinese Medicine) is being administered for treating vaginitis since the last several years. Research is being conducted for development of more efficient antibiotics as resistance to TCM is springing up.
Leading Players in Vaginitis Treatment Drugs Market
The market for vaginitis treatment remains highly consolidated. The marketplace is witnessing an influx of novel drugs at the global level. With an estimated 25+ vaginitis treatment players, drug developments, clinical trials, and e-commerce, competition is quite fierce. Some of the key players in the Vaginitis Treatment Drugs Market are
Johnson & Johnson
Merck & Co., Inc.
Pfizer Inc.
Mylan N.V.
Novartis International AG
Bayer AG
Sanofi S.A.
Dr. Reddy's Laboratories Ltd
Cipla Ltd.
Sun Pharmaceutical Industries Limited
*The list is not exhaustive, and only for representational purposes. Full competitive intelligence with SWOT analysis available in the report
Vaginitis Treatment Drugs Market: The Way Forward
Vaginitis treatment drugs market outlook remains positive, with FMI's analysis estimating revenues to grow at over 5.1% consistently. The global outbreak of Covid-19 has created a major overhaul in sales of vaginitis treatment drug in 2020 due to ease in online procurement.
Vaginitis treatment manufacturers are focusing on the introduction of non-antibiotic drugs for the long term treatment of vaginitis as it is witnessing a higher recurrence rate.
Key players are introducing single-dose drugs and over-the-counter drugs which will provide for cost-effective treatment. Moreover, manufacturers are focusing on drug development alliance for expansion of more effective pipeline candidate.
Key Segment
Drug Type
Nitroimidazole Compound
Lincosamide Antibiotics
Triazoles
Imidazoles
Indication
Bacterial Vaginitis
Fungal Vaginitis (Yeast Infection)
Trichomoniasis
Route of Administration
Route of Administration
Schedule of Drug
Prescription Drugs (Rx)
Over-the-counter Drugs (OTC)
Distribution Channel
Hospital Pharmacies
Retail Pharmacies
Drug Stores
Mail Order Pharmacies
Regions
North America
Latin America
Europe
South Asia
East Asia
Oceania
Middle East & Africa (MEA)
Need specific information?