Sales of Water Sinks to Witness Exponential Growth Through 2027; Commercial Segment Considered to be the Potential End User of the Market
Global Water Sink Market: From an estimated market size of US$ 41,181.5 Mn in 2018, the value sales of the market are expected to reach US$ 52,977.5 Mn by 2027 at a CAGR of 2.8%
The water sink market has come a long way over the past couple of decades. The market has witnessed tremendous evolution in terms of the quality of products as well as new product offerings that are easily adapted to the current trends and preferences of target customers. Increase in the per capita income and the desire of consumers to maintain the attractiveness as well as the comfort of their households has created a trend as per which consumers opt for the display of their water sinks as per their preferences.
This factor has encouraged the penetration of the water sink market into untapped sectors. For instance, mixed metals are being used for the production of various water sink products. Water sinks with new mixed brass fixtures, chrome fixture or mixed brushed nickel with polished nickel sport an authentic look in kitchens and bathrooms. Likewise, in various ways, the water sink market has witnessed unique trends in the past couple of years.
Global Water Sink Market: Farmhouse Water Sinks are Being Considered the New Preferred Choice of Target Customers
Over the past couple of years, the water sink market has witnessed a gradual increase in the demand for traditional farmhouse water sinks in the household sector. Customers these days prefer bigger, single-basin farmhouse water sinks, which, according to them, provide a perfect blend of beauty and simplicity. Moreover, farmhouse water sinks easily adapt to the various types of kitchen and bathroom designs trending in the market. Hence, there has been an increase in the demand for farmhouse water sinks from households as well as commercial sectors such as the hospitality, healthcare and foodservice industries.
The Global Water Sink Market is Witnessing New Trends Such as Monochrome-Styled Bathrooms and Kitchens
Over the past couple of years, there has been an increase in the demand for monochrome colours. Taking this fact into consideration, various water sink manufacturers are now adopting monochrome-styled water sinks in households as well as the commercial sectors. Customer are very particular about choosing the right colour when it comes to the designing of their kitchens or bathrooms. Thus, monochrome-styled kitchens and bathrooms cater to the needs and requirements of target customers. Increase in the preference for monochrome styled bathrooms is expected to significantly boost the global in terms of value sales
The Adoption of Natural Colours and Nature-Inspired Prints Is Setting New Trends in the Global Water Sink Market
Over the past couple of years, companies in the water sink market are following a more environmental-friendly approach, which entails the incorporation of warm and natural elements as well as earthen luxury components, especially in the household and hospitality sectors. Consumer are now looking for materials that are derived from nature or those that mimic the sight of nature. This makes kitchens as well as bathrooms look attractive and spacious. The warmth of wooden surfaces of water promotes a natural touch to household interiors.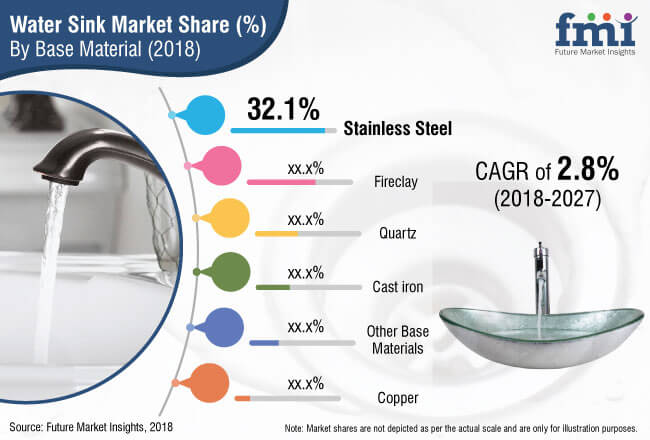 Rise in Demand for Various Water Sink Products from the Commercial Segment
Due to rise in urbanisation and industrialisation, commercial establishments have started maintaining spacious and attractive properties. As a result, they strive to keep their washrooms clean and environment-friendly. In addition, the commercial segment, which comprises of offices, resorts as well as the hotel industry, look out ways to promote creativity in these areas. Hence, there is a rise in the demand for upgraded versions of water sink products such as top-mount water sinks, under mount water sinks as well as wall mount water sinks.
With the growth of Internet penetration across the globe, water sink manufacturers consider e-commerce platforms as effective tools for promoting their products and services to target segments. E-commerce facilitates the provision of details and benefits of water sink products in a much more efficient manner.
Global Water Sink Market Competitive Landscape: Multinational Players are Relatively Highly Concentrated in the Global Water Sinks Market as Compared to Local & Regional Manufacturers of Water Sinks
The global water sink market is primarily characterised by the presence of a large number of regional and multinational companies. Detailed profiles of companies are also included in the market report for readers to evaluate their strategies, key product offerings and recent developments.
Some of the key players profiled in the global water sink market study include Franke Kitchen Systems, LLC; Elkay Manufacturing Company; Moen Incorporated; Crown Products (Kent) Limited; Roca Sanitario, S.A.; ROHL LLC.; LIXIL Corporation (American Standard Brand); Huida Sanitary Ware Co., Ltd.; JULIEN INC.; Whitehaus Collection; Kohler Co. (Sterling); Mountain Plumbing Products; Stern-Williams Co. Inc.; Schock GmbH; Vigo Industries; TOTO USA, Inc.; Kraus USA INC.; The London Basin Company and Tasman Sinkware Pty Ltd.
Need specific information?