Key Factors Shaping Welding Consumables Market
Residential and Commercial Construction Boom in Developing Countries
Growth of the welding consumables market is driven by the growth of end-use industries and requirement of welding consumables in welding operations in these industries. The construction industry has registered decent growth in the past few years with development of residential and commercial buildings in many developing countries. Government authorities are also looking for modification and development of public infrastructure, which is expected to boost public private partnerships in the construction sector. Market players are working on expansions to augment sales through establishment of exhaustive sales channel in markets with high growth potential.
Technological Developments in Consumable Materials & Introduction of Advanced Welding Techniques
Increasing adoption of welding techniques such as laser welding and ultrasonic welding has induced an increment in welding consumables market. Efficiency and advantages of these welding methods have made them suitable for numerous applications. These methods are being preferred in various end use sectors where precision and accuracy in joints have eminent importance such as robotic appliances, electric appliances, and moving automotive parts. Increasing proclivity towards new welding techniques and use of enhanced welding consumables are expected to offer robust growth opportunities for the market.
Lucrative Opportunities in Asia Pacific excluding Japan and Middle East and Africa
North America and Europe markets are projected to sustain their prominent share in the global market by the end of 2029. However, in terms of growth perspective, Middle East and Africa and Asia Pacific excluding Japan are projected to have more potential over the forecast period. Construction initiatives in numerous developing nations and infrastructure development in Kingdom of Saudi Arabia and UAE are expected to propel welding consumables market growth in these regions. Flourishing end-use sectors, for instance, established and strong automobile, manufacturing, and construction industries in prominent countries such as China and India, to propel market growth.
Effectiveness and Advantages of Welding over Other Alternatives
Welding solutions have numerous advantageous over alternative processes such as riveting, which is anticipated to project a promising picture for welding consumables market. Welding is preferred due to its reliable and relatively pliant joints, low labour costs, and ease in fabrication of welded components. All these advantages result in increasing traction towards welding in different end use industries. The inclination towards adoption of welding has subsequently elevated sales of welding consumables across the globe.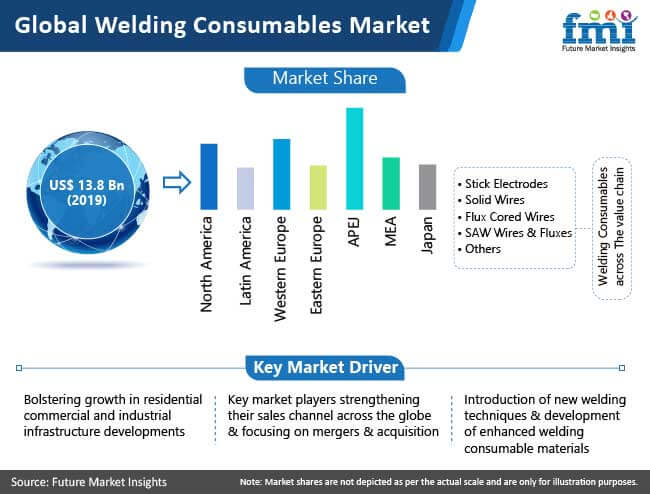 Welding Consumables Market Structure Analysis
The market for welding consumables is highly competitive, with numerous regional and small-scale players accounting for more than half of the market pie.
Global players are strengthening their position in regional markets where they have relatively lower presence through mergers and acquisitions of regional entities. Such strategies are transforming the market into a consolidated one, across the globe.
Key participants in the welding consumables market such as Colfax Corporation, Denyo Co., Ltd., The Lincoln Electric Company, Voestalpine AG, Ltd., Illinois Tool Works Inc., Hyundai Welding Co., Kemppi Oy, and Air Liquide, among others, are focusing on new product development.
Welding Consumables Market: Segmentation
The global welding consumables market is segmented on the basis of welding consumables, application, and region.
Welding Consumables
Stick Electrodes
Solid Wires
Flux Cored Wires
SAW Wires & Fluxes
Others
Application
Automotive & Transportation
Building & Construction
Marine
Others
Region
North America
Latin America
Western Europe
Eastern Europe
APEJ
Middle East & Africa
Japan
Need specific information?