Yogurt Powder Market - Key Research Findings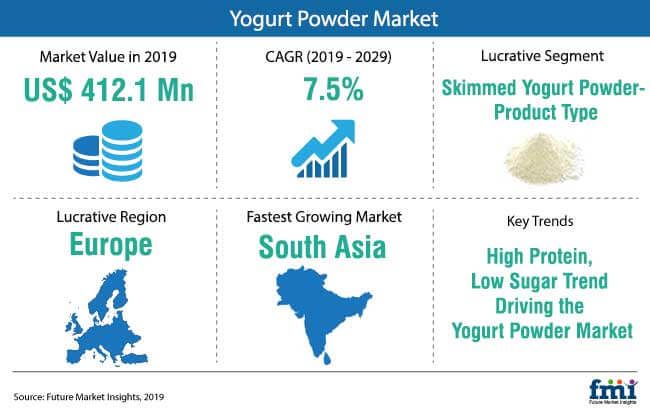 Global yogurt powder market size in 2018 – Nearly US$ 200 Mn
The yogurt powder market will observe just-under 7.5% CAGR over 2019-2029
North America and Europe will remain the most prominent regional markets for yogurt powder

The demand for yogurt powder in the North American region is high owing to the large number of health conscious population.

Middle East & Africa likely to hold higher growth potential for yogurt powder market

Middle East and Africa is expected to have a very high CAGR between the period of 2019-2028, which is attributed to high demand for dairy products and better shelf-stability of yogurt powder.

Based on product type, skimmed yogurt powder is expected to have a higher growth.

The demand for skimmed yogurt powder is expected to be high in the near future because of the increasing population being health conscious and cutting down on fats.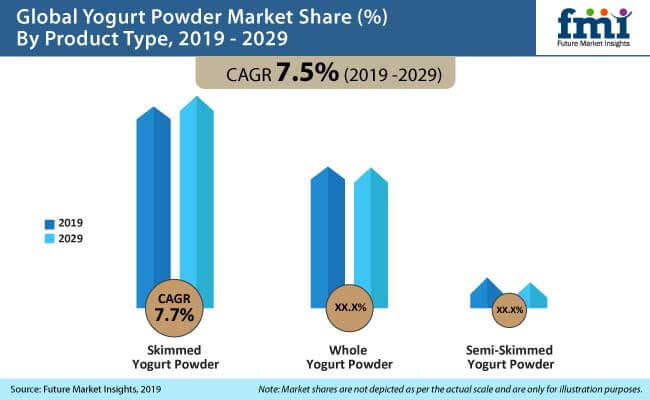 Top 3 Factors Driving Yogurt Powder Market
Rising Demand for Gut-friendly Probiotics among an Expanding Consumer Base

Consumers are becoming more conscious about gut health, as the prevalence of health conditions associated with digestive system is increasing at a high pace. Probiotics have been perceived as beneficial consumables for maintaining sound digestive health and the consumer base has been constantly on the rise, since the recent past.

The demand for yogurt powder is thus directly influenced by the rising proclivity for probiotics in routine diet. Moreover, powdered form of yogurt further adds to the level of convenience, which remains a strong factor assisting the demand growth of yogurt powder.

Yogurt Powder Rapidly Becoming an Appealing Choice for Foodservice Operators and Food Processing Manufacturers

Yogurt powder packs in all the health benefits that fresh yogurt offers, which have been pushing its penetration into the foodservice as well as food processing sectors. Longer shelf-life of powdered yogurt is an added benefit over fresh yogurt. Applicability of yogurt powder has widened over the time, from savory to desserts, without compromising on the nutritional composition.
Bakeries are increasingly considering usage of yogurt powder as a healthy sprinkler and a nutritional filling in various baked products. Moreover, rising usage is expected across the household segment, further fueling the growth of yogurt powder market. Considering high compatibility of yogurt powder with the surging trend of 'clean label' food products, it is highly likely that the consumption of yogurt powder will witness a promising rise in coming years.
A recent survey by a specialty agency Ingredient Communications found that, more than 73% of consumers are happy to pay a higher retail price for a clean label product that they purchase, which has ingredients that they trust and recognize.
R&D Investments to Play a Crucial Part in Yogurt Powder Sale, as Innovation is Expected to Drive Margins
Significant investments in R&D facilities for the improvement of manufacturing processes of food products, innovate, and add value to them in terms of nutritional profile, are likely to provide a strong push to product innovations in the yogurt powder landscape.
Consumers shopping at super/hypermarkets or C-stores often seek innovative products on shelves and new product line-ups are more likely to sell. The same trend has been observed in case of yogurt and the entire range of yogurt related products. Packaging also plays a vital role in enhancing the overall market value of yogurt powder, according to the report.
Yogurt Powder Market Structure Analysis
The global yogurt powder market represents a partially consolidated competition landscape, wherein nearly 35-40% revenue share is being accounted by Tier 1 companies.
Top players in the market such as Glanbia Plc, Epi Ingredients, Ace International LLP, Almil AG and Kerry Inc., have been substantially contributing towards the revenue growth of yogurt powder market.
While most of the key players are focused on the high-potential markets in Middle East and Africa, as well as Asia.
Several players in the yogurt powder market are concentrating on skimmed yogurt powder to target the health conscious consumer cluster. However, cost competitiveness is likely to remain a strong differentiation strategy.
Some of the important entrants in the yogurt powder market such as PreGel America, Inc. and Kerry Inc. are strategizing on new product launches, San-A-Crème Non-fat Yogurt Powder, Greek Yogurt Powder, and Yoggi are a few among the latest - for extended portfolios.
The increasing number of international food & beverage market players entering the yogurt powder market is expected to shape the competition landscape in the near future.
Yogurt Powder Market: Segmentation
On the basis of product type, the market for yogurt powder is segmented as-
Skimmed Yogurt Powder
Semi-Skimmed Yogurt Powder
Whole Yogurt Powder
On the basis of nature, the market for yogurt powder is segmented as-
On the basis of flavour, the market for yogurt powder is segmented as-
Regular
Flavoured

Berries
Vanilla
Chocolate
Peach
Mango
Banana
Apple
Others (Passion Fruit, Blends)
On the basis of application, the market for yogurt powder is segmented as-
Food Industry
Beverages
Cosmetics and Personal Care
On the basis of end user, the market for yogurt powder is segmented as-
Household
HoReCa
Industrial

Food & Beverage Processors
Cosmetic Manufacturers
On the basis of distribution channel, the market for yogurt powder is segmented as-
B2B
B2C

Store-Based Retail
Modern Grocery Retailers
Hypermarkets/Supermarkets
Convenience Stores
Food & Drink Specialty Stores
Independent Small Groceries
Online Retail
On the basis of region, the market for yogurt powder is segmented as-
North America
Latin America

Brazil
Mexico
Rest of Latin America

Europe

Germany
Italy
France
U.K.
Spain
BENELUX
Nordic
Russia
Poland
Rest of Europe

East Asia
South Asia

India
Thailand
Indonesia
Malaysia
Singapore
Rest of South Asia

Oceania
Middle East and Africa

Turkey
GCC Countries
South Africa
Rest of MEA
Need specific information?