Non-dairy Yogurt Market Outlook
Non-dairy yogurt is found to have numerous health benefits, including a decrease in inflammation, weight loss, and improvement in metabolic rate. It is also known for absorbing minerals better. Since the demand for healthy meals on the plate has increased significantly, it is pertinent to note that sales of non-dairy yogurt are likely to grow significantly.
Manufacturers are leveraging the good position established by the low-fat yogurt products to market about non-dairy yogurt products during the forecast period. During the COVID-19 crisis, the focus of consumers has been on increasing their immunity. Since calcium and protein are found to have rich sources for essential fats, amino acids, vitamins, minerals, and more, individuals are viewing it as a source to improve their health conditions.
Companies in the non-dairy yogurt market are increasing their focus on different strategies, including collaboration, partnerships, innovation, mergers and acquisitions, expansion, and product innovation. Numerous advanced technologies are used by manufacturers operating in the non-dairy yogurt market to receive a competitive edge over their competitors.
In addition, the waves of veganism are also likely to have an impact on the sales of the non-dairy yogurt during the forecast period. Manufacturers are coming up with different nuts to extract milk for the preparation of yogurt that includes cashew, almond, pistachios, hazelnuts, coconut, etc. In addition, numerous seeds such as hemp, soy, and flax are also seen as potential products to prepare non-dairy yogurt. Given this influence, there is a massive uptake in sales of vegan yogurt.
The post-COVID-19 scenario for the non-dairy yogurt market seems favourable, as consumers are looking for value in their meals. The shift to nutritional food products is likely to persist, thereby turning a conducive environment for the growth of the non-dairy yogurt market during the forecast period.
Key Growth Influencers - Non-Dairy Yogurt Market
Increasing Incidences of Lactose Intolerance and Lactose Sensitivity
According to the study published by National Institute of Health in 2019, approximately 65% of the global population is lactose intolerant and the study of Food Allergy Research & Education in 2019 says, about 2.5% of children below the age of three are allergic to milk. Ingredients such as soy, almond, coconut, oat, rice and many other are finding increasing adoption in processing of nondairy yogurt products. Soy based yogurt contributed the most i.e approximately 80%, among all product ranges of Non-Dairy Yogurt past five years.
Novel and Exotic Flavors Attracting Consumers
Currently, the trend of exotic and novel flavors is rising rapidly in the food and beverages market. Manufacturers are introducing savory and vegetable/plant-based yogurts such as carrot, squash, and beet. Moreover, such plant-based yogurts are packed with nutrition that attracts the millennial generation. Thereby, it creating a positive scenario in the non-dairy market among the consumers.
Asia Pacific excluding Japan to grab a major chunk of the global market pie
Asia Pacific excluding Japan (APEJ) remains one of the most prominent markets for food and beverage manufacturers globally. The region is home to the world's leading food producers, importers, and exporters. There are opportunities galore as the region is also home to some of the world's most populous countries. Satisfying the growing and evolving needs of such a large consumer base will entail new solutions. It is estimated that by 2050, the global population will reach nearly 10 billion, and a large percentage of this population will be based in APEJ.
According to the National Institutes of Health, 80% of both Asian and African people have lactose intolerance. Owing to the rise in number of lactose intolerance cases, consumers are looking out for lactose free dairy products for daily consumption. The Asian yogurt market has been well established since ages.
Yogurt is believed to have originated thousands of years ago in Eastern Europe and Asia. However, due to the rapid rise in the lactose intolerant population, consumers are now switching to plant based yogurt having core ingredients such as soy milk, almond milk, coconut milk, and hemp milk among others.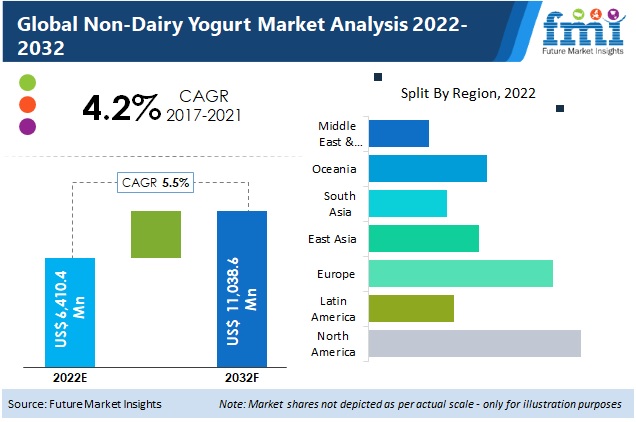 Non-Dairy Yogurt Market Structure Analysis
The global non-dairy yogurt market represents a fairly combined competition landscape, where the key players uphold their strategic focus on the development through research and development to introduce new products along with that these manufacturers follow solid distribution partnerships, with a target of stronger global footprint.
Portfolio extension is also recognized as one of the key developmental strategical step adopted by manufacturers of the non-dairy yogurt market. In Europe, notable developments that the food and beverage industry needs to lookout for are stricter monitoring of unfair trade practices (UTPs) by the European Commission (EC).
Many food and beverage manufacturers are currently assessing the risk to business once Brexit comes into effect. As the timing and full impact of Brexit is still uncertain, food and beverage companies are focusing on taking preventive action to secure their business interests.
The evolving tastes and preferences of consumers are not lost on manufacturers, as offerings have been broadened to accommodate organic and natural food products. Many established players are focusing in acquiring smaller companies which have the expertise and reputation of being pros in specific organic and natural domains.
These smaller companies have deep brad loyalty, and owing to the small scale of production, it is much easier for them to come up with innovative products. These factors, combined with increasing emphasis on organic and natural, are likely to make smaller companies attractive targets for mergers and acquisitions.
Non-dairy Yogurt Market - Report Scope
Attribute

Details

Forecast Period

2014-2018

Historical Data Available for

2019-2029

Market Analysis

US$ for Value and MT for Volume

Key Regions Covered

North America, Latin America, Europe, East Asia, South Asia, Oceania, and Middle East & Africa (MEA)

Key Countries Covered

U.S, Canada, Mexico, Brazil, Chile, Peru, Argentina, rest of Latin America, France, Germany, Italy, UK, Russia, Rest of Europe, South Korea, Indonesia, Malaysia, Singapore, Taiwan, Thailand, Rest of South Asia, Japan, Australia, New Zealand, China, India, GCC, Turkey, Rest of MEA, & South Africa

Key Segments Covered

Product Type, Form, Nature, Flavor, Sales Channel, Region

Key Companies Profiled

The Hain Celestial Group Inc.
Danone SA
Nestlé SA
Chobani, LLC
Forager Project, LLC,
Valio Ltd
Stonyfield Farm Inc.,
Daiya Foods Inc.
Springfield Creamery Inc.
The Coconut Collaborative
COYO Pty Ltd.
GT's Living Foods LLC

Report Coverage

Market Overview, Key Market Trends, Key Success Factors, Demand Analysis, Market Background, COVID-19 Analysis, Segmental Analysis, Regional Profiling, Market Structure & Competition Analysis

Customization & Pricing
Non-Dairy Yogurt Market: Segmentation
The global non-dairy yogurt market is segmented in detail to cover every aspect of the market and present complete market intelligence to the reader.
Product
Soy Yogurt
Almond Yogurt
Coconut Yogurt
Oats Yogurt
Rice Yogurt
Pea Yogurt
Others
Nature
Form
Flavor
Plain/Unflavored
Flavored
Sales Channel
B2B (HoReCa & Other Food Services)
B2C

Modern Grocery Retailers
Hypermarket/ Supermarket
Convenience Store
Specialty Store
Online Retailers
Wholesalers
Other Retail Forms
Region
North America
Latin America
Europe
East Asia
South Asia
Oceania
Middle East & Africa
Need specific information?