Plant-based Yogurt Market Outlook & Key Findings
Future Market Insights (FMI) forecasts a positive outlook for global plant-based yogurt market and projects a CAGR of 10% between 2020 and 2030
Plant-based snacks will secure hot-selling tag as consumers tilt in favor of healthy and vegan diet
Over 50% of plant-based yogurt produced last year was derived from nut, finds FMI
Despite availability in various flavors, regular plant-based yogurt will remain consumer favorites, accounting for nearly one-fourth of the market
Other factors cited by FMI includes rising prevalence of lactose intolerance and a strong desire to align one's food choices with environmental sustainability
Plant-based Yogurts are here to Stay But Can They Topple Dairy-based Yogurt?
Considered to be at a nascent stage until a few years ago, the plant-based yogurt market boomed; thanks, partially to flexitarians: people buying dairy products one day and non-dairy the next. Not only has the taste of these yogurts vastly improved, there is more option in flavors than ever.
FMI projects the market's valuation to surpass US$ 5.0 Bn by 2030. Looking at the rising popularity of vegan lifestyle and considerable drawbacks of commercial animal agriculture, it comes as no surprise that entrepreneurs are investing in plant-based yogurts.
It is safe to say, plant-based yogurts and drinks make a growing category. They are hand in glove fit for consumers' desire to enjoy delicious food, good for them as well as the planet.
Taste for Exotic and Novel Flavors Tips Scales in Favor of Plant-based Yogurt
Consumers' interest for conventional flavors is fading away faster than expected. They are seeking out more indulging experiences and are not likely to shy away from trying exotic and novel flavors. Their dynamic choices have sparked plenty of innovations in plant-based products, inspiring better creativity to satiate the sweet cravings.
The world of cultured dairy is getting bigger in size and shelves are more crowded than ever. In last couple of years we have witnessed the emergence of various interesting trends that are poised to diversify and strengthen the plant-based yogurt market.
Health experts are touting the many benefits of consuming cultured yogurt such as improving gut health and weight management. Aiding this is the introduction of new flavors in plant-based products.
For instance, a U.S. based company, Yooga has launched plant-based yogurt in an array of innovative flavors, including sea salt chocolate and turmeric golden milk. Such innovations enabling companies gain competitive advantage.
Consumers Have Grown Fonder for Natural Products and Authentic Tastes
With the rising popularity of plant-based products and significant drawbacks of their industrial counterparts, vegan food producers are catering to demand uptick. When consumers navigate between dairy and non-dairy options, they are looking for functional benefits.
Some brands are therefore positioning their products beyond plant-based category with additional functional claims such as a rich source of protein or probiotic. This trend has successfully penetrated into countries such as India, China, Brazil, and Poland.
According to a recent survey conducted by Koninklijke DSM N.V., a science-based company, more than half (55%) of urban consumers believe that "fresh or natural" ingredients and flavor make products tastier and more delicious.
Proper and comprehensive product labelling is therefore imperative for companies to woo consumers. Some of the leading beverages manufacturers are therefore updating their product portfolio to include more plant-based products such as non-dairy or plant-based yogurt, cheese, and milk among others.
Retail Channels with Enhanced In-store Experience to Remain Popular among Consumers
FMI reveals that food & beverage retail stores have account for over 80% the overall plant-based yogurt market, followed by food service providers. Retail stores satisfy a customer's need to try out products, carefully read its label, and enjoy instant gratification.
The retail industry is evolving, especially since recent advances in technologies offer a plethora of ways of improving in-store experiences. Even at the age of omni-channel shopping, consumers prefer the sensory experience of seeing and actually touching the product before buying it.
A consumer's keenness on purchasing an item and getting it on the same day is supporting the surging retail sales of plant-based yogurt. Against this backdrop, some of the leading brands are partnering with retail stores to make their products available at the most lucrative pockets in the market.
For instance, in 2020 Lyrical Foods, Inc. has made partnership with U.S. based retailers such as Instacart, FoodKick, and Wegmans to offer various plant-based yogurts.
High Potential Markets are Dormant but Ripe for Investments
North America and Europe continue to be the most lucrative markets for plant-based products in general and plant-based yogurt in particular. Changing dynamics however is favoring growth in East Asia.
As per FMI, Europe, North America, and East Asia account for more than 60% of the global market. These regions will continue helming the global market through the course of the forecast period.
Let's look into a few factors enabling growth across the world:
Increasing prevalence of lactose intolerance among people in Europe is fuelling the demand for plant-based yogurt. The antioxidant properties of plant-based products such as almond milk yogurt can protect against heart diseases and cancer
According to the Plant Based Food Association, 33% of the Americans are actively decreasing their dairy and meat consumption, which is creating a demand for plant-based products. This creates an environment conducive to the growth of the plant-based yogurt market in North America
The rising health consciousness among consumers is central to the growth of veganism in Asia Pacific. Inevitably this would bolster growth prospects for plant-based yogurt market
According to the God Food Institute Organization, Latin America is the fifth most important market for healthy food industry across the world.  It comes as no surprise that giants such as General Mills, Inc. has entered in the Brazil market to increase its revenue.
The Middle East and Africa has swiftly graduated as an important market for plant-based yogurt. Besides the rising demand for vegan products, increasing application in convenience foods and other sectors will aid the expansion of the market
Despite difference in consumer preference across key regions, there is certain similarity in the variance of product pricing. For instance, prices of conventional plant-based yogurt vary across regions.
As depicted in the chart below, conventional yogurts are priced lower in North America than the Middle East and Africa. However, across all regions the price point of organic plant-based yogurt is much higher than their conventional counterparts.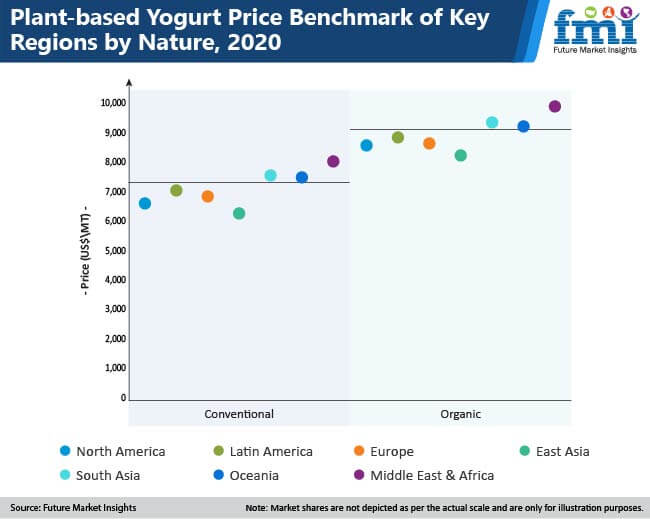 Key Players Aim at Competitive Advantage via Strategic Collaborations and Product Launches
The presence of several behemoths has rendered the global plant-based yogurt market highly consolidated.  According to FMI, nearly 70% of the market belongs to Tier 1 companies. Most companies are concentrated in Asia Pacific, Europe, and North America.
Boosting their portfolio and expanding distribution networks are key strategies adopted by companies to gain competitive strength. With multinational companies focusing on acquisition and setting up production units in emerging countries, FMI projects the global market to expand at an impressive pace.
Consumer-centric approach is highly sought-after among most companies For instance, their product launches are steered by adequate plan and study on consumers' behavior pattern. Against this backdrop, more companies are introducing exotic ingredients in non-dairy yogurts.
Derived from organic sources, Forager Project, LLC touts its range of organic plant based yogurt as the only one traditionally cultured using live and active probiotics. Then there is, Califia Farms, which has launched a range of drinkable plant-based yogurts that have coconut and almond base and offer probiotics as part of whole food.
Besides this, scales are tipping in favor of non-GMO and organic non-dairy products:
In 2020, Lyrical Foods, Inc. launched two innovative plant-based products, which include Kite Hill Sour Cream Alternative and Kite Hill Blissful. The latter is a coconut milk-based yogurt, while Kite Hill Sour Cream is manufactured with a blend of almond milk and coconut milk.
In 2020, Stonyfield Farm, Inc. launched daily probiotic plant-based yogurt drink in pomegranate, blueberry and strawberry flavors – a first of its kind to be available in North America.
While product launches remain a key strategy, there is ample focus on strategic collaborations and expansion in the market.
In 2018, Daiya Foods Inc. announced to expand its production capacity to meet the growing demand for plant-based products. The company intended to move its operations from Vancouver to British Columbia. The new 400,000 square foot facility will help the company to increase its revenue.
Top Plant-base Yogurt Brands in the Market
Plant-based yogurt market exhibits impressive scope of growth. Lured by the possibilities of maximizing revenue, an increasing number of new companies are venturing into the market.
With an estimated 100+ plant-based yogurt players with personalized packaging, innovative flavors, and variety of claims including clean-label claims, competition is rising at a steady pace. Following list of brands are commonly preferred brands around the globe in plant-based yogurt category:
Callifia
Chobani
Forager
Good Plants
Good Karma
Kite Hill
LAVVA
Nancy's
Silk
So Delicious
Mentioned below are other key players in the plant-based yogurt market:
Americas
General Mills Inc.
The Hain Celestial Group Inc.
Trader Joe's
Lyrical Foods, Inc.
Stonyfield Farm, Inc.
Europe
Danone S.A.
Valsoia S.p.A
Granarolo S.p.A.
Oatly AB
TRIBALLAT NOYAL
The Coconut Collaborative
GT's Living Foods LLC.
Asia Pacific
COYO Pty Ltd.
King International Operations Pty Ltd
*The list is not exhaustive, and only for representational purposes. Full competitive intelligence with SWOT analysis available in the report
Plant-based Yogurt: The Green Future Ahead
As with other non-dairy food items, consumers are looking at taking advantage of various health benefits of plant-based yogurt. The nutrient profile of these yogurts however depends on the source they are derived from, processing technology and fortification methods.
Lactose intolerance is very common and affects a large number of people around the world. The rising prevalence of dairy intolerance will aid the expansion of plant-based yogurt market as well.
The consistently rising spending on research and development creates prospects for the discovery of innovative and unique plant-based sources of yogurt. These efforts have resulted in the introduction of pea-based yoghurt by companies such as Elmhurst Milked Direct, LLC.
Besides rising demand for healthier and vegan alternatives, the market will gain from various expansion and marketing initiatives undertaken by the leading players.
Market Segmentation
The global plant-based yogurt market is segmented in detail to cover every aspect of the market and present complete market intelligence to readers.
Nature
Product Type
Cereal Type
Oat
Legume

Soy
Pea
Peanut
Lupin
Chick Pea

Nut

Almond
Coconut
Hazelnut
Pistachio
Walnut
Cashew
Pili Nut

Seed

Sesame
Flax
Hemp
Sunflower

Pseudo Cereal

Quinoa
Teff
Amarnath
Cassava
Flavour
Regular
Vanilla
Strawberry
Blueberry
Cherry
Peach
Raspberry
Coconut
Coffee
Others
Price Range
Economic
Mid-Range
Premium
Sales Channel
Food Service
Retail
Modern Trade
Convenience Stores
Specialty Stores
Discounters
Independent Small Groceries
E-commerce
Others
Global
North America
Latin America
Europe
East Asia
South Asia
Oceania
MEA
Need specific information?