Global Online Food Delivery Services Market to Surpass US$ 4,200 Mn by 2029
The global online food delivery services market is projected to reach US$ 937.8 Bn by the end of 2029. The market was valued at US$ 1.7 Bn in 2019. If these figures hold true, the market will exhibit a CAGR of 9.5% between 2019 and 2029. Regionally, North America is expected dominate the market.
However during the forecast period, Asia Pacific is likely to exhibit growth at a higher pace. In terms of type, the platform-to-consumer segment is forecast to show impressive growth in the coming years. The rising investment in this model will drive the segment especially across capital cities. However, as of 2019, restaurant-to-consumer segment dominated the market. The model will thrive on the back of subscription programs and loyalty restaurant owners offer to their consumers.
Rising Online Exposure of Consumers and Expansion of Delivery Aggregators Back Growth
Online exposure of consumers has increased in leaps and bounds. Augmenting their online exposure are rising internet penetration and incredibly improved accessibility to smartphones. The scenario has helped several markets to thrive. Online food delivery services are potentially amongst the ones who benefitted the most out of the current situation.
The success of this industry is apparent in the remarkable expansion of delivery aggregators such as Swiggy and Zomato in the Indian market. In addition to this, there are social factors such as increasing number of families with dual income earners and changing lifestyle of consumers giving impetus to the online food delivery services market.
Consumers use either mobile applications or desktop/ website to place order online. Of these, an increasing number of them are using mobile applications to place their food order online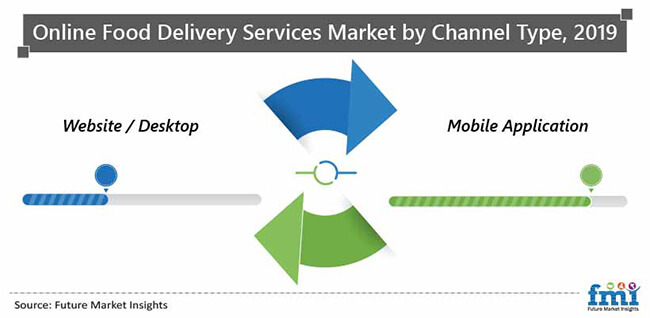 North America Emerged Dominant, Exhibiting High Volume of Online Food Orders
Regionally, the global online food delivery services market covers North America, Europe, APEJ, Japan, Latin America, and the Middle East and Africa. Among these regions North America currently leads the market. Factors such as high exposure to online food delivery services and access to advanced technologies are driving the market in North America.
In addition to this, the demand for online food delivery services is expected to increase considerably in Asia Pacific. The rising per capita income of consumers besides increasing use of smartphones and increasing adoption of smart technologies will enable growth in the Asia Pacific market.
Rising Awareness among Consumers will Stoke Growth Opportunities
The rising awareness among consumers about the online food delivery services will drive the market. In addition to this, the market will benefit from their increasing disposable incomes and consequent willingness to spend on technologies that make their lives easier. The expansion of the ecommerce industry is another chief factor driving the online food delivery services market.
FREQUENTLY ASKED QUESTIONS ABOUT ONLINE FOOD DELIVERY SERVICES MARKET
What drives the online food delivery services market?
Increasing internet penetration and access to smartphones drives the global online delivery services market.
Which factors put online delivery services market at risk?
Despite robust growth opportunities, the fluctuating pricing model in the market may hinder its growth.
Which region will lead the global online food delivery services market?
North America currently holds dominance in the market. The high disposable income of consumers, together with access to advanced technologies drives the market in North America.
Which channel type offers most lucrative growth opportunities?
Consumers prefer mobile applications more than websites to place their online food delivery orders.
Which segment based on payment method will record the highest growth in online food delivery services market?
Among cash on delivery and online payment methods, the latter is likely to become more popular in the near future. The rising awareness about digital money will encourage consumers to opt for online payments
Market Segmentation
By Type
Restaurant –to- Consumer
Platform - to- Consumer
By Channel Type
Website/ Desktop
Mobile Application
By Payment Method
Region
North America
Latin America
Europe
APEJ
Japan
Oceania
Middle East & Africa
Need specific information?
Talk Show:
The Rise of Intelligent Packaging
Personalized, Connected and Sustainable
November 18, 2021
11:00-11:45 AM PST (USA & Canada)
This is a LIVE session