Actinic Keratosis Treatment Market By Treatment Category (Topical Treatment, Procedural Modality, Photodynamic Therapy), Disease (Clinical AK, Subclinical AK) End User (Hospitals, Private Dermatology Clinics, Laser Therapy Centers) & Region - Forecast to 2019 - 2029
Actinic Keratosis Treatment Market - Analysis, Outlook, Growth, Trends, Forecasts
December 2019

REP-GB-3233

258 pages
KEY FACTORS SHAPING ACTINIC KERATOSIS TREATMENT MARKET
Launch of Pipeline Products for Actinic Keratosis Treatment
Various topical medication options are available for actinic keratosis treatment, which have given dermatologists an upper hand to prescribe appropriate treatment approach. There are currently 39 studies in phase 4 for actinic keratosis treatment under U.S. FDA. These studies involve potential drugs, combination drugs, and up gradation of existing drugs. For instance, Aclaris Therapeutics, Inc. is focusing to get approval for 101-A solution (currently in phase 4), a topical treatment option for actinic keratosis.
Hence, new product launches are expected in the coming years as large number of products for approval are in pipeline for actinic keratosis treatment. This is expected to offer competitive advantage to manufacturers in the actinic keratosis treatment market.
Low Treatment Cost and Favorable Reimbursements
Low treatment cost for actinic keratosis along with favorable reimbursements by Medicare and Medicaid are factors expected to boost growth of the market during the forecast period. The cost of topical treatment for actinic keratosis depends on the patient's preference for branded or generic products. For patients with health insurance, out-of-pocket cost of visiting dermatology clinics is around US$ 5 - US$ 30.
Cryotherapy is the most common treatment for actinic keratosis that costs around US$ 400, whereas laser therapy can cost around US$ 100-5,000 depending upon the need of the treatment. Medicare also provides different CPT codes for the treatment of actinic keratosis by different methods such as photodynamic therapy and cryotherapy.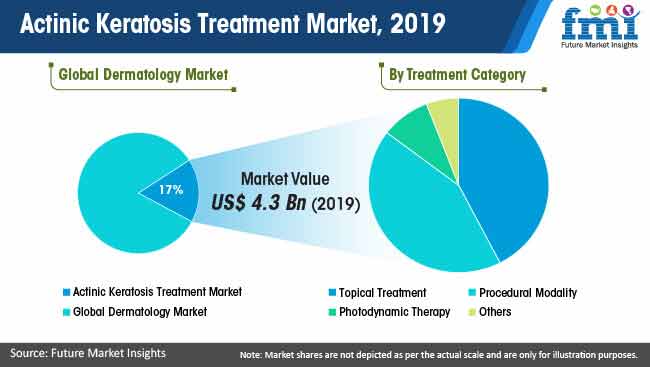 Photodynamic Therapy - Successful Treatment Approach for Actinic Keratosis
Photodynamic therapy (PDT) is one of the most successful treatment options for actinic keratosis. Hence, it is mostly prescribed by physicians when topical treatment or Cryotherapy are not effective. Although the success rates for photodynamic therapy are high, it is not cost effective. This is offering other dermatological product manufacturers to launch their products for photodynamic therapy with less cost to upsurge their revenue growth.
Currently, Levulan Kerastick by Sun Pharmaceutical, Ameluz by Biofrontera, and Metvix by Galderma are the major products available in the market for photodynamic therapy. These brands are estimated to gain a majority of the market share in the actinic keratosis treatment market.
ACTINIC KERATOSIS TREATMENT MARKET STRUCTURE ANALYSIS
The global actinic keratosis treatment market is fairly competitive. Business expansion through acquisitions, collaborations, partnerships, and expanding distributor network are the key strategies pursued by major participants in the actinic keratosis treatment market.
Market leaders such as Anika Therapeutics, Inc., Hugel, Inc., Mentor Corporation, Horizon Pharma, and Gordon Laboratories contributed about 32.1% revenue share in the market in 2018.
The global for actinic keratosis treatment market is highly consolidated for photodynamic therapy with top two brands such as Metvix from Nestle Skin Health and Levulan Kerastick from Sun Pharmaceutical, which is estimated to account for 88.1% market share.
For a greater hold in the target market, actinic keratosis treatment market leaders are continuously emphasizing on strategies such as mergers and acquisitions. For instance, in August 2018, Leo Pharma completed the acquisition of Bayer AG's global prescription dermatology portfolio. This agreement enabled Leo Pharma to expand its key markets worldwide and broaden its therapeutic areas.
Topical Treatment and Procedural Modality Preferred for Multiple Actinic Keratoses Treatment
Topical treatments and procedural modality account for more than three-fourth revenue share in the actinic keratosis treatment market. Whereas, the adoption of photodynamic therapy will increase at a significant CAGR over the next decade.
Topical creams containing fluorouracil, which is a chemotherapy drug, and other medications such as diclofenac which is a analgesics and Imiquimod (INN) gels, are commonly prescribed in case of multiple actinic keratoses. The combination therapy of fluorouracil and cryotherapy with the help of dermatological cryosurgery units is also implemented owing to its high success rate in treating actinic keratosis.
Adoption Rate Remains Higher in Developed Regions
Actinic keratosis is one of the most commonly diagnosed skin disease in developed countries such as the U.S., Australia, and some of European countries, including Germany, France, and the U.K. An increasing number of stakeholders in the actinic keratosis treatment market are thus eying profits in these countries so as to tap their lucrative growth potential.
Furthermore, despite the cost of actinic keratosis treatments being high in North America and Europe, high healthcare spending pattern would continue to create profitable opportunities for market players in these regions.
Rise in Incidence of Clinical Actinic Keratosis Influence Winning Strategies
While the prevalence of actinic keratosis is increasing across the population in most developed countries, awareness about the risk of disease progression towards the development of a cancer is compelling dermatologists for more clinical investigations. This has further pushed the diagnostic statistics vis-à-vis clinical actinic keratosis, consequently influencing the clinicians' choice of treatment for the condition.
Leading players in the actinic keratosis treatment market are noticing the change in epidemiology of clinical actinic keratosis by conducting trials to assess the efficacy of various combinations of treatments for clinical actinic keratosis lesions. Growing awareness about the severity of clinical actinic keratosis lesions will hold a significant impact on emerging trends and stakeholders' strategies.
How Growth will Unfold
Actinic keratosis is prominently one of most frequently observed premalignant skin diseases in the white population of the US and the EU. The elderly, fair-skinned, and immunocompromised individuals in the U.S. are highly vulnerable, as prevalence of clinical actinic keratoses is significantly high in the country. Hospitals in the U.S. are thus focusing on apt actinic keratosis treatments to improve their clinical outcomes.
However, as the disease is closely linked with skin cancer, the adoption of treatment at cancer treatment centers is also buckling significantly. Rise in prevalence of solar-induced actinic keratoses will particularly create opportunities for market participants in the U.S. and European countries.
World's Most Profilic Intelligence Engine
Get Access To The World's Largest Market Research Database.
Sign Up Now
ACTINIC KERATOSIS TREATMENT MARKET TAXONOMY
FMI's study on the actinic keratosis treatment market offers information divided into four important segments- treatment category, disease type, end user, and region. This report offers comprehensive data and information about the important market dynamics and growth parameters associated with these categories.
Treatment Category
Topical Treatment

5-Fluorouracil Cream
Diclofenac Gel
Imiquimod Cream
Ingenol Mebutate Gel

Procedural Modality

Chemical Peels
Cryotherapy

Photodynamic Therapy
Others
Disease
Clinical AK
Subclinical AK
End User
Hospitals
Private Dermatology Clinics
Laser Therapy Centers
Cancer Treatment Centers
Spas and Rejuvenation Centers
Homecare Settings
Region
North America
Latin America
Europe
East Asia
South Asia
Oceania
Middle East and Africa
Need specific information?
Our Clients