Americas COVID-19 Testing Market by Test Type (SARS-CoV-2 IgM/IgG Antibody Rapid Test Kits, SARS-CoV-2 Antigen Rapid Test Kits, Multiplex Real-Time RT-PCR Assay Kits), Sample Type (Blood, Nasopharyngeal Swabs), Distribution Channel & Region - Forecast to 2021-2031
Americas COVID-19 Testing Market - Analysis, Outlook, Growth, Trends, Forecasts
July 2021

REP-GB-13636

200 pages
Americas COVID-19 Testing Market Snapshot
The Americas COVID-19 testing market revenue totaled US$ 4,508 Mn for 2021, finds Future Market Insights (FMI) in a new study. The overall COVID-19 testing market size in the Americas is expected to surpass US$ 7,264.4 Mn by 2031. FMI projects the demand in the market to rise at a CAGR of 4.9% for 2021 - 2031.
Unprecedented COVID-19 outbreak, its rapid spread on a global scale, and the relatively high risk of morbidity and mortality have caused the demand for COVID-19 testing to skyrocket. Demand for sampling kits with nasopharyngeal swabs will rise at a high pace, accounting for over 86% of sales in Americas in 2021.
Key Points Covered in Americas COVID-19 Testing Market Study
Market estimates and forecast 2016-2031
Key drivers and restraints impacting market growth
Segment-wise, Country-wise, and Region-wise Analysis
Competition Mapping and Benchmarking
Brand share and Market Share Analysis
Key Product Innovations and Regulatory Climate
COVID-19 Impact on Americas COVID-19 Testing Market and How to Navigate
Recommendation on Key Winning Strategies
Americas COVID-19 Testing Market Forecast Outlook 2021-2031 in Comparison to Sales Registered in 2016-2020
According to Future Market Insights (FMI), the sales of COVID-19 testing kits in the Americas are expected to grow at almost 5% CAGR between 2021 and 2031. The SARS-Cov-2 virus is highly infectious and can spread at a very high rate. It can cause health concerns such as mild fever, cough, cold, and body aches. If left unchecked it might even prove fatal.
To detect the virus early and to reduce its spread, it is important to diagnose the presence of infection in human body. Early detection aids timely treatment that can help controlling symptoms and offering better patient care. Nasopharyngeal swab samples are most commonly used due to high availability and convenience.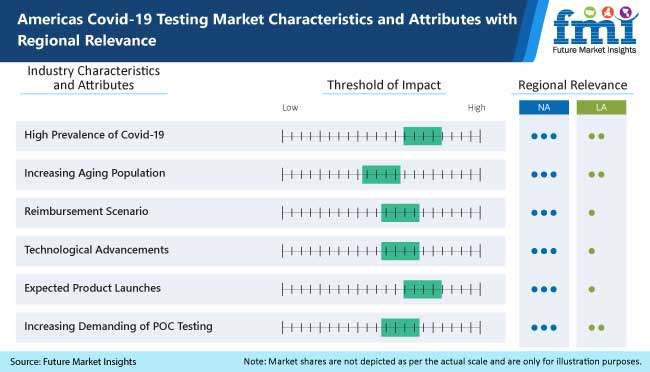 The report presents insights into key market players and strategies they adopt to gain competitive edge. There is high focus on collaborations among market players as they aim for expanding COVID-19 testing product portfolios.
For instance, in March 2020, Biolidics Limited, a medical technology company known for developing advanced diagnostic solutions acquired Biomedics Laboratory to boost its commercialization capabilities and to bolster its revenue model.
In June 2021, SD BIOSENSOR, gained the CE certification for its product 'SARS-CoV-2 Antigen Self-Test Nasal'. The developmental stages of advanced Americas COVID-19 testing require significant capital. With the rise in the number of new entrants, overall research and development expenses are projected to rise exponentially, with collaborations and licensing agreements for research institutes.
With healthcare spending consistently rising in developed countries, the demand for COVID-19 testing in the Americas is expected to rise over the coming decade.
How will Increasing Focus on Vaccination Affect COVID-19 Testing Kits Sales?
With the focus gradually shifting on vaccination, the interest in testing products is expected to wane in the near future. However, in the long run COVID-19 testing is expected to become a common practice for diagnosis of patients who have flu like symptoms.
E-commerce is gaining popularity in the last few years owing to the prominence of the internet. Also, the COVID-19 pandemic is creating a scenario where online sales are preferred due to social distancing rules. As a result, online availability of COVID-19 self-testing kits is expected to surge, in turn creating lucrative prospects for growth in the Americas.
What Factors will Restrain COVID-19 Testing in the Americas?
Risk of diagnostic errors is a critical factor that is restraining the market . COVID-19 is a novel disease and knowledge about this disease is very limited. This increases the risks of error in the diagnostic systems. False positives or negatives can lead to various problems and complications in the treatment process.
With the launch of vaccines, the pandemic situation is expected to gradually subside, thereby reducing the number of tests required. Such obstacles would have a direct impact on the overall user convenience of COVID-19 testing in the Americas, thereby limiting revenue generation options.
Country-wise Insights
How is the COVID-19 Testing Market Faring in the U.S.?
The U.S. will hold nearly 70% share of the Americas COVID-19 testing market in 2021. In the U.S., the market is led by research collaborations and license agreement for healthcare products. Recent technological advancements will create opportunities for development of innovative products.
Key players are currently focusing on strategies including acquisitions and mergers in addition to new product launches in the region. For instance, in June 2020, the Novacyt Group announced the launch of three products for Americas COVID-19 testing. The products are Exsig™ Direct, Exsig™ Mag i.e. RNA extraction kits and COVID-HT test i.e. a high-throughput test for COVID-19. These products are going to support the COVID-19 diagnosis segment of the company.
What Factors are Driving Growth in Canada?
The Canada market will exhibit 4.8% CAGR through the assessment period. Rising prevalence of COVID-19 infections and technological advancements in the healthcare sector are key factors are projected to help the Canada market for COVID-19 testing gain momentum in the coming years. Besides this, favorable reimbursement policies will continue creating opportunities for growth.
What Opportunities will Manufacturers Capitalize on for Growth in Brazil?
Brazil accounts for over 50% of the Latin America market through the forecast period. Key players of the country are largely focusing on expanding their market presence in the Americas. Steps taken by government in Brazil to contain the virus have been a key growth enabler.
Following the announcement by the World Health Organization (WHO), declaring the novel coronavirus outbreak a public health emergency, Brazil actively readied for the pandemic. The Ministry of Health in the country established an Emergency Operations Centre (COE) to prepare the healthcare system to actively respond to the medical emergency.
Substantial progress in actions taken to contain the unprecedented outbreak created attractive prospects for COVID-19 testing market in the country.
Category-wise Insights
How are SARS-CoV-2 Antigen Rapid Test Kits Contributing to Revenue Generation?
SARS-CoV-2 antigen rapid test kits have a higher potential for growth in the coming years. The segment is likely to display a relatively high CAGR of 4.8% in the near future and with revenue totalling US$ 2,903.0 Mn in 2020. Preference for rapid testing kits promotes the growth of this segment in the long term.
What is the Market Share of Nasopharyngeal Swabs?
Nasopharyngeal swabs will continue to dominate the market during the forecast period and are expected to hold around 87% of the market share at the end of 2031. This can be largely be attributed to benefits including low costs, ease of application, and minimal discomfort to the patient.
What is the Scope of Growth for Online Sales Channels?
Despite hospital pharmacies currently leading the market, online sales channels are expected to experience significant growth in the Americas COVID-19 testing markets with a 6.8% CAGR for the duration of the forecast period. This can be primarily attributed to higher acceptance of online sales, and convenience to users along with discounts and offers making reducing costs through home deliveries.
Competitive Landscape
Manufacturers in the Americas COVID-19 testing market are primarily aiming at strategic acquisitions, collaborations, and launches of innovative products to cater to market demand. Production capacity expansion is also likely to gain traction as global demand for testing continues rising at a rapid rate.
For instance, Sugentech, Inc. begun the distribution of SGTi-flex COVID-19 IgM/IgG test kit after gaining FDA approval in April, 2020.
In August 2020, Novacyt Group launched Winterplex™ which is a CE-Mark approved polymerase chain reaction (PCR) respiratory test panel.
In May 2020, Biomerieux SA announced the launch of the VIDAS anti-SARS-CoV-2 serology tests which detects the presence of antibodies in the body for SARS-COV-2. The product has received a CE mark.
Scope of the Report
Attribute

Details

Forecast Period

2021-2031

Historical Data Available for

2020

Market Analysis

USD Million for Value/ Units for Volume

Key Regions Covered

North America, Latin America

Key Countries Covered

US, Canada, Germany, Brazil, Mexico, Argentina, and Chile

Key Segments Covered

Test Type, Sample Type, Distribution Channel, and Region

Key Companies Profiled

Sky Medical Supplies & Equipment LLC.
Sugentech, Inc.
Novacyt Group
Aurora Instruments Ltd.
PRIMA Lab SA
SD Biosensor, INC.
Gold Standard Diagnostics
Eurofins Technologies
Biomerieux SA
Danaher

Report Coverage

Market Forecast, Competition Intelligence, DROT Analysis, Market Dynamics and Challenges, Strategic Growth Initiatives

Customization & Pricing

Available upon Request
World's Most Profilic Intelligence Engine
Get Access To The World's Largest Market Research Database.
Sign Up Now
Americas COVID-19 testing Market by Category
Test Type:
SARS-CoV-2 IgM/IgG Antibody Rapid Test Kits
SARS-CoV-2 Antigen Rapid Test Kits
Multiplex Real-Time RT-PCR Assay Kits
Sample Type:
Blood
Nasopharyngeal Swabs
Distribution Channel:
Hospital Pharmacies
Diagnostic Laboratories
Retail Pharmacies
Drug Store
Online Sales Channels
Region:
North America
Latin America
Key Questions Answered in the Report
How much is the Americas COVID-19 testing market worth?
As per Future Market Insights', revenue generated from the Americas COVID-19 testing market is estimated to be valued at US$ 4508 Mn in 2021.
What is the demand outlook of Americas COVID-19 testing?
The market is expected to reach value of US$ 7264 Mn by the end of 2031 with sales revenue expected to increase at a CAGR of 4.9% over the forecast period.
What are the key trends prevalent in the Americas COVID-19 testing market?
The demand for COVID-19 testing will continue increasing on account of the rise in point-of-care testing settings, increasing awareness in general population, and support from government bodies.
Which country is driving the demand for COVID-19 testing in the Americas?
The U.S. is driving the demand for COVID-19 testing in the Americas. This is primarily due to the large number of test kits being approved by the FDA during the pandemic.
What is the North America COVID-19 testing market outlook?
North America is the dominant region for COVID-19 testing production and sales. According to Future Market Insights, the U.S. is expected to account for over 70% of the North America and Latin America market by the end of the forecast period.
At what rate is COVID-19 testing registering growth in Latin America?
Demand in the COVID-19 testing market is anticipated to register growth rate of 1.9% in Latin America during the forecast period.
Who are the key exporters of COVID-19 testing kits?
Sky Medical Supplies & Equipment LLC., Sugentech, Inc., Novacyt Group, Aurora Instruments Ltd., PRIMA Lab SA, SD Biosensor, INC., Gold Standard Diagnostics, Eurofins Technologies, Biomerieux SA, and Danaher are the key expoters of COVID 19 testing kits.
What is the key COVID-19 testing market statistics in Brazil and Mexico?
The sales of COVID-19 testing in Brazil and Mexico are expected to rise at a CAGR of 2.8% and 1.7% respectively throughout the forecast period.
Need specific information?
Our Clients