Atopic Dermatitis Treatment Market By Drug Class (Corticosteroids, Calcineurin Inhibitors, Immunosuppressants, Biologic Therapy), Mode of Administration (Topical, Oral, Injectable), Distribution Channel (Hospital Pharmacies, Retail Pharmacies, Online Pharmacies) & Region - Forecast to 2019–2029
Atopic Dermatitis Treatment Market - Analysis, Outlook, Growth, Trends, Forecasts
October 2019

REP-GB-3097

191 pages
Atopic Dermatitis Treatment Market - Key Research Findings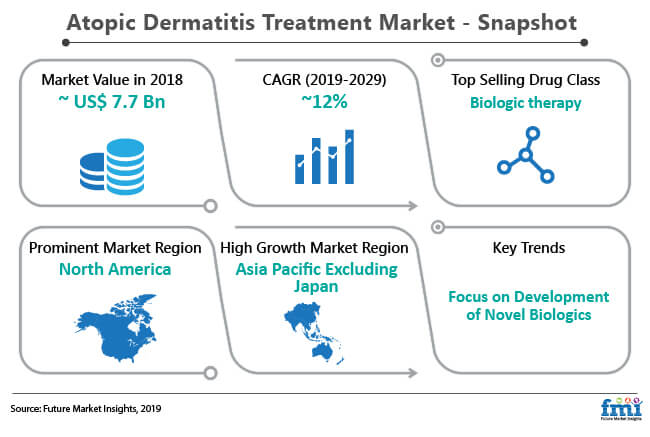 The global atopic dermatitis treatment market in 2018 was valued ~US$ 7.7 Bn.
The atopic dermatitis treatment market is expected to grow at a CAGR of ~12% during the forecast period of 2019-2029.
Increasing prevalence of atopic dermatitis and complex interplay between climate change and rising pollution have been driving factors for the atopic dermatitis treatment market growth.
Collectively, Western Europe and North America, are expected to account for half of the revenue shares in the atopic dermatitis treatment market by the end of 2029.

North America will continue to be a prominent regional market for atopic dermatitis treatment, due to the increasing prevalence of atopic dermatitis and increased emphasis by manufacturers on partnership with other companies for products in advanced stages of development to enable quicker marketing approval from regulatory bodies.

Corticosteroids remain the most preferred drug class in the global atopic dermatitis treatment market. Corticosteroids are being used as the first choice of treatment by dermatologist, as it has better anti-inflammatory action and fast onset of action. Biologic therapy is expected to garner significant traction over the forecast period.

Increase in the number of approval and launch of biologic agents for the treatment of skin diseases, account for the rise in atopic dermatitis treatment market.

In terms of mode of administration, topical antibiotic pharmaceuticals will continue to be a prominent mode of administration of the atopic dermatitis treatment. Topical medication has been used for the skin diseases over oral, due to its local action resulting in faster recovery from skin diseases.
In terms of distribution channel, the hospital pharmacies will remain a prominent and largest distribution channel over the forecast period.
Key Factors Shaping the Atopic Dermatitis Treatment Market
Launch of Topical Non-corticosteroid Immunomodulation for Atopic Dermatitis Treatment

Corticosteroids remain highly preferred drugs for inflammatory diseases like atopic dermatitis treatment, as they act effectively in short duration. However, the long-term use of corticosteroids is associated with skin atrophy and other complications.

One of the key factors shaping the atopic dermatitis treatment market is the launch of two topical non-corticosteroid immunomodulators – Tacrolimus and Pimecrolimus – which have promising results in long term, when used in monotherapy compared with combination with corticosteroids.

Targeted Biologic Therapeutics in Atopic Dermatitis Treatment

Dupilumab is a monoclonal antibody, developing as the first line therapeutic for moderate to serious atopic dermatitis. Dupilumab received approval from the US Food and Drug Administration (FDA) in 2017 for adults with moderate-to-extreme atopic dermatitis which cannot be sufficiently controlled by topical treatment. In 2019, this indication was extended to include adolescent 12 years or older. It is a subcutaneous infusion administered at regular every 2 weeks intervals.

Industry Consolidations Lead to Faster Time-to-Market

Key players of the atopic dermatitis treatment market are primarily focused on joint venture and partnership with other local players for the development of novel products. The parent organization can use the latter's clinical improvement expertise and regulatory knowledge to ensure a success circumstance in such associations. Numerous organizations are focusing on expanding their product portfolio by procuring products from the acquired company.

High Growth Prospects in Developing Economies

Increase investments in the healthcare domain, developing healthcare infrastructure, and increasing prevalence of atopic dermatitis in Asia Pacific region are factors offering a strong impetus to the growth of atopic dermatitis treatment market.

The launch of better therapeutic drugs prominently accounts for the growing popularity of atopic dermatitis treatment across developing regional markets. Consistent rise in the number of manufacturers and distributors in the region is likely to contribute to the growth of the atopic dermatitis treatment market in the near future.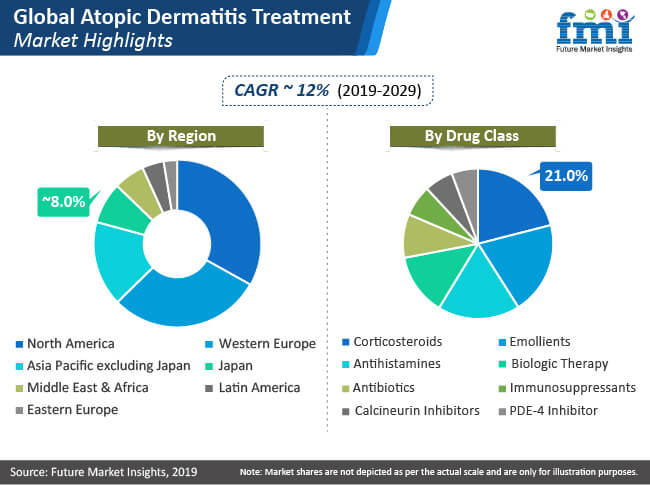 Atopic Dermatitis Treatment Competition Analysis
Key players continue to increase the market share with the launch of new products in the market.
Joint ventures and partnership with distributors are the strategic actions practised by majority of key players.
Prominent players continue to address the unmet needs in the market through inorganic strategies, such as mergers and acquisitions.
The atopic dermatitis treatment market has been relatively moderate in size and likely to remain dynamic, growing in steady pace throughout the forecast period.
Major players focus on inorganic growth strategy to make a strong hold on targeted in-licensing and acquisitions through expanding its R&D activities and its distribution channels particularly including its specialist retail chains.
World's Most Profilic Intelligence Engine
Get Access To The World's Largest Market Research Database.
Sign Up Now
Atopic Dermatitis Treatment: Segmentation
Drug Class
Corticosteroids
Calcineurin Inhibitors
Immunosuppressants
Biologic Therapy
PDE-4 Inhibitor
Antibiotics
Antihistamines
Emollients
Mode of Administration
Distribution Channel
Hospital Pharmacies
Retail Pharmacies
Online Pharmacies
Drug Stores
Mail Order Pharmacies
Dermatology Clinics
Region
North America
Latin America
Western Europe
Eastern Europe
Asia Pacific excluding Japan
Japan
Middle East & Africa
Need specific information?
Our Clients