Market Players to Leverage Centralized Connection Topology in Automotive BMSs
The global demand for automotive battery management systems witnessed a massive downfall in the first half of 2020 on account of lockdown and social distancing barriers implemented due to the spread of coronavirus disease throughout the world. Big as well as small manufacturing companies went through the worst phase and suffered heavy losses in 2020. To overcome the previous losses, business firms in 2021 are focusing on research and developments to ensure uniqueness in their services.
Recognized corporations are adopting business strategies such as sales contracts, strategic alliances, acquiring technical expertise, product approvals, patents and events, joint ventures, partnership agreements, collaborations, digital marketing, mergers and acquisitions, capacity utilisations, technological advancements etc to lead the global market for automotive battery management systems with largest market share. The corporations like BYD Company Ltd., C & D Technologies, Inc., Clarios (Johnson Controls International PLC), Contemporary Amperex Technology Co., Limited., EnerSys., GS Yuasa Corporation., LG Chem. and others are making high investments in the establishment of research institutes in different regions to come up with improvements in their offerings.
For instance, BYD Company Ltd. signed a joint venture agreement with Hino Motors Ltd. aiming to set up a new company for the production of commercial battery electric vehicles development. The two companies would be combining their strengths to manufacture BEVs and electric units that will aim to use ideal products for customer needs in the Asian Market. BYD and Hino will work and focus on developing and spreading amazing commercial BEVs for customers.
In terms of growth, the market in Asia Pacific is anticipated to remain a prominent region with a promising revenue rate during the forecast owing to growth in the infrastructure. All developing and developed nations are predicted to pick up pace through 2030 owing to the emergence of leading manufacturing companies and new domestic players. All the other key regions such as North America, Latin America, Eastern and Western Europe, APEJ, Japan and MEA are driving the market growth and opening various opportunities for manufacturers.
While considering economic efficiency, centralized connection topology continue to shape automotive battery management system market growth. By 2019 end, centralized battery management systems (BMSs) are estimated to grab over 95% of the global market in terms of value. However, modular BMSs are garnering momentum as they deliver higher computational power and are relatively safer due to minimal wiring. As such, they are anticipated to showcase higher growth among other connection topologies throughout the period of analysis.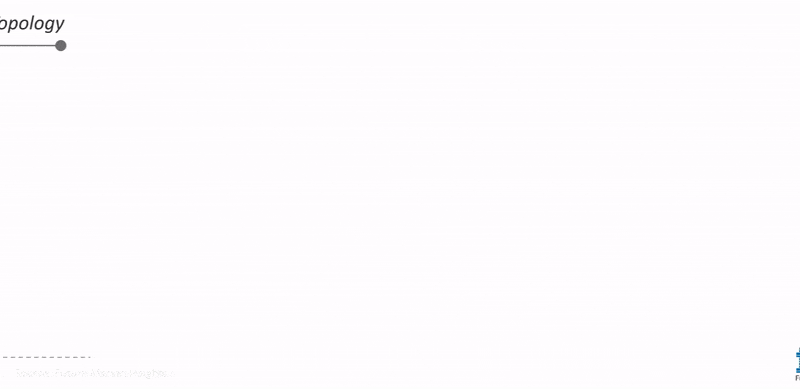 Soaring EVs in APAC Attracts Stakeholders' Attention
The automotive battery management systems market in Asia Pacific (APAC) would maintain its lead with over 60% revenue share. China and Japan are representing the most lucrative prospects in the regional market. Being among the members of the Electric Vehicles Initiative (EVI), a multi-government policy, China and Japan are ramping up their production of electric vehicles (EVs) in order to achieve sustainability. Moreover, the governments in these countries are offering tax incentives and subsidiaries to customers purchasing EVs in an effort to boost their adoption.
Electric Vehicle OEMs to Play Pivotal Role in Market Growth
In view of customer demand for possible improvements in the existing fleet of electric vehicles, including hybrid electric vehicles (HEVs) and battery electric vehicles (BEVs), manufacturers are highly focused on equipping battery management systems with an extensive feature set. Further, production upswing of EVs is translating into mounting demand for automotive BMSs, which will encourage manufacturers to distribute their offerings at competitive prices. This trend is likely to fuel the demand for automotive battery management systems from electric vehicle OEMs.
How Growth will Unfold
For manufacturers in the automotive battery management system market, electric vehicles will continue to be the primary vehicle category over the coming timeframe. Adoption in EVs such as HEVs and plug-in hybrid electric vehicles (PHEVs), in particular, would be maximum, and is expected to register a value of over US$ 10 Bn towards the end of the projection period. Furthermore, revenue upsurge would also be observed from e-bikes, especially in developed regions, despite exhibiting a relatively lower adoption rate.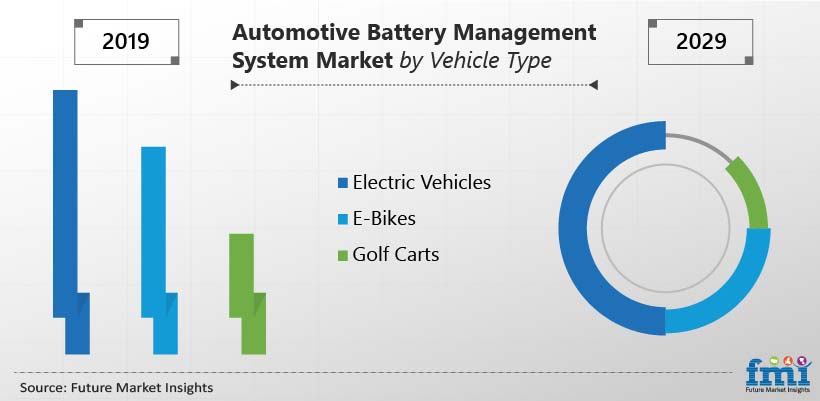 FREQUENTLY ASKED QUESTIONS ABOUT AUTOMOTIVE BATTERY MANAGEMENT SYSTEM MARKET
How do automotive battery management systems benefit users?
Different features of battery management systems, such as overcharging and over-discharging protection, short circuit protection, temperature control, cell balancing, state of charge and discharge, etc., increase the efficiency of the vehicle as well as the battery.
How will the growth outlook be for the automotive battery management system market?
The growth of the global automotive battery management system market is expected to remain in parallel with the production of electric vehicles. Advancements in technologies and features will increase the demand for battery management from electric vehicle OEMs, and are estimated to drive the growth of automotive battery management system market during the forecast period.
Which vehicle type holds potential growth opportunities for market players?
Hybrid electric vehicles offer economic and environmental advantages over conventional cars. According to estimates, there are more than 2.8 Mn electric vehicles on road, of which, approx. 70% are hybrid electric vehicles. Thus, increasing sales of hybrid electric vehicles are expected to gain the attention of automakers, and subsequently result in higher demand for automotive battery management systems.
What is the degree of competition in the automotive battery management system market?
The automotive battery management system market is moderately consolidated, with the presence of global giants as well as regional players. In the current scenario, industry leaders such as Johnson Matthey Plc, Analog Devices, Inc. Continental AG, NXP Semiconductors NV, and Robert Bosch, among others, hold a prominent share of the global market.
Which region will lead the global sales of automotive battery management systems?
With China holding the top rank in the fleet of electric vehicles across the globe, APEJ is anticipated to remain a prominent region throughout the forecast years. Along with APEJ, Japan also positions high in the ranking of on-road EVs, owing to the presence of many big electric vehicle manufacturers in Japan such as Nissan Motor Corporation Ltd., Honda Motor Co., Ltd., Mitsubishi Motors Corporation, and Toyota Motor Corporation.
AUTOMOTIVE BATTERY MANAGEMENT SYSTEM MARKET TAXONOMY
The global automotive battery management system market is segmented in detail to cover every aspect of the market and present complete market intelligence to the reader.
Vehicle Type
Electric Vehicles
Passenger Cars
Commercial Vehicles
Golf Carts
E-Bikes
Connection Topology
Centralized
Distributed
Modular
Sales Channel
Region
North America
Latin America
Western Europe
Eastern Europe
APEJ
Middle East & Africa
Japan
Need specific information?